The Most Cost-Effective Way To Travel With Your Family Using Credit Cards Points
Think you can't travel with your family on the cheap? This is the story of how I took my family of four to South America - all thanks to travel rewards.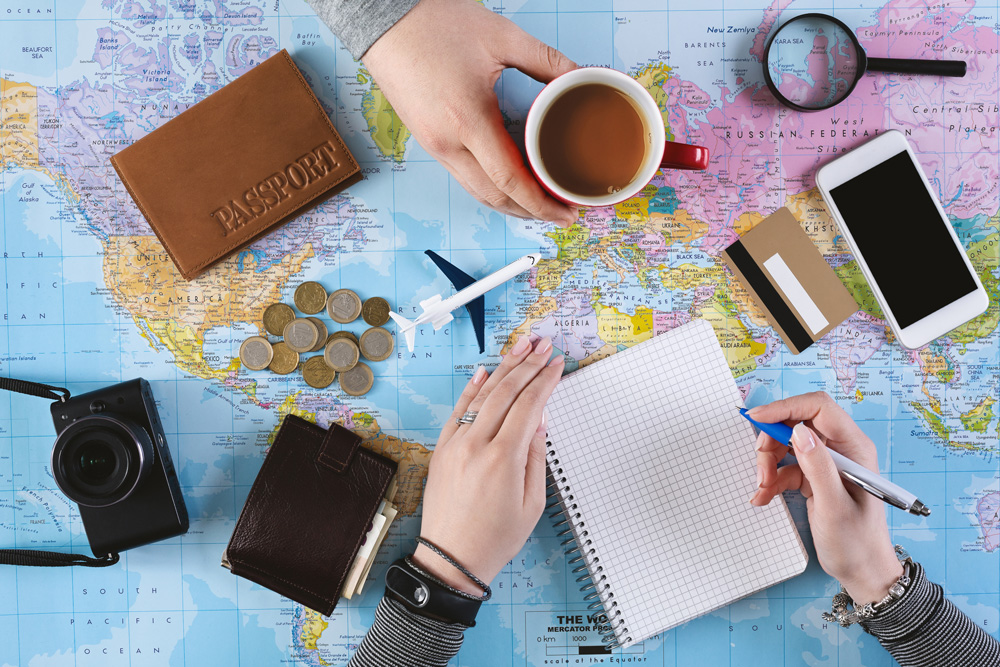 There are many reasons why people travel. Some have a fascination with exploring the world while others must travel for business. As a frequent traveler, I share those motivations. But family is the primary reason I take to the skies.
My wife and I have family all over the world, and we love to have the opportunity to connect with them face to face.
But we also relish the chance to travel with our children as a family. Many of the best memories of my childhood were of the vacations we took as a family, and I want our children to have the same experiences.
Setting Our Sites On Argentina
As it turns out, one of our greatest travel experiences happened because of family.
One of my closest cousins moved with his wife and daughter to Salta, a city in northern Argentina. When he moved, he gave my family an open invitation to come visit.
We finally decided to take him up on the offer during winter break, which is summer in Argentina. Our daughters were 5 years old and 5 months old and we could use the Christmas and New Years holidays to travel.
Problem was, we didn't have the spare cash to buy plane tickets for our family to South America. What we did have, though, were miles. Lots of miles.
We accumulated most of our miles from everyday spending and the add-on of credit card sign up bonuses.
These signup bonuses gave us a huge head start. For example, you could get a 50,000-mile sign up bonus through American Airlines credit cards.
You can get the same bonus with Southwest's Rapid Rewards Premier Credit Card. Our rewards were through these two programs as well as with Chase Ultimate Rewards.
I also work for myself, which gives me an opportunity to earn business and personal rewards.
Thanks to having both versions of the Rapid Rewards card, I earned 100,000 points.
That's just 10,000 points shy of earning a Southwest Companion Pass. With this pass, you get a free companion pass even if you book the first ticket with points.
As for Chase Ultimate Rewards, I was able to earn a lot of points by using two Chase cards: Chase Sapphire Preferred and Ink Plus.
Ultimate Rewards points are extremely valuable since they can be transferred at will to points and miles with airline and hotel programs.
Having rewards through three separate programs (including one program that allowed points transferred) helped a lot.
But the next thing we had to do was figure out the best combination of points to use to get our travel for as close to free as possible.
My first instinct was to use our miles with American Airlines, which has an extensive route network in South America.
But, we wanted to travel as a family during winter holidays, one of the hardest times to redeem rewards. That's where looking into partner airlines came into play.
American Airlines is a member of a global airline alliance called One World. One World allows passengers to earn and redeem miles with other airlines in the alliance.
Luckily for us, one of One World's members, LAN, is a major South American airline. Because of its partnership with One World, we could use our American Airlines points to book with LAN.
Since routes can get tricky when traveling abroad, this partnership was even more useful.
To get to Argentina, we needed to fly American Airlines to Buenos Aires and then connect with LAN to get to Salta. And we could use our American Airlines miles for both flights.
Another option that was available to us was to transfer points to British Airways from my balance with the Chase Ultimate Rewards.
British Airways is also a member of the One World alliance, so its miles can be redeemed on flights operated by both American and LAN.
Putting It All Together
Once we had several rewards options laid out, we had to decide on when exactly to go.
We really wanted to travel while our toddler was on break from school. But that would have been the weekend before Christmas. It's probably no surprise to you that this is one of the busiest travel times of the year.
In the world of travel rewards, busy travel seasons are the hardest to redeem rewards.
With most airlines, you collect miles and redeem them for awards according to fixed prices on an award chart.
But the catch is that the airlines often restrict the award seats that would be available for the lowest amount of miles. In fact, there are often no award seats available during peak travel times, like the winter holidays.
The best we were able to do is to find was three award seats on a flight from Miami to Buenos Aires on Christmas Day.
Since most people don't want to travel on the holiday itself, this is a great day to book flights. Since our five-month-old could sit on our laps, we knew we could use those three award seats. (Children are allowed to travel on adult's lap up until the age of two.)
Even better, the award seats were in business class. Flying business class means getting a lie-flat seat, gourmet meals, and high levels of service.
You also get priority check-in, boarding and baggage delivery, and access to the airport business lounge. Normally these seats would cost three or four times the price of economy-class tickets.
But all we had to do to get them was double our miles. And since we had a young child with us and an infant in our laps, this was a smart choice for the ten hour, overnight flight to South America.
Once we decided to seize the opportunity to travel during a major holiday (in no small part because we don't celebrate Christmas), all we needed to do was to book a ticket from our home in Denver to Florida.
This is where our points with Southwest Airlines really came in handy. Southwest's Rapid Rewards credit card frequent flyer program operates quite differently than most other airlines.
With Southwest, points are worth about 1.4 cents each towards the price of any ticket offered for sale.
We were able to buy tickets using these points for cheap since we booked far in advance.
Furthermore, we only needed to buy two tickets. Since we earned enough points for a Companion Pass, we could use that for the third ticket.
Since we had to fly to Florida to get to Argentina anyway, we seized that opportunity as well. Before connecting from Miami to Buenos Aires, we spent a few days in Fort Lauderdale with my grandmother.
While we were there, we redeemed some of our Chase Ultimate Rewards points for a rental car.
By the time we were planning this trip, I'd already planned a few awards trips around the world.
One thing I noticed over the years is that awards flights are easier to book the farther away from the U.S. you get. So, once we had tickets to Buenos Aires, it was easier to book tickets to Salta.
We decided to go ahead and book our three seats to Salta on LAN using points from British Airways that I transferred from Chase Ultimate Rewards.
I chose to do that because British Airways charges miles based on distance flown, not based on the price of the ticket.
With Salta being only 800 miles from Buenos Aires, we could book for fewer miles than we would have been charged using American.
For the flight home, we were again able to find tickets between Salta and Buenos Aires using our British Airways Miles. Like Florida, we decided to spend a few days in the Argentine capital on the way.
I was able to use my reward points for a hotel stay at the amazing Palacio Duhau Park Hyatt Buenos Aires. To do so, I transferred Chase Ultimate Rewards points to the Hyatt Gold Passport program.
And just like it was a better value to spend rewards on business class than economy, here we only had a minimal premium of 30% more points to book a junior suite for our family rather than a standard room.
Unfortunately, getting home to Denver was a little tougher. There was no way to find three award seats from Buenos Aires to Denver during the busy New Year's travel season.
We had to bite the bullet and spend more miles to return home in business class. The lower level awards seats simply weren't available.
However, by doing this, we were able to choose ideal flights home.
Otherwise, we may have been forced to fly a longer route at less convenient times the way we often have to do with awards travel.
We ended up flying from Buenos Aires to Denver with a brief stop in Dallas on the way.
Our Lessons Learned
In the end, our considerable planning paid off. We had an amazing family vacation. We got to visit a wonderful country.
And we had the invaluable experience of reconnecting with my cousin that I had grown up with.
Without rewards, our travel reservations would have cost about $20,000. Thanks to rewards, we paid less than $1,000 in taxes and fees.
So what did we learn from this experience? A lot.
1. Collect Miles and Points from Multiple Rewards Programs
First, we learned was the value of having points and miles with multiple reward programs.
If we didn't have points and miles with American, Southwest, and Chase Ultimate Rewards, we would have had to book much of our trip with cash. In fact, we might not have been able to afford it all.
2. Redeem Your Rewards Mindfully
Second, we learned that there are several ways to book a flight, and you have to use the right points or miles for each.
Our American Airlines miles were best used for our flights to and from Buenos Aires.
But British Airways miles were a better choice for the shorter flights on LAN to and from Salta. And when it came to traveling to Florida on the weekend before Christmas, Southwest miles were ideal.
3. You May Need to Spend Extra Miles or Points to Get Your Flights
Third, there can be times when you need to spend extra miles to get the award flights that you must have.
For example, our choice to pay extra miles fly in business class or to return from Buenos Aires during a busy holiday weekend.
While I always encourage people to spend their miles as carefully as possible, you still have to redeem the points and miles necessary to achieve your travel objectives.
You Don't Have to Be an Expert to Travel for Cheap
The best thing about my favorite travel rewards story? Anyone can achieve the same thing.
You don't have to be an expert to travel for free or cheap, you just need to choose a travel credit card that rewards you for your everyday spending.
Keep an eye out for signup bonuses as well. Then make sure you don't carry a balance from month to month (lest you lose more money to debt than you earn in rewards).
By earning as many points and miles as possible, and by carefully spending them, you can realize your award travel dreams even sooner than you might have thought.