7 Credit Card Rewards That Help You Travel for Less
Want to travel for less but feel overwhelmed by the idea of travel hacking? Here are a few simple credit card rewards that make it easy to travel on the cheap.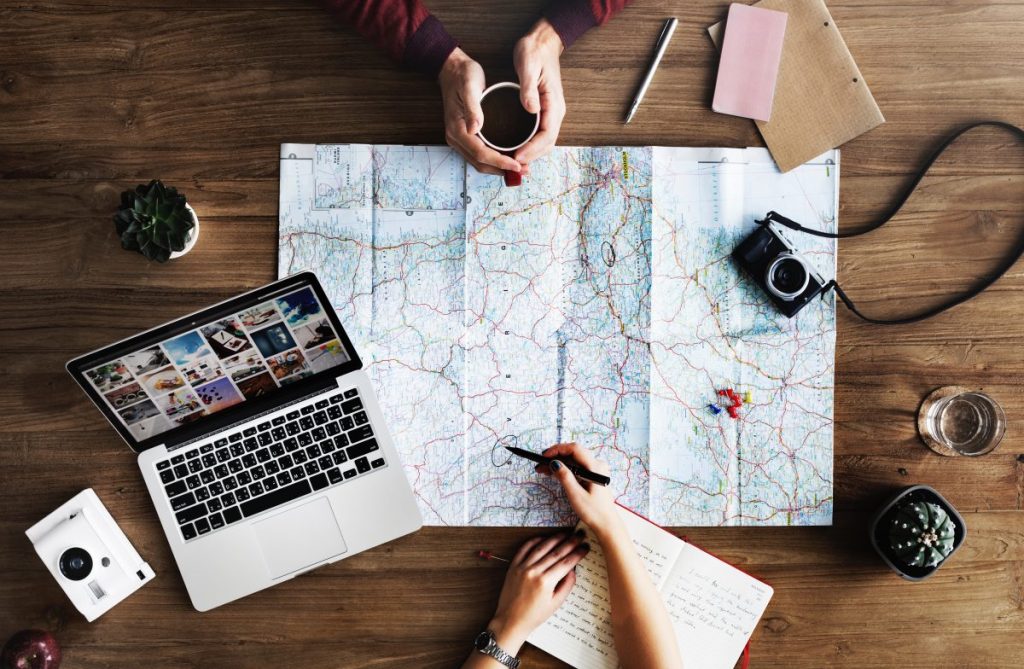 Travel is fun, exhilarating, and eye-opening. One other thing travel can also be; expensive. 
It's no secret that there are countless travel hacks that can be used to save money on travel; and no, we don't mean the kind of hacks where you sneak your way on to a plane by squeezing yourself into a carry-on bag. 
With just a few of these practices we've put together, you can book even a last-minute getaway without spending an egregious amount on flights, fees, and hotels.
But what if you're not a travel hacking expert? Luckily, traveling for less doesn't have to be as complicated as it may seem.
To start, all you have to do is utilize credit card travel rewards, take advantage of deals and special travel offerings, and follow a few travel best practices.
Want to learn a few? Let's get started!
1. Sign Up for An Airline Credit Card to Earn Miles
Flights are the toughest expense to deal with because they're a cost you deal with way before you even go on a trip. But that doesn't mean they have to eat up your entire travel budget before you even leave.
Signing up for an airline credit card is a great way to earn miles and save money on next flights.
If you find that you prefer one airline over all the others, then start with their travel rewards credit card.
Utilize that card for your everyday expenses and then pay them off at the end of the month so you don't accrue debt. Before long, the spending you had to do anyway could earn you a free flight or two.
If you don't have a favorite airline or want to do some research before you pick a card, look for things like signup bonuses (which give you a bunch of miles right off the bat), compare how many points you get for every dollar spent, and look out for fees and minimum spend amounts.
2. Earn Multiple Types of Credit Card Rewards
If you tend to travel on different airlines for each destination, then an airline branded credit card might not be very useful for you. Instead, look for other travel rewards cards or even other types of rewards credit cards.
The main thing to think about is what type of spending behavior can earn you the most rewards - and what kind of rewards can earn you the most travel savings. You might find that a cash back rewards card nets more rewards for you, simply because of the types of spending it rewards you for.
Or you might find that there's a travel rewards card that matches up with your spending perfectly and helps you obtain free flights.
This is the point at which things can be as complicated or as simple as you prefer.
You can get really detailed even and take out multiple cards, for which you use to obtain the most rewards for each type of spending you do.
Or you could simply find one card that works for you and stick with that and watch your rewards rack up.
As long as you're keeping fees under control and making sure you don't carry a balance on the credit card from month to month, then you're in good shape to earn some great rewards for travel.
3. Take Advantage of Additional Credit Card Discounts
Once you select one or more of your favorite credit cards, read the fine print or comb through their websites to see what other types of rewards you can get.
You might find that your credit card issuer offers exclusive deals on things like airfare, hotels, cruises, and even car rentals.
There's a lot more that adds up to a trip than just flights, so saving money on all these other areas can create a lot of extra room in your budget.
It's easy to miss all the great benefits a credit card might come with, so give yourself the time to look around and make sure you're utilizing all the benefits that work for you.
Don't rely on your credit card issuer for telling you what you can get - you might miss out on some huge savings if you do.
4. Don't Forget About Credit Card Perks
Just like discounts, there might be perks associated with your credit card that you're not aware of.
For example, many credit cards offer things like car rental insurance or baggage delay insurance. Some also offer travel and emergency assistance and a concierge.
These types of benefits don't just save you money, they can add travel protections you wouldn't have had otherwise and they save you time as well.
Review all of the offerings from your credit card issuer and note which ones might be most useful to you when you travel.
It's easy to forget about these benefits you don't need them, but being ready for them in advance can make or break your trip during unexpected delays, changes, or emergencies.
5. Get the Right Credit Card to Avoid Foreign Transaction Fees
One cost that is easy to forget about prior to traveling is the foreign transaction fee.
Unfortunately, it adds up as fast. If you're not familiar with the foreign transaction fee, it's when a credit card issuer charges for your purchases made abroad.
This often comes at a charge of 2-3% of your total purchase.
Foreign ATM Fees at the Top 10 Banks
If you intend to use credit on your entire trip, then that 2 to 3% on purchases can equal a lot of money unnecessarily lost to fees.
The good news is, there are many travel credit cards that don't charge foreign transaction fees.
If you can find one that also offers the credit card rewards you're looking for, then you really have a winning combination for your travels.
6. Stay for Free with a Hotel Credit Card
Just like an airline branded credit card, a hotel branded credit card is a great way to save money on a brand you were already loyal to.
If you have a favorite hotel, signing up for their credit card can earn you sign up bonuses, extra perks, and maybe even free accommodations.
In fact, many hotel credit cards will give you tens of thousands of points upon initial signup, enough for potentially a night or two for free. Not bad for something you were already going to do anyway!
7. Get Deals on Attractions with a City Tourist Card
Have you ever heard of a city tourist card? There are many types, but essentially they're cards you can buy to save money on popular tourist attractions.
Again, when you're looking at items or experiences you were going to purchase anyway, finding ways to save upfront can make a huge difference in your travel budget.
One example of a city tourist card can be found on City Cards, offering discounts to attractions all throughout Europe.
For example, you can save money on transportation, food, museums, and other activities. The more money you save, the more attractions you can visit!
To see if a city tourist card will be worth if for you, list all the destinations you hope to visit. Then add up the costs for all of them.
Compare those costs to the costs you'd pay with a city tourist card, add the cost of the card, and then see where you land.
If the cost is even or less, then a city tourist card is probably a good idea for you.
Bonus Tip: Enjoy Peace of Mind with the Extra Protections Credit Cards Provide
Besides the fact that credit cards can help you save money on travel (when they're paid off before interest can accrue), they also offer many protections. These protections can give you peace of mind while you travel.
Identity theft is a growing problem and can cause a big headache on vacation.
A credit card will provide more protections than a debit card, particularly because the funds charged on a credit card aren't tied to your bank account.
You may not be liable to fraudulent charges on your debit card if you report the card as stolen before the charges happen, but, afterwards things could get a little messier.
However, a credit card isn't tied to your bank account, so even if it takes time to clear fraudulent charges, at least you'll have access to your money in the meantime.
And while you're far away from home, having access to money in an emergency could be the most important thing for you.
Travel Hacking, Not Just for Experts
The very idea of travel hacking can be overwhelming.
If the idea of pouring over spreadsheets of rewards seems too complex to be worth it, don't worry.
You don't have to become a travel hacking expert to travel for less. If you find that travel rewards cards aren't the right kind of perks card for you, cash back rewards cards are another equally great option.
Travel Rewards Cards vs. Cash Back Cards
Travel Rewards
Cash Back Rewards

Good for people who travel often, are frequent flyers, and travel internationally
Many travel rewards cards offer no foreign transaction fees
Offers many incentives that are helpful to travelers, like priority boarding, free airport lounge passes, and hotel discounts
Typically have to spend a decent amount of money before you receive rewards and perks
Many travel rewards cards have high annual fees

Good for people who want variety in the rewards they earn for everyday shopping
Typically don't have to spend a lot of money before you can start earning rewards
Cash back cards tend to have lower annual fees, if any
Certain cash back rewards cards offer perks like warranties and low introductory rates
All you have to do to travel for less is find the right rewards card for you and be on the lookout for additional rewards and perks that come with it.
Over time, you'll start to understand more and more what you should be looking for and you can add new practices to your travel planning at your own pace.
There's no right or wrong way to do it, just the way that's right for you.