The Best Airline Credit Cards of 2023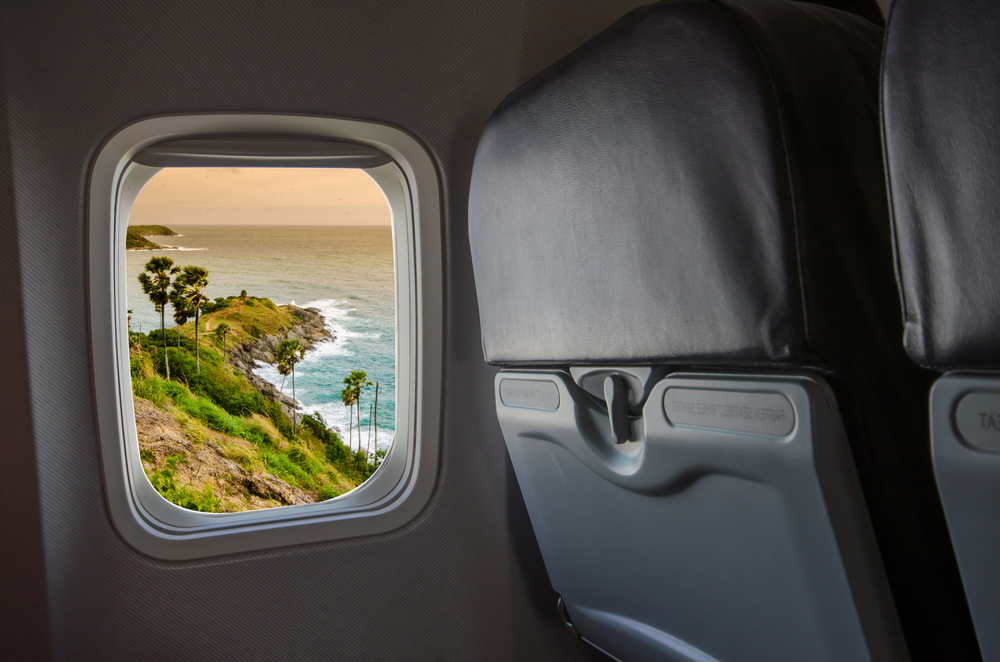 Love to travel? Want to earn rewards for your spending that can help you travel more? If so, it's time for you to look at airline credit cards.
Airline credit cards are bank-issued credit cards offered in partnership with a particular airline.
If there's one airline you love to travel with, then getting a card through that airline can help you earn free trips and extra travel benefits.
There are a lot more rewards than meets the eye with these credit cards, so it pays to look at the fine print.
To help, we've sorted through hundreds of the most exciting airline credit cards out there to find out which ones are ahead of the pack.
British Airways Visa Signature Card: Best for Earning Free Flights Regularly
If you're in the game to garner as many points as possible, you're in luck. The  gives 75,000 bonus points after you spend $5,000 on purchases within the first 3 months of account opening.
These points, called Avios, come with spending requirements.
Read British Airways Visa Signature Card Editor's Review
As you can see, that's a lot of travel points! Even better, you can use your Avios points with British Airline partners.
Check out their partners to see if your favorite airlines are on the list. With 14 partners, there's a good chance of that being the case.
Another major feature of the British Airways Visa Signature is the free companion ticket you get if you spend $30,000 per year.
That may sound like a lot of spending, I know. But if you use this card for all your daily spending, you might be able to get there. (Keep in mind that if you don't pay off the balance each month, you'll pay more in interest than you earn in rewards.)
Outside of bonus points, you can earn three Avios per dollar spent on British Airways purchases.
You can also earn one Avios per dollar on everything else. This all comes with a $95 annual fee.
Free Flights and Upgrades with Points
Determining a value for each mile or point under a frequent flyer program is difficult. Airlines don't use a public formula to calculate the redemption cost of a reward flight.
In the same way flights are priced, the number of miles required to redeem a rewards flight may vary.
Things taken into account include your destination, number of stops, seating class, travel dates, and more.
Another thing to consider is that the value of a card can increase if it offers free companion tickets.
Depending on the rules airlines set on companion tickets, you could get thousands of dollars worth of free travel.
For example, a rewards round trip flight from New York to Paris in first class is worth more than $4,000.
As long as you redeem that flight with Avios points, your companion can fly with you for free.
That's more than enough to compensate for the annual fee for the British Airways Visa Signature card.
Chase Sapphire Preferred Card: Best Credit Card for Frequent Flyers of Multiple Airlines
Although not exactly an airline credit card, is a popular travel rewards credit card. 
Read Chase Sapphire Preferred Card Editor's Review
With this card, you can earn free and discounted flights through multiple airlines.
These airlines include British Airways, Korean Air, Southwest Airlines, United, Virgin Atlantic, Singapore Airlines, Hyatt, IHG, Marriott, and Ritz-Carlton. Even better, you get 20% off when you redeem your points through Chase's online travel booking portal.
offers a rewards program that is ideal for consumers who travel and dine out frequently.
You get access to a personal concierge. The card has a $95 annual fee.
Transfer Points for More Travel Rewards Options
Airline credit cards are most useful to people who tend to fly with that specific airline on a regular basis.
Otherwise, their perks will not be useful enough to justify the annual fee. Rewards miles simply won't accumulate quickly enough to generate free flights.
The benefit of having a credit card linked to airline frequent flyer programs is the flexibility.
Rather than be stuck with one airline or hotel, you get a variety to choose from. Plus, you'll also be able to determine which program will offer the best value for those points.
Chase's rewards program allows customers to transfer points on a 1:1 basis.
That means you don't lose any value during the conversion. Other cards may convert points that will devalue your points.
The Best Airline Credit Card for the Budget VIP Experience
The United MileagePlus Explorer Card Offers All-Around Great Benefits
If you're looking to travel like a VIP on a budget, check out the United MileagePlus Explorer Card.
This card offers the best combination of travel perks out there. There is a $95 annual fee, but it's waived during the first year of membership.
What makes this card so great - and worth the fee? There are several reasons. You get free first checked bags for you and a companion.
You get private boarding privileges. You get two one time passes per year to United Club lounges. Plus, there are no foreign transaction fees.
As if all that weren't enough, you can also get complimentary upgrades and amenities at more than 700 hotels and resorts worldwide. 
Finally, you can earn two miles for each dollar spent on United tickets and one mile per dollar on all other purchases.
When it comes to being high on earnings and benefits, the United MileagePlus takes the cake.
Travel Perks Shine with Airline Credit Cards
At first glance, it may not seem worth it to pay an annual fee for a credit card. After all, what's the point of rewards if you have to pay for them?
Believe it or not, there are cases when the annual fee can be more than worth it.
If your rewards can far surpass the fee you paid, then you'll end up way ahead. When it's not worth paying a fee, is if you don't think your rewards will pay out more than what you paid for the fee.
To determine if the annual fee is worth paying, review the card's entire package.
The most common benefits include free checked bags, priority boarding privileges, free or discount airport lounge passes, discounted in-flight purchases, and more.
For frequent travelers, the money saved often exceeds the cost of the annual fee.
Also, when choosing an airline credit card, consider your travel habits and upcoming plans.
Since airlines don't go everywhere, you'll want a card that covers your most desired destinations.
Also, some airline credit cards waive foreign transaction fees. That's a feature that can save you a ton of money. Since foreign transaction fees usually equal 3% of every purchase, they add up fast.
Airlines Fees to Look Out for that Your Airline Credit Card Can Help With
The flight of your airline ticket is just one of many fees you might encounter on your travels.
Here are just two of the common fees you could run into at the airport and on the plane. (Fees that your airline credit card could prevent you from having to deal with.)
Airport Lounges. Most airlines charge $50-$60 for a one time pass to their airport lounges. What do you get for this money?
Typically, you'll get complimentary amenities such as food, bar service, showers, wireless Internet access, phones, conference rooms, travel agent assistance, and more.
Checked Bags. The largest airlines in the U.S. usually charge about $25 for the first checked bag each way.
If a credit card waives the fee on the first checked bag and you fly two times during a year, you'll save $100. (That's more than enough to compensate for the cost of the average credit card annual fee.)
How Miles and Perks Justify the Annual Fee
The miles earned on an airline credit card are connected to the airline's frequent flyer programs. Under these programs, you can accumulate miles to get a higher frequent flyer status.
The benefits of earning an elite frequent flyer status are great.
Think things like seat upgrades, bonus miles, priority boarding, fee waivers, free airport lounge passes, and free checked bags.
With the United MileagePlus Explorer card, the $95 annual fee is recouped when you use the two lounge passes and check in one bag for a single round trip flight.
You'll save hundreds more by flying with them more often and using your miles on free or cheaper flights.
How to Choose Your Best Airline Credit Card
As you can probably already tell, choosing the right rewards card is imperative.
If you do, you could end up with free travel, free upgrades, and more trips. Who doesn't want that?
The question is, how can you decide which card will help you achieve these goals? All you have to do is start by asking yourself a few questions. It wouldn't hurt to take some notes while you're at it. Okay, let's dive in!
Make a Travel Wishlist
First thing's first, you need a wishlist of all the places you'd like to travel to.
Remember, you don't have to stay practical and focus on what you can afford now.
This is your wishlist - go crazy!
As you start earning points, you never know where you may be able to go.
Match Airlines to Your Travel Wishlist
Now make another list. Find all the airlines that may go to your wishlist.
This should become your shortlist of preferred airlines.
If you find that one or two keep coming up, your earnings get even easier. Don't forget to look for airline partners as well.
If your list is just too long to be narrowed down, this could be a sign that you need a travel rewards card that's not tied down to one particular airline.
Consider Your Required Travel
Do you travel a lot for work?
Do you travel frequently to visit family and friends around the country or around the world? If so, what airline do you normally have to take?
Chances are, you can use a credit card from that airline to start earning points for future travel.
If you can combine what you have to do with what you want to do (earning points for required travel now to use on fun travel later), then you're in the perfect situation.
Spend Strategically
Ideally, the airline that goes to your preferred destinations will be the same as the one you already use.
If that's not the case, obtaining a travel credit card that isn't tied to one airline is going to be the way to go for you.
Whatever the case, when you get your card, don't just stop there. Start spending strategically.
Plan large purchases for when the card is new in case it comes with signup bonuses.
Use your card for other purchases that you'd normally use a regular credit card for if those purchases can work towards your travel rewards. And, above all else, don't carry a balance on your card.
If you can spend strategically, you have an opportunity to earn massive amounts of points and miles.
Those points and miles can turn into trips to places you thought you'd never be able to go.
But you also want to make sure you don't lose money in the process, which would happen if you carry a balance.
When you use your airline or travel rewards credit card, be sure to pay it off each month.
To let a balance carry over means throwing money away to interest at best, succumbing to long-term debt at worst.
Keep an Eye out for Future Options
After you've gotten used to this evaluation process, it's a lot easier to do time and time again. And that's exactly what you should do as your spending changes and your travel needs or desires change.
Remember, earning the most rewards is all about finding the credit cards that help you earn by doing what you would already be doing.
In other words, finding the best rewards card means finding the one that fits best with your lifestyle.
But lifestyles change. As yours does, don't get stuck with a card that doesn't meet your needs anymore.
Keep on evaluating so you can keep on earning those points.
Credit Cards for Airlines
| Airline Credit Cards | Notable Feature | Who It's Best For |
| --- | --- | --- |
| United Mileage Plus Explorer | Suite of perks for United Airlines, such as free checked bags, priority passes, and lounge passes. | Travelers who fly with United Airlines at least twice per year. |
| British Airways Visa Signature | Ability to earn a free companion ticket. | Travelers who spend at least $30,000 per year with their card. |
| Chase Sapphire Preferred | Earn bonus miles on travel and dining. Points can be transferred to partnered airline and hotel programs. Redeem rewards travel at a discount through Chase Ultimate Rewards. | People who want to earn travel rewards that can be transferred to multiple airline and hotel programs while getting different travel protections. |