3 Things You Need to Know When You Buy Airlines Miles
Airlines allow you to buy miles in their frequent flyer programs as a way to redeem an award flight when you don't quite have enough miles.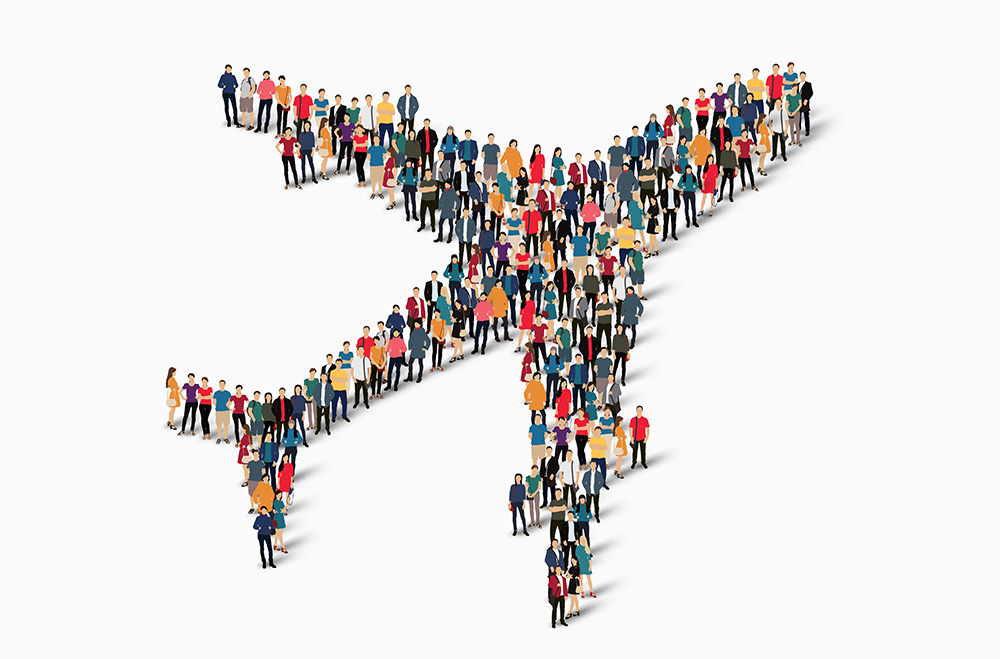 You want to redeem your airline miles for a flight soon, but you don't have enough to get that travel award ticket. One option is to buy the miles you need. Sometimes they're offered at a discount, which could be a great value, but buying miles isn't always a great deal. Here's what you should know about buying airline miles.
1. How Airline Miles Work
As you're probably aware, you can earn airline miles (or "points," depending on the program) by joining the airline's loyalty program. Each time you book a flight, use your frequent flyer number, and you'll earn miles that can go towards a free flight or a seat upgrade to first-class or business. You can also earn frequent flyer miles by using branded airline credit cards, doing your online shopping through the airlines' shopping portals, filling out surveys, and more. Most people accrue miles either through frequent flying or through credit card sign-up and spending bonuses.
While you can earn miles in a number of ways, however, most flights require a substantial number of miles to qualify for a free flight. Round-trip tickets in coach in the Continental US typically cost 25,000 to 40,000 miles, depending on the route and travel season. International and first-class seats cost much more.
Because mileage programs differ, below are links to US airlines' award charts:
Alaska Airlines' miles award chart
American Airlines' miles award chart
Frontiers' miles award chart
Virgin America's points award chart
Delta, Frontier, JetBlue, Southwest don't have published award charts. You'll have to search for a flight to see the number of miles or points needed for it.
A few examples of the cost of buying miles:
Examples of cost of buying miles
| Airline | Price for 2,000 miles | Price for 20,000 miles |
| --- | --- | --- |
| American Airlines | $59 (2.95 cents/mile) | $590 (2.95 cents/mile) |
| Delta Airlines | $70 (3.5 cents/mile) | $700 (3.5 cents/mile) |
| JetBlue | $75.26 (3.8 cents/mile) | $591.25 (2.95 cents/mile) |
If you're thinking of opening a credit card to get the bonus miles or points for a free flight, take into consideration where and when you want to travel using those rewards, and make sure the bonus covers it.
For those of us not ready to open up another credit card, earning those miles could require a lot of credit card spending. Typical airline credit cards give you 1 mile per dollar spent on everyday shopping or 2 miles or more per dollar for certain categories, such as buying airline tickets or other travel expenses.
So if you come up short on miles for a flight you want or need to take, the option to buy miles can help you use up the miles you've already accumulated and save some cash.
2. Where & How to Buy Airline Miles
Each carrier allows you to purchase airline miles to beef up your frequent flyer account balance. To buy miles, visit the airline's reward programs page and click on the link to buy miles to start the process. You'll just need to already have a frequent flyer account with the airline. Usually, you'll also be given the option to purchase more miles if you try to book a flight with miles but don't have enough in your account.
There are also "mileage broker" sites, such as The Miles Broker, that act as a middleman for people wishing to sell and buy miles. However, this is risky. Buying and selling miles from third parties is against most airlines' mileage policies. It's not illegal, but if the airline finds out, the seller could lose all of his or her miles, and you could lose your ticket and frequent flyer miles as well.
You're better off having a friend or family member transfer miles to you as a gift--or buying the miles directly from the airline. Delta, American Airlines, Alaska Airlines, and others let you transfer miles to another person. However, usually they'll charge you to transfer miles to someone else, so in the end, you'll have to take that into consideration. Buying miles directly from the airline might be the more cost-efficient plan.
3. Should You Buy Airline Miles?
Whether or when to buy airline miles all comes down to the math. You'll have to compare the cost per mile if you paid for the ticket in cash versus buying the miles.
This means you'll need to know how much the airline's mile is actually worth. Some airline's miles are generally worth more than others, based on how much they typically charge for tickets. Here's our evaluation of mile values by airline:
Mile Value by Airline
| Airline | Point Value (in cents) | Notes |
| --- | --- | --- |
| Aeroplan | 1.2-3 | |
| Air France | 1.3 | |
| Alaska Airlines | 2 | |
| American Airlines | 1.7 | |
| ANA | 1.5 | |
| Avianca | 1.7 | |
| British Airways | 1.7 | |
| Delta | 1.2 | |
| Emirates | 1.2 | |
| Frontier Airlines | 1.1 | |
| JetBlue | 1-1.7 | 1 cent per mile for airfare. |
| Singapore Airlines | 1.5 | |
| Southwest | 1.4 | |
| United | 1.5 | |
| Virgin America | 1.5 | |
| Virgin Atlantic | 1.5 | |
Using this chart, you can determine whether or not an airline's sale of 10,000 miles for $200 is worth it for their tickets in general. (Answer: In this scenario, for most airlines, the answer is no, give our miles evaluation, since the 10,000 miles would cost 2 cents per mile.) But often airlines offer promotions, such as "buy 10,000 miles, get a 25% bonus." In this case, you'd get 12,500 miles for $100, which comes out to 1.6 cents per mile and could be a reasonable price.
A more precise way to calculate if it's worth buying miles, though, is to look at the actual cost of the ticket for the flight you're interested in and compare it to the cost of the mile.
For example, a one-way Delta flight from New York to San Francisco costs $563 or 45,000 miles. The below table shows what it would cost if you paid for miles to redeem all or part of the award flight:
Generally, it is only worthwhile to buy miles when you're only missing a small number of miles.
Note that when you buy a ticket in cash, you earn more miles in your frequent flyer account, which has a value to it. Whereas when you book an award ticket with miles you usually don't earn additional miles.
You'll also have to take into consideration whether there's a minimum number of miles you'd be required to purchase. If, say, you only need 500 more miles to qualify for the award ticket, but the minimum purchase is 2,000 miles, you'll have to weigh tying up your money for those extra miles against your desire for an award ticket now.
If this all sounds too complicated, though (or convoluted, which it can be), consider these two general rules of thumb when buying miles:
Purchasing miles for an inexpensive flight usually isn't as good a deal as purchasing miles to cover an expensive flight. Miles are more valuable when you redeem them for international tickets or premium tickets (or better yet, international premium tickets). For example, a round-trip ticket in first class from New York to Tokyo on United could cost at least $9,651. (Yikes!) If you have 190,000 miles, however, and can buy a mile for 2 cents per mile, you'll save almost $6,000. In this example, the cost of buying all the miles would be $3,800. If you already have miles racked up in your frequent flier account or sign-up for a credit card bonus, buying the extra miles will get you a flight tens of times its worth in cash.
If you only need a few miles to make your important trip happen, and you don't have the cash to otherwise cover the trip, go for it. In the end, the value of a mile also depends on that ticket's worth to you. I've bought miles myself when it was a $50 difference between booking a complete weekend getaway with miles or not going at all, and I know people who bought miles they needed to redeem an award ticket for emergency travel reasons.
Maybe it's not always the best deal to buy airline miles, but in some circumstances, it can be very valuable or perhaps even priceless.