Frontier Airlines Deals and Credit Card offers
Frontier Airlines offers deals and discounts on flights. See how to get free flights through Frontier credit cards and the frequent flyer program.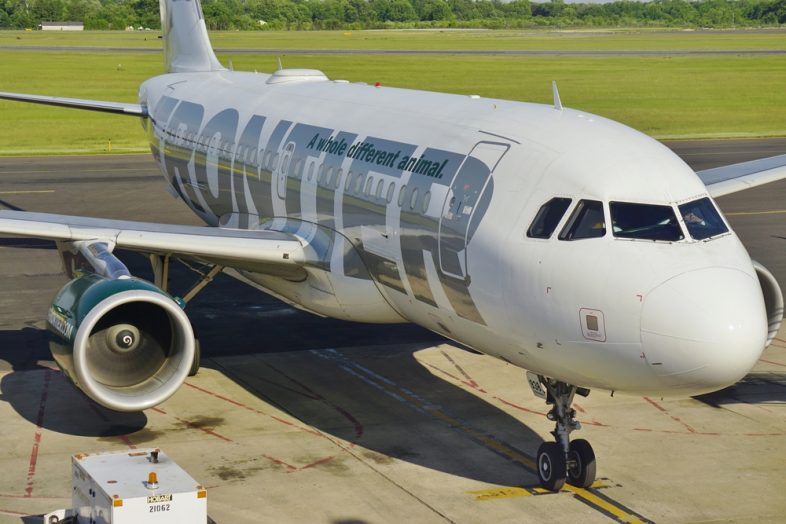 Frontier Airlines, headquartered in Denver, Colorado, operates flights to five international destinations and 55 destinations throughout the United States. Frontier operates one main hub out of Denver International Airport as well as numerous focus cities throughout the U.S., including:
Frontier operation locations
| Location | Airport |
| --- | --- |
| Trenton, NJ | Trenton-Mercer Airport (TTN) |
| Philadelphia, PA | Philadelphia International Airport (PHL) |
| Orlando, FL | Orlando International Airport (MCO) |
| Chicago, IL | O'Hare International Airport (ORD) |
| Las Vegas, NV | McCarran International Airport (LAS) |
| Cleveland, OH | Cleveland Hopkins International Airport (CLE) |
| Hebron, KY | Cincinnati/Northern Kentucky International Airport (CVG) |
| Atlanta, GA | Hartsfield-Jackson Atlanta International Airport (ATL) |
In 2016, Frontier began service to four new destinations, including Colorado Springs Airport, Port Columbus International Airport, San Antonio International Airport, and Pittsburgh International Airport.
Latest Frontier Flight Deals
Frontier Airlines runs different flight promotions throughout the year, and you can access the Frontier airline deals directly on the company's website. Although the company is known for its affordable, relatively inexpensive rates, you will want to check to see if there are any rules and restrictions, including blackout dates, specific travel periods, and purchase-by dates. The flights listed below are just a sample of some of the lowest Frontier Airlines flight deals to popular destinations across the country. Please note that these offers might become available without notice if they are a time-sensitive deal:
Latest Frontier Flight Deals
| Origination | Destination | One-way airfare | Travel period | Booking deadline |
| --- | --- | --- | --- | --- |
| San Francisco, CA (SFO) | Las Vegas, NV (LAS) | $34 | 4/12/16-5/24/16 | 5/2/16 |
| Chicago, IL (ORD) | Saint Augustine, FL (UST) | $39 | 4/26/16-5/24/16 | 4/18/16 |
| Dallas/Ft. Worth, TX (DFW) | Denver, CO (DEN) | $49 | 4/12/16-5/24/16 | 5/2/16 |
| Indianapolis, IN (IND) | Orlando, FL (MCO) | $59 | 4/12/16-5/24/16 | 5/2/16 |
| Houston, TX (IAH) | Las Vegas, NV (LAS) | $69 | 4/12/16-5/24/16 | 5/2/16 |
Frontier EarlyReturns Frequent Flyer Program
Like most other airlines, Frontier offers its guests a frequent flyer program known as the EarlyReturns program. There is no cost to join, and you can benefit from extra perks if you qualify for an Elite membership.
Earn miles
Generally, you will earn miles whenever you book a flight with Frontier, but the exact number will vary depending on the flight itself. You can also earn additional miles when you use the Frontier credit card or in the following categories:
Car rentals 
Rent a vehicle with Avis, Budget, Hertz, and National Car Rental and earn 50 miles per rental day up to four days or 500 miles on rentals of five days or more
Hotel bookings
When you book a room at the following hotels, you are entitled to earn Frontier EarlyReturns miles.
Country Inns & Suites by Carlson: Earn double Frontier EarlyReturns miles
Hilton: Hilton Honors members can earn both Points & Miles for the same stay
La Quinta Inns & Suites: Earn 250 miles per qualified stay
Marriott: Earn 1 or 2 miles per dollar spent depending on the lodging property
Wyndham: Earn 500 EarlyReturns miles per qualified stay at Wyndham Hotels and Resorts or 2 miles per dollar spent on Wyndham Rewards hotel brands such as Ramada, Days Inn, Super 8, Howard Johnson, and Travelodge
Shopping and services for bonus miles
Earn EarlyReturns miles by sharing your opinions with third-party survey and market research sites such as e-Rewards and e-Miles. Other ways to earn include:
Receive miles every day when you dine, shop, or park at more than 170 airports in the country or when you purchase from 25,000 businesses in the U.S. You are entitled to earn up to 5,000 bonus miles every calendar quarter, and these miles are based on your cumulative spending across the Thanks Again Rewarding Merchant Network.
Sign-up for a Vinesse wine club shipment that starts as low as $12 to $15 per bottle and receive 1,500 EarlyReturns miles with your first shipment.
Other Ways to Earn
Transportation: Book online at ExecuCar.com to earn 150 miles or at SuperShuttle.com to earn 50 miles. You can also choose from many top cruise lines and book through Frontier EarlyReturns Cruises to earn anywhere from 1,500 miles for 1-5 nights or 10,000 miles for 13 nights or more.
Mileage Exchange: You can get the most out of your loyalty programs by looking into mileage exchange options via Points.com, Club Carlson, and Marriott Rewards.
Floral: Earn 10 EarlyReturns miles for every $1 you spend at Teleflora.
Redeeming miles
Like most airlines, you have the ability to cash in on the miles you've earned. For as little as 20,000 miles (from $11.20 in taxes/fees), you can earn a domestic roundtrip award ticket within the U.S. There are two ways to redeem your EarlyReturns miles for these flights:
Call Frontier Reservations to speak to an agent
Log in to FlyFrontier.com and redeem your miles online
Note that a reservation service fee of $10 and an award redemption fee may apply to all economy redemptions made via the company's reservations call centers.
Frontier Airlines offers a program called Frontier's Fare options, where you are able to choose the fare that best meets your needs. Similarly, when you are trying to redeem your EarlyReturns miles for travel, you can choose from several redemption levels:
Economy Award Tickets get Economy Fare option benefits
Choice Award Tickets get Economy Fare option benefits with greater flight availability
Last Seat Availability Award Tickets are exclusively available to Elite members
Taxes and mileage redemption levels vary based on the type of award you choose, and range from a minimum of 10,000 award miles for a one-way trip in the U.S. at the Economy level to a minimum of 22,500 award miles for a one-way trip in the U.S. at the Last Seat Availability level for Elite members. Trips and from Mexico, the Dominican Republic, and Jamaica will require a minimum of 15,000 and 27,500 award miles for a one-way trip at the Economy and Elite levels, respectively.
In addition to redeeming your miles for flights, you can also obtain a variety of goods and services, including:
Free car rentals: Redeem your miles for car rentals from Avis, National Car Rental, and Hertz.
Free hotel stays: For 25,000 miles, you can receive a one-night stay at any participating Radisson hotel in the U.S., Canada, and Mexico, or trade in 40,000 miles for a one-night stay at any participating Radisson hotel worldwide.
Shopping and Services: You can receive a full year of some of the most popular magazines in circulation, including the travel, entertainment, and personal finance industries. The redemption level starts at just 600 miles.
Hilton Honors allows you to exchange Honors points for miles: 50,000 points = 7,500 miles, 20,000 points = 3,000 miles, and 10,000 points = 1,500 miles.
Club Carlson allows you to convert your Gold Points into miles at a 10 to 1 conversion. You can either set your account to automatically convert every 10,000 points into miles, or you can convert them yourself in increments.
Marriott Rewards members can transfer their points into EarlyReturns miles.
Frontier EarlyReturns Elite Membership
Frontier Airlines retired the Ascent and Summit elite status on March 7, 2015, and launched one brand new tier -- Frontier Elite. The new structure is simpler but still rewards the company's most frequent fliers with additional benefits.
You can qualify for the Frontier Airlines Elite program by flying 25+ segments or 20,000+ miles. As an Elite member, you will enjoy extra points, including a complimentary carry-on, advanced seat assignments, priority services, and more. Once you qualify for Frontier Elite status, you can expect to receive these benefits for 365 days, or one full year from the date of qualification. After 365 days, you must re-qualify.
Benefits included with a Frontier Airlines Elite membership are as follows:
Complimentary carry-on bag
STRETCH seating at check-in
Advanced seat assignment
Priority lane service for security, check-in, and boarding
Award Redemption Fee waived
Same-day Confirmed Fee waived
Unaccompanied Minor Fee waived for Elite minors
Free same-day standby
Reservation Call Center Ticketing Fee waived
Last Seat Availability awards (redeem your miles for any available seat)
Frontier Airlines Credit Cards
Like other airlines that offer their guests branded credit cards, the Frontier Airlines credit cards allow you to earn miles under the company's EarlyReturns program, but there are different benefits depending on the card you choose. Both cards include perks such as bonus miles, miles for making purchases on the company's website, and a complimentary FICO credit score.
Here are both credit cards are broken down by the complete list of benefits:
Frontier Airlines World MasterCard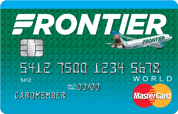 40,000 bonus miles after you make $500 in qualifying purchases in the first 90 days
Earn 2 miles per $1 spent on FlyFrontier.com and 1 mile per $1 on all other purchases
Redeem EarlyReturns miles for two roundtrip domestic award tickets
Award Redemption Fee Waiver
Receive a $100 flight discount voucher for Frontier Airlines following your account anniversary if you had spent $2,500 or more during the year of your membership
$69 annual fee
Frontier No Annual Fee World MasterCard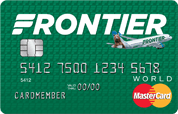 10,000 bonus miles after first purchase
Earn 1 mile per $1 spent on FlyFrontier.com and 1 mile per $2 on all other purchases
Redeem miles for a one-way domestic award ticket
Award Redemption Fee Waiver
No annual fee
Regardless of the type of Frontier Airlines credit card you choose, you will need to use your card for at least one purchase every six months to keep your miles from expiring. Both cards also come with a 0% introductory APR offer on balance transfers made within 45 days of you opening the account. After the introductory period expires, you will receive a variable APR, based on your creditworthiness.
Frontier Airlines Baggage Fees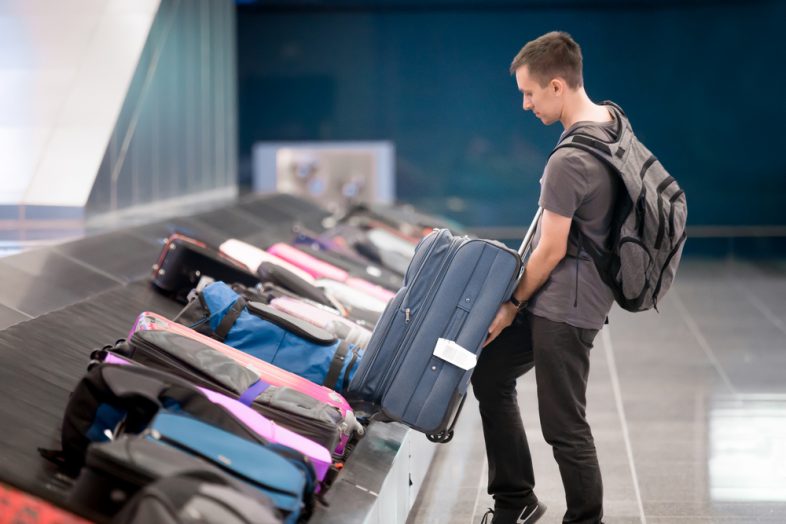 Frontier Airlines allows one free personal item that must be able to fit under the seat in front of you, or no larger than 18" long, 14" wide, and 8" tall, including straps, wheels, and handles. Some examples of these free belongings include computer bags, briefcases, or purses. You can view the entire table of baggage fees on the Frontier Airline website. Note that guests do receive discounts for checking their baggage at FlyFrontier.com, at booking, and up to 24 hours before departure.
Frontier's size and weight restrictions are:
Less than 50 pounds (23 kilograms)
62 inches (157 centimeters) when you combine the depth, width, and height
How to avoid Frontier checked bag fees
While you are entitled to one free personal item as noted above, this is not to be confused with a carry-on item that does, in fact, cost money. However, there are several other ways that you can limit or avoid the Frontier Airlines baggage fees:
Pay for your bags on FlyFrontier.com: When you do this, you will automatically receive a $5 discount, which means that you will pay around $30 for your first checked bag.
Take advantage of value baggage options: Frontier offers value season pricing through 2/10/16 and from 4/5/16 through 6/8/16, and your first checked bag will only run about $25 during these time periods.
Become an Elite member: EarlyReturns Elite members always receive a free carry-on bag in addition to the free personal item.
Frontier Baggage fees compared to other major U.S. airlines:
Most major airlines in the U.S. will cost approximately $25 for the first checked bag and up to $35 for your second checked bag. Frontier Airlines' baggage fees are slightly higher, but still around what is typically expected from many other airlines. See the following table for reference:
Frontier's baggage fees compared to other major U.S. airlines
| Airline | First checked bag | Second checked bag |
| --- | --- | --- |
| Frontier Airlines | $30 | $40 |
| American Airlines | $25 | $35 |
| Delta Airlines | $25 | $35 |
| JetBlue Airways | $20 | $35 |
| Southwest Airlines | $0 | $0 |
| United Airlines | $25 | $30 |
5 Tips When Flying With Frontier Airlines
Frontier Airlines advertises its services as "low fares done right," and while they do, in fact, have some of the lowest rates in the industry, they also have some of the highest add-on costs that, in some cases, can eat away at the money you think you're saving. Here are some tips to help you through the Frontier Airlines booking process and overcome those pesky additional fees:
1. Rethink your seats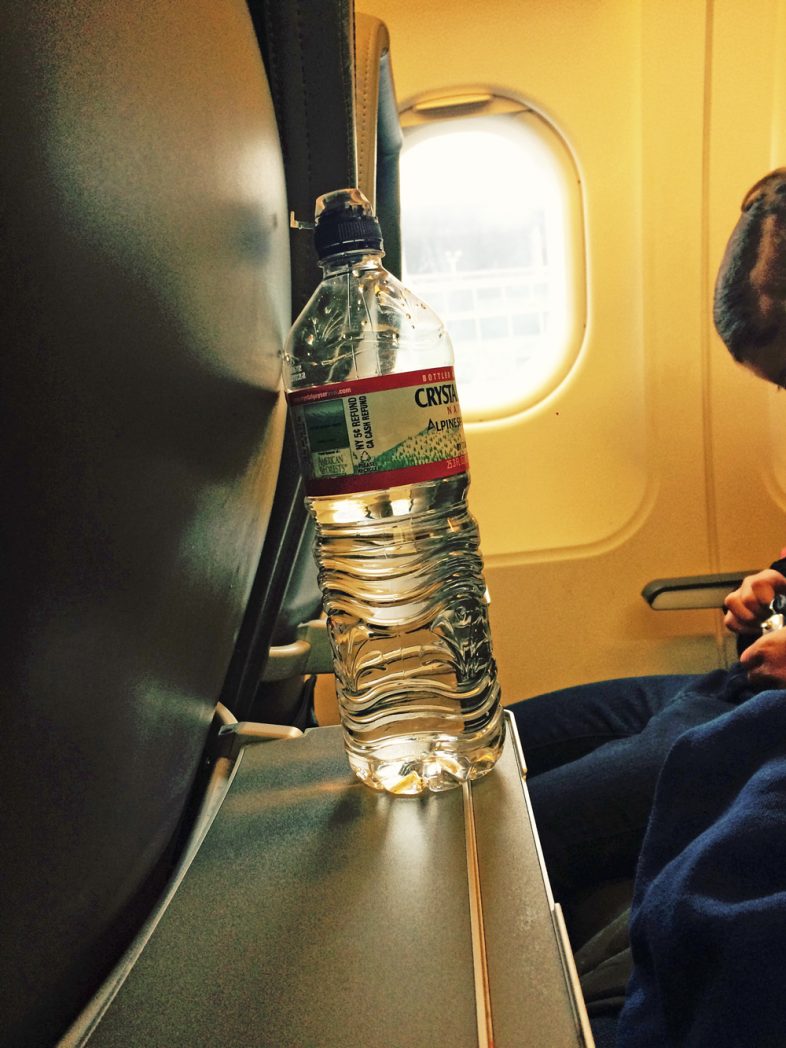 The seating policy is pretty straightforward: You will be charged for any advanced seat assignments. So, you are left with two choices. You can either choose your specific seat in advance and pay a fee, or you can wait until you check in and accept the seat the airline assigns to you. The fee is typically around $4 if you pay in advance, but you could be looking at $10 or more if you wait until you get to the airport. Unfortunately, if you are flying with friends or family, paying for a reserved seat is the only way you are guaranteed to sit together. However, if you'd like to save some money and you really don't mind sitting apart, it's best to simply accept your seat assignments and avoid paying the advanced seat fee.
2. Check out the Discount Den
If you're looking for the best Frontier Airlines deals, you'll have to check out the company's Discount Den -- a subscription that gives you exclusive access to the company's lowest available fares year-round. You must be 18 years of age or older to enroll in the Discount Den, and here's what you get:
Unlimited savings for one full year
Fares are good for up to six people including you
$49.99 annual fee
Be among the first to hear about hot new destinations, promotions, and new offers
Earn EarlyReturns miles for every purchase
3. Sign-up for THE WORKS
The cost of THE WORKS membership is about 60% less than if you were to purchase each component by itself, and fares range from $49 to $69 for one-way direct flights and $57 to $83 for one-way connecting flights. You will receive:
Priority boarding
One checked bag (up to a $30 value)
One carry-on bag (up to a $60 value)
Seat selection, including exit row and STRETCH options
No change fees (regularly $99 per change)
Refundability (exclusive to THE WORKS
Frontier Airlines guarantees that THE WORKS members will be guaranteed flexibility, boarding in Zone 1, the best available seat on the flight, furry animals on your aircraft tail, and the ability to have your carry-on bag in the cabin with you. The bundle is only available for purchase at FlyFrontier.com, and you must book at the time of your initial booking.
4. Pay your bag fees early
This tip can't be stressed enough. Once you decide on the belongings you're bringing with you and whether you're carrying on or checking, pre-pay those bag fees by going straight to FlyFrontier.com. It's critical that you do this more than 24 hours before your flight. If you procrastinate until the day before or, even worse, wait until you arrive at the airport, you can expect to pay $5 or more in fees, depending on where you purchase the baggage. The following numbers are for the first checked bag:
FlyFrontier.com: $30
Call center: $35
Website check-in: $35
Self-service kiosk or airport ticket counter: $40
Departure gate: $60
5. Have a baggage strategy
Keep in mind that most airlines will charge you for checked baggage. While you might think it's a good idea to try and avoid those fees by carrying your luggage in the cabin with you, Frontier Airlines also charges for carry-on bags, and in some cases, the fees for carry-on bags is actually more than those for checked bags. However, there are several exceptions, including any items or personal belongings that will fit under the seat in front of you. Note that since each checked bag adds to the cost, it will actually be less expensive to bring one on board and check the rest of the bags if you are planning on bringing two or more.
Frontier ratings compared to other major U.S. airlines
Compared to eight other major airlines based in North America, Frontier Airlines stands square in the middle of the group. Below is a table, courtesy of The Wall Street Journal, that illustrates how Frontier Airlines is rated in terms of travel factors that passengers consider important when choosing a specific airline for their flights:
2018 Airline Scorecard (WSJ)
| Rank | Overall | On-time arrivals | Canceled flights | Extreme delays | 2-hour tarmac delays | Mishandled baggage | Involuntary bumping | Complaints |
| --- | --- | --- | --- | --- | --- | --- | --- | --- |
| 1 | Delta Airlines | Delta | Delta | Alaska | Southwest | Spirit | Delta | Southwest |
| 2 | Alaska Airlines | Alaska | Spirit | Delta | Alaska | JetBlue | JetBlue | Alaska |
| 3 | Southwest Airlines | Spirit | Alaska | Southwest | Frontier | Delta | United | Delta |
| 4 | Spirit | Southwest | Southwest | Spirit | Spirit | United | American | JetBlue |
| 5 | JetBlue Airways (tied for 5th) | United | United | American | Delta | Alaska | Southwest | United |
| 6 | United Airlines (tied for 5th) | American | Frontier | United | Jetblue | Frontier | Alaska | American |
| 7 | American Airlines | JetBlue | JetBlue | JetBlue | United | Southwest | Spirit | Spirit |
| 8 | Frontier | Frontier | American | frontier | American | American | Frontier | Frontier |
According to the table, which ranks airline performance on seven different measures, reveals progress in air travel. United and Southwest airlines had turnaround years, but United still falls behind many competitors. Delta, which has led the reliability push, continued to improve, and Virgin America and Alaska are still leading the pack.
For Frontier Airlines, its ranking jumped from number seven in 2013 to number six in 2014 and held fast to the number six spot into 2015.
Final Verdict
Frontier Airlines offers some of the lowest fares in the industry. While this is certainly a great option for frequent travelers who carry little or no bags with them or who fly for daily business purposes, the amount you save in fares can quickly become a wash when you take into consideration the cost of all the add-ons and baggage that the airline charges. When done right, however, most travelers can take advantage of the low rates and use the Frontier Airlines World MasterCard credit card to get the most out of all Frontier Airlines has to offer. Make sure you do your research, study the fine print, read the guidelines, and know what to expect ahead of time to ensure there are no surprises or disappointments on your trip.