How to Save More When Flying With Southwest Airlines
See the latest Southwest Airlines flight deals and credit card offers to save money on trips and baggage fees through tips and A-List elite traveler status.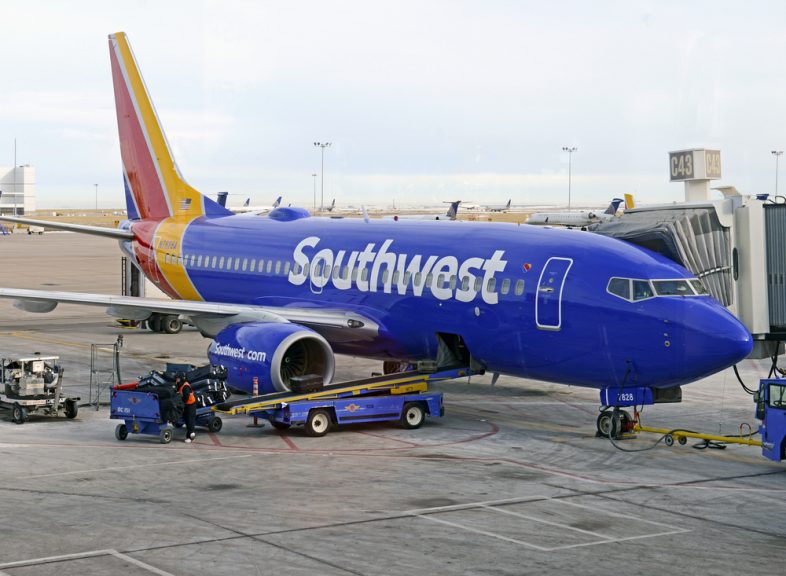 Headquartered in Dallas, Southwest Airlines is one of the largest low-cost carriers.
Today, Southwest operates more than 3,900 flights a day to 97 destinations in the United States, including Puerto Rico, Mexico, Central America, and the Caribbean.
Southwest doesn't have a traditional hub system, which involves planes flying into a major airport before heading to its final destination.
Rather, Southwest has a point-to-point system, where its airplanes fly to a destination, and then turn around and return to the city where the flight originated.
This approach allows the airline to offer more direct flights.
Southwest Airline's top 10 airports
Airport
Atlanta, GA (ATL)
Baltimore, MD (BWI)
Chicago, IL (Midway, MDW)
Denver, CO (DEN)
Dallas, TX (Love Field, DAL)
Houston, TX (Hobby, HOU)
Las Vegas, NV (LAS)
Los Angeles, CA (LAX)
Orlando, FL (MCO)
Phoenix, AZ (PHX)
Frequently Check Special Offers
The price of airfare can be expensive depending on where you fly when you book, and the number of tickets you purchase.
And after comparing prices, you might conclude it's cheaper to drive to your destination. But sometimes, driving isn't feasible, and it's certainly not the faster route.
Thanks to Southwest Airline travel deals, you can get where you need to go at an affordable price.
Southwest periodically runs promotions and deals to help its customers save.
Whether you're looking for Southwest Airlines last-minute deals, Southwest Airlines one-way deals or Southwest Airlines deals with Florida, here's a sample of one-way travel deals previously featured on the company's website.
Promotions expire, so check the site's "Special Offers" page frequently for the most recent offers.
Become a Frequent Flyer With Southwest
If you like reward programs and freebies, Southwest's Rapid Reward's program lets you earn points toward future travel.
Airline tickets can be anything but cheap.
However, the more reward points you accumulate, the more free flights you'll earn.
Southwest is all about simplicity, so it may come as no surprise that it's easy and fast to earn and redeem points. The points you earn can be redeemed for flights to domestic and international destinations.
Free Rapid Rewards Sign-up
The program is free to join. Visit Southwest.com and follow the link to enroll in Rapid Rewards (free).
Create an account and provide your personal information, such as name, date of birth, gender, address, and contact information. You'll also need to create a username and password.
The entire process is simple and can be completed in just a couple of minutes.
Simple ways to earn reward points
Earning Rapid Reward points is just as simple as enrolling in the program.
The more you fly, the more you can earn. A number of points you earn depends on the type of fare. Southwest Airlines offers three types of fares: Business Select, Anytime, and Wanna Get Away.
Book a Business Select flight and earn 12 points for every $1 you spend.
You'll earn 10 points for every $1 with an Anytime ticket, and six points per every $1 with Southwest Airline's Wanna Get Away deals.
Rapid Rewards points can also be earned through spending with a Southwest credit card.
Southwest Rapid Reward Tiers
Southwest has two Rapid Reward tiers: A-List and A-list Preferred. You can move up the tier and enjoy additional status benefits as you earn more points.
Once you have 25 one-way qualifying flights or earn 35,000 points in a calendar year, you'll achieve A-list status.
The benefits include priority boarding, priority check-in and security line access, standby priority, plus you'll earn 25% more points on flights and you can access a dedicated A-List member phone line.
Earning A-list Preferred Status
You'll reach A-List Preferred status when you have 50 one-way qualifying flights or earn 70,000 qualifying points in a calendar year. At this level, you enjoy the same benefits of A-List status. In addition, you'll earn 100% more points per flight and enjoy free in-flight Wi-Fi.
Once you have 100 one-way qualifying flights or earn 110,000 qualifying points in a calendar year, you're eligible to receive a companion pass. This pass allows one person to fly with you free at any time for an entire year.
Earn More With Southwest Airlines Partners
Booking a flight isn't the only way to earn Rapid Reward points. You can also earn points through hotels, restaurants, car rental companies, and retailers that partner with Southwest.
Let's say you want to book a hotel at Best Western and earn additional Rapid Reward points.  This is possible as long as you're also a Best Western rewards member. Simply sign into your Best Western Rewards account and modify your earning preferences. Select Southwest Airlines as a rewards partner and provide your Rapid Rewards number. That's it.
Now, you can start earning 600 points for every qualifying stay at a Best Western hotel. Simply mention your Rewards number when booking your reservations.
Tip: Book your hotel through Southwest.com and earn an additional 150 points per stay.
You can even earn Rapid Reward points when dining out. Sign up for Southwest Rapid Rewards Dining and link a debit or credit card to your account (up to five). You don't have to remember your reward membership's ID number. Simply purchase your meal using a registered debit or credit card, and points are credited to your account in about four to six weeks.
Redeeming Rapid Reward points
To redeem your Rapid Reward points for award flights, visit Southwest.com to search flights, and then choose the option to view fares in points. Compare flights and schedules, and then make your selection. It's the same process for redeeming points for an international flight or a hotel stay.
You can also redeem your rewards points for merchandise, gift cards, and experiences.
Buying Southwest Rapid Reward points
If you're ready to redeem your points, but you don't have enough, you can purchase additional points for 2.75 cents per point. Visit the Rapid Rewards Point Center to complete your purchase. You can also transfer reward points to a friend or family, donate points to a charity, or give points as a gift.
Your points will never expire as long as there's at least one qualifying earning activity every 24 months.
Southwest Airline credit cards
Southwest offers two consumer credit cards that are issued by Chase. As a Rapid Rewards credit cardholder, there's an opportunity to earn additional points redeemable for travel and other merchandise. Credit card options include:
Southwest Rapid Rewards Premier Credit Card
Apply for the and earn three points for every $1 spent with Southwest Airlines and two points per dollar at Rapid Rewards hotels and car rental companies that partner with Southwest.
Additionally, earn two points per $1 spent on:
Local transit and commuting
Internet, cable phone services, and select streaming
Southwest Rapid Rewards Plus Credit Card
also offers two points for every $1 spent with Southwest Airlines, and with hotels and car rental companies that partner with Southwest, as well as one point per $1 spent elsewhere.
You'll also receive anniversary points and a welcome bonus when spending requirements are met. There is a $69 annual fee.
Southwest Airline credit cards have no blackout dates or seat restrictions.
Read Southwest Rapid Rewards Plus Credit Card Editor's Review
Southwest Baggage Fees
Southwest is the only major airline carrier that doesn't charge passengers for the first and second checked bags. It's important to note that Southwest doesn't allow more than two bags per ticketed customer.
Passengers are, however, allowed to bring one carry-on bag and one small personal item aboard at no charge. Personal items can include items such as a purse, a briefcase, a laptop. The dimensions cannot exceed 10 x 16 x 24 inches.
Southwest's free bag policy is only for luggage that doesn't exceed 50 pounds or 62 inches. Bags that exceed these limits are charged a $75 fee per item, one-way. Items more than 100 pounds must ship as cargo.
Baggage Fees on Other Airlines
Southwest allows each passenger to check two bags free, unlike other airlines that charge a minimum of $25 and $35 for the first and second checked bag.
See how Southwest baggage fees compare to the other major U.S. airlines:
Southwest Airlines baggage fees
| Airline | First checked bag | Second checked bag |
| --- | --- | --- |
| Southwest Airlines | $0 | $0 |
| Delta Airlines | $25 | $35 |
| American Airlines | $25 | $35 |
| United Airlines | $25 | $35 |
| JetBlue Airways | $20 | $35 |
Tips for Flying Southwest
1. Plan Ahead to Choose Your Seat
Southwest has an open seating policy. At check-in, you'll receive a boarding position.
The earlier you check-in for your flight, the sooner you're able to board the plane on the day of departure. If you want to sit with friends or family, check-in as early as possible. Southwest allows online check-ins 24 hours prior to a flight's departure.
2. Early Bird Check-In
If you always forget to check-in early, you can purchase Early Bird check-in for $12.50 each way.
With this service, you're automatically checked in at the 24-hour mark, which can guarantee a good boarding position.
3. Bring Birth Certificate for Children Under 2
Southwest allows children under the age of two to fly on a ticketed passengers lap free of charge.
However, you'll need to bring the child's birth certificate on the day of the flight, regardless of whether the child is an infant and obviously under the age of two. If an infant or child will fly in a car seat, you'll need to purchase an additional seat.
Comparing Southwest to Other Major U.S. Airlines
Southwest Airlines has been rated positively among the largest airlines in the country.
They are known for on-time arrivals, fewer delays and fewer complaints. See how they're ranked in other aspects:
2018 Airline Scorecard (WSJ)
| Rank | Overall | On-time arrivals | Canceled flights | Extreme delays | 2-hour tarmac delays | Mishandled baggage | Involuntary bumping | Complaints |
| --- | --- | --- | --- | --- | --- | --- | --- | --- |
| 1 | Delta Airlines | Delta | Delta | Alaska | Southwest | Spirit | Delta | Southwest |
| 2 | Alaska Airlines | Alaska | Spirit | Delta | Alaska | JetBlue | JetBlue | Alaska |
| 3 | Southwest Airlines | Spirit | Alaska | Southwest | Frontier | Delta | United | Delta |
| 4 | Spirit | Southwest | Southwest | Spirit | Spirit | United | American | JetBlue |
| 5 | JetBlue Airways (tied for 5th) | United | United | American | Delta | Alaska | Southwest | United |
| 6 | United Airlines (tied for 5th) | American | Frontier | United | Jetblue | Frontier | Alaska | American |
| 7 | American Airlines | JetBlue | JetBlue | JetBlue | United | Southwest | Spirit | Spirit |
| 8 | Frontier | Frontier | American | frontier | American | American | Frontier | Frontier |