Southwest Credit Cards 2023 Review: Which Card Is Best For You?
Southwest offers a few different credit cards. We compared the top cards so you can see which is best. Dive into our Southwest Credit Card Review here.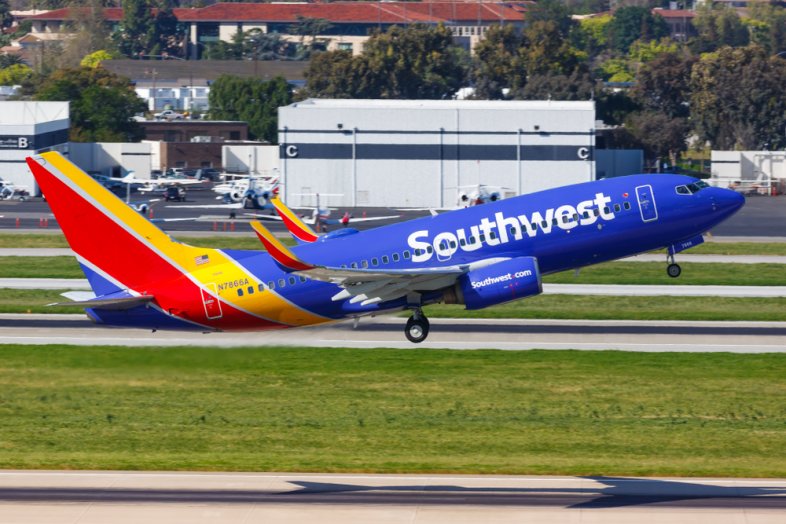 Southwest Airlines, known for its low airfares and lenient baggage-checking fees, is the third-largest U.S. airline.
To help you choose the best card for you, we're going to break things down with a fully comprehensive Southwest Credit Cards Review.
With a rather competitive pricing model, frequent fliers might not need to ask for more.
But, some Southwest customers might want more benefits and perks, which can be obtained by picking one of Southwest's two branded credit cards.
The lower-tiered card is the Southwest Airlines Rapid Rewards Plus Credit Card.
Its big brother is the Southwest Rapid Rewards Premier credit card.
Both are issued by Chase.
All points are earned under the Southwest Rapid Rewards frequent flyer program.
Southwest Airlines Rapid Rewards Plus Credit Card
We'll start our Southwest Credit Card Comparison with the Southwest Rapid Rewards Plus Credit Card, which has a $69 annual fee.
You'll get 2 points for every dollar on purchases made directly with Southwest Airlines.
You'll also earn the same rate on hotels and car rentals agency that are partnered with Rapid Rewards. All other spending earns 1 point per dollar.
Every year, you'll get 3,000 points as an anniversary gift. There are, however, foreign transactions fees (3% of the purchase amount) when you use the card internationally.
Southwest Rapid Rewards Premier credit card
There are three major differences between the two cards. The Southwest Rapid Rewards Premier credit card has the following features:
Instead of getting 3,000 points for your anniversary, you get 6,000 points for your card anniversary.
You'll receive 1,500 Tier Qualifying Points toward a higher frequent flyer status (A-List and A-List Preferred) per every $10,000 spent.
You won't pay any foreign transaction fees.
These are the additional perks that you get for an extra $30 per year.
Elite Status Needed for Travel Perks
Under the Rapid Rewards program, you can redeem points for a number of rewards.
Rapid Rewards is free to join for anyone, even if you don't have a Southwest-branded credit card. You can create an account by providing your general personal information. The process takes a few minutes to complete.
Points can be redeemed for Southwest flights, international flights, hotel stays, car rentals, cruises, gift cards, merchandise, and experiences.
For the travel rewards, it 's hard to put an accurate value on the Rapid Rewards points. For example, the cost of award flights can vary greatly and so will a number of points required to redeem them.
For gift cards and merchandise, the value of each point is closer to 1 point per 1 cent.
For instance, a $100 Southwest gift card requires 10,000 Rapid Rewards points. Occasionally, there are redemption deals where you can redeem a reward with fewer points than usual.
The Rapid Rewards program has three different status levels: basic, A-List, and A-List Preferred.
A basic member doesn't have any special benefits other than the ability to save up points. If you want travel privileges when flying with Southwest, you'll want to achieve the higher status levels.
The Southwest Rapid Rewards credit cards do not provide any of these perks on their own.
"A-List" status vs. "A-List Preferred" status
Elite status is earned based on the number of Southwest flights flown or tier qualifying points (TQPs) earned. A single origin-destination pair counts as one flight. Tier qualifying points are the Rapid Rewards points that you earn through booking Southwest flights.
The following points earned do not count:
Rapid Rewards partners (unless earned through the Southwest Rapid Rewards Premier credit card)
Purchased points
Bonus points
Promotional points
An "A-List" member needs to fly 25 Southwest Airlines one-way flights or earn 35,000 TQPs per year. A-List members get priority check-in, priority security lane access, a dedicated phone line, standby priority, and a 25% bonus on points earned on Southwest flights.
For "A-List Preferred" status, you need to fly 50 Southwest Airlines one-way flights or earn 70,000 TQPs per year.
An A-List Preferred member gets reserved check-in, free in-flight WiFi, and a 100% bonus on points earned on Southwest flights, in addition to all the benefits of an A-List member.
The Southwest Rapid Rewards Premier credit card makes it easier for you to climb the status ladder under the rewards program.
Which Card Should You Pick?
When you're trying to choose the Best Southwest Credit Card, differentiating the Rapid Rewards Plus and the Rapid Rewards Premier can be difficult since they're so similar. And, they have a rather small difference in annual fees.
Annual spend plays a role
One major factor in your decision process should be your annual spending. If you can earn extra TQPs every year, you'll be able to get A-List Preferred status quickly.
Therefore, the Southwest Rapid Rewards Premier credit card would be a better fit. Remember that you'll have to hit the $10,000-spending thresholds to earn the additional TQPs.
The extra $30 wouldn't seem like a big deal when you're getting plenty of convenient Southwest travel benefits.
Flying domestic or international
Your travel plans will also affect which of the two cards you should pick. If you're going to be traveling internationally, the Southwest Rapid Rewards Premier credit card is a clear winner.
You'll make up the additional $30 for the annual fee after spending $1,000 overseas per year.
Other Travel Rewards Credit Cards Can Be Better
Because many of the Southwest travel perks are tied to the Rapid Rewards program and not the Rapid Rewards cards, you might be better off with other travel rewards credit cards.
With these cards, you can earn plenty of rewards and even get A-List status. Meanwhile, you'll get the other handy benefits of these cards.
Chase Sapphire Reserve
Chase Sapphire Reserve is a popular travel credit card that can be very rewarding for frequent travelers.
For a $550 annual fee, you get an annual $300 travel statement credit, unlimited Priority Pass airport lounge access, no foreign transaction fees, personal concierge, and more.
Also, you earn 3 points per dollar on travel and dining (1 point per dollar elsewhere).
To make it even better, you can transfer these points to the Southwest Rapid Rewards program at a 1:1 ratio. (The points can be transferred to a dozen other airline and hotel loyalty programs.)
So, you can use the card to earn TQPs when purchasing Southwest flights. And, your points can be transferred to Rapid Rewards -- at a higher rate than the Southwest Rapid Rewards Premier credit card.
Chase Sapphire Preferred
Chase Sapphire Preferred is a lower-tiered version of Chase Sapphire Reserve. For a $95 annual fee, you get a rewards program that's a great fit for frequent travelers and those who dine out. You don't pay foreign transaction fees, and you get personal concierge too.
You'll also be able to transfer points to Rapid Rewards.