How to Choose the Right Delta Airlines Credit Card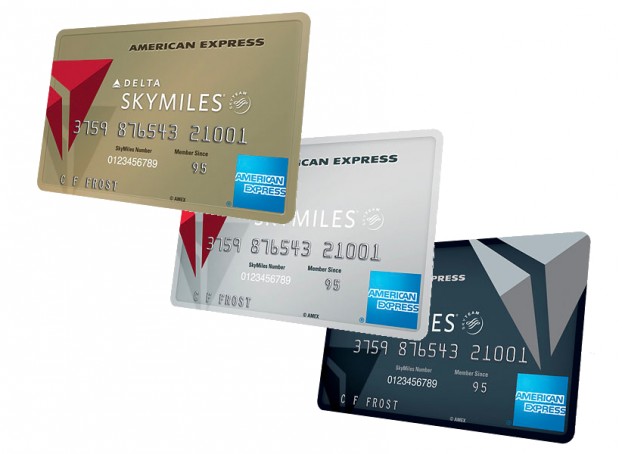 With more than 160 million annual passengers and 5,800 daily flights,
Delta Airlines
stands as the second-largest U.S.-based airline. Frequent fliers with Delta can find savings and improve their travel experience if they opt for one of the airline's credit cards. We break down each one to help you pick the best one.
Delta Airlines markets three credit cards: the Gold Delta SkyMiles, Platinum Delta SkyMiles and Delta Reserve credit cards with ongoing annual fees of $95, $150 and $450, respectively.
The three cards are very similar in many regards, including their miles-earnings ability, interest rates, priority boarding privileges and shopping protections. A few key features differentiate the three cards and their annual fees.
Gold Delta SkyMiles: Fly twice a year to make it worthwhile
With an annual fee of $95, the Gold Delta SkyMiles card is the lowest-tiered credit card from the airline. It offers 2 miles per dollar spend on Delta purchases and 1 mile per dollar on everything else.
Cardmembers get to check their first bag for free on every Delta flight, which is a savings of $50 per round trip flight. Priority boarding adds another $10 value. For cardmembers and two companions, one-day passes to Sky Club airport lounges come at a discounted price of $25 each ($50 each normally).
Essentially, a Gold Delta SkyMiles cardmember can recoup the cost of the annual fee with two roundtrip flights per year in which they check one bag. Taking advantage of the other features will only generate more value from the $95 annual cost.
Platinum Delta SkyMiles Card: A small step up from Gold
The Platinum Delta SkyMiles card is the middle-tiered card from Delta, but it is just a small step up from the Gold Delta SkyMiles card, as seen from a slight increase in the annual fee to $150.
The features of Platinum Delta SkyMiles card is almost the same as the Gold Delta SkyMiles card, except for the addition of annual spend bonuses and baggage insurance.
Cardmembers earn 10,000 bonus miles and 10,000 MQMs (Medallion Qualification Miles) after making $25,000 in card purchases each year. Spend $50,000 in purchases during any year and earn an additional 10,000 bonus miles and 10,000 MQMs. Earn enough MQMs under Delta's Medallion program and passengers receive a long list of travel benefits and perks, varies by the Medallion status (Silver, Gold, Platinum and Diamond).
Another new card feature is baggage insurance, which covers lost, stolen or damaged carry-on or checked baggage.
Those who sign up for a Platinum Delta SkyMiles and pay the $150 annual fee, should plan on achieving a Medallion program status. Otherwise, cardmembers are paying $65 more per year (versus the Gold Delta SkyMiles card) for baggage insurance -- some travelers may find it to be worth the peace of mind.
Delta Reserve: Greater value than you think
The Delta Reserve card is the top-tier credit card from the airline. With an annual fee of $495, the card may seem expensive. But, for the frequent Delta flyer, the cost is easily worth it.
The prominent perk with the Delta Reserve card is the annual domestic companion certificate (economy or first class). Depending on the flight, this ticket alone could be worth the entire annual fee or more.
Additionally, with $30,000 in purchases, Delta Reserve cardmembers earn 15,000 bonus miles and 15,000 MQMs per year; with 60,000 in purchases, cardmembers earn another 15,000 bonus miles and 15,000 MQMs.
Delta customers who tend to fly with others -- even if they don't fly often or spend a large amount annually -- can find great value from the Delta Reserve card, despite its $495 price tag. A combination of the companion ticket and free checked bags is enough make up the cost of the annual fee.
Those who do expect to spend a lot of money on the Delta Reserve card will see even more benefits through the Medallion program, since the Delta Reserve card makes it easier to get a higher Medallion status.