Delta Airlines Deals and Credit Card Offers
Delta Airlines offers occasional deals and discounts on flights while their credit card offers can help you save money on airfare and travel benefits.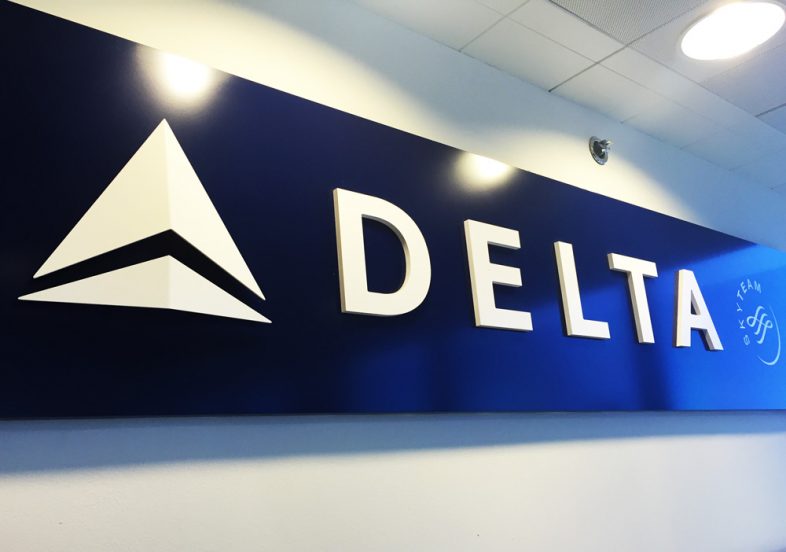 Delta Airlines is the second-largest airline in North America (by the number of traveled passengers) with a fleet of more than 800 planes that fly to more than 325 destinations worldwide. Delta operates 12 main hubs (8 of which are in the U.S.) with Atlanta, GA being the central hub.
Therefore, you are most likely to find Delta flights to and from these hubs:
Delta Airline hubs
| Delta hub location | Airport code(s) | Destinations served | # of Sky Club lounges |
| --- | --- | --- | --- |
| Amsterdam, Netherlands | Amsterdam Schiphol Airport (AMS) | 21 | 3 |
| Atlanta, GA | Hartsfield-Jackson Atlanta International Airport (ATL) | 220 | 9 |
| Boston, MA | Boston Logan International Airport (BOS) | 23 | 2 |
| Cincinnati, OH | Cincinnati/Northern Kentucky International Airport (CVG) | 34 | 1 |
| Detroit, MI | Detroit Metropolitan Wayne County Airport (DTW) | 130 | 4 |
| Los Angeles, CA | Los Angeles International Airport (LAX) | 57 | 1 |
| Minneapolis/St. Paul, MN | Minneapolis-St. Paul International Airport (MSP) | 139 | 2 |
| New York, NY | John F. Kennedy International Airport (JFK) | 83 | 2 |
| New York, NY | LaGuardia Airport (LAG) | 56 | 2 |
| Paris, France | Paris Charles de Gaulle Airport (CDG) | 20 | 1 |
| Salt Lake City, UT | Salt Lake City International Airport (SLC) | 85 | 1 |
| Seattle, WA | Seattle-Tacoma International Airport (SEA) | 44 | 1 |
| Tokyo, Japan | Tokyo-Narita International Airport (NRT) | 18 | 2 |
Latest Delta flight deals
Delta Airlines runs various flight promotions that can be found on its website.
These flights may come with restrictions and rules, such as purchase by dates, travel period, and blackout dates. They may offer some of the lowest roundtrip prices that are available to popular destinations (these offers may be limit-time and may become unavailable without notice):
Delta SkyMiles frequent flyer program
Like most other airlines, Delta offers a frequent flyer program called the SkyMiles Program. The program is free to join for traveling passengers who are at least 13 years of age (all prospective members under 18 must obtain parental or guardian consent).
Earn miles
Generally, miles can be earned whenever you book a Delta flight -- the exact number miles varies from flight to flight.
Additional miles can be earned when you also use a Delta SkyMiles Credit Card (more information below). Miles may also be earned when you purchase airfare through a Delta airline partner.
Delta-branded credit cards from American Express participate in the SkyMiles program and allow cardmembers to earn bonus miles.
Miles do not expire and there is no maximum number of miles that you can earn.
SkyMiles members are allowed to buy miles, which may allow members to obtain free Award Flights when they don't quite have enough miles (find out when it is worth buying miles).
It costs $0.035 per mile (plus taxes) and members may only purchase up to 60,000 miles per the calendar year.
Redeeming miles
Members can accumulate miles and use them to obtain free Delta flights (taxes and other fees may still apply), Delta Sky Club membership, First Class upgrades, exclusive events and destinations through the SkyMiles Experiences offering, and more.
For award flights, miles can be redeemed for one-way Award Tickets. Or, if members don't have enough miles to redeem a flight, there is the Miles + Cash option, which allows members to pay a small amount in order to compensate for the missing miles.
The exact number of miles to redeem for an Award Ticket can vary greatly depending on the flight, but members may begin redeeming flights with as little as 10,000 miles.
For Gold, Platinum, and Delta Reserve credit card customers, there is also the Pay with Miles benefit which allows them to redeem miles to reduce the cost of their flights.
Delta SkyMiles Medallion elite traveler program
Under the SkyMiles program, there is also the Medallion program, which determines the frequent flyer status of a customer.
There are four different Medallion statuses:
Silver
Gold
Platinum
Diamond
With each status level, members get a long list of benefits that include cabin class upgrades (for companions as well), Medallion mileage bonuses, free check baggage, priority check-in and boarding and much more. .
It is important to note that the Medallion programs uses Medallion Qualification Miles (MQMs), Medallion Qualification Segments (MQSs) and Medallion Qualification Dollars (MQDs) to determine status -- these miles are not related to the miles that customers earn through the purchase of Delta airfare.
MQMs are earned with each flight and they're based on the actual distance flown. MQSs are based on the individual segments flown. A segment is an origin-destination pair, so a round-trip flight will count as two (2) MQSs. MQDs are earned based on the base fare of a Delta ticket plus any carrier surcharges (not taxes or fees).
Qualification requirements are based on annual travel and spending activity. Medallion status is good for the calendar year in which it was earned and the following year.
Here are the requirements to qualify for each status level:
All members who have a Delta SkyMiles Credit Card can obtain Medallion status with $25,000 in spending. Members who have the higher-tiered Delta-branded cards from American Express will be able to achieve higher Medallion status at an accelerated rate, depending on their card spending.
Partnership in the SkyTeam alliance
The SkyTeam Alliance is a global partnership between 20 of airlines worldwide to create a network for more flights, connectivity and shared benefits for each other's passengers.
Currently, the list of airlines in the SkyTeam network include: Aeroflot, Aerolineas Argentinas, Aeromexico, Air Europa, Air France, Alitalia, China Airlines, China Eastern, China Southern, Czech Airlines, Delta Airlines, Garuda Indonesia, Kenya Airways, KLM, Korean Airlines, Middle East Airlines, Saudia, TAROM, Vietnam Airlines, and Xiamen Airlines.
Delta Medallion members are automatically SkyTeam Elite members and they may be eligible for priority check-in, priority boarding, preferred seating privileges and more with SkyTeam partners.
Furthermore, Medallion members with Gold, Platinum or Diamond status also receive SkyTeam Elite Plus benefits, which include expedited baggage-handling and complimentary lounge access (plus one guest) to most SkyTeam lounges worldwide.
List of Delta SkyMiles credit cards
Like many airlines that issue their own branded credit cards, Delta issues three branded credit cards through American Express.
All of them allow you to earn miles under Delta's SkyMiles program, but each of them provides different benefits as you go up the credit card tiers.
Some of the benefits include free checked baggage, priority boarding, discounted Delta Sky Club access and complimentary companion certificates.
Here is the list of Delta SkyMilescard in order of increasing tier:
Delta SkyMiles® Gold American Express Card
This card offers a free first checked bag on each Delta flight, priority boarding, reduced Sky Club access for you and two guests and waiver of all foreign transaction fees. The card has a $95 annual fee (waived for the first year).
Delta SkyMiles® Platinum American Express Card
At the Platinum level, you're also getting a complimentary domestic economy class companion certificate each year when you renew your card membership. The card has a $195 annual fee.
Delta SkyMiles® Reserve American Express Card
With the most prestigious Delta SkyMiles card, you get all the features of the lower-tiered cards and free Delta Sky Club access for the primary cardholder and reduced-rate access for two guests, a domestic First or Main Cabin companion certificate every year, upgrade priority, concierge service and access to the Sky Priority lane at participating airports. The card has a $550 annual fee.
Business versions of the Gold, Platinum, and Delta Reserve credit cards are also available from American Express with very similar features.
Delta baggage fees
Delta generally charges for the first and second checked bags on most domestic flights at $25 and $35.
Baggage fees may also be waived on certain Delta flights (either on the first, second or both checked bags). The Delta's baggage fees web page has the complete table of baggage fees.
Note that Delta's baggage weight and size restrictions are:
50 pounds (23 kilograms)
62 inches (157) when you add length, width and height
How to avoid Delta checked bag fees
In addition to there being certain flights where baggage fees are automatically waived, there are several ways that you can avoid those fees.
Fly with a higher-tiered cabin class.
Delta One, first and business class customers are generally allowed two free checked bags (three bags if you're flying to or from Brazil). Additionally, the weight restriction of these checked bags is increased to 70 pounds.
Have frequent flyer status with Delta or a partnered airline.
Depending on the cabin class and flight, Medallion members and SkyTeam members can check up to three bags for free.
Have a Delta credit card (Gold, Platinum and Delta Reserve).
All Delta credit cards, with the exception of the basic Delta Credit Card, offer to waive the first checked bag fee for the primary cardmember and up to 8 guests on the same reservation.
Be part of the U.S. Military.
Active U.S. military personnel, their dependents or relocating dependents traveling in the Main Cabin class get 4 free checked bags while on military orders or 2 free checked bags while on personal trips. By flying Delta One, first or business class, military personnel gets one additional free checked bag.
Baggage fees compared to other major U.S. airlines:
Most major U.S. airlines charge a fee of around $25 for the first checked bag and $35 for the second checked back. Delta's baggage fees fall right within that range.
Delta Airlines baggage fees
| Airline | First checked bag | Second checked bag |
| --- | --- | --- |
| Delta Airlines | $25 | $35 |
| American Airlines | $25 | $35 |
| Southwest Airlines | $0 | $0 |
| United Airlines | $25 | $35 |
| JetBlue Airways | $20 | $35 |
Delta Sky Club airport lounges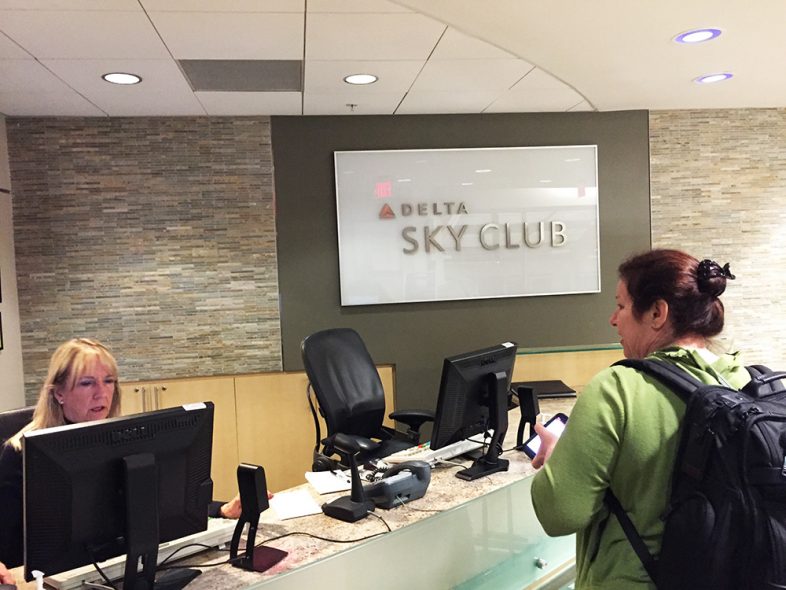 Delta Sky Club is a network of airport lounges that are owned and operated by Delta Airlines. There are more than 45 Delta Sky Club locations in airports worldwide -- most of which are in the United States. In Hartsfield-Jackson Atlanta International Airport (ATL), Delta's central hub, there are nine Sky Club lounges.
They are designed to be private places where Delta customers can relax before, in-between and after their flights. Customers can get work done, grab a snack, freshen up and even hold meetings at Sky Club lounges.
Delta Sky Clubs offer a long list of complimentary snacks, beverages, and services (may vary from location to location). Snacks often include bread, cereal, fruit, yogurt, nuts, crackers, cookies, veggies, soups, salads and more. Beverages include wine, beer, cocktails, coffee, juice, and soda. Free services may include free TV access, Wi-Fi, showers, conference rooms and more.
There are five ways to obtain access to a Delta Sky Club lounge:
Buy a Single Visit Pass.
A one-time entry pass to a Delta Sky Club lounge is available for purchase for $59. The only way to buy a Single Visit Pass is at the check-in counter at a Sky Club location.
Purchase an annual membership.
The Executive Membership offer unlimited Sky Club access for the member and up to two guests per visit. It costs $695, 110,000 miles or $59.99 for 12 monthly installments per year.
The Individual Membership provides unlimited Sky Club access to the member only while up to two guests receive a reduced rate of $29 per guest per visit. It costs $450, 70,000 miles or $39.99 for 12 monthly installments per year.
Travel with a Delta One class ticket.
Passengers who travel with transcontinental, international or connecting international Delta One ticket are allowed access to Delta Sky Club lounges.
Use a credit card.
Certain credit cards offer free or discounted access to Delta Sky Club lounges. These are the cards that comes with such access and their respective terms:
Gold and Platinum Delta SkyMiles credit cards allow primary cardmembers and two guests to purchase single-visit passes at a reduced rate of $29 each ($30 cheaper than the standard cost)
Delta Reserve credit card customers receive the equivalent of an Individual Membership as part of the card's program
Platinum Card from American Express customers receive the equivalent of an Individual Membership
Have Delta Diamond Medallion status.
Members who have Delta Diamond Medallion status receive a complimentary Individual Membership to Delta Sky Club lounges.
Airport lounge access fees compared
Of the five major U.S. airlines, lounges are operated by Delta Airlines, American Airlines, and United Airlines, while Southwest and JetBlue do not have their own lounges. Compared to American Airlines and United Airlines, Delta's single-visit pass is slightly more expensive. However, American and United will offer annual memberships at increasing reduced costs as members have a higher elite traveler status -- Delta doesn't follow such a fee format.
Delta Airlines lounge access fees
| Airline lounge | Single visit pass | Annual individual memberships |
| --- | --- | --- |
| Delta Sky Club | $59 | $450 to $695 |
| American Admirals Club | $50 | $450 to $500 (renewals are $50 cheaper) |
| United Club | $59 | $450 to $550 |
| Southwest (no lounges) | N/A | N/A |
| JetBlue (no lounges) | N/A | N/A |
Tips when flying with Delta and using Delta credit cards
Time your Delta flight bookings for cheaper airfare
Like most U.S. airlines, the cheapest day of the week to fly is usually Wednesday. And, the lowest Delta airfares are generally available during Tuesday afternoons (around 3 p.m. Eastern Time).
Miles may be worth more if redeemed with Delta partners
SkyMiles Award Travel can be redeemed with miles through Delta's partners. Partner flights may be able to get more value from the miles, so it is worth taking the time to compare flight redemption costs.
SkyMiles miles can be redeemed through Delta Air Lines, Delta Connection carriers Compass Airlines, Endeavor Air, Inc. ExpressJet Airlines, Inc., GoJet Airlines, Shuttle America, and SkyWest, Aeroflot, Aerolineas Argentinas, Aeromexico, AirEuropa, Air France, Air Tahiti Nui, Alaska Airlines, Alitalia, China Airlines, China Eastern, China Southern, Czech Airlines, Garuda Indonesia, GOL, Great Lakes, Hawaiian Airlines, Kenya Airways, KLM Royal Dutch Airlines, Korean Air, Middle East Airlines, Saudia Airlines, Tarom Airlines, Vietnam Airlines, Virgin Atlantic, Virgin Australia, and Xiamen Airlines.
Directly through Delta, customers can view the number of miles needed to redeem award flights from partners.
Combine points by transferring them to Delta SkyMiles
Delta SkyMilescards aren't the only American Express credit cards that participate in the airline's frequent flyer program. Membership Rewards points from other American Express credit cards may also be transferred to Delta SkyMiles-- allowing you to pool together points from various cards. These cards include:
American Express Green Card
Premier Rewards Gold Card Card from American Express
American Express Platinum Card
The Amex EveryDay Credit Card from American Express
The Amex EveryDay  Preferred Credit Card from American Express
Because Membership Rewards points transfer to Delta SkyMilesat a ratio of 1:1, you don't lose any value from your points.
Flight attendants have the power to award miles
Delta flight attendants are able to award miles to customers as a way to compensate for various faults in service or as a nice gesture. For instance, if an attendant spills food or a beverage, there's a broken entertainment system or a dirty seat. When you are offered award miles in these cases, it is best to obtain documentation of some kind to ensure that you actually receive these miles as promised.
You may earn fewer miles through Delta's airline partners
As a SkyMiles member, you can also earn miles through Delta's airline partners, but some of these partners will issue miles at a reduced rate. Delta divides its partners into four different groups, each will allow you to earn miles at a different rate. Delta provides a chart to help the customer understand the mileage earn for each of these partner groups.
Take advantage of Delta's Best Fare Guarantee
Delta guarantees that it offers the lower fare available for your specific flight when booked online. If you find that the exact same Delta flight is cheaper by $10 or more through another U.S.-based travel website, Delta will refund the difference and reward a $100 voucher that is good for your next Delta purchase.
Earn MQMs with the Pay with Miles option
The Pay with Miles option that is available to certain Delta credit card customers will also award MQMs for the miles that are redeemed to reduce the cost of a Delta flight. It is another way that SkyMiles members can expedite their Medallion status-earning endeavors.
Delta ratings compared to other major U.S. airlines
Compared to the other major airlines based in North America, Delta stands in the middle of the pack. Below is a table that shows how Delta is rated in terms of different travel factors that would be important to a passenger such as yourself (source: WSJ):
2018 Airline Scorecard (WSJ)
| Rank | Overall | On-time arrivals | Canceled flights | Extreme delays | 2-hour tarmac delays | Mishandled baggage | Involuntary bumping | Complaints |
| --- | --- | --- | --- | --- | --- | --- | --- | --- |
| 1 | Delta Airlines | Delta | Delta | Alaska | Southwest | Spirit | Delta | Southwest |
| 2 | Alaska Airlines | Alaska | Spirit | Delta | Alaska | JetBlue | JetBlue | Alaska |
| 3 | Southwest Airlines | Spirit | Alaska | Southwest | Frontier | Delta | United | Delta |
| 4 | Spirit | Southwest | Southwest | Spirit | Spirit | United | American | JetBlue |
| 5 | JetBlue Airways (tied for 5th) | United | United | American | Delta | Alaska | Southwest | United |
| 6 | United Airlines (tied for 5th) | American | Frontier | United | Jetblue | Frontier | Alaska | American |
| 7 | American Airlines | JetBlue | JetBlue | JetBlue | United | Southwest | Spirit | Spirit |
| 8 | Frontier | Frontier | American | frontier | American | American | Frontier | Frontier |