American Airlines Deals and Credit Card Offers
Are you a frequent flyer with American Airlines? Here's how you can maximize your travel with them to earn rewards and save money!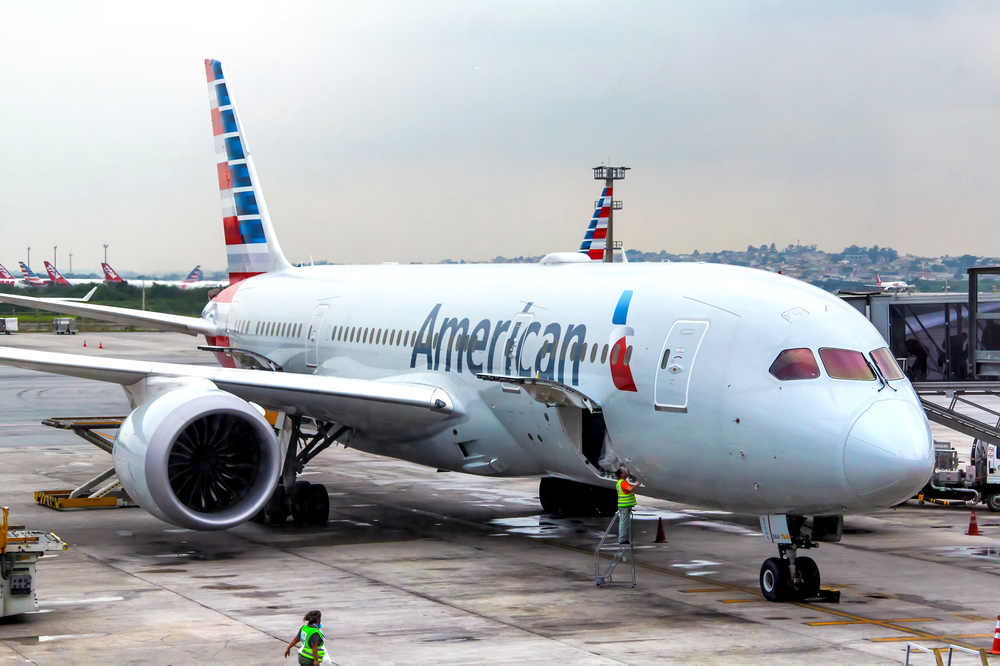 In fact, they service the second-largest number of destinations, behind United Airlines.
They are the founders of the Oneworld Alliance and have transatlantic partnerships with British Airways, Iberia, Finnair, and a transpacific relationship with Japan Airlines.
American Airlines has a main hub in the Dallas-Fort Worth area in Texas. Below are all the U.S. based hubs for American Airlines:
U.S. based hubs for American Airlines
| Location | Airport |
| --- | --- |
| Dallas Ft. Worth, Texas | Dallas Fort Worth International Airport (DFW) |
| Queens City, New York | John F. Kennedy International Airport (JFK) |
| Los Angeles, California | Los Angeles International Airport (LAX) |
| New York City, New York | LaGuardia Airport (LGA) |
| Miami, Florida | Miami International Airport (MIA) |
| Charlotte, North Carolina | Charlotte Douglas International Airport (CLT) |
| Philadelphia, Pennsylvania | Philadelphia International Airport (PHL) |
| Chicago, Illinois | O'Hare International Airport (ORD) |
| Phoenix, Arizona | Phoenix Sky Harbor International Airport (PHX) |
| Washington D.C. | Ronald Reagan Washington International Airport (DCA) |
Latest American Airline flight deals
American Airlines runs various flight promotions which can be found on their website.
Remember to read the entire promotion as they may come with certain restrictions, rules, travel blackout dates, and purchase-by dates. In addition to fare sales, you may find that you'll earn airline bonus miles on certain flights.
Vacation deals (to select destinations and resorts)
American Airlines AAdvantage Frequent Flyer Program
To reward frequent flyers, American Airlines offers the AAdvantageprogram as way to earn miles towards flights and other travel adventures.
This program is free to join and you can apply simply by submitting your name, gender, and birthdate as it appears on your photo ID, in accordance with the TSA Secure Flight guidelines.
How do you earn miles?
As a member of the AAdvantage frequent flyer program, you earn miles by traveling via American Airlines flights and its Oneworld partners, or by booking a hotel, car rental, vacation package, or cruise through the American Airlines website.
All members earn a base of 1 point for every mile you fly on American Airlines and its Oneworld partners. You'll also receive 1 ½ points per qualifying mile for booking a ticket in economy, first class, or business seats.
You can also earn miles through American Airlines AAdvantage credit cards from various financial institutions, such as CitiBank and Aviator MasterCard (more on this below).
These miles don't expire as long as you continue to earn and redeem miles every 18 months on American Airlines qualified flights. You can view the exact expiration date under "miles balance summary" in your online account.
Can you buy miles?
With the American Airlines AAdvantageprogram you can purchase bonus miles, which cost roughly $29.50 for every 1,000.
However:
You can receive bonus miles via limited-time bonus mile offers that are available on their website when you purchase miles during special events.
Additionally, you can purchase miles as gifts or share them with friends and family for added bonus miles.
For example, a promotion may include a bonus of 115,000 AAdvantage bonus miles for you when you purchase a gift of 115,000 for a friend or family member. That's a total of 265,000 miles.
How do you redeem miles?
In order to redeem your miles, simply check the balance on your AAdvantage account online and book award flights on American Airlines directly or with any Oneworld partner.
Review the award map to choose from over 1,000 destinations worldwide and then cash in your miles to book the trip.
You can choose to redeem miles for nearly anything else, including magazine subscriptions or gift cards, or you can donate the miles to your favorite charity. The number of miles needed varies depending on what you purchase, but you can redeem miles for flights starting at just 12,500 miles.
To cash in your miles for flights or anything else, simply log on to your AAdvantage online account, click the AAdvantage button, and choose the "redeem miles" option to book now. Each mile earned works out to roughly 1.8 cents per mile when cashing them in for flights or other vacation packages.  
Are there different levels of frequent flyer status?
The AAdvantage frequent flyer membership program is broken down into two main categories: Basic and Elite. From there, the Elite membership is further broken down into three classes: Gold, Platinum, and Executive Platinum.
With each status level, members receive access to a long list of travel and flight benefits that includes free checked bags, priority boarding, seating upgrades, and an expedited security process. Gold members earn an additional 25% bonus of their base miles when traveling with American Airlines or participating Oneworld partners. Platinum and Executive Platinum members earn 100% bonus miles on their base miles along with cabin upgrades, guaranteed seating, and lounge access.
How does one qualify for Elite status?
As an AAdvantage member, you can earn Gold, Platinum, or Executive Platinum Elite status by flying a minimum of 30 qualifying flight segments on AA or its affiliated partners, or earning at least 25,000 qualifying miles. In order to keep your Elite status, you must fly at least four segments on AA or US Airways carriers within the qualifying year.
You can earn and redeem miles with American Airlines and any of its Oneworld partners, including:
Oneworld Airline Partners
| Oneworld Airline Partners | |
| --- | --- |
| airberlin | Japan Airlines |
| Air Tahiti Nui | Jet Airways |
| Alaska Airlines | LAN Airlines |
| British Airways | Malaysia Airlines |
| Cape Air | Qantas Airways |
| Cathay Pacific | Qatar Airways |
| Etihad Airways | Royal Jordanian Airlines |
| Fiji Airways | S7 Airlines |
| Finnair | Seaborne Airlines |
| Gulf Air | SriLankan Airlines |
| Hawaiian Airlines | TAM Airlines |
| Iberia | WestJet |
| Interjet | |
American Airline Credit Cards
American Airlines issues two credit cards through Visa and MasterCard. Each offer the option to earn miles in accordance with every purchase you make using that specific card.
Citi / AAdvantage Platinum Select World Elite MasterCard
This card offers entry-level benefits like earning 1 mile for every purchase charged to the card. It comes with bonus miles offer if you spend at least $1,000 on purchases within 3 months of opening your account. The annual fee is waived for the first year.
With the Citi / AAdvantage Platinum Select World Elite MasterCard you get Priority 1 boarding, free checked bags, no foreign transaction fees, and access to the Reduced Mileage Program, which allows you to redeem miles starting at just 7,500 miles.
Citi AAdvantage Executive World Elite MasterCard
AAdvantage Aviator MasterCard
With the AAdvantage Aviator MasterCard from Barclaycard, you'll earn 1x mile for every $2 you spend on everyday purchases as well as 25% off in-flight purchases on American Airlines operated flights. This card has no annual fee.
AAdvantage Aviator Blue MasterCard
AAdvantage Aviator Red MasterCard
AAdvantage Aviator Silver MasterCard
American Airlines baggage fees
On most flights, American Airlines charges $25 for the first checked bag and $35 for the second checked bag.
On some originations and destinations, the baggage fees can vary. Additionally, the fees become much more expensive for checking more than two bags. The American Airlines website has a comprehensive table for the exact fees.
These are the weight and size measurements for checked bags to not be considered "oversized":
No more than 51 lbs (23 kgs)
No larger than 62 inches (157 cm) when the bag's dimensions are added together
How to avoid checked bag fees on American Airlines
There are several ways that American passengers can check their bags for free.
Fly business or first class.
Generally, American Airlines passengers who have a business ticket are allowed to check up to two bags for free. First class passengers can check up to three complimentary bags.
The Citi / AAdvantage Platinum Select World Elite MasterCard and Aadvantage Aviator Red MasterCard will waive the first checked bag fee for the cardholder and up to 4 travel companions.
The Citi AAdvantage Executive World Elite MasterCard and the AAdvantage Aviator Silver MasterCard will waive the first checked bag fee for the cardholder and up to 8 travel companions. Companions must be on the same reservation.
AAdvantage Gold, Platinum, and Executive Platinum elite status members get up to one, two, and three free checked bags, respectively.
Be active or veteran U.S. military personnel.
American Airlines will waive the baggage fees for up to three checked bags in support of active or veteran servicemembers of the U.S. military.
Baggage fees are similar to other major U.S. airlines
The baggage fees charged by American Airlines are relatively similar to what the other major U.S. airlines will charge:
American Airlines baggage fees
| Airline | First checked bag | Second checked bag |
| --- | --- | --- |
| American Airlines | $25 | $35 |
| JetBlue Airways | $20 | $35 |
| United Airlines | $25 | $35 |
| Delta Airlines | $25 | $35 |
| Southwest Airlines | $0 | $0 |
American Airlines Admirals Club airport lounges
American Airlines operates more than 50 Admirals Clubs worldwide. These airport lounges provide spaces for American passengers, who can use them to relax, work, eat, or freshen up.
Once you gain access to an Admirals Club, there's a long list of free amenities including light snacks and house drinks, Wi-Fi Internet access, and charging stations.
Many locations also provide workspaces with computers, copiers, and fax machines. Some locations also provide shower suits and children's rooms. Premium meals, drinks, and conference room rentals are also available for purchase.
Ways to obtain Admirals Club access
Here are the many ways that you can gain access to an Admirals Club location:
1. Buy a One-Day pass.
A One-Day pass is typically available for purchase at most Admirals Club locations for $50 each. If you are flying to multiple airports with Admirals Clubs during the course of the day, the same pass will grant access to all those lounges. The cost of the One-Day pass can be applied toward an annual membership within a 30-day window.
2. Get a 30-day membership.
A 30-day membership is available for $99. During that time period, you have unlimited access to Admirals Club lounges. Membership can be purchased online, at an Admirals Club, or by phone. While still active, the cost of the 30-day membership can be applied toward an annual membership.
3. Get an annual Admirals Club Membership.
Annual membership to Admirals Clubs is available from $400 to $500. The price decreases as you get a higher AAdvantageelite status. Also, renewals cost $50 less than the standard price. Admirals Club annual memberships can also be bought and renewed with AAdvantagemiles. (A household membership includes access for your spouse or domestic partner.)
The chart below shows the cost of an annual membership depending on AAdvantageelite status and payment method:
American Airlines Admirals Club membership fees
| Membership type | AAdvantage | AAdvantage Gold | AAdvantage Platinum | AAdvantage Executive Platinum |
| --- | --- | --- | --- | --- |
| Individual | $550 / 85,000 miles | $525 / 75,000 miles | $500 / 70,000 miles | $450 / 60,000 miles |
| Individual (renewal) | $500 / 75,000 miles | $475 / 65,000 miles | $450 / 60,000 miles | $400 / 50,000 miles |
| Household | $925 / 135,000 miles | $850 / 120,000 miles | $775 / 105,000 miles | $675 / 85,000 miles |
| Household (renewal) | $875 / 125,000 miles | $800 / 110,000 miles | $725 / 95,000 miles | $625 / 75,000 miles |
4. Have the Citi AAdvantage Executive World Elite MasterCard or Citi Prestige Card.
The Citi AAdvantage Executive World Elite MasterCard and Citi Prestige credit cards provide unlimited Admirals Club access for the cardmember and up to two 2 guests on the same flight reservation.
5. Fly international business class or first class with certain flights.
Passengers with business or first class tickets traveling to and from Europe, South America, Central America, Asia, and Mexico City have access to Admiral Clubs on the day of their flights. First class passengers can bring one guest.
6. Be on active military duty.
Passengers who are active military personnel have complimentary access on the day of their American Airlines flights.
Airport lounge fees comparison
The airport lounge fees for American Airlines Admirals Club access is just slightly cheaper compared to other major U.S. airlines.
American Airlines lounge access fees
| Airline lounge | Single visit pass | Annual individual memberships |
| --- | --- | --- |
| American Admirals Club | $50 | $450 to $550 (renewals are $50 cheaper) |
| United Club | $59 | $450 to $550 |
| Delta Sky Club | $59 | $450 to $695 |
| Southwest (no lounges) | N/A | N/A |
| JetBlue (no lounges) | N/A | N/A |
Tips when flying with American Airlines
Credit card customers get reduce mileage awards
Customers with one of American's co-branded credit cards can redeem award flights with fewer miles. Cardmembers with the AAdvantage Gold and Aadvantage Aviator Blue MasterCard credit cards will receive a 5,000-mile discount. Those with all other American Airlines credit cards will receive a 7,500-mile discount.
With award flights, flight changes are free
American Airlines is relatively easygoing when it comes to changes to your award tickets. If you need to change travel dates, times, and carrier for no fee as long as the origin and destination does not change. This can be useful for passengers who are unsure of their exact travel plans but want to tweak their flights as the travel date draws closer.
Buy AAdvantageelite status if deemed worthwhile
AAdvantagemembers who are very close to qualifying for an elite status can choose to pay for a boost to the next tier. However, it can be expensive -- as much as $2,499 for people trying to obtain Executive Platinum status. Frequent fliers who have the most opportunities to benefit from a higher elite status are most suitable for an elite status boost.
American Airlines Ratings Compared to Other Airlines
When put against the other major airlines that serve the U.S., American Airlines does not rank well. See how the airline did with respect to the big factors that affect a passenger's flying experience (source: WSJ):
2018 Airline Scorecard (WSJ)
| Rank | Overall | On-time arrivals | Canceled flights | Extreme delays | 2-hour tarmac delays | Mishandled baggage | Involuntary bumping | Complaints |
| --- | --- | --- | --- | --- | --- | --- | --- | --- |
| 1 | Delta Airlines | Delta | Delta | Alaska | Southwest | Spirit | Delta | Southwest |
| 2 | Alaska Airlines | Alaska | Spirit | Delta | Alaska | JetBlue | JetBlue | Alaska |
| 3 | Southwest Airlines | Spirit | Alaska | Southwest | Frontier | Delta | United | Delta |
| 4 | Spirit | Southwest | Southwest | Spirit | Spirit | United | American | JetBlue |
| 5 | JetBlue Airways (tied for 5th) | United | United | American | Delta | Alaska | Southwest | United |
| 6 | United Airlines (tied for 5th) | American | Frontier | United | Jetblue | Frontier | Alaska | American |
| 7 | American Airlines | JetBlue | JetBlue | JetBlue | United | Southwest | Spirit | Spirit |
| 8 | Frontier | Frontier | American | frontier | American | American | Frontier | Frontier |
Compare Best Accounts Now