When Upgrading to Business or First Class Is Worth It
If you're a top member of a frequent flyer or loyalty program, you can sometimes get a free upgrade from economy class.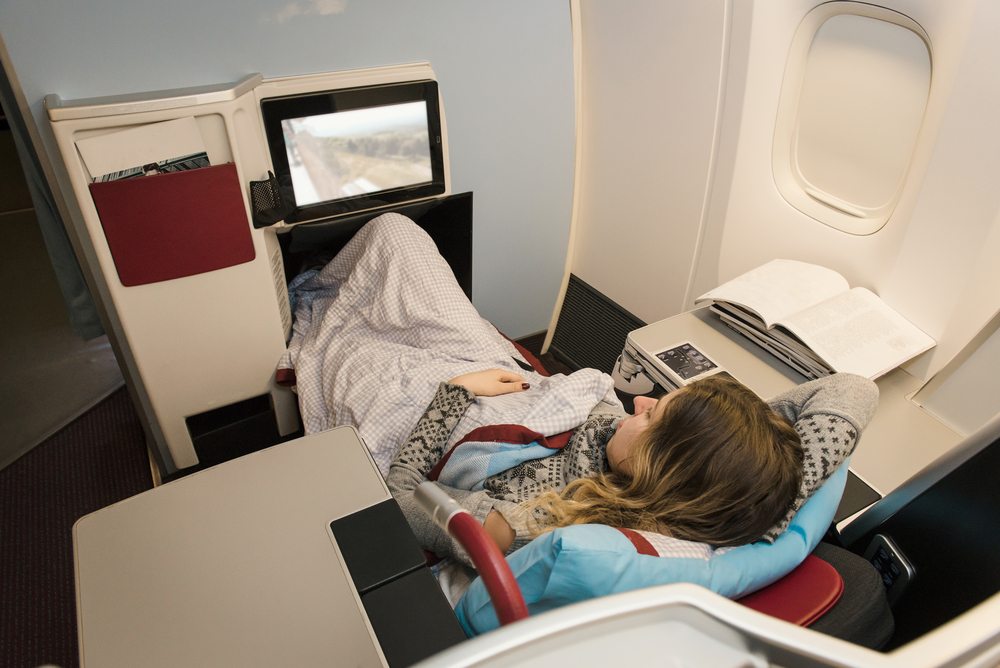 Traveling anywhere isn't cheap. Costs can easily add up -- expensive airfares, fees for checking in bags, buying food on the flight, and paying for good accommodations. And we didn't even include spending costs!
So when it comes to the perks offered on a flight, like upgrading to first or business class, should you indulge? That depends on your budget and need for comfort. For some people, that money would be better spent elsewhere. But for others, flying first or business class might make their traveling experience much more pleasant.
Find out when flying first or business class is worth it:
It's a Free Upgrade
It's true what they say, there's no such thing as a free lunch. While you might not necessarily have to pay for a seat on first or business class -- you're usually paying in some form. Whether it's paying because you have to frequently fly to earn rewards or spending with a credit card to get bonuses -- most upgrades to first or business class aren't technically free. That said, in these situations, an upgrade is worth it:
If you're a top member of a frequent flyer or loyalty program, you can sometimes get a free upgrade from economy class.
If you pay with certain credit cards, you can sometimes earn enough miles to redeem for a seat upgrade (see below).
If you get a courtesy upgrade. In this case, free actually is free. Maybe you have friends in high places, the flight oversold its economy seats and you just got lucky, or your airline really messed up your travel plans.
Making the Most of Your Miles
Whether you intentionally signed up for a credit card to earn miles or it just happened, one of the best ways you can use those miles is redeeming them for a seat upgrade. According to George Hobica, founder of the website AirfareWatchdog, it has become harder for travelers to use miles because airlines have eliminated thousands of seats and cut capacity. Hobica says one of the wisest ways you can use your miles is redeeming them for a class upgrade.
"Some people just waste their miles. They'll spend it on a very low-value ticket," says Hobica. "You want to spend it on a high-value seat or an upgrade."
How it works
When it comes to airfare, the dollar price of a ticket may vary based on a long list of different factors. Time of departure, the day that you fly, the distance to be traveled, and seat class are some major factors that can affect a ticket's price. When redeeming for miles, however, there are usually fixed redemption rates based on the type of ticket.
For instance, a basic economy flight requires 40,000 points. If you paid for it, it could cost $300. A first/business class ticket could require 175,000 points, but it would regularly cost $3,000.
You'd get more value from you points if with a better seat class. Always do a quick comparison before actually booking your flight.
All About Good Timing
Timing is everything. If a flight is oversold and you give up your seat on the original flight, you can sometimes get a free upgrade (or negotiate for one). If there are still seats available in business or first class at check-in time, you can sometimes receive a discount.
Also, more business or first class seats are likely to be available on earlier flights or on days when travel isn't as frequent, such as Tuesday. You can sometimes play up your emotions for a free upgrade if, say, you're celebrating a honeymoon. As always, courtesy goes a long way. So if you're trying to get an upgrade -- be nice about it.
Aiming to Achieve Elite Frequent Flyer Status
If you want to become an elite status flyer, it's time to upgrade. Spending more money for economy plus, business or first class seats is one way to help you achieve elite flyer status, which can come with a host of benefits like lounge access, priority baggage handling, guaranteed reservations on sold-out flights, priority seating, priority boarding, and check-in.
Moreover, if you're an elite status flier, you're more likely to receive a free upgrade anyway. Of course, be prepared to spend a lot of money if you're hoping to become elite (though there are ways to speed up the process).
Comfort for a Long Flight
If you hate flying because there's no leg room and it's uncomfortable, paying for an upgrade might be worth it. Not only is there more leg room than in economy class, but you get more privacy, better seats, priority boarding, more overhead bin space, and easier access to the bathrooms. If those perks are worth it to you, buy a seat upgrade.
The better seats will prove to be most valuable during long, intercontinental flights when you're spending more than 10 hours in the air.