How to Get Airline Lounge Access For Your Next Flight
Get tips on accessing airport lounges from credit card and airline companies with this guide, which includes info on lounge amenities and memberships.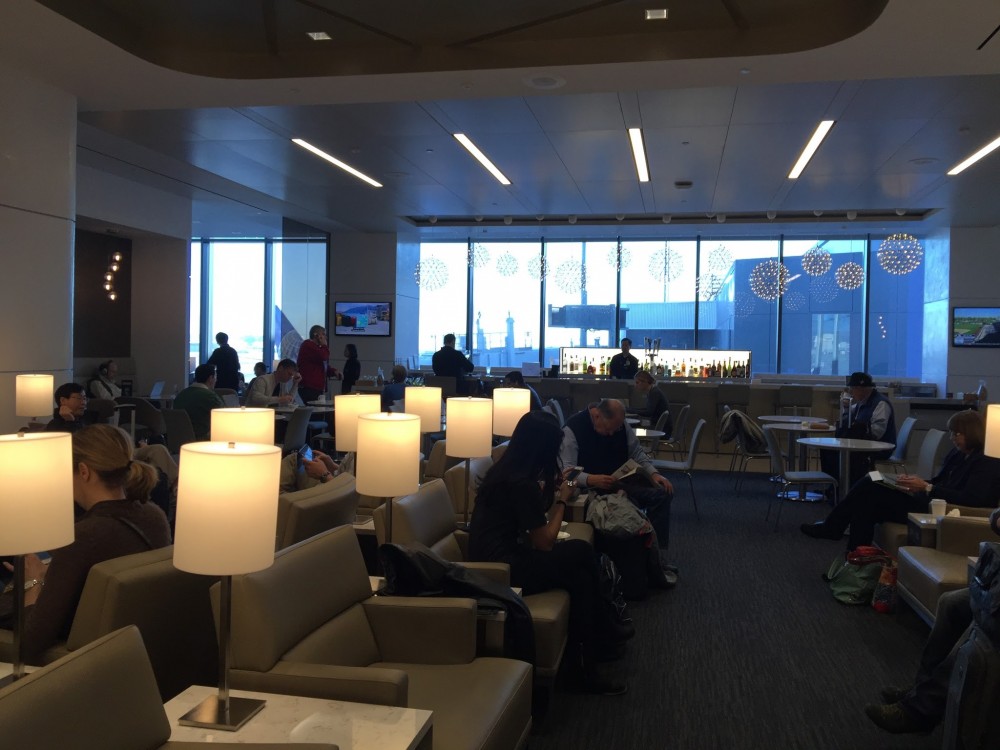 Air travel can feel like a pleasure trip or a nightmare depending on your airport experience. Long layovers seem to last for days when you're sitting in cramped, gate-side seats. But a visit to an airport lounge can refresh you for the rest of your trip.
The best lounges include spa facilities, tasty food, and plenty of booze. Unless you're at an airport with great dining options, lounges can seem like gastronomic oases in a sea of soggy sandwiches. Some lounges disappoint with their outdated decors and mediocre snack offerings. But airlines and airports increasingly cater to travelers' comfort and business needs.
Although these respites can seem unattainable unless you're part of an exclusive rewards program, there are several ways you can grab a cushioned seat in an airport lounge. Whether you sign up for a credit card that has travel perks or you purchase a one-day pass, lounge stays are more achievable than they seem. Here are four ways to make your next trip more enjoyable:
1. Purchase a premium ticket
The quickest way to an airport lounge is through your cabin status. Purchase a business or first-class ticket with a carrier that's part of an airline alliance—oneworld, SkyTeam, or Star Alliance. First-class fliers on international and some domestic flights receive free lounge access and may bring a guest at no extra charge. Business class passengers can also use the lounge, but they don't have guest privileges.
2. Enroll in a frequent flyer program
Certain frequent flyer tiers include lounge access, though this is often reserved for those at the upper end of the spectrum. For instance, oneworld alliance members in the sapphire and emerald tiers can use American Airlines' business lounges, but only emerald carriers can use the first-class facilities. Ruby tier members don't enjoy any lounge privileges. It's important to know what different programs include so you can choose one with the appropriate benefits.
3. Sign up for a credit card that includes lounge access
If you're choosing a credit card based on travel rewards, look beyond airline miles. Paying for your next plane ticket through your everyday purchases is a huge perk. But so much the better if you can also nab a complimentary glass of pre-flight Pinot away from the crowds. Chase's Ink Plus Business card, Reserve Delta SkyMiles Credit Card, and Citi's AAdvantage Platinum Select World Elite partnership with American Airlines are a few options for gaining lounge access along with flight miles -- many airline credit cards provide lounge access.
Other cards, such as the Ritz-Carlton Rewards credit card and the United MileagePlus Club card offer more robust lounge privileges. But they carry high annual fees and are only worthwhile if you travel often. The MasterCard Black and Gold cards fall into this category, with $495 and $995 annual fees, respectively. But both include unlimited Lounge Club access for cardholders and their guests, unlike other programs that cap lounge privileges.
4. Purchase one-time passes
Single-use day passes are great options if you're not a frequent traveler but you have a long layover between flights. Most passes cost $50 for the day, which may seem steep. But consider the benefits. You can sit at your gate and develop a semi-permanent backache while you sweat alongside the other less fortunate travelers. Or you can sip a cocktail, enjoy a meal, and stretch out comfortably before take-off. Some lounges even offer showers and business amenities.
If $50 seems excessive, other options are springing up. Flightfox notes that some airports, such as BWI and LAX, now have independent lounges. These offer inexpensive daily and hourly passes that can run as low as $10 per hour or $15 per day. Once the domain of frequent flyers and VIPs alone, airport lounges are increasingly available to the masses.
Don't exclude yourself from airport lounges by assuming that you can't work your way into these clubs. If you travel even a few times a year, you can find a card or travel program that opens those exclusive doors. At the very least, you can splurge on a day pass to see if the airport lounges live up to the hype.
Here are some of the best you'll find in the U.S.:
The Centurion Club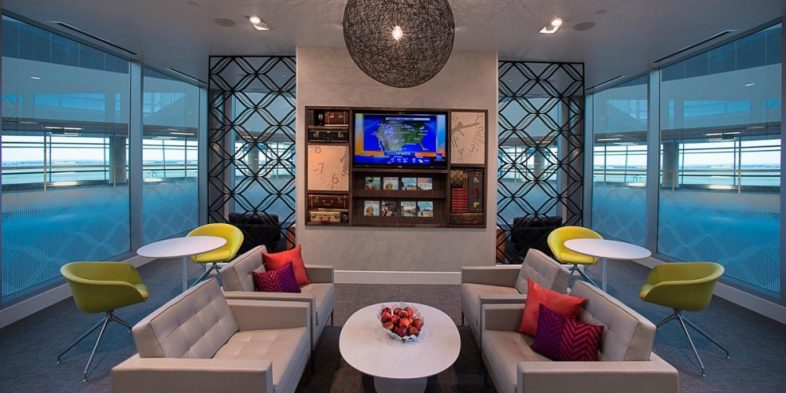 Who can use it? 
American Express card members
How much does it cost? 
Lounge access is free for Platinum or Centurion cardholders, but any American Express member can pay $50 for entrance.
What are the amenities? 
They vary based on location but can include everything from buffets to spas to wine bars.
Where can I find one? 
Miami, Las Vegas, San Francisco, Dallas-Ft. Worth, and New York-La Guardia. Additional locations are planned.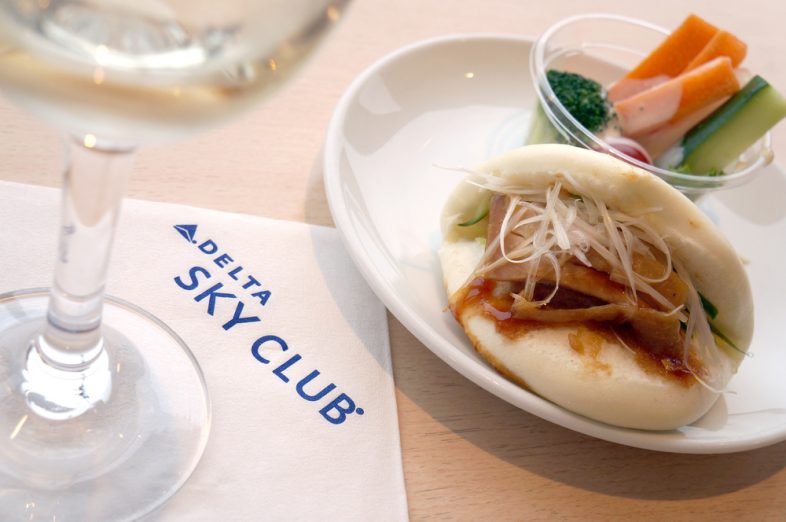 Who can use it?
SkyTeam Elite Plus members
Diamond Medallion Club members
Platinum American Express cardholders
Delta Reserve cardholders
Delta One passengers on certain transcontinental and international flights
Virgin Australia/Velocity VIP Platinum card, Platinum card or Gold card members booked on Delta and Virgin Australia Airlines flights.
Travelers can also purchase single-use day passes to access Sky Club lounges.
How much does it cost?
Free to qualifying members; $59 for a single-use day pass
What are the amenities?
Extensive menus, complimentary wine, beer and spirits, showers, business resources, and entertainment, and other perks
Where can I find one? 
138 locations internationally
Alaska Airlines Board Room Lounges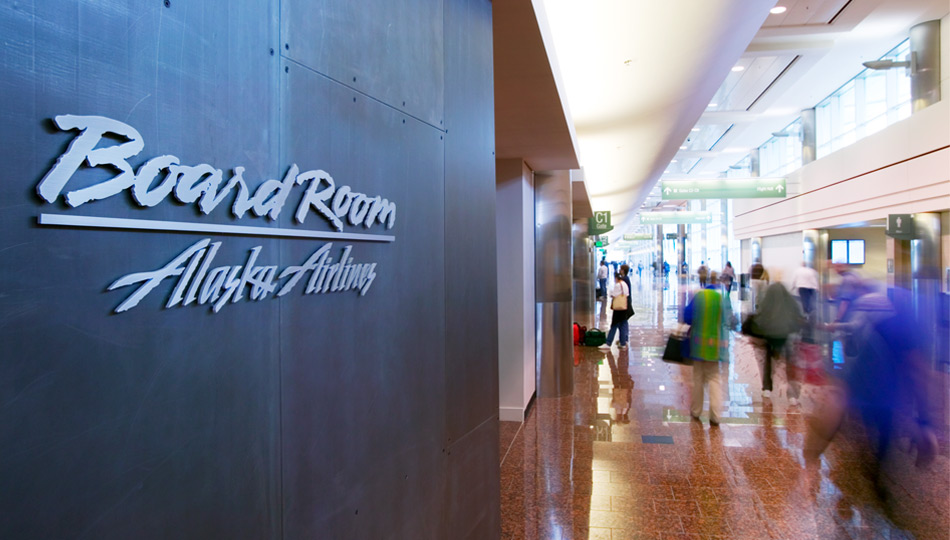 Who can use it?
Alaska Airlines members who have purchased memberships through the airline or through Alaska Airlines Visa Signature programs.
American Airlines Admirals Club members also have access to Anchorage, Seattle, and Portland.
Priority Pass Select members who have the Citi Prestige, Platinum Card from American Express, and Business Platinum Card American Express OPEN are also eligible for complimentary lounge access.
How much does it cost?
Travelers who don't have complimentary access may buy day passes for $45. Members may buy discounted passes ($20) for extended family members or relatives who are traveling separately from the cardholder.
What are the amenities? 
Free Starbucks espresso and coffee, wine, beer, and snacks; private workstations and conference rooms, wifi, and copy and fax machines
Where can I find it?
Anchorage, Portland, Seattle and Los Angeles
Airspace Lounges

Who can use it?
Citi / AAdvantage Executive World Elite MasterCard cardholders
Citi Prestige cardholders
Platinum Card from American Express cardholders and Business Platinum Card American Express OPEN cardholders are also eligible.
American Express Centurion cardholders also enjoy free access. AMEX Platinum and Centurion members are allowed two guests at no charge.
Passengers flying any airline can pay for access.
How much does it cost?
A day pass costs $20-25 and includes a credit of $7-10 toward a meal or alcoholic beverage. Prices vary based on location.
What are the amenities?
TVs, newspapers, free computer access, and power outlets; self-serve snacks and beverages, plus for-purchase meals and drinks; complimentary tea and coffee (including espresso and cappuccino in some lounges); free amenity kits upon arrival; free showers at JFK (an offering that will be available at other locations in the future); business services such as conference rooms and free printing and scanning.
Where can I find one?
JFK's (N.Y.) Terminal 5, San Diego, Baltimore, and Cleveland
Virgin Atlantic Clubhouse

Who can use it?
Virgin Atlantic Upper-Class passengers and Flying Gold Club members.
Delta Diamond, Platinum, and Gold Medallion frequent flyers can also use the clubhouses when traveling to the U.K., and that business and first class passengers of TAM and Singapore Airlines also have complimentary access.
How much does it cost?
First class and frequent flyer travel on Virgin America can purchase access with a $75 pass, according to Loungebuddy.
What are the amenities?
Mixologist-crafted cocktails, extensive food selections, both complimentary and paid, flat-screen TVs, spa treatments (at JFK, Heathrow, and Gatwick), charging stations, business amenities, entertainment zones (features vary by location)
Where can I find one?
JFK, Newark, Los Angeles, Boston, San Francisco, and Washington, D.C. Virgin Atlantic also operates shared lounges in partnership with other airlines in Atlanta, Chicago, Detroit, Miami, Las Vegas, and Orlando. Virgin Atlantic's Clubhouses receive rave reviews internationally, with USA Today's Road Warrior Voices ranking the London Heathrow location among the best airline lounges in the world.