JetBlue Airways Deals and Credit Card Offers
Do you find yourself flying JetBlue more often than other airlines? Maximize your travel rewards and save money with these JetBlue credit cards!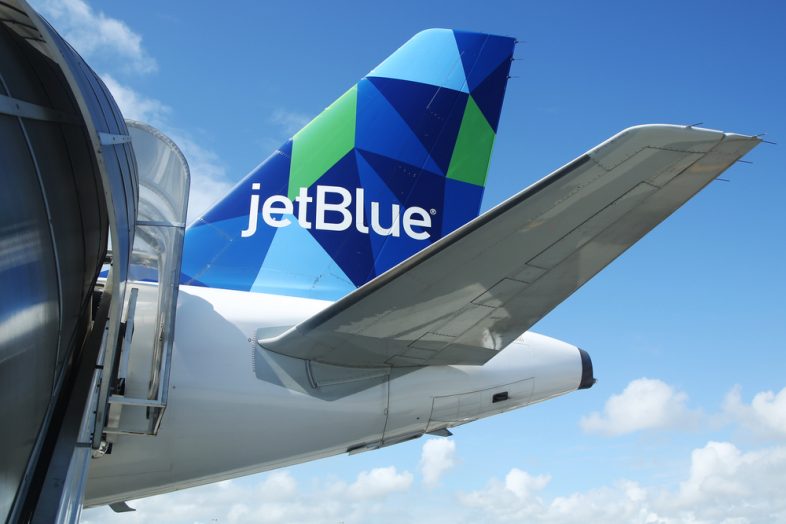 When you think of the biggest airlines in North America, JetBlue Airways probably doesn't spring to mind.
But this airline actually ranked as the sixth-largest airline on the continent in 2016. This carrier operates a fleet of 213 airplanes that fly to 97 destinations. The airline flies about 900 departures every day.
JetBlue hubs
| JetBlue hub location | Airport code(s) |
| --- | --- |
| Boston, MA | Boston Logan Airport (BOS) |
| Fort Lauderdale, FL | Fort Lauderdale-Hollywood International Airport (FLL) |
| Long Beach, CA | Long Beach Airport (LGB) |
| New York, NY (Main) | JFK International Airport (JFK) |
| Orlando, FL | Orlando International Airport (MCO) |
| Washington, DC | Washington Dulles International Airport (IAD) |
Latest JetBlue Flight Deals
Like most airlines, JetBlue competes for passengers. Because of this, the airline offers plenty of flight deals throughout the year. Be sure, though, to check the airline's website for new deals when you're ready to fly. JetBlue's deals change regularly.
Because JetBlue is based in New York City, and because it flies to so many destinations in Florida, the TrueBlue frequent flyer program is best for travelers either based on the East Coast -- in cities such as New York City and Boston -- or in such Florida destination cities as Fort Lauderdale and Orlando.
It might also be a good choice for travelers who spend time flying to either the East Coast or Florida, though those travelers who vacation often in the Caribbean, to which JetBlue also flies often, might benefit, too.
JetBlue TrueBlue frequent flyer program
If you fly JetBlue often, you'll benefit from joining the airline's frequent flyer program, TrueBlue.
As with most frequent flyer programs, the TrueBlue program allows you to earn points whenever you spend dollars reserving JetBlue flights. Fly enough, and you'll soon qualify for free flights.
Earning miles
Earning points is straightforward:
You'll earn points every time you spend a dollar on a JetBlue flight, a flight with a JetBlue partner airline or a JetBlue Getaways vacation package.
These vacation packages are especially interesting: These bundle together airline flights, hotel stays and, often, rental cars and activities.
You can earn frequent-flyer points, too, by making purchases with JetBlue's branded credit cards. Finally, you can earn points by booking hotel stays with hotel programs that partner with JetBlue. The two biggest hotel-loyalty partners are the Marriott Rewards program and the Hilton Honors program.
The number of points you earn for every flight will vary, and depends on the distance you travel and the class of service for which you pay, but in general, you'll earn 3 points for every dollar you spend.
You can earn even more points if you're willing to pay a bit extra. TrueBlue members who buy a Blue fare will earn an extra 2 bonus points per dollar, for a total of 6 points per dollar spent. Those who buy a Blue Plus fare will earn an extra four bonus points per dollar for a total of seven points per dollar spent. And those who buy a Blue Flex fare can earn an extra five bonus points for every dollar for a total of eight points per dollar spent.
A nice bonus is the points you can earn by flying with partner airlines. You'll boost your TrueBlue points whenever you fly with Emirates, Hawaiian Airlines, Singapore Airlines, Silver Airways and South African Airways.
The points you earn do not expire, so there's no rush to use them before you're ready.
Redeeming points
Once you've earned enough points, you can redeem them for award flights on JetBlue or Hawaiian Airlines.
Doing this is simple: You can sign into your TrueBlue account, then click the "Book Travel" option. Finally, select the option to search using points. You'll then see a list of flights for which you can redeem your points.
You can sign into your TrueBlue account, then click the "Book Travel" option. Finally, select the option to search using points. You'll then see a list of flights for which you can redeem your points.
How many points you need to qualify for a free flight varies. On its website, JetBlue says that the points needed for these free flights will change depending on the destination, day of the week, season and advance booking window.
Your best bet is to frequently log into your TrueBlue account to determine when you qualify for a free flight to a location that you desire.
TrueBlue Mosaic status offers elite travel benefits
The TrueBlue program offers two levels: a basic membership and TrueBlue Mosaic.
You can enroll in the basic TrueBlue program for free on JetBlue's website. You'll then start earning your points every time you spend money on a JetBlue or partner flight or vacation package.
The Mosaic program, though, comes with a more robust package of benefits. In this program, you can check up to two bags free and you'll be able to board JetBlue flights early.
And if you're always in a rush when you get to the airport? You'll qualify for expedited security as you head to your flight. You also won't have to pay any fees when you change or cancel your reservation over the phone.
You can qualify for TrueBlue Mosaic if you fly 30 JetBlue flight segments and earn at least 12,000 base flight points in a calendar year. You'll also qualify if you earn 15,000 base flight points in a calendar year.
A segment is one origination-destination pair. So, a roundtrip flight counts as two segments.
JetBlue Credit Cards for free flights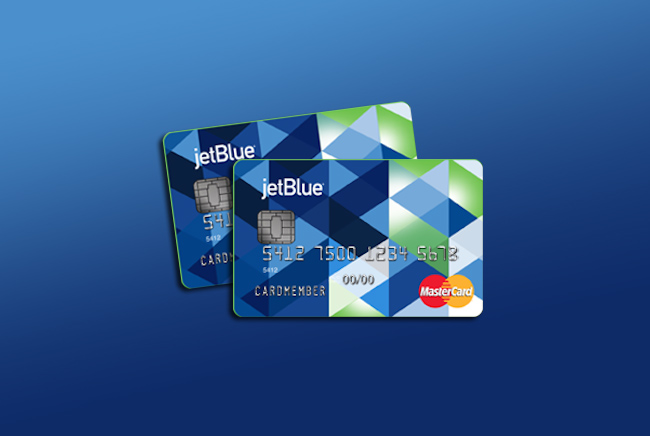 JetBlue offers two personal credit cards that allow loyal customers to earn points toward free flights.
JetBlue MasterCard from Barclaycard
The JetBlue MasterCard from Barclaycard has a robust rewards system. You'll earn 3X points every time you use your card to purchase JetBlue flights, getaway packages, and upgrades. You'll also earn 2X the points every time you use this card at restaurants and grocery stores. You'll earn 1X points for every other dollar you charge on this card.
The card comes with no annual fee (unlike most airline credit cards), and you'll earn a 50 percent discount if you use the card to make in-flight purchases on JetBlue flights. There are no foreign transactions fees so you're avoiding the typical 3% fee for using a credit card internationally.
JetBlue Plus MasterCard from Barclaycard
If you want a rewards program that's even more generous, consider applying for the JetBlue Plus MasterCard. This card, also from Barclaycard, does charge a $99 annual fee.
But you'll earn 6X points every time you use it on a JetBlue purchase. You'll receive 2X points at restaurants and grocery stores, and 1X points for every dollar you spend on all other purchases. This card, then, is a good one if you are flying JetBlue often.
You'll also earn 30,000 bonus points if you spend $1,000 with your card during the first 90 days after opening your account. On your yearly anniversary, you'll earn an additional 5,000 bonus points.
The card comes with other valuable perks to make up for the annual fee:
Free 1st checked bag for your and up to 3 companions on JetBlue flights
10% points back when you redeem your points
Earn Mosaic benefits after spending $50,000 each year
No foreign transaction fees
Annual $100 statement credit when you purchase a JetBlue Getaways vacation package of at least $100
JetBlue baggage fees
Like most airlines, JetBlue does charge passengers for checking their bags. If you pay for a lower-cost Blue fare, you'll pay $20 for your first checked bag when you check online or at a kiosk. You'll pay $25 if you check that first bag at the counter.
You'll pay $35 for your second bag. Your third bag and any bags after that cost a whopping $100 each.
If you spend a bit more for a Blue Plus fare, your first bag is free. Your second bag is $35 and your third and each additional will be $100 each.
The top tier of fares, Blue Flex, gives you the ability to check your first and second bag at no cost. You will, though, have to pay $100 for your third bag and each additional bag after that.
You'll have to pay more for oversized bags. Bags weighing 51 pounds to 99 pounds are considered overweight. You'll have to pay $100 to check each of these in. Bags 63 inches to 80 inches in length are considered oversized and will cost you $100 to check.
How to avoid paying JetBlue baggage fees
Fly in a higher fare class. If you pay for a higher fare -- the Blue Plus and Blue Flex fare options -- you'll get free baggage check. With Blue Plus, you'll be able to check one bag for free. With Blue Flex, you'll get two free bags.
Baggage fees compared to other major U.S. airlines
JetBlue's baggage fees are fairly reasonable compared to those charged by other airlines. Southwest, of course, doesn't charge anything for your first or second bag. JetBlue, though, ranks as the next most affordable major airline when it comes to baggage fees.
JetBlue baggage fees
| Airline | First checked bag | Second checked bag |
| --- | --- | --- |
| JetBlue Airways | $20 | $35 |
| United Airlines | $25 | $35 |
| Delta Airlines | $25 | $35 |
| American Airlines | $25 | $35 |
| Southwest Airlines | $0 | $0 |
JetBlue Airport Lounges
JetBlue does not operate its own airport lounges but the airline is partnered with two airport lounge locations. They are located at Sangster International Airport in Montego Bay, Jamaica, or Norman Manley International Airport in Kingston, Jamaica. If you are, you can take advantage of Club Mobay in Montego Bay and Club Kingston in Kingston.
Both lounges offer free refreshments and snacks, a business center, spa treatments, shower facilities and a fast-track access through the airport. Club Mobay also offers a kids' corner with arcade games and activities.
Fees for JetBlue-partnered lounges
A day pass to Club Mobay costs $80. Children aged 2 to 12 pay $40 while children under 2 are free.
Club Kingston day passes cost $50 for adults and $25 for children 2 to 12. Infants are admitted free.
JetBlue ratings compared to other airlines
JetBlue ranks in the middle of the pack when it comes to delays and customer service.
The airline is great for baggage handling and bumping customers up to a higher seating class. See the chart below (source: WSJ) to see how the airline compares to others across the country.
2018 Airline Scorecard (WSJ)
| Rank | Overall | On-time arrivals | Canceled flights | Extreme delays | 2-hour tarmac delays | Mishandled baggage | Involuntary bumping | Complaints |
| --- | --- | --- | --- | --- | --- | --- | --- | --- |
| 1 | Delta Airlines | Delta | Delta | Alaska | Southwest | Spirit | Delta | Southwest |
| 2 | Alaska Airlines | Alaska | Spirit | Delta | Alaska | JetBlue | JetBlue | Alaska |
| 3 | Southwest Airlines | Spirit | Alaska | Southwest | Frontier | Delta | United | Delta |
| 4 | Spirit | Southwest | Southwest | Spirit | Spirit | United | American | JetBlue |
| 5 | JetBlue Airways (tied for 5th) | United | United | American | Delta | Alaska | Southwest | United |
| 6 | United Airlines (tied for 5th) | American | Frontier | United | Jetblue | Frontier | Alaska | American |
| 7 | American Airlines | JetBlue | JetBlue | JetBlue | United | Southwest | Spirit | Spirit |
| 8 | Frontier | Frontier | American | frontier | American | American | Frontier | Frontier |