United Airlines Deals and Credit Card Offers
United Airlines offers cheap flight deals and credit card offers to help frequent flyers save on flights, airport lounge access and baggage fees.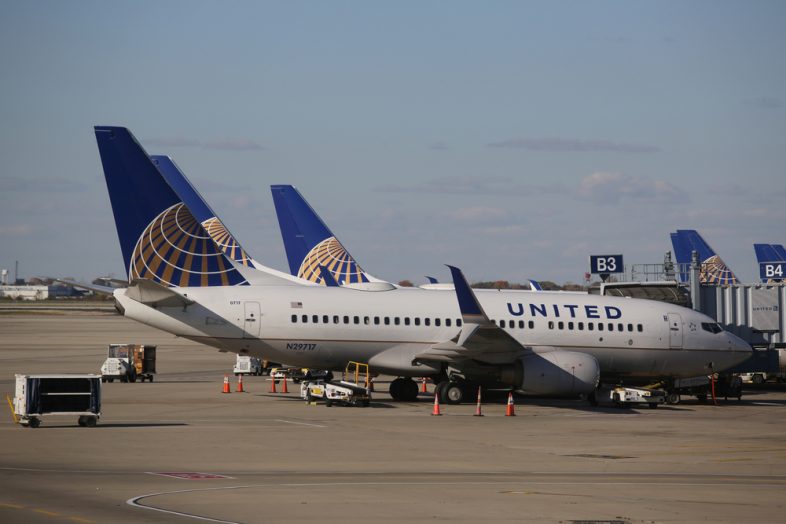 United Airlines ranks as the third-largest airline in North America, behind Delta and American Airlines. United operates a fleet of more than 700 planes that travel between more than 310 destinations worldwide, with 11 of those locations being major hubs.
United Airline hubs
| United hub location | Airport code(s) | # of United Club lounges |
| --- | --- | --- |
| Chicago, IL | O'Hare International Airport (ORD) | 4 |
| Denver, CO | Denver International Airport (DEN) | 2 |
| Frankfurt, Germany | Frankfurt International Airport (FRA) | 1 |
| Guam | Antonio B. Won Pat International Airport (GUM) | 1 |
| Houston, TX | Houston/George Bush Intercontinental Airport (IAH) | 5 |
| London, United Kingdom | London Heathrow International Airport (LHR) | 1 |
| Los Angeles, CA | Los Angeles International Airport (LAX) | 2 |
| Newark, NJ | Newark International Airport (EWR) | 3 |
| San Francisco, CA | San Francisco International Airport (SFO) | 3 |
| Tokyo, Japan | Tokyo-Narita International Airport (NRT) | 1 |
| Washington, DC | Washington Dulles International Airport (IAD) | 3 |
Latest United flight deals
Like most airlines, United offers frequent discounts on flights to certain destinations. The best place to find these deals is on the United website.
U.S. fare sales (limited-time roundtrip offers for flights within the U.S.)
Special flight offers (various destinations)
United MileagePlus frequent flyer program
Like most major airlines, United offers its own frequent flyer program, this one called MileagePlus.
Enrolling in MileagePlus is free; you only need to fill out a form on United's website to do so.
You need to be at least 18 to enroll yourself in MileagePlus, but parents or legal guardians can enroll children under 18 in the program by providing their information.
Earn miles from United flights and partnered airlines
You'll earn miles every time you purchase a flight operated by United or United Express. These miles are deposited into your MileagePlus account.
The number of miles you earn depends on the type of ticket you buy and your flight. You'll earn award miles based on the cost of your fare when you buy tickets for flights operated by United, United Express and those operated by a Star Alliance or MileagePlus partner airline.
If you purchase a ticket with a Star Alliance partner airline (see below) or from another MileagePlus partner airline, you'll earn your miles based on the distance of your flight and your purchased fare class.
If you are earning miles based on your fare, you will receive five base miles for every dollar you spend.
By using a United MileagePlus credit card, issued through Chase, you can earn more miles in addition to the base miles earned as a member of the MileagePlus program.
Additionally, you can buy miles if you need them for a redemption.
Redeeming miles for free flights and more
Miles can be used to book award flights, seat upgrades, lounge access, baggage subscriptions and more.
You can also redeem your miles for retail gift cards or to download music, movies and TV. You can even turn the miles into what United calls "experiences." These are tickets to concerts, Broadway shows or sporting events. Finally, if you're a foodie, you can redeem your miles for online gift cards to restaurants across the country.
If you have a United credit card, the miles can be redeemed for statement credits toward United airfare or your card's annual fee.
United Premier Status
You can earn even more reward miles if you reach Premier status in the MileagePlus program.
This can be tricky:
You'll need to earn a certain number of Premier qualifying miles -- better known as PQM -- or Premier qualifying segments -- PQS. You'll earn flight segments whenever your flight number changes during a single trip.
For instance, if you fly from New York to Los Angeles and then get on a flight with a new flight number to Hawaii, you'll get credit for the New York to Los Angeles portion of your flight and the flight from Los Angeles to Hawaii.
Even a nonstop flight counts as one segment, from the city from which you depart to the one in which you land. If you are taking a roundtrip flight, and even if both legs of the flight are nonstop, you'll earn two segment points.
Segments are a way for those consumers who fly often but usually take short flights to boost their rewards miles.
Requirements for the four Premier status levels
You'll also have to meet a minimum annual spending level with United to reach and retain Premier status.
There are four Premier levels with the MileagePlus program.
To reach Premier Silver, you'll need to record 25,000 PQM or 30 PQS while spending at least $3,000 with United. To reach Premier Gold, those numbers rise to 50,000, 60 and $6,000. Premier Platinum requires 75,000 PQM or 60 PQS and $9,000. To reach the top level, Premier 1K, you'll need 100,000 PQM or 120 PQS and $12,000.
Reaching these levels can pay off.
With Premier Silver, you'll earn the initial five base miles per dollar spent on your fare, but you'll also earn an additional two base miles per dollar. This means that you'll earn a total of seven miles for every dollar you spend on your fare.
The miles keep rising as the Premier levels get higher.
For Premier Gold, you'll receive three extra base miles per dollar spent on a total of eight base miles per dollar. For Premier Platinum, that rises to a total of 9 base miles per dollar spent. This figure rises to 11 base miles for every dollar spent when you hit the Premier 1K level.
Star Alliance partnership network
It's important to know the airlines in the Star Alliance program. That's because you can earn MileagePlus miles when you fly with one of the 28 airlines participating in the program. This gives you more flexibility: You don't always have to fly United to earn these miles.
The airlines currently in the Star Alliance are Adria, Aegean, Air Canada, Air China, Air India, Air New Zealand, ANA, Asiana Airlines, Austrian, Avianca, Brussels Airlines, CopaAirlines, Croatia Airlines, Egypt Air, Ethiopian Air, Eva Air, Polish Airlines, Lufthansa, Scandinavian Airlines, Shenzhen Airlines, Singapore Airlines, South African Airways, Swiss International Airlines, TAP Portugal, Thai and Turkish Airlines.
United Airlines MileagePlus credit cards
Like most airlines, United offers its own branded credit card. Both of the United MileagePlus cards give cardholders the chance to earn miles.
But you'll earn more miles, of course, depending on which card you choose.
United MileagePlus Club Card
The United MileagePlus Club Card Card allows account holders to earn one-and-a-half miles for every $1 they charge with their card on all purchase types. You'll earn a bonus, two miles, for every dollar you charge on tickets purchased through United.
You'll also earn membership to United Club, which gives you access to more than 45 United Club locations at airports across the globe. These clubs offer such amenities as free Wi-Fi, beverages, snacks and travel assistance.
Be prepared, though, to pay for these perks. The card comes with a $450 annual fee.
United Explorer Card
The United Explorer Card also awards bonus miles to cardholders, but at a slower rate. You'll earn two award miles for every dollar you charge on tickets purchased through United. But you'll earn just one mile -- instead of one-and-a-half -- for every dollar you charge on all other purchases.
You will, though, earn bonus miles after you spend a certain amount in the first 3 months your account is open. And you'll earn additional bonus miles every calendar year in which you spend at least $25,000.
The card also gives you one free checked bag when you fly United and priority boarding.
This card comes with no annual fee for the first year. But you will have to pay an annual fee of $95 for every year after.
United baggage fees
Those baggage-fee bonuses are actually pretty valuable. As of the publication of this story, United was charging passengers $25 for their first checked bag and $35 for their second. Every other bag that a passenger wanted to check after the second? They cost $100 each.
Overweight bags cost even more, with United charging $100 for bags weighing 51 to 70 pounds and $200 for those weighing 71 to 100 pounds. Oversize bags can cost $100.
Ways to avoid United baggage fees
Active U.S. military personnel and their dependents will get three free checked bags for personal travel.
If traveling on official business, these travelers will receive four free checked bags when flying United Economy and five when flying United Business, United BusinessFirst, United First and United Global First.
MileagePlus members receive baggage-fee breaks. Premier Silver members get one free checked bag while Premier Gold members get two. Premier Platinum members get three free checked bags, the same number that Premier 1K members receive.
With a United credit card, you get free checked bags. United MileagePlus Explorer cardmembers get their first checked bags for free. United MileagePlus Club cardmembers get two free checked bags.
Baggage fees compared to other major U.S. airlines:
You can expect to pay about $25 for your first checked bag when you are flying and $35 for your second. United's baggage fees fall within that general range, with United giving passengers a tiny break on that second checked bag.
United Airlines baggage fees
| Airline | First checked bag | Second checked bag |
| --- | --- | --- |
| United Airlines | $25 | $35 |
| Delta Airlines | $25 | $35 |
| American Airlines | $25 | $35 |
| Southwest Airlines | $0 | $0 |
| JetBlue Airways | $20 | $35 |
United Clubs
United offers certain travelers free access to their United Clubs, lounges located in more than 45 airports across the globe. The easiest way to get free access to these clubs is to take out one of United's MileagePlus credit cards.
The lounges offer a more relaxed place for travelers to spend time as they are waiting for their flights.
Clubs come with free personalized travel assistance, complimentary Wi-Fi access and free beverages, including beer, wine, and spirits. You'll also get free breakfast at any United Club and complimentary snacks throughout the day.
How to get access to United Clubs
1. Buy a one-time pass.
United Club one-time passes can be purchased for $59 at Club locations.
2. Buy an annual membership.
An annual membership to United Clubs offers unlimited access to the United lounges for a year. It costs $550 per year and the membership fee drops to as little as $450 with elite MileagePlus status. You can also get a membership by redeeming 70,000 miles.
3. Have a United credit card.
MileagePlus Explorer cardmembers get 2 free United Club one-time passes per year while MileagePlus Club cardmembers get a free annual membership to United lounges.
4. Fly in a premium cabin class.
Passengers who are flying in the United Global First, BusinessFirst, or Business cabin classes have access to United Clubs for their trips. Star Alliance Gold members also have similar access privileges.
Compared to the other major U.S. airlines, the cost of airport lounge access from United is nothing extraordinary:
United Airlines lounge access fees
| Airline lounge | Single visit pass | Annual individual memberships |
| --- | --- | --- |
| United Club | $59 | $450 to $550 |
| Delta Sky Club | $59 | $450 to $695 |
| American Admirals Club | $50 | $450 to $500 (renewals are $50 cheaper) |
| Southwest (no lounges) | N/A | N/A |
| JetBlue (no lounges) | N/A | N/A |
Tips when flying with United and using United credit cards
1. Always search the United website for deals
Like most large U.S. airlines, United is constantly offering discounted airfare. These offers come and go quickly, and if you check the United Web site, you'll find that several offers are good for one day only. So before you book your trip -- and especially if you are flying on a spur-of-the-moment trip -- be sure to visit United's specials page.
2. You'll get better seats if you book your flight with a United credit card
Everyone's in a hurry to get on their plane, right? Well, if you use a United credit card to book your flight, you'll be able to board faster than will most passengers.
United breaks passengers down into six groups when boarding. If you pay for your flight with a United credit card, you'll be in group 2, meaning you'll generally have your pick of good seats and you'll have plenty of overhead bin space from which to choose.
3. MileagePlus members qualify for deals throughout the year
If you're a MileagePlus member, be sure to check out United's Mileage Plus Promotions page for special offers throughout the year. For instance, under the ScoreBig promotion, Mileage Plus and Premier members can cash in their miles for sporting events, concerts or theater tickets.
Certain tiers of MileagePlus members can also qualify for free Marriott Rewards Gold Elite status. If it's near a holiday such as Mother's Day or Valentine's Day, you might earn bonus miles for shopping with certain florists. The site also offers frequent discounts on car rentals for MileagePlus members.
United ratings compared to other major U.S. airlines
United doesn't fare well when compared to the other major airlines in the United States. Here's a look at how United ranks among the most important categories (source: WSJ):
2018 Airline Scorecard (WSJ)
| Rank | Overall | On-time arrivals | Canceled flights | Extreme delays | 2-hour tarmac delays | Mishandled baggage | Involuntary bumping | Complaints |
| --- | --- | --- | --- | --- | --- | --- | --- | --- |
| 1 | Delta Airlines | Delta | Delta | Alaska | Southwest | Spirit | Delta | Southwest |
| 2 | Alaska Airlines | Alaska | Spirit | Delta | Alaska | JetBlue | JetBlue | Alaska |
| 3 | Southwest Airlines | Spirit | Alaska | Southwest | Frontier | Delta | United | Delta |
| 4 | Spirit | Southwest | Southwest | Spirit | Spirit | United | American | JetBlue |
| 5 | JetBlue Airways (tied for 5th) | United | United | American | Delta | Alaska | Southwest | United |
| 6 | United Airlines (tied for 5th) | American | Frontier | United | Jetblue | Frontier | Alaska | American |
| 7 | American Airlines | JetBlue | JetBlue | JetBlue | United | Southwest | Spirit | Spirit |
| 8 | Frontier | Frontier | American | frontier | American | American | Frontier | Frontier |