What is the Delta Comfort Seating Class?
Delta Comfort+ is a new seating class by Delta Airlines that promises more room and special perks that include in-flight food, priority boarding and more.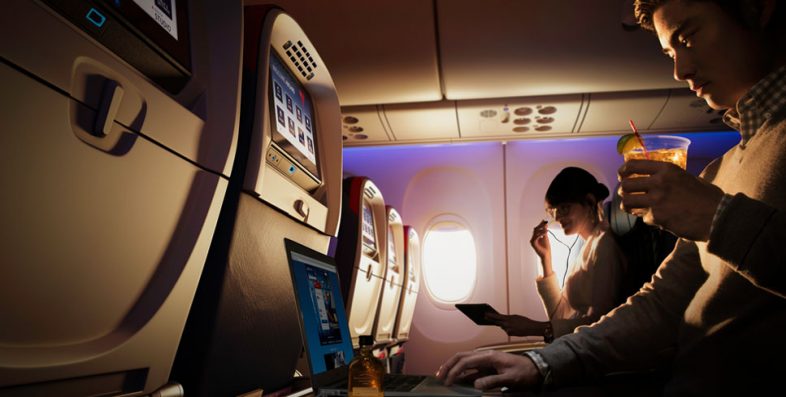 The seats are at the top end of the main cabin experience in Delta planes, ahead of standard and economy tickets. The seats are a great way for the budget-conscious traveler to fly in style without breaking the bank.
For example:
A flight from Seattle to Atlanta costs $422 for economy passengers and $901 for first class. Delta Comfort+ tickets cost $545, putting them far closer to the economy price.
The higher fare buys you a number of perks, including:
Sky Priority Boarding.
Seats at the front of the cabin.
An extra 4 inches of legroom over normal coach seats and significantly more reclining space.
Free wine, spirits, beer, and premium snacks.
Complimentary entertainment and WiFi.
It gets better:
Cross-country flyers can also enjoy premium meals and a nap kit that includes a pillow, blanket, toothbrush, and toothpaste.
Delta Sky Priority Boarding
The first perk that Delta Comfort+ customers take advantage of is the free Sky Priority Boarding, a perk usually reserved for Gold, Platinum, and Diamond Medallion members.
Want to know the best part?
You'll be the first on the plane, giving you the chance to secure space in the overhead bins and to get to your seat without waiting in a long line.
You'll be settled in and ready to fly long before the plane takes off, minimizing the stress of preparing for takeoff.
Wine, Spirits, Beer, and Snacks
Food and drink are an essential piece of the premium flight experience and Delta Comfort+ delivers on these expectations.
Passengers can enjoy premium beers from the Ballast Point Brewing Company, Brooklyn Brewery, Newburyport Brewing Company, the Boston Beer Company, and more, free of charge.
Seasonal cocktails and wines are also served on-board every flight. Passengers who can't or don't want to indulge can enjoy an in-flight Starbucks coffee instead.
Now:
Delta Comfort+ seats also come with a diverse food menu. Offerings include Stacy's Brand Pita Chips, King's Roasted Almonds, Oreos, and Varda Dark Chocolate.
Passengers looking for a full meal can have a Luvo sandwich or wrap such as the sesame grilled chicken wrap or roast beef slider.
Transcontinental flights have a larger food menu that includes highlights such as black-Angus burgers and Mediterranean whole grain wraps.
Delta In-Flight Entertainment
Delta Comfort+ passengers also enjoy free access to in-flight entertainment.
Depending on the length of your flight you can choose from up to 300 movies, including a number of recent releases.
If you want to catch up on the latest episodes of your favorite TV shows or have a child who wants to watch a familiar cartoon, those are available too.
Each seat also has access to a wide selection of music, both new and old, as well as custom curated audio channels.
That said:
If you prefer to provide your own entertainment, most flights offer in-seat power outlets.
You can power your own laptop, phone, or e-reader and enjoy whatever media you prefer without worrying about conserving battery life.
Passengers in Delta Comfort+ seats get free earbuds to make sure they can enjoy the entertainment offerings.
How to Book Delta Comfort+ Seats
If you want to fly in style there are a few different ways to book Delta Comfort+ seats.
When purchasing tickets online, you will have the option to purchase seats in the Delta Comfort+ section, guaranteeing your spot.
If you've purchased a main cabin ticket, you will have the option to upgrade to Delta Comfort+ seats before your departure date.
Basic Economy tickets are not eligible for upgrades so if you are unsure about whether you want to make the change, be sure to purchase basic economy tickets.
Customers can buy upgrades before boarding, prior to take-off, or while the plane is in the air so long as there is a Delta Comfort+ seat available.
Delta Frequent Flyer Benefits
Delta's Medallion elite traveler and SkyMiles programs are ways for frequent travelers to enjoy some perks while in the air. Delta has continued rewarding their loyal customers with their Delta Comfort+ seats.
Delta Medallion members can take advantage of free upgrades to Delta Comfort+ depending on their Medallion status.
But here's the kicker:
Diamond and Platinum members will be upgraded immediately upon purchasing a main cabin seat.
Gold members will receive a free upgrade 72 hours before takeoff, so long as there are seats available. Finally, Silver members get free upgrades 24 hours before takeoff.
Medallion upgrades to Delta Comfort+ do not affect upgrades to first class, so Medallion members can freely take advantage of the upgrades.
It gets better:
SkyMiles can be used to book economy comfort seats on Delta flights, so you can enjoy the extras without having to spend a penny.
Earning Miles to use of Delta Comfort+ Flights
Here's how it works:
If you want to fly in luxury but don't want to pay extra for the seats, Delta offers a number of partner credit cards.
These cards feature sign up bonuses in the tens of thousands of miles and let you earn miles on everyday purchases.
The sign-up bonuses also include "Medallion Qualification Miles," getting you closer to Delta's exclusive Medallion benefits.
Gold Delta SkyMiles Credit Card
The Gold Delta SkyMiles Credit Card is Delta's charges a $95 annual fee that is waived in the first year.
The Gold Delta SkyMiles Card offers a 20% savings (via statement credit) on in-flight purchases, but it also comes with other valuable perks such as:
One free checked bag
No foreign transaction fees
Platinum Delta SkyMiles Credit Card
The Platinum Delta SkyMiles Credit Card features all the same perks as the Gold Delta SkyMiles Card, with some improvements.
The statement credit and the bonus miles increase to $100 and 70,000 respectively, but the annual fee jumps to $195.
The fee is more than worth it, though, as cardholders get a free domestic economy companion certificate each year.
Cardholders also get a 10,000 Medallion Qualification Miles (MQM) boost at $25,000 in spending each year and another 10,000 MQM boost at $50,000 spending.
This makes it easy for big spenders to qualify for the lucrative Medallion program benefits.
Delta Reserve Credit Card
The Delta Reserve Credit Card is the most premium card that Delta offers. It offers a sign-up bonus of 10,000 MQMs and 10,000 SkyMiles after a single purchase.
The card also awards 15,000 MQMs at $30,000 and $60,000 in annual spending.
Your Medallion membership also becomes more valuable as Reserve cardholders get priority upgrades over Medallion members of the same class.
The card charges a $450 annual fee, but the annual companion pass can be redeemed for a round-trip first class ticket, more than covering the cost.
Compare Best Accounts Now
You might also like