Delta SkyMiles® Platinum American Express Card 2023 Review
Are you a frequent Delta flyer? Earn annual bonus miles, companion certificates, a bonus, and more with their latest rewards card.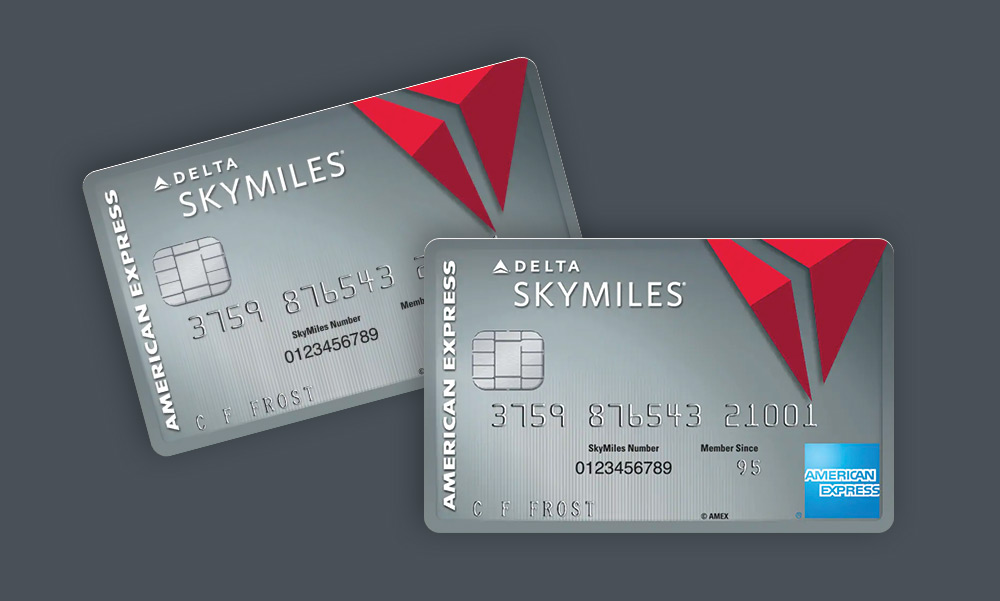 The Delta SkyMiles Platinum American Express Card is designed to help Delta fans earn miles and save money on travel.
Its most defining feature is a rewards program that offers annual mileage bonuses and a free companion ticket each year.
Furthermore, it provides convenient benefits like no foreign transactions fees, additional insurance coverage, and priority boarding.
The Delta SkyMiles Platinum American Express Card is ideal for someone who can pay off their credit card bill in full every month and can help them lower their travel costs and get rewarded for their loyalty to Delta Airlines.
Let's take a look at the main card features and benefits.
Platinum Delta SkyMiles Travel Card Pros & Cons
Best Features
If you're thinking of applying for a this card, the first thing you should know is this card has a $250 annual fee.
However, for most customers, the bonus miles and annual companion certificate outweigh the cost of the annual fee.
Companion Certificate
Each year you renew your card you get a free companion certificate for a domestic, main cabin round-trip ticket. For many customers, this free annual ticket alone makes up for the $195 annual fee.
Annual Miles Boost
Each year, cardholders get 10,000 Medallion Qualification Miles (MQMs). If you spend $25,000 on purchases in a calendar year, you can get 10,000 additional bonus miles.
And if you spend $50,000 in a year, you'll get 10,000 more.
TIP: Use your Platinum Delta SkyMiles Credit Card to book entertainment for your next trip. Customers are treated to exclusive access to ticket presales for Broadway shows, concerts, sporting events, and more.
Still Not Convinced?
If the bonus miles and free annual companion ticket aren't enough to entice you, the Delta SkyMiles Platinum American Express Card comes with a host of other perks that make travel a luxurious and rewarding experience.
No foreign transaction fees: No foreign transaction fees for purchases made while traveling outside of the United States
Double miles on Delta purchases: Get 2 miles for every dollar you spend on Delta purchases
Free first checked bag: Save up to $60 on each round trip
Priority boarding: No more stressing about snagging space for your carry-ons
In-flight purchase and Sky Club discounts: Get access to Delta Sky Club at a reduced cost and 20% savings on certain in-flight purchases
Extra insurance: Get additional coverage for rental cars, travel accidents, and lost baggage
TIP: Customers get extended warranties above the manufacturer's warranty, in addition to coverage if something breaks or gets stolen.
Fees Explained
Before applying for any credit card, it's important to read the fine print first. Here's what you need to know about the Platinum Delta SkyMiles credit card fees.
Annual fee: The annual fee for this card is $250, but it includes valuable perks like a free annual companion ticket, free first checked bag, and no foreign transaction fees
Late fee or returned payment: Up to $49, plus a penalty APR increase
Balance transfer and cash advance: Either $10 or 5% of the amount of each transfer or cash advance, whichever is greater
TIP: Use a free service like Mint to track your credit card spending and cash balances. It will be easier to pay your credit card balance off in full each month if you always know where you stand.
Should You Go Delta?
While this card hosts an impressive line-up of rewards and perks, let's take a closer look to make sure this is the right card for you.
Who this card is for:
People who fly Delta and travel often
People who pay off their credit card balance each month
People who have high enough incomes to meet bonus mile spending requirements
People who plan on using their credit card often
Who this card isn't for:
People with limited or bad credit
People who are looking for a low APR and balance transfer rate
People who are trying to pay off debt
People who usually carry a credit card balance
Delta SkyMiles Platinum American Express Card is Made for Travelers
For customers who travel often and like to do so in luxury, this credit card offers ways to enjoy the perks of elite status without the cost.
Ultimately, this card is best for someone who already flies Delta Airlines and wants to be rewarded for their loyalty.
In order to reap all the rewards, cardholders should also be comfortable using the card regularly and paying it off in full each month.
Since the annual bonus miles are based off annual spending, it's also best if the cardholder has a high enough income to be able to meet the $25,000 or $50,000 annual spending requirements to get the bonus miles.
If this sounds like you, then this could be an excellent choice.
Featured travel credit card: