Spirit Airline Deals and Credit Card Offers
Spirit Airlines offers deals, sales and a credit card that mean cheap or free flights. See other tips on fees, baggage and elite frequent flyer status.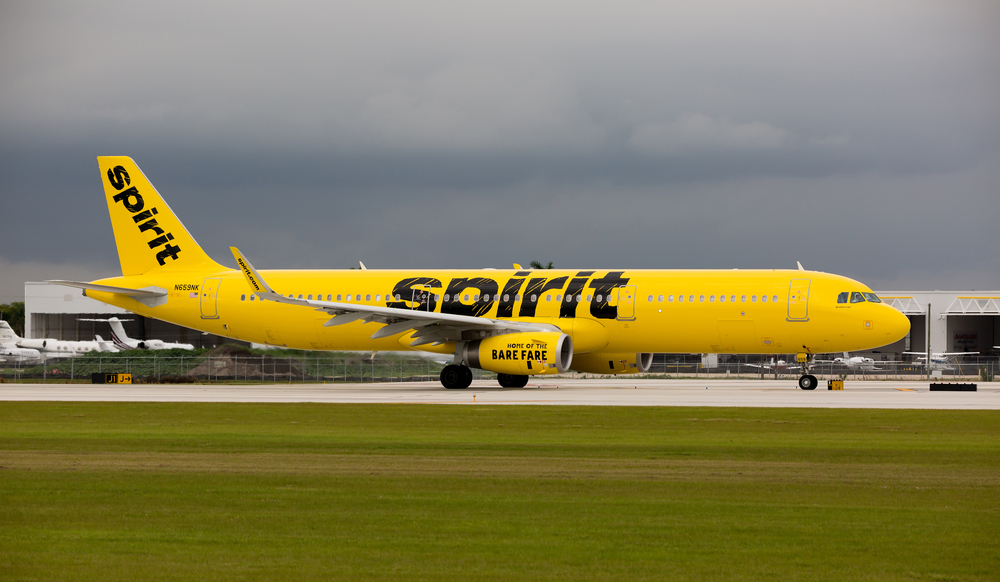 Spirit Airlines offers a way to get from point A to point B without breaking the bank. This "ultra-low-cost" airline operates more than 250 flights daily to more than 50 destinations in the United States, the Caribbean, Canada, and Latin America.
Spirit is a smaller airline, so you won't find airport lounges or hubs around the world. With a fleet size of only 83, Spirit has two major hubs in the U.S:
Detroit, Michigan — Detroit Metropolitan Wayne County Airport (DTW)
Fort Lauderdale, FL — Fort Lauderdale–Hollywood International Airport (FLL)
Spirit Air Deals
Whether you're searching for Spirit Airline deals from Detroit or Spirit Airlines last minute deals from other cities, the airline's website regularly features flight sales and promotions. Spirit Airline flight deals expire after a certain period, so you'll need to check the site frequently and book early to take advantage of the savings.
These travel deals have some exclusions and requirements. For example, Spirit may offer a coupon code on its site that allows you to save up to 75% off travel. But to benefit from the promotion, you may have to travel on a Tuesday or Wednesday on specific dates. Likewise, some promotions are only available if you book through Spirit.com.
Spirit Airlines has a $9 fare club, which is a pretty sweet deal if you fly Spirit often. You can join the fare club for $59.95 a year, and your membership automatically renews each year until you cancel. Club members receive exclusive Spirit Airline travel deals plus a discount on baggage fees. But unfortunately, $9 fare club prices cannot be combined with a coupon code or other travel promotions.
Book your next flight with Spirit Airlines and you might find air deals starting as low as $34.10 one-way for non-members and $23.10 one-way for fare club members, including taxes and fees.
Spirit Airlines Frequent Flyer Program
Joining a frequent flyer program is one of the best ways to save on fare. The FREE SPIRIT frequent flyer program offers several opportunities to earn miles redeemable for travel and other products. It's free to join and all you need to do is fill out an online membership form.
1. Earning Miles Through Travel
It isn't enough to join the FREE SPIRIT program, you need to know how to earn miles.
There's an opportunity to earn miles anytime you book and fly with Spirit Airlines. Make sure you have your FREE SPIRIT member number when making your flight reservation. Since this number is connected to your contact information, it'll automatically appear when booking a reservation online. But if you purchase a ticket through the airline's reservations department or another ticket source, you'll need to give the representative your number to receive credit.
Don't stress if you forget to provide your number when booking a reservation. You have up until 30 days from the date of travel to receive a mileage credit. To get your credit, sign into Sprint.com, visit your profile page, and then choose "request mileage credit."
Unfortunately, you cannot earn miles for other travelers.
2. Earn Miles Through Spirit Partners
Booking a flight with Spirit Airlines isn't the only way to earn miles. You can also earn miles through Spirit's partnership program. Spirit doesn't partner with another airline, but it does partner with restaurants, cruises, car rental companies, hotels, credit cards, lenders, etc.
For example, book at least a one-day rental at participating Avis airport locations and you'll receive up to 35% off your rental plus 750 FREE SPIRIT miles. Simply mention your FREE SPIRIT number when booking your rental. Through Spirit Airline's partnership with Choice Hotels, you can earn 250 miles for each stay in the United States, Caribbean, Mexico, Canada, Europe, and Australia.
Other partnerships include:
FREE SPIRIT Dining
Miles for Thoughts
Swagbucks
My Points
Hertz and Budget Rental Car
Prosper Lending
FREE SPIRIT Online Mall
FREE SPIRIT Play
Vinesse Wine Club
3. Buy Miles
Maybe you want to book a trip but you're short a few miles. No problem, you can purchase up to 60,000 miles at $25 per 1,000 miles. Not only can you buy miles, you can give miles as a gift.
4. Redeem Miles
When you're ready to redeem your miles for a ticket, visit Spirit.com and search flights. Select the "purchase with miles" options to learn the number of miles you need to book a particular flight. You can also redeem miles when booking a reservation over the phone, but there's a $35 fee when booking through a representative. In addition to booking airfare, you can redeem your miles at no cost for magazine subscriptions, or use your miles for online games and contests.
Spirit Airlines Levels of Frequent Flyer Status
Spirit Airlines offers tiered levels of frequent flyer status: Somebody, Elite, and VIP. The more you fly, the quicker you can move up the tier. And the higher you move of the tier, the more miles you can earn from each flight. You'll start at the "Somebody" level (the lowest tier) after signing up for the FREE SPIRIT program. At the "Somebody" level, you only earn 50% or half the miles flown with Spirit. Earnings increase as you reach higher tiers.
Benefits and requirements for the Elite and VIP tier include:
Elite
you earn 100% or 1 mile for every mile you fly with Spirit
To qualify, you must have a Spirit Airlines World MasterCard credit card and complete at least one card purchase each month; or earn 12,000 FREE SPIRIT miles during the past six months; or spend a minimum of $1,200 on base fares (excluding taxes, fees, and other services) over the past six months.
VIP
you earn 100% or 1 mile for every mile you fly with Spirit
To qualify, you must earn 24,000 FREE SPIRIT miles over the past six months, or spend a minimum of $2,400 on base fares (excluding taxes, fees and other services) over the past six months.
Spirit Airline Credit Card
You can qualify for a higher status faster by applying for the Spirit Airlines World MasterCard credit card. This is Spirit's brand travel credit card offered through Bank of America.
Here is what you can expect from the Spirit Airlines World MasterCard:
Earn 15,000 bonus miles after your first purchase, and then 2 miles for every dollar you spend with the credit card
Spend at least $10,000 each year with the card and receive a FREE SPIRIT anniversary bonus of 5,000 miles
Spirit World MasterCard cardholders can start redeeming round-trip tickets with only 5,000 FREE SPIRIT miles (redemption starts at 20,000 FREE SPIRIT miles for non-card holders.)
There's a $59 annual fee, which the bank waives the first year.
Spirit Airline Baggage Fees
Airlines are known for charging fees, and Spirit is no exception. Spirit Airline charges a fee for carry-on and checked luggage. The price you pay for luggage varies depending on when you pay the fee, your destination, and whether you're a $9 fare club member or a non-member. For example, if you fly from Los Angeles to Atlanta, as a non-member you'll pay between $35 and $100 for a carry-on bag, and between $30 and $100 for your first checked back.
You can pay the baggage fee during a Spirit.com booking (the cheapest option), before online check-in, during online check-in, at the airport reservation desk, or at the gate. Check out the airline's baggage calculator fee for current pricing.
Unfortunately, Spirit Airlines doesn't make it easy to avoid the baggage fee. You are allowed to bring one personal item onto the plane free of charge, such as a small backpack. But the backpack must fit entirely in the space in front of your seat and cannot be larger than 16" x 14" x 12".
There's no way around the fee for a larger carry-on or a checked bag. You can, however, minimize your fee by paying for a checked or carry-on bag early, such as when booking your reservation on Spirit.com. The good news is that wheelchairs, car seats, and strollers can be checked or carried on the plane for free.
On average, airlines charge between $25 and $35 for the first and second checked bag, respectively. Spirit Airline baggage fees are comparable to other airlines, but only when the baggage fee is paid during a Spirit.com booking. The fee increases slightly if you book at a later time.
When packing your luggage, be aware that Spirit Airlines charges an extra fee for bags over 40 lbs. Some airlines don't charge an oversized bag fee until luggage exceeds 50 lbs. Oversized baggage fees for Spirit start at $25 (per bag) for luggage between 41 and 50 lbs, and up to $150 per bag for items over 80 linear inches.
Tips when flying with Spirit and using a Spirit credit card
1. Book your ticket at the airport
Booking your flight online is fast and convenient, but you'll pay extra for this convenience. Spirit charges a $17.99 passenger usage fee per each one-way ticket purchased online or by phone. To avoid this fee, drive to the airport and purchase your ticket in-person. You can still purchase your bags online prior to check-in and save on baggage fees.
2. Don't pay for an assigned seat if you're flying with kids
Unfortunately, Spirit Airlines charges extra for assigned seating. Paying this fee ensure you're able to sit with those you're traveling with. However, if you're traveling with a child you're guaranteed a seat together, so there's no need to pay extra for an assigned seat.
3. Apply for the credit card to avoid expired miles
Your FREE SPIRIT miles can expire. To avoid losing your miles, apply for the Spirit World MasterCard and make at least one purchase per month.