How To Earn More With The Alaska Airlines Credit Card: 2023 Review
Alaska Airlines offers deals for cheaper flights on the West Coast. See tips on Alaska Airlines credit cards, airport lounges, baggage fees and more.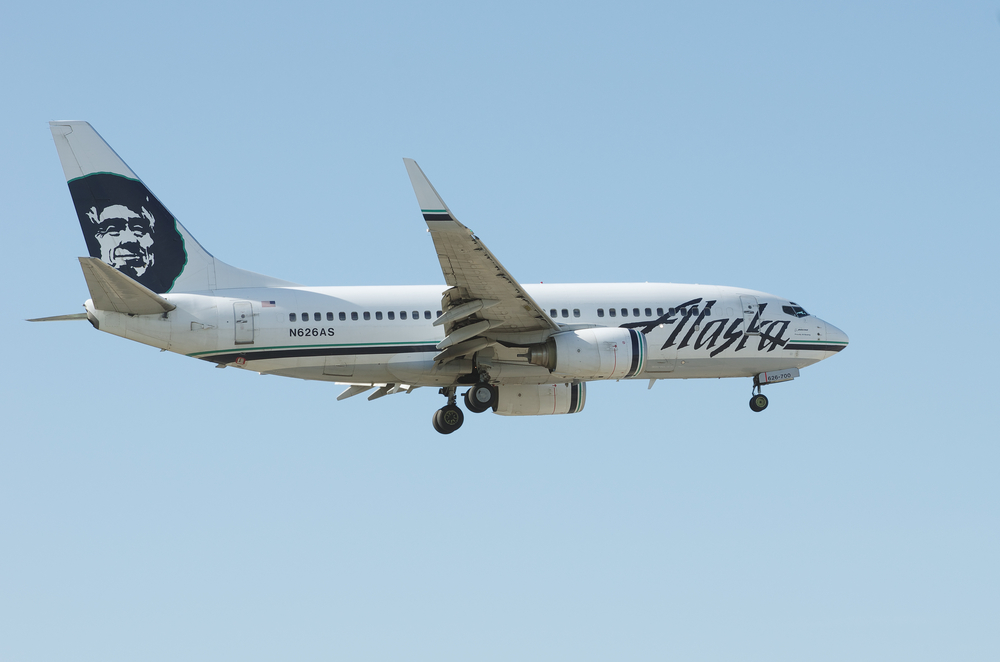 Alaska Airlines is the state's largest airlines services and the seventh-largest US airline carrying more passengers to and from Alaska than any other company. It is headquartered in Seattle, its main hub. Other hubs are:
ANCHORAGE, US (ANC)
LOS ANGELES, US (LAX)
PORTLAND, US (PDX)
Alaska Air also serves some Eastern and Southern states such as Nashville, Charlotte, and Raleigh/Durham and the company started flights to Costa Rica in October 2015. Alaska Airlines is part of Alaska Air Group, which operates over 920 flights daily in the US, Mexico, and Canada. The brand is described as the "Alaska Spirit," represented by an image of an Eskimo on the aircraft tail. The company is considered a low-fare carrier and has approximately 11,500 employees.
Where to Find Latest Deals
Alaska Airline's flight deals are updated regularly on the company website. The fares for Alaska Airlines last-minute deals and discount flights are typically nonrefundable. Prices may vary, and not all dates will be available at the low price. Note that a ticket bought at an Alaska Airlines airport or through a call center will cost an additional $15 than the advertised fare.
Alaska Airline Frequent Flyer Program Review
All individuals are eligible to join the Alaskan Airlines Mileage Plan and must personally enroll in the program. No group or family memberships are available, and travel agents or other service providers cannot create accounts for others. Club 49 is a free option with Mileage Plan that offers privileges and benefits to residents of Alaska only.
Earning Miles
Miles are earned by flying on Alaska Airlines flights, using an eligible credit card, using the services of a partner with the Mileage Plan such as buying, gifting, or transferring miles with a participating partner, or by being awarded promotional bonus miles from the airline or one of its partners.
Some tickets are not eligible to accrue miles, for example, unused tickets or cut-rate tickets.
Mileage Plan members can purchase or transfer miles to another member's account. Transferred miles are non-refundable and are not reversible.
Bonus miles are awarded when you buy miles. Buying 10,000 to 19,000 miles earns a 20% bonus, 20,000 to 39,000 miles earns a 30% bonus, and buying 40,000 miles earns a 40% bonus. Buying the maximum of 40,000 miles provides a total of 56,000 miles at a cost of around 2 cents per mile.
Redeeming Miles
Miles can be used to buy one-way, round-trip, or an open ticket. A one-way award for international travel can include one en-route stopover. Round-trip itineraries with two stopovers, or one-way awards with one stopover, cannot be booked online but through an Alaska Airlines call center, and fees may be charged.
Elite Status
Alaska Airlines offers three different levels of frequent flyer status. The table below shows the mileage required with various program partners to qualify for each status level.
Qualifying for Alaska elite status
| Qualifying flights | MVP | MVP Gold | MVP Gold 75K |
| --- | --- | --- | --- |
| Miles flown on Alaska Airlines only | 20,000 | 40,000 | 75,000 |
| Miles flown on Alaska Airlines and elite-qualifying partners | 25,000 | 50,000 | 90,000 |
| Segments flown on Alaska Airlines and elite-qualifying partners | 30 | 60 | 90 |
Some of the privileges that come with elite status include bonus miles when traveling with global partners such as American Airlines, British Airways, Delta, Hainan Airlines, and Icelandair.
MVP members can receive 50% bonus miles, MVP Gold members can receive 100% bonus miles, and MVP Gold 75K members can receive 125% bonus miles. Depending on the tier, elite members can also benefit from flight upgrades and complimentary in-flight entertainment, food, and beverages. Other advantages include priority check-in and boarding, free checked bags, preferred seating, and discounted Board Room or lounge memberships.
The Alaska Airlines Visa Signature Card Review
Alaska Airlines offers on branded credit card. The Alaska Airlines Visa Signature Card comes with a travel rewards program and several useful perks for the frequent Alaska Airlines customer.
Cardmembers earn 3 miles per dollar spent on Alaska Airlines tickets, vacation or in-flight purchases with no limits and all other purchases earn 1 mile per dollar. A cost-savings perk is the free checked bag for the cardholder and up to six other passengers. The card also provides a companion fare each year. There is an annual fee of $75 for the Visa Signature Card. Limited-time sign-up bonuses may award large amounts of miles upon spending a certain amount within the early months of card ownership.
Card applicants with less than stellar credit scores may still qualify for Alaska Airlines Platinum Plus. The card has a $50 annual fee. This version of the card doesn't have as attractive of sign-up bonuses or Visa Signature benefits.
Airline Baggage Fees
Alaska Airlines permits one carry-on bag and one personal item, for example, a purse or a laptop. Your carry-on bag should not exceed 24 inches in length, 17 inches in height, and 10 inches in width. Each additional bag will be subject to a $25 fee. If you have a third bag, the fee is $75 for the third bag. Some flights may be subject to another airline's baggage policy.
Alaska Airline Baggage Fees
| Alaska Airline Baggage Fees | |
| --- | --- |
| First bag | $25 |
| Second bag | $25 |
| Third + additional bags | $75 each |
| Oversize or overweight baggage that weigh 51-100 lbs | $75 |
| Bags with linear dimension of 63-115" (linear) | $75 |
How to avoid Alaska Airlines checked bag fees:
Like most airlines, Alaska Airlines offers several ways for passengers to avoid the cost of checking their bags.
Have the Alaska Airlines Visa Signature card from Bank of America.
Alaska Airlines Visa Signature customers and those traveling with them will have the fee waived for the first bag.
Customers traveling first class will have the fee waived for the first two bags if they were upgraded before the baggage is checked in.
Have elite traveler status under the Mileage Plan.
Elite level Mileage Plan members, American AAdvantageExecutive Platinum, Platinum, Gold Elite Level members, and Club 49 members will have their baggage fees waived for the first two bags.
For those travelling within the state of Alaska, the airline will waive the baggage fees for the first three bags.
Affiliation with the U.S. military
Active U.S. military personnel and their dependents are allowed up to the first 5 checked bags for free.
Compared to the other major U.S. airlines, the cost of the first checked bag at Alaska Airlines is relatively in line with the competition. However, the cost to check another bag is noticeably cheaper with Alaska.
Alaska's baggage fees compared to other major U.S. airlines
| Airline | First checked bag | Second checked bag |
| --- | --- | --- |
| Alaska Airlines | $25 | $25 |
| American Airlines | $25 | $35 |
| Delta Airlines | $25 | $35 |
| JetBlue Airways | $20 | $35 |
| Southwest Airlines | $0 | $0 |
| United Airlines | $25 | $30 |
Alaska Airline Lounges
Alaska Airline's lounges are called Board Rooms, and they are located at airports in Anchorage, Alaska; Seattle, Washington; Portland, Washington, and Los Angeles, California. Board Room membership also provides access to around 50 affiliated lounges worldwide.
Amenities include comfortable seating, workstations, power outlets, conference rooms, Wi-Fi, and faxes and copiers. Board Rooms offer complimentary drinks including coffee, juices, beer, wine, cocktails, and snacks.
A one-day pass can be purchased for non-members for $45 in Anchorage, Alaska; Seattle, Portland, and Los Angeles, California. Members can be accompanied by family members or up to two guests at no extra charge. The table below shows how the cost of membership to Alaska Airlines' Board Room compares with other airline lounge memberships.
Alaska Airlines lounge access fees
| Airline lounge | Single visit pass | Annual individual memberships |
| --- | --- | --- |
| Alaska Airlines | $45 | $295 to $350 |
| Delta Sky Club | $59 | $450 to $695 |
| American Admirals Club | $50 | $450 to $500 (renewals are $50 cheaper) |
| United Club | $59 | $450 to $550 |
| Southwest (no lounges) | N/A | N/A |
| JetBlue (no lounges) | N/A | N/A |
Tips When Flying With Alaska Airlines or Using the Visa Signature Card
Board Room
Save $50 on the initiation fee and $55 on annual membership to Alaska Airlines Board Room by using your Alaska Airlines Visa Signature card from Bank of America. The second membership for a spouse is $250 without a second initiation fee. Board Room members can buy a day pass for companions, or guests and family members not traveling with the member at a cut rate of $20 per person instead of the $45 per person for non-members.
Buying and Earning Miles
If you buy miles at the same time as you purchase a ticket, you can save over 35% with "Fly & Buy Miles". Mileage Plan miles can be earned by flying with one of the 16 airline partners, so book flights with partner airlines. Also, check non-airline partners such as car rental companies, hotels, and financial institutions with whom you can also earn miles.
Alaska Airlines Club 49 Deals
The airline offers weekly deals for Club 49 members. Alaska Airlines' Club 49 deals are displayed on the airline's website and are updated every Tuesday. The deals are available for a limited time each week.
Alaska Airlines ratings compared to other major U.S. airlines
The Wall Street Journal rated Alaska Airlines the best among nine of the biggest US airlines in 2015. The airline showed superior performance in on-time arrivals, had fewer delays and received fewer customer complaints. Frontier beat out Alaska Airlines in canceled flights, Virgin America had a better record for mishandled baggage, and JetBlue was better in terms of involuntary bumping.
2018 Airline Scorecard (WSJ)
| Rank | Overall | On-time arrivals | Canceled flights | Extreme delays | 2-hour tarmac delays | Mishandled baggage | Involuntary bumping | Complaints |
| --- | --- | --- | --- | --- | --- | --- | --- | --- |
| 1 | Delta Airlines | Delta | Delta | Alaska | Southwest | Spirit | Delta | Southwest |
| 2 | Alaska Airlines | Alaska | Spirit | Delta | Alaska | JetBlue | JetBlue | Alaska |
| 3 | Southwest Airlines | Spirit | Alaska | Southwest | Frontier | Delta | United | Delta |
| 4 | Spirit | Southwest | Southwest | Spirit | Spirit | United | American | JetBlue |
| 5 | JetBlue Airways (tied for 5th) | United | United | American | Delta | Alaska | Southwest | United |
| 6 | United Airlines (tied for 5th) | American | Frontier | United | Jetblue | Frontier | Alaska | American |
| 7 | American Airlines | JetBlue | JetBlue | JetBlue | United | Southwest | Spirit | Spirit |
| 8 | Frontier | Frontier | American | frontier | American | American | Frontier | Frontier |