JetBlue Airline Credit Card 2023 Review
The JetBlue Rewards MasterCard credit card is reviewed for its TrueBlue points rewards and in-flight savings. Earn free JetBlue flights and elite travel status.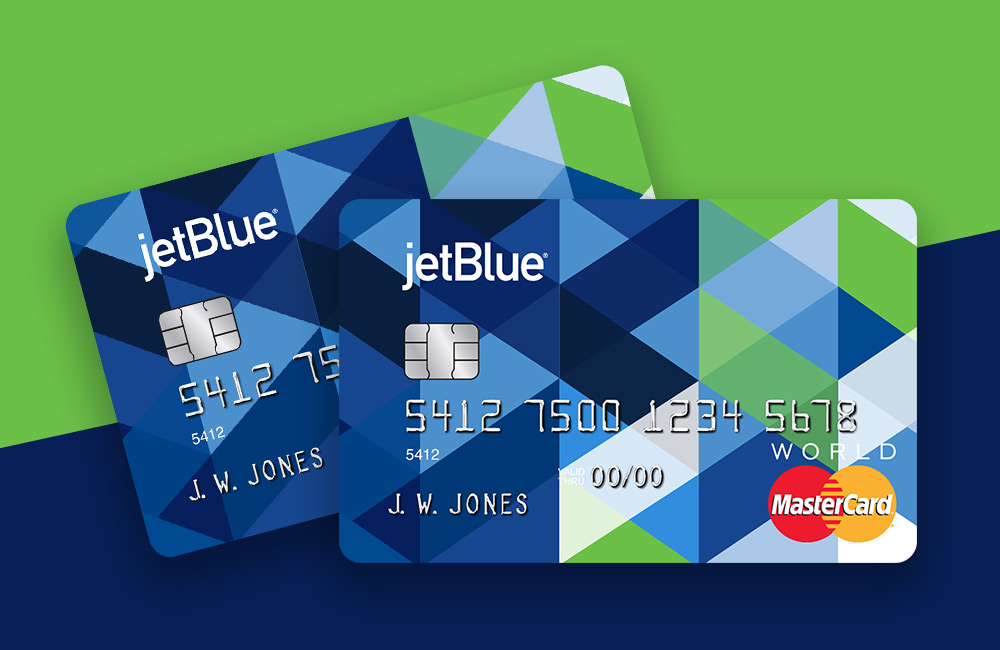 JetBlue is an airline that offers two different travel credit cards for consumers: the JetBlue Card and the JetBlue Plus Card.
The company partnered with Barclaycard to offer cardholders more perks and expanded bonuses.
The JetBlue Card is designed to benefit customers who frequently fly with the airline without having to pay to use the card.
It allows you to rack up rewards with JetBlue and perks with Mastercard, via the World Elite program.
Here's what you need to know to determine if this new airline card is right for you.
JetBlue Credit Card Benefits
JetBlue's card is primarily designed to reward travelers who fly with the airline.
Rewards focus around accruing JetBlue TrueBlue points, which can be redeemed for free travel and other discounts through the JetBlue TrueBlue frequent flyer program.
Here's how the benefits break down:
3 points per dollar on JetBlue purchases
2 points for every dollar spent on groceries and restaurants
1 point per dollar
No foreign transaction fees
As part of limited-time offers, the JetBlue Rewards credit card may come with sign-up bonuses.
In addition to using points for award flights, the card also gets you 50% off on some in-flight purchases like cocktails, food, and entertainment.
Unfortunately, it doesn't waive any baggage fees.
JetBlue baggage fees
| Airline | First checked bag | Second checked bag |
| --- | --- | --- |
| JetBlue Airways | $20 | $35 |
| United Airlines | $25 | $35 |
| Delta Airlines | $25 | $35 |
| American Airlines | $25 | $35 |
| Southwest Airlines | $0 | $0 |
How Do TrueBlue Points and Perks work?
The credit card allows you to accumulate TrueBlue Points, which you can redeem for Award Travel under JetBlue's TrueBlue reward program.
Points never expire, and there are no blackout dates or seat restrictions when redeeming your points.
The amount of TrueBlue Points you'll need to get one-way or round-trip flights will depend on the current fare.
When flight fares are lower, you'll need fewer points to get a free flight -- and when fares are higher, you'll need to use more points.
To use your points and book an Award Flight, you can go to JetBlue's site and sign in to your TrueBlue account.
From there, you can search for flights you're interested in, and few the price in points instead of dollars.
The JetBlue Rewards credit card also makes for a decent credit card to use at restaurants and grocery stores because you earn 2x points on these spending categories.
Few airline credit cards will allow cardmembers earn miles on purchases not made with the airline.
Plus, when you use your card while flying with JetBlue, you'll save a little extra as well. With JetBlue Rewards, you get 50% off in-flight purchases like entertainment, snacks, and beverages.
Fees for the JetBlue Rewards Mastercard
There's no annual fee for the JetBlue credit card, and frequent fliers who are also international travelers will appreciate the fact that there's no foreign transaction fee.
Most airlines don't offer reward credit cards that come with so many perks without any kind of annual fee, so this card that's free to use is an even better deal for JetBlue travelers.
The card also offers $0 fraud liability, which means you're protected against unauthorized charges on your JetBlue credit card.
And the card is a chip card, meaning your information is stored on a small electronic chip within the card.
The chip is encrypted, keeping your transaction information highly secure. These are features that are expected from all travel-focused credit cards.
The interest rates and service for the JetBlue Rewards card are relatively in line with the typical rewards credit card.
Late and returned payments will incur fees of up to $37, and the due date on your bill will always be 23 days after the closing date on your last statement.
It's important to be aware of these fees and charges as with all credit cards -- and JetBlue's are fairly standard for typical rewards cards.
Compared to Other Card Options
Here are options you might consider when compared to JetBlue credit cards:
Chase Sapphire Preferred
 is a popular travel credit card because it delivers travel rewards and benefits in so many ways. With this card, you can transfer miles to the JetBlue TrueBlue program.
The card also offers bonus rewards points on travel and dining, primary auto rental insurance, and no foreign transaction fees.
There is a $95 annual fee.
Read the Chase Sapphire Preferred editor's review.
Capital One Venture Rewards Credit Card
 is a simple travel rewards credit card that offers 2x miles per dollar spent on every purchase. The miles are also transferable to the JetBlue TrueBlue program.
Cardmembers receive up to $100 credit for Global Entry or TSA Precheck and there are no foreign transaction fees.
The card has a $95 annual fee.
Read the Capital One Venture Rewards editor's review.
Is the JetBlue Rewards MasterCard for You?
The JetBlue Rewards credit card is a great option for travelers who are loyal to the airline and want the opportunity to accumulate more TrueBlue Points.
You'll earn 3x points on all JetBlue purchases, 2x points on specific categories of spending, and 1 point per dollar spent on everything else.
The card is a great option for people who want to enjoy the rewards but don't want to pay for the opportunity.
JetBlue's credit card with no annual fee means you don't need to weigh whether or not the cost of the card itself is worth potentially earning Award Travel.
It's a card that you can hold onto until a time when you can maximize the points earned.
The bonuses and other perks include fraud protection, no foreign transaction fees, and discounts on in-flight purchases with JetBlue.
The JetBlue MasterCard may not make sense for customers who don't usually fly with the airline, or who don't have access to one of the company's hubs.
JetBlue hubs
| JetBlue hub location | Airport code(s) |
| --- | --- |
| Boston, MA | Boston Logan Airport (BOS) |
| Fort Lauderdale, FL | Fort Lauderdale-Hollywood International Airport (FLL) |
| Long Beach, CA | Long Beach Airport (LGB) |
| New York, NY (Main) | JFK International Airport (JFK) |
| Orlando, FL | Orlando International Airport (MCO) |
| Washington, DC | Washington Dulles International Airport (IAD) |
Otherwise, it's a good option for those looking to boost their reward points earnings without paying an annual fee, which is usually found with airline credit cards.