Capital One Venture Rewards Credit Card 2023 Review
The Capital One Venture Rewards credit card is reviewed for its travel rewards program (2 miles on all spending), benefits, bonuses, fees and more.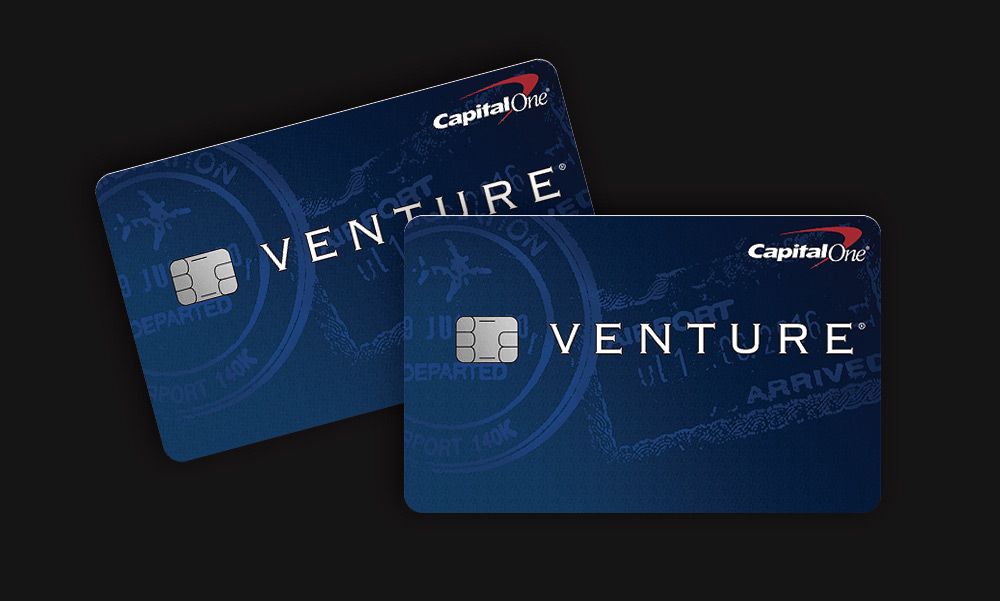 Capital One Venture Credit Card
If you travel regularly, you know how quickly the cost can add up. Between flights, hotels and cab fares, getting where you need to go often has a high price tag.
Using a travel rewards credit card to foot the bill is an excellent way to earn back some of what you're spending.
The pays back big miles on every purchase, but there is an annual fee.
Redeeming rewards for free travel is a breeze, and the card comes with some built-in perks to make your life a little easier.
What are the card's main features?
Capital One Venture Rewards Card Pros & Cons
The Capital One Venture card has a laundry list of features designed to benefit frequent travelers.
Here are some of the top reasons we recommend the card to anyone who's interested in scoring free travel:
Uncomplicated rewards structure
Some travel credit cards make you juggle rotating spending categories or jump through other hoops to earn rewards.
The always pays you 2 miles per $1 on everything you spend, with no limits on what you can earn.
Global Entry or TSA Precheck credit
Cardmembers automatically receive a credit of up to $100 towards the application fee for Global Entry or TSA Precheck, which makes travel more convenient by allowing you to move through U.S. Customs and/or security lines much quicker.
Bonus miles for qualifying members
Generally, this card comes with a large introductory bonus on miles when you spend enough on purchases in the initial months of owning the card.
That's a huge head start towards your first free flight or hotel stay.
Hassle-free redemption
With some travel cards, trying to use your miles or points for travel can be a pain. This card makes it easy on you.
You can redeem rewards as a statement credit against travel spending or use your miles to book travel through Capital One.
No foreign transaction fee
International travel can get expensive if you're using a card that charges a 2%-3% foreign transaction fee. Fortunately, Capital One never charges any foreign transaction fees at all.
Why this card is a must-have for travelers
All of those are great reasons to apply for a Capital One Venture Rewards card, but there's one that stands out from the crowd: the rewards structure.
The ability to always earn double miles on everything you spend with no caps is a plus for any traveler who prefers simplicity in a rewards card.
You're not stuck keeping track of bonus categories, and you have control of how many miles you earn based on what you spend.
Here's an example of how your miles can add up. Let's say you spend the following in the first year:
$5,000 on groceries = 10,000 miles
$3,000 on gas = 6,000 miles
$7,000 on travel = 14,000 miles
Total: 30,000 miles
Every mile you earn is worth $0.01 in redemption value, which means every 100 miles is equal to $1. In the above example, that's $300 worth of travel rewards.
This card is a good choice for someone who does a lot of traveling or uses plastic to pay for everyday purchases.
The more you spend, the more miles you earn and that kind of flexibility is something you don't always get with a travel rewards card.
Rates, fees and perks
Before you sign up for the Venture card or any travel credit card for that matter, you need to read the fine print.
Annual percentage rate
The annual percentage rate or APR effectively determines what your credit card interest will cost over the course of a year if you carry a balance.
There's no 0% APR promotion for purchases or balance transfers with this card, so that's something to keep in mind if you were looking for a zero interest deal.
Capital One doesn't list any penalty APR on its website for paying late.
Card Fees
The Venture card has a $95 annual fee.
To earn the annual fee back after that, you'd need to make at least $3,000 in purchases each year.
If you don't see yourself spending that much, you may want to look into the instead. This card pays 1.25 miles on every purchase, but there's no annual fee.
Read Capital One VentureOne Rewards Card Editor's Review
As far as the other card fees go, we already touched on the lack of a foreign transaction fee. The fee for cash advances is either $3 or 3% of the advance amount, whichever is greater.
That's not too bad, considering that other cards charge up to 5% for cash advances.
The Venture card has no balance transfer fee. There is a late payment fee of up to $40.
Other card extras
Beyond offering unlimited double miles and that generous sign-on bonus, the Capital One Venture Rewards card makes it so that you can travel and shop with comfort.
This card comes with Visa Signature benefits, which include:
Complimentary upgrades and discounts at participating hotels, resorts and spas when you use your card
Complimentary 24/7 Concierge service when you travel
Special access and preferred seating at selected events, including sporting events and concerts
Round the clock travel emergency assistance
Extended warranty protection on the items you purchase
Special shopping discounts when you shop at selected merchants in-store and online
Regarding security, the Venture card offers $0 liability protection for fraudulent purchases if your card is lost or stolen.
The card also has the EMV-chip technology, which provides an extra layer of security when using your card in stores.
If you want to protect yourself even further, you can link your card to your Apple Pay account.
Final verdict: Is the card worth the annual fee?
The is recommended for anyone who takes a lot of trips and wants to earn free travel without headaches.
Earning and using rewards for flights, hotels, car rentals or cruises doesn't get any easier than this card. The annual fee is a bargain compared to annual fees charged by other travel credit cards.