Capital One Savor Rewards Credit Card 2023 Review
Learn all the details about the Capital One Savor® Rewards Credit Card, which was designed for people who spend frequently on dining and gas purchases. Find out whether or not this card is worth getting and compare it to similar cash back credit cards from the top competitors.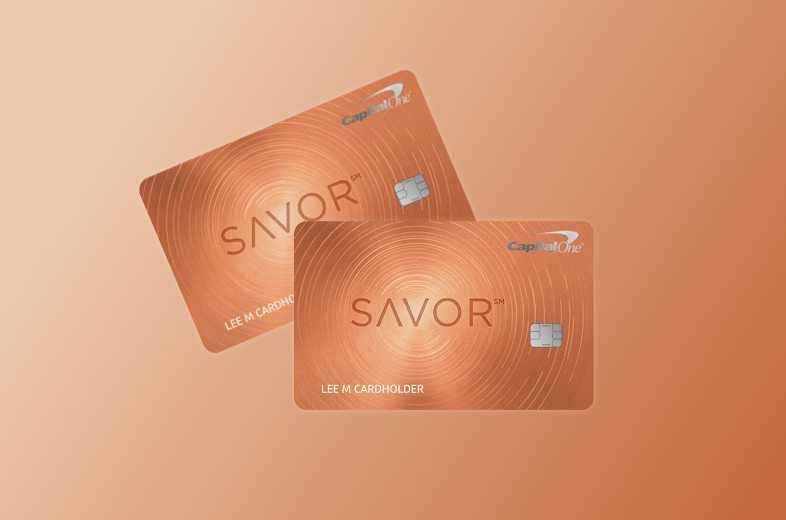 The only thing better than indulging your inner foodie might be earning rewards while you do it.
Paying for dinner out with a credit card that offers rewards on dining could satisfy your desire to save money while you satisfy your appetite.
The is designed for diners who want to earn cash back on meals out, groceries and more.
This card is designed for spenders who have excellent credit and want a high cash back rewards rate with no annual fee.
Along with cash rewards, the comes with other perks.
For example, there's an introductory bonus for qualifying cardmembers. You also get a low introductory annual percentage rate on purchases. Plus, World Elite Mastercard benefits are included.
If that makes your mouth water, read on to learn whether the Capital One Savor Rewards card is the cash back option you've been looking for.
Earn 3% Cash Back on Dining
This card offers a lot to like, but its main appeal is the 3% cash rewards you can earn on dining.
Rewards are unlimited, so the amount of cash back you can earn in a year depends on how often you dine out.
Cash back dining rewards aren't exclusive to just one type of restaurant.
You can earn 3% back when you pick up fast food, stop by your favorite pub for happy hour or enjoy a five-course meal at the swanky fine dining spot across town.
The 3% cash back rewards rate is a step up from what many comparable cards offer.
Often, cash back rewards for dining are capped at 2%. Or, you might only be able to earn higher cash rewards as part of a quarterly bonus offer.
The keeps things simple by giving you 3% cash back on all dining purchases.
Earn Cash Back on Groceries and Other Purchases
The Savor Rewards card is aimed at diners but there's more than one way to earn cash back. With this card, you can also earn:
Unlimited 2% cash back on groceries
Unlimited 1% cash back on all other purchases
The 2% cash back at grocery stores might catch your eye if you like whipping up your own gourmet meals at home.
If you typically charge $150 a week for groceries, for example, you could earn $156 in cash back for the year.
Earning 1% cash back on all other purchases means you get rewarded when you book travel, get gas or head to the drugstore.
If you do a lot of traveling, however, this card isn't the best choice for racking up miles or points towards free flights.
Again, both the 2% and 1% cash back rewards on groceries and other purchases is unlimited.
The cash back earnings potential is really up to you. The more you charge to the card, the more cash you can get back.
Redeeming cash back rewards
The Capital One Savor Rewards card is ideal if you're looking for flexible redemption options.
Your rewards don't expire for the life of your account. You can redeem cash back for any amount, without having to hit a certain threshold first.
The easiest way to redeem cash back is as a statement credit.
You just apply your cash rewards to the purchases you've already made. You can also get a paper check if you'd rather have the cash to use for something else.
Gift cards a third option. Just keep in mind that the value of your rewards can vary, based on how you choose to redeem them.
For example, you might be able to stretch your cash back further if you redeem for statement credit versus a gift card.
Qualifying for the introductory cash rewards bonus
Getting a cash rewards bonus is a nice incentive to sign up for the Savor Rewards card. As far as the amount goes, the bonus is comparable to what other cash back rewards cards offer.
To be eligible for the bonus, you have to be a new Capital One customer and hit the minimum spending requirement.
You have to make $500 in purchases within the first three months of account opening.
That's not a huge target to have to hit. It breaks down to $167 per month. So, even if you don't dine out or charge groceries as often, you could still qualify for the bonus.
World Elite Mastercard Benefits Make Shopping and Travel More Enjoyable
If you're shopping or taking a trip, the Savor Rewards card comes with value-adding extras. The following World Elite Mastercard features are available to cardmembers:
Travel benefits
Whether you're taking a trip across the state or around the world, you can take advantage of a host of benefits. They include:
Travel assistance services
Travel accident insurance
Trip cancellation/interruption insurance
Baggage delay insurance
Car rental insurance
Concierge service
MasterCard travel services
That last benefit can enhance your travel experience.
For example, you can get hotel room upgrades, early check-in and late check-out, airfare upgrades, flight discounts, car rental discounts and deals on cruises and vacation packages.
Shopping benefits
If you use your card to shop, you get two very important features:
Price protection
Extended warranty protection
Price protection can save you money if you find something you bought with your card on sale for less within 120 days of purchasing it.
Extended warranty protection doubles the manufacturer's warranty for up to 24 months.
Don't Overlook the APR and Fees
A big question you might have about a prospective credit card is how much it costs.
This card has a $0 annual fee. There's also no foreign transaction fee, which is good if you plan to use it when you're traveling outside the U.S.
Capital One offers a low introductory APR for purchases and balance transfers.
There's a 3% balance transfer fee for amounts transferred within the first nine months. After the introductory period ends, purchases and transfers are subject to the regular variable APR.
Capital One uses a range for the variable APR. It's similar to what you'll find with other cash back rewards credit cards. The better your credit rating, the lower your APR is likely to be.
What Credit Rating Do You Need to Get Approved?
Speaking of credit rating, your credit history matters for getting approved.
In general, your credit is important because it tells lenders how financially responsible you are.
If you pay your bills late or run up high balances on your credit card, for example, that's a red flag to creditors.
You'll need excellent credit to be considered for the . But what is excellent credit exactly?
Generally, a good credit score range is 700 to 750. Anything over 750 would fall into the excellent credit category.
How Other Dining Rewards Cards Compare
The Savor Rewards card has a lot to like but you shouldn't make a decision without looking at what else is around. To round out our review, here are two other rewards cards to consider.
Chase Sapphire Reserve
The card is a top shelf travel and dining rewards card.
This card offers 3X points on travel and dining purchases, with no limit on how many points you can earn. Members also earn 1X point per dollar on all other purchases.
The Sapphire Reserve card's ideal user is a frequent traveler who also dines out.
For example, you get benefits like 50% more rewards value when you redeem for travel and a $300 annual travel credit.
Your points transfer on a 1:1 basis to selected travel loyalty programs. And you get access to 1,000+ lounges worldwide with Priority Pass Select.
There's also a generous introductory points bonus for new members. But, all these features come at a cost. This card has a $550 annual fee, with a $75 annual fee for each authorized user.
That's a big difference, compared to the Savor Rewards card, which has a $0 annual fee. If you don't travel that often, this card may not be worth the cost in the long run.
Read Chase Sapphire Reserve Card Editor's Review
Costco Anywhere Visa
If you're a Costco member, you might want to check out the Costco Anywhere Visa.
This card offers 4% cash back on eligible gas purchases for the first $7,000 per year. After that, you earn 1% cash back on gas.
You also earn 3% cash back on eligible restaurant and travel purchases. This is what puts it on par with the Savor Rewards card. Members earn 2% cash back on Costco purchases and 1% cash back on everything else.
The card has no annual fee with a paid Costco membership. That all sounds good but there's one slight hitch to consider.
Cash back rewards are only credited to your account once a year in February. These rewards are available as a reward certificate that you can redeem for cash or merchandise at U.S. Costco warehouses.
With the Savor Rewards card, you don't have that restriction. You can use your cash back anytime, how you like. That may be better if you're looking for more flexibility from your cash rewards credit card.
Final Verdict: Is the Savor Rewards Card Right for You?
The combines high cash back rewards on dining with no annual fee.
This card isn't necessarily great for travelers or for anyone who'd like to get a higher cash rewards rate on shopping.
At the end of the day, we recommend this card for spenders who want simple cash rewards for dining and everyday purchases, without having to worry about an annual fee.