Capital One QuicksilverOne Cash Rewards Credit Card 2023 Review
The Capital One QuicksilverOne Cash Rewards Credit Card is reviewed for its cash back program that is available to people with fair or average credit.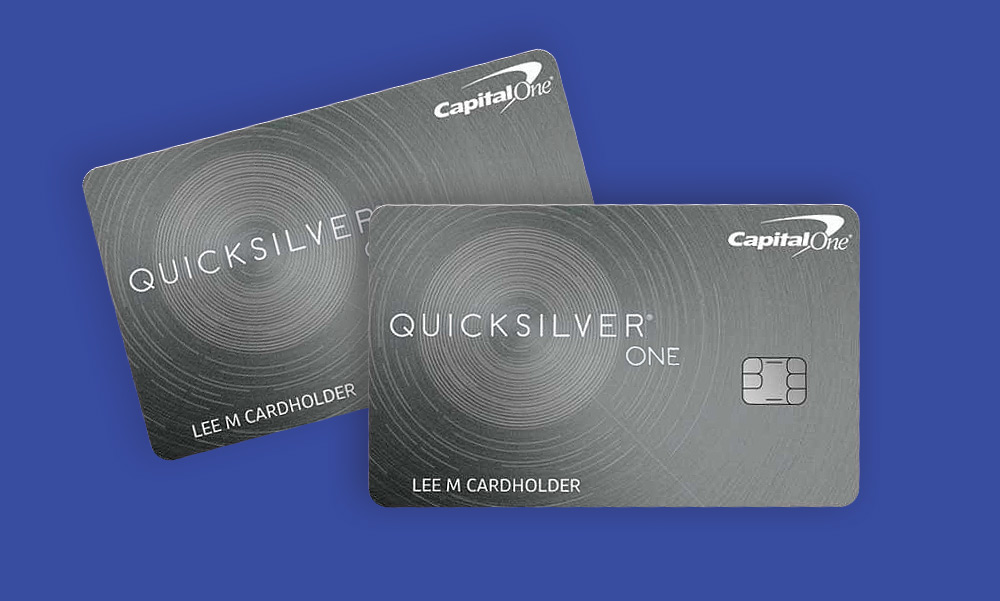 The Capital One QuicksilverOne Cash Rewards Credit Card was designed for consumers who have moved from poor credit to average credit and are looking to increase their credit score while earning cash back on their purchases.
All year long, you can take advantage of unlimited cash back on all of your purchases. In other words, each time you swipe, you save.
If you keep low balances, pay your bills on time, and pay your credit card bill in full each month, the will help to improve your credit score.
While it might take some time, once you reach the "good" category, you'll have access to rewards credit cards with better APRs and welcome offers.
We've reviewed the Capital One QuicksilverOne Cash Rewards Credit Card to see it's right for you to build credit and earn cash back.
Cash back program simplifies rewards
Capital One QuicksilverOne Cash Rewards Card Pros & Cons
The card comes with an unlimited 1.5% cash back on every single purchase, 365 days per year.
Where some other cards restrict when and how you can redeem cash back, this card allows you to do so whenever you want, and your cash back never expires
You even have the option to set up auto-redemption, where you can automatically use your cash back as a statement credit when it hits a certain level such as $200, $100, $50, or $25.
This added level of redemption flexibility conveniently complements this card's already-flexible earning structure.
Unlike other cash back and rewards programs, the rewards you earn with this Capital One cash back card never expire. There are no limits on redemption, and you can use your cash back anytime, for any amount.
Capital One even offers an automatic redemption program, which means that you can either set a specific day in each calendar month that your cash back will be deposited (in the form of a statement credit or check), or when a certain threshold is hit.
So, for example, if you decide that you want your cash back to be redeemed on the 22nd of every month, you can do that; or every time you've earned $50 in cash back. 
Note: Capital One allows you to automatically redeem $25, $50, $100, or $200 in cash-back rewards.
The annual fee is something to watch for
Before you apply, however, keep in mind that the annual fee of $39 isn't waived. While the fee isn't too out of this world, it's still an added cost to consider.
Still, if you spend a minimum of $2,600 in one year with this card, the cash back you earn will balance the annual fee.
If you don't feel as though you'll spend that much in one year's time, then this Capital One cash back card may not make the most financial sense for cash rewards for you.
Free tools help you manage credit responsibly
In addition to a comprehensive cash-back program, there are other benefits to consider if you're thinking about applying for this card.
Be considered for a higher credit line.
If you are good about paying your credit card bills, you may be considered automatically for a higher credit line in as little as six months.
This can be a promising feature if you're looking for a way to increase your credit score, but make sure you continue to pay your bills in full each month so that you don't find yourself in over your head with the interest rate.
Access to CreditWise from Capital One.
Upon approval for this Capital One cash back card , you can enjoy unlimited access to both your credit score as well as tools that monitor your credit profile.
This CreditWise program is available to anyone at no cost, even consumers who aren't currently Capital One cardholders.
The standard list of card protections and insurances
In addition to the above perks of the Capital One QuicksilverOne Cash Rewards Credit Card, there are other features to consider.
In addition to the standard $0 fraud liability policy and account alerts, this card also comes with Platinum MasterCard benefits such as:
Price protection
You'll receive the price difference on eligible items if you find a lower price for the same item within 60 days from the date of purchase if you paid with your card.
24/7 travel and roadside assistance
If your card is lost or stolen while you're traveling, you'll receive a cash advance and emergency replacement. If you're locked out or your car breaks down, you'll receive emergency roadside assistance.
Travel accident insurance
You'll receive automatic insurance for loss of limb or life at no extra charge when you use your card to buy your ticket.
Auto rental insurance
You'll receive coverage for rental cars that are damaged due to theft or a collision.
Extended warranty
You'll receive additional warranty protection at no cost for items purchased with your card.
Who should get the Capital One QuicksilverOne Cash Rewards Credit Card?
Ideally, you're using the to improve your fair credit while also earning cash rewards on all your spending.
Just make sure that you'll earn enough money back to more than compensate for the $39 annual fee. Otherwise, you're better off with another fair credit score credit card that doesn't charge an annual fee.
Or, if you're looking to be more active in your spending by choosing specific cards that offer higher reward rates for your purchases, you may consider other rewards credit cards.
Final Verdict
The  is a great card for people who are interested in rebuilding their credit score and want to earn unlimited 1.5% cash back while doing so.
If you're someone with poor to average credit and need a card that will help you to stay on top of your finances and your credit score, then the Capital One QuicksilverOne Cash Rewards Credit Card can be the right card for you.
However, if you want to increase your credit score with a card that offers a lower or no annual fee, then we recommend looking at some other Capital One cards, like the Capital One Platinum Credit Card or the Capital One Platinum Secured Credit Card.