Capital One VentureOne Rewards Credit Card 2023 Review
If you want to earn simple travel rewards without the high annual fees, the Capital One Venture One Rewards credit card may be the best fit for you.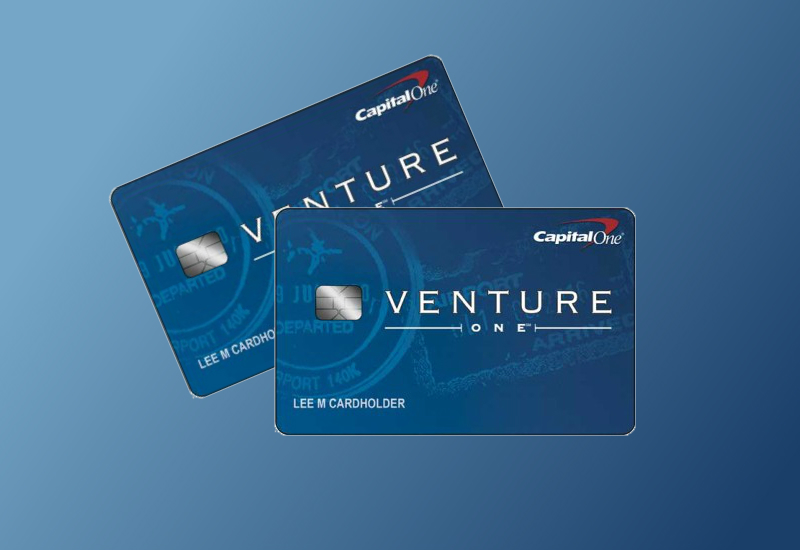 Wouldn't it be nice if your credit card rewards worked on every airline or hotel?
The  is designed with this idea in mind because it doesn't limit your travel rewards to a particular airline or hotel.
Furthermore, you'll earn rewards on all spending, not just those in certain categories or with particular airlines or hotels.
You have the freedom to book travel anywhere, anytime. The same goes for how you use the rewards.
Learn whether this simple travel rewards program is the ideal fit for your spending habits.
Main Card Highlight: No-Fuss Travel Rewards
Capital One VentureOne Rewards Card Pros & Cons
The has a lot of great features but its best is the rewards program.
Purchases earn 1.25 miles per dollar, with no caps on the number of miles you can earn. You can earn miles on travel, as well as everyday purchases, like groceries or gas.
Every 100 miles earned is equal to $1 in travel rewards. If you charge $20,000 a year, that's 25,000 miles earned, or $250 in travel credit.
New account members can earn a one-time mileage bonus. You do have to meet a minimum spending threshold but the extra miles may save you some decent cash on your next trip.
Booking travel with your card
VentureOne cardmembers can use their card to make travel purchases on any website or app.
You can book a hotel, buy airfare from any airline, reserve a rental car or plan a cruise whenever you like. All eligible travel purchases you charge still earn the same unlimited 1.25 miles per dollar.
Redeeming travel rewards
With some travel rewards cards, you have to jump through certain hoops to redeem your rewards.
For example, you may need to have a set number of miles to redeem or work around blackout dates. With the Capital One VentureOne Card, you don't have to worry about any of that.
To redeem miles, you apply them as a statement credit towards the cost of travel purchases. Your rewards don't expire so you can use them as you earn them or save them up to cover a big trip.
Keep in mind that you can only redeem rewards for travel purchases booked in the previous 90 days. If you want to be able to use rewards for something else, you may want to consider one of the other cards listed below.
Handy Card Benefits and Protections
The comes with a few extra travel and shopping perks. Cardmembers have access to World Elite MasterCard benefits, including:
Extended warranty: Covers items purchased with your card
Complimentary 24/7 concierge service: Helps with making dinner reservations, booking a hotel room, etc.
Identity theft resolution services: Useful if your credit card is stolen
Travel upgrades and savings: Such as complimentary room upgrades, early check-in, and late check-out
Trip cancellation and interruption insurance: Covers up to $1,500 in case your trip is cut short by illness or injury
Price protection: In case you find something you bought on sale for less within 120 days of purchase
Worldwide travel accident insurance: Protects you if an accident forces you to make a detour
Baggage delay insurance: Covers luggage gets lost along the way
Car rental insurance: Handy if you need to rent a car to get around while you're away from home
Travel assistance services: Includes roadside assistance and medical assistance services
Emergency card replacement and emergency cash advance services: Useful if your card is lost or stolen and you don't have another card or cash as a backup
Capital One also offers cardmembers customized security alerts, so you'll know right away if any suspicious activity is happening on your account.
If your card is ever lost or stolen, you're covered by Capital One's $0 fraud liability protection.
The VentureOne Rewards Card works with Apple Pay so you can make purchases on the go securely. Managing your account is easy, especially if you're already a Capital One customer.
You can log in to Capital One online banking to see your credit card, checking and savings accounts all in one place.
Finally, there's one last perk that you may find valuable: access to your FICO credit score. This is the score used in approximately 90% of lending decisions.
You'll be able to see your TransUnion FICO score for free each month.
That can really come in handy if you're working on improving your credit score so you can apply for a car loan or buy a home.
Tip: Use our uncomplicated guide to hacking your perfect credit score for tips on improving your credit.
Save on Interest and Fees
Paying high credit card fees isn't exactly a great way to save money. For example, some travel rewards cards charge a premium in the form of a hefty annual fee.
If you're looking for a no annual fee credit card, the Capital One VentureOne Rewards Card fits the bill.
That's good if you're worried about a fee taking a bite out the value of the rewards miles you're earning.
International travelers will appreciate the lack of a foreign transaction fee. That means you won't be paying an extra 2-3% surcharge when you use your card to make purchases outside the U.S.
Capital One VentureOne Rewards Card Compared 
Is the Capital One Capital One VentureOne Rewards Card the best rewards card that Capital One offers? Capital One offers three other cards that rewards-lovers may like. We've highlighted the best features so you can compare them to the VentureOne Rewards Card.
Capital One Venture Rewards
The steps up your rewards rate to an unlimited two miles per dollar.
The introductory bonus is larger than the one offered by the VentureOne Rewards Card. The tradeoff is that you have to spend more to qualify for it.
You have the same booking and redemption options for rewards. Members also get World Elite MasterCard benefits. There are some cost differences to be aware of.
With the Venture Rewards Card, the regular APR kicks in right away.
That means you're going to pay interest on everything you spend unless you pay in full each month. Beyond that, you'll pay a $95 annual fee.
Read Capital One Venture Rewards Credit Card Editor's Review
Capital One QuicksilverOne Cash Rewards Credit Card
The also gives you unlimited 1.5% cash back on purchases. This card is geared towards people who have average, versus excellent, credit.
There's no cash back bonus or introductory APR for purchases or balance transfers.
The regular variable APR is higher than the other cards profiled so far. That's something to think about if you carry a balance from time to time.
If you're trying to grow your credit score and you want to earn some rewards while you do it, this card could be a good choice.
There's a $39 annual fee but you have an opportunity to increase your credit limit over time. Members have access to free credit-building tools to help monitor your score and track your progress.
Read Capital One QuicksilverOne Cash Rewards Credit Card Editor's Review
Capital One Quicksilver Cash Rewards Credit Card
The is aimed at people who like getting cash back on the things they buy.
With this card, you earn unlimited 1.5% cash back on every purchase. There are no rotating categories or spending limits to deal with.
This card offers a one-time cash back bonus for new members who qualify.
Cash back can be redeemed at any time, in any amount so you have some flexibility in terms of how you use your rewards. That might interest you if you'd like to be able to redeem rewards for more than just travel.
Unlike the VentureOne Rewards Card, the Quicksilver Cash Rewards Card features an introductory APR offer for both purchases and balance transfers.
There is a 3% fee for balance transfers but there's no annual fee to contend with.
Final Verdict: Capital One VentureOne Rewards for Simple Rewards With No Annual Fee
The shines with its travel rewards program.
This card isn't best for someone who prefers a larger introductory bonus or doesn't mind paying an annual fee to earn a higher rewards rate.
At the end of the day, we recommend it for travelers who want to earn a competitive rewards rate and avoid an annual fee.