Capital One Platinum Credit Card 2023 Review: For People With Fair Credit
The Capital One Platinum MasterCard is reviewed for being a no annual fee credit card for people with fair credit scores and using it raise them to good credit.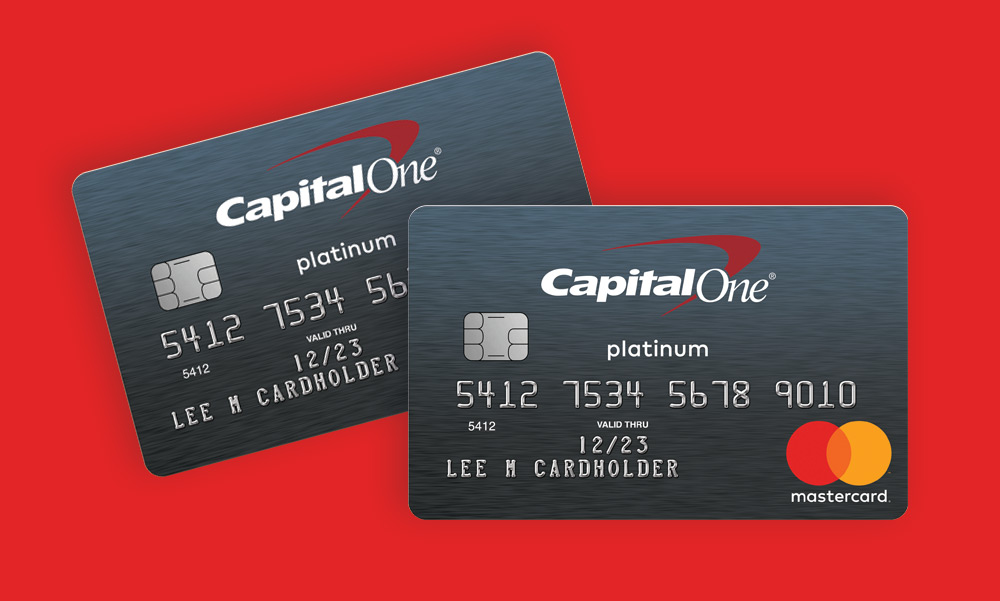 Capital One Platinum Credit Card
A great credit score can make a huge difference in how much borrowing power you have and what kind of interest rates you'll pay on loans.
Opening a credit card account and using it wisely is an easy way to grow your score over time.
The is designed for people who have fair credit and want to work their way towards a better score.
This card comes with tools to help you monitor your credit and members are rewarded for their good payment history with higher credit lines.
MyBankTracker has taken a closer look at the Capital One Platinum MasterCard's pros and cons.
Keep reading to learn whether it's a good choice if you're ready to raise your credit rating.
Go from average credit to excellent credit with no annual fee
Capital One Platinum Card Pros & Cons
On the credit scoring scale, average credit puts you right in the middle of the pack between 300 at the low end and a perfect 850 at the high end.
According to Equifax, the average credit would be a FICO score that falls between 550 and 659.
That's generally good enough to qualify for a mortgage or other types of credit so why should you set your sights higher?
It's simple. The better your score, the less you'll pay in interest on what you borrow. Here's an example of how much money a higher score can save you:
Example of how much money a higher score can save you
| Borrower A | Borrower B |
| --- | --- |
| FICO score: 640 | FICO score: 740 |
| Mortgage loan: $250,000 | Mortgage loan $250,000 |
| Interest rate: 4.5% | Interest rate: 3.75% |
| Total interest paid: $206,017 | Total interest paid: $166,804 |
| | Total savings: $39,213 |
As you can see, a difference of less than one percentage point saved Borrower B nearly $40,000.
The is aimed at helping people who fall into the average credit category break into the excellent range so they can qualify for better rates.
Capital One Platinum MasterCard credit score tools
When you sign up for this card, you get free access to CreditWise, Capital One's credit monitoring service. Members can see their TransUnion VantageScore at no charge each month.
This score is based on information in your TransUnion credit report, such as your payment history, how much debt you owe and how often you apply for new credit.
Besides CreditWise, you're also part of the Credit Steps program, which is focused on helping you improve credit. 
Here are some quick tips to help you get the most out of these Capital One Platinum MasterCard benefits:
Always pay your bill on time
Payment history makes up 35% of your FICO credit score. Late payments can hurt your score big time so make sure you pay by the due date each month.
Keep your balance to a minimum
30% of your FICO is based on credit utilization, which we explained earlier. If you want to see a positive change in your score, try to keep your balance as low as possible.
Doing these two simple things can add big points to your score
If you're worried about paying late, sign up for personalized reminders so you always know when your next payment is coming up.
Annual Fee
Capital One charges annual fees for some of its credit cards but no annual fee for the Capital One Platinum MasterCard.
There's also no fee for balance transfers or foreign transactions when you use your card to make an international purchase.
You'll pay a little extra for cash advances, however. The fee for that is $3 or 3% of the cash advance amount, whichever is greater. There's also a late fee of up to $40 that kicks in if you miss a payment.
Enjoy hassle-free travel and shopping with Capital One Platinum MasterCard benefits.
Besides being a useful tool for building credit, the Capital One Platinum MasterCard comes with some nice added features.
For example, Capital One keeps an eye on your account 24/7 to look out for suspicious activity. They'll give you a heads up if they spot anything that looks out of the ordinary.
You also have the flexibility of being able to pick your own due date and set up the Autopay feature for free.
This card has an EMV security chip for in-store shopping protection but you can easily link it to Apple Pay.
Capital One's customer service is available 24/7 so you can always get help with your account when you need it. To make things easier, you can monitor your account online through the Capital One mobile app.
Card Perks
In addition to the benefits offered by Capital One, members get a laundry list of Capital One Platinum MasterCard perks, including:
Extended warranty protection
Price protection and reimbursement
Identity theft resolution services
24-hour roadside assistance
24-hour travel assistance
$100,000 in travel accident insurance
Car rental damage insurance
While this card doesn't pay out any travel miles, points or other rewards, it's still a good pick if you spend a lot of time on the road.
No foreign transaction fee, for instance, means traveling overseas won't cost you anything extra. The other travel features are also pretty generous.
For example, MasterTrip helps with figuring out visa or passport requirements and currency exchange rates if you're headed to a foreign country.
If your luggage gets lost or stolen, MasterTrip will help you track it down. They don't, however, reimburse you for any lost luggage costs.
This card covers you if you become ill or you're hurt in an accident.
Aside from providing $100,000 in travel accident insurance, MasterCard will help you find a physician, fill prescriptions and they'll even arrange for a relative or friend to be brought to wherever you are if you're hospitalized.
Those kinds of benefits can come in handy on trips that require you to travel more than 50 miles from home.
Watch out for the higher APR on purchases, transfers and advances
The can help you boost your credit score but there's a potential downside to keep in mind where the APR is concerned.
The APR, or annual percentage rate, is a measure of how much a particular credit costs over the course of a year if you carry a balance.
A card with a higher APR means you'll shell out more in interest charges if you don't pay in full every month.
With this card, the regular APR for purchases, balance transfers and cash advances is steep.
There's no 0% introductory promotion so you're stuck paying that rate right off the bat. It's also worth mentioning that the rate is variable, which means it can go up or down over time as the prime rate changes.
If you're going to get this card, only charge what you can afford to pay in full each month. Otherwise, you're going to end up paying a premium on everything you spend.
Final verdict: Is Capital One Platinum MasterCard good if you have average credit?
Average credit isn't a dealbreaker when it comes to getting approved for loans or credit cards but it will only take you so far.
The is one MyBankTracker would recommend if you're tired of being stuck in the average credit rut.
The two biggest potential downsides to this card are the higher APR and the lack of a rewards program.
If your goal is paying less in interest or earning money back on what you spend, you're probably better off looking into a different option.
Ultimately, this card stands to benefit people who are committed to getting their credit score on the right track and are able to pay their balance in full and on time every month.