Should You Use a Credit Card to Get Cash from ATM?
What can you do when bills are due and you're strapped for cash? We discuss the various options available to anyone feeling stuck in a money emergency.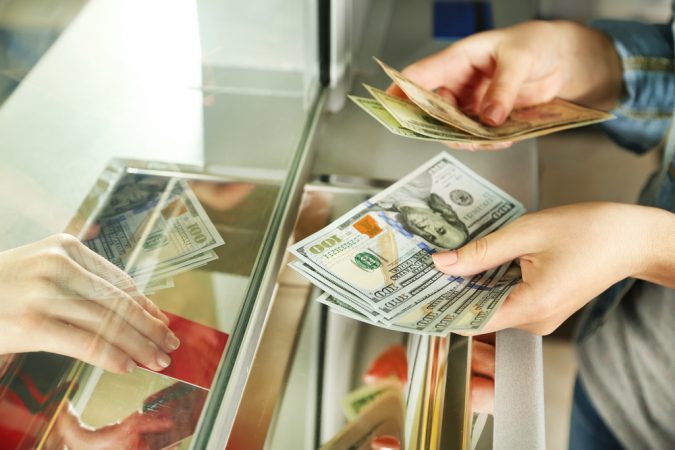 At some point in your adult life, you've probably heard that taking out a credit card cash advance is a bad idea.
The main reason is that credit card cash advances are incredibly expensive. But is there ever a situation when it makes sense to take out a credit card cash advance?
We've looked over the pros and cons of credit card cash advances, and alternatives to consider when you're strapped for cash.
First, let's look at the process of obtaining an advance, their limits, and the fees involved.
What Is A Credit Card Cash Advance?
A credit card cash advance is a withdrawal of cash from your credit account rather than your debit account.
To summarize, most credit card providers offer cardholders the convenience of a cash advance, in addition to everyday purchases.
Putting that advance into your pocket is no harder than taking your card to an ATM or writing a check at your bank. But the cost of this convenience can be quite high.
While resorting to a credit card cash advance isn't ideal, it makes sense when your money problem is completely unpredictable, and you find yourself in an urgent emergency.
The Conveniences and the High Cost of Cash Advances
The process of obtaining a cash advance is relatively straightforward. A credit card will work at most ATMs the same way as a debit card.
Credit card companies also provide cardholders with cash advance opportunities by using credit card checks, which often accompany monthly statements received in the mail.
Once the cash is dispensed, however, the ease of that no muss no fuss convenience is soon replaced by the creeping and palpable pain of its high cost.
Know Your Credit Card Cash Advance Limits
The limits for a cash advance are usually indicated in your online billing or paper credit card statements.
Depending on the card issuer, this may be referred to as a cash credit line or a cash advance limit.
Your cash credit line (or limit) is the total amount of credit you have available for cash advances on your credit card.
A general rule of thumb is the cash advance limit is about 20 percent of the total credit card limit. For example, a card with a total credit limit of $10,000 would carry a cash advance limit of roughly $2,000.
The Convenience of the Advance Can Cost You 
In the same way, the issuing company charges the cardholder a variety of fees when its card is used to provide a cash advance.
The following example is typical of the actual pricing and terms for a credit card offer specifically applied to cash advances:
Transaction fees: $10 per transaction or 3% of the advance, whichever is greater.
Interest rate: Annual percentage rate charges of 19% to 24%, depending on the creditworthiness of the cardholder.
Out-Of-Network ATM fees: The national average for out-of-network ATM fees is $1, according to MyBankTracker data analysis. 
Using the above information, if the cardholder wanted a $100 cash advance for one month, the total fees associated with the transaction would include:
Transaction fee: $10.00
Interest charges: $2.00 (assumes an APR of roughly 24%)
ATM usage fee: $1
In the above example, the total of all fees for the $100 cash advance is $13. That is a premium of 13% for the use of that money for one month. This should demonstrate how costly this convenience can be for the cardholder.
Although using a credit card is convenient, it's sometimes too convenient, which means that banks will charge you for that accessibility. 
Credit Card Cash Advances Aren't the Only Emergency Loans
Payday loans are quick, often closing the same business day. A payday loan is a short-term loan for an amount that is usually less than $1,500.
These loans are offered at high interest rates with the expectation they'll be paid back on your next payday.
You can typically get these loans online. They do not usually require good credit or any type of collateral, and they may improve your credit score. But the convenience and speed of payday loans come at a high cost.
Payday loans are borrowed against your paychecks. They are due at the time of your next paycheck.
If you were living paycheck to paycheck, this can propel you into a dangerous circle of constant borrowing.
Furthermore, the rate at which you borrow can be incredibly high. For example, if you default, lenders can sue you further complicating the situation.
Payday Loans Come with Astronomical Interest Rates
Fees can reach up to $40 or more for every $100 that you borrow, which is extremely expensive compared to traditional loans. It's not uncommon for lenders to advertise 14-day loans for $100 that come with a fee of $17.65 -- an APR of 460%!
These loans have to be paid back within the period the lender established. If you miss your deadline, they get expensive. It's a good thing most payday loans are limited to $1,500 or less.
Auto Title Loans Can Cost You Your Vehicle
Like payday loans, auto title loans do not usually require good credit. An auto title loan is a loan you borrow against the value of your car. Title loans often come with higher limits than traditional cash advance or payday loans.
Lenders will decide how much to loan based on the value of your car. Some lenders may use Kelley Blue Book to do this, others may use their own methods. Lenders will offer you between 25-50% of your car's value, according to the FTC.
While this may seem like a great way to raise money quickly, you'll be paying a steep interest rate for what you borrow.
This number is typically set at 25%. This can equal over 300% APR in total, a huge number. If you don't repay the loan, you'll lose your car.
Plan Your Budget and Expect Emergencies to Avoid Costly Loans
Using a credit card to pay off the balance on another card or a loan is sometimes a good idea, but rarely if it's a cash advance.
A cash advance on a credit card is perhaps one of the most costly types of loans in the marketplace today. The most helpful way to evade using a credit card cash advance is to stay on budget.
We all have different ways of carrying out our habits, but having a written budget can help you line up your spending with your expenses.
This hugely reduces the need for a cash advance because you'll know what you have and what you'll need.
Sometimes in our pursuit to make our money work for us, life happens. In a case of emergencies, consider keeping up to date on zero interest credit card promotional offers instead of credit card cash advances.
In addition to this, you should start putting a little away each month to build your emergency fund. If you do end up finding yourself short for cash, you'll have your emergency fund to back you up and cover the costs.
However, if you do end up taking out a cash advance from your credit card, make sure you understand the interest rates and fees you'll be paying for it.
The only way to avoid being controlled by money is to know your financial products and options inside out. Do this, and you're unstoppable.