Master These 5 Steps So You Stop Throwing Away Airline Miles and Other Travel Rewards
Many folks have travel rewards points that go unused or miles that expire. Here are 5 bad habits to change if you want to use more travel rewards.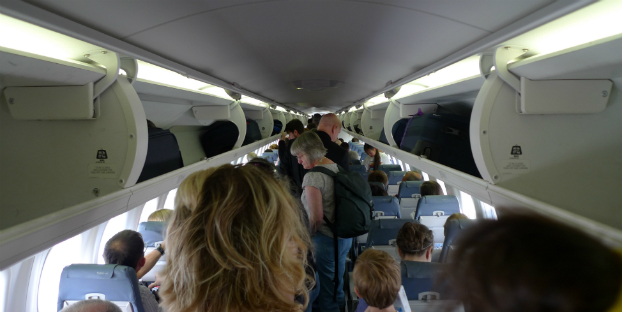 As the summer travel season kicks off, millions of Americans will head off to sunny -- and for many, costly -- destinations. Nothing can ruin your carefree, relaxing vacation more than spending beyond your budget and coming home to find a credit card bill littered with charges. According to a new survey released by the travel insurer Allianz Global Assistance, Americans will spend a record $100 billion on summer vacations this year, one fifth more than the amount spent in 2013.
Everybody knows that using a credit card can help you earn cash back, points or frequent flier miles that can ease the pain of high summer travel costs. But in a recent survey, account management service Manilla found that many people, and men in particular, are big offenders when it comes to letting travel rewards points and miles expire.
"It's not uncommon for people to have travel rewards points that go unused or have no idea how many award miles they have available for booking," said Jim Schinella, CEO of Manilla.
If you hold a travel rewards credit card, don't forget to take advantage of the benefits that come with being a cardholder. Generally, there are three types of travel rewards cards. There are cards that offer points redeemable at specific hotel chains, cards with miles that can be used only at particular airlines, and cards that offer points or miles you can redeem for different types of travel expenses.
Whichever type of card you hold, it's important that you understand and take advantage of all the rewards they offer. For instance, many travel rewards credit cards provide some type of travel insurance and have no foreign transaction fees. These types of rewards can save you on expensive travel costs, but sadly, you might be missing out on their benefits. You could be throwing away precious miles and travel rewards and not even know it. Here are five ways you might be losing out on travel rewards.
1. Not using the travel rewards portal.
Here's a way you can save on travel -- using your credit card's rewards portal to take advantage of deals and earn points/miles. Chase Ultimate Rewards Shopping and Citi Thank You Shopping are just a couple examples of portals through which you can click a link to make purchases and easily earn bonus miles and points. Many airlines, hotels, and credit cards have these types of portals and shopping through them might double or triple the points you'd normally earn from making a traditional, in-store purchase. Unfortunately, not everyone uses these portals when shopping online, which means you're losing out on bonus miles and points that are easy to earn.
If you are big on online shopping, it makes sense to use these shopping portals to gain points and miles. If you don't know where to find your credit card's shopping portal, log in to your account and search around to find the link that takes you to your card's shopping mall. Once you click on the link, a cookie will be stored on your computer that tells the system to award you bonus points for any purchase you make through the portal. Shop away! If you're going to make these purchases anyway, why not do so with the benefits you'll get from shopping through your credit card's mall.
What's more, some of these portals have sections that list brick-and-mortar retail stores, where you can shop in person to earn more rewards by using the credit card linked to your online shopping portal profile.
2. Not realizing your travel rewards categories have changed.
If you own a travel rewards card that offers points you can redeem at particular hotel chains, then it's safe to assume you're pretty loyal to that brand. You might even have the card that's tied to the hotel, such as a Citi Hilton Honors Reserve Card, Marriott Rewards Premier Credit Card, or Starwood Preferred Guest Credit Card from American Express. These cards offer high rewards for loyal users. You can earn free hotel stays or a large amount of points redeemable for a free night or two by spending a certain amount within months of opening the card.
But be careful, you could lose out on valuable rewards if you don't pay attention. Marriott, for instance, recently changed categories for nearly a third of its hotels. That means the hotel chain changed the number of points needed to redeem a free night at certain hotels. And in 2013, Hilton changed some of its awards categories. So if you're banking on taking advantage of your points for free stays, you might want to make sure your rewards will pay for your lodging. Pay attention to statements you might receive from your hotel credit card or risk having to pay for a hotel stay you thought you might get free.
3. Not signing up for airline miles.
Are you a frequent flier? For the love of everything that is holy, tell me that you've signed up for your preferred airline's frequent flyer program. You don't even have to have a credit card to take advantage of this one. Refusing to sign up for miles is akin to stepping off a plane and refusing to take a free $100. Why would you not sign up for airlines miles, especially if you are a frequent flier? Even if you only fly a couple times a year, you should still sign up for the frequent flyer program on the airline you're likely to fly the most. Over time, you may be able to accrue enough miles for a free trip. And by signing up for certain credit cards, you might be able to score a large amount of miles.
If you're hesitant to sign up for a rewards credit card just to earn miles or points, it's understandable. You don't ever want to go into debt just to get a free flight or class upgrade. But even if you don't want to get a credit card to earn miles, you can still rack them up without getting more plastic. Sign up for airline newsletters and follow their social media accounts. Sometimes you can snag bonus miles through contests or deals promoted in the airline's newsletter or Facebook and Twitter accounts.
4. Skipping over the fine print.
Rewards credit cards tend to have similar offerings. When shopping around for a travel rewards credit card, many people might just look at a few specific factors, like whether the card has an annual fee or a foreign transaction fee. But they might not consider the card's' value. The American Express Delta Reserve Card, for instance, has a $450 annual fee and high spending requirements you have to meet in order to cash in on bonuses. When deciding what card to get, you need to take into account your spending and travel patterns.
That said, you also need to look at the fine print in your policy to catch significant differences that could affect your rewards. For instance, you might be charged additional fees when redeeming your points or there could be blackout dates that might affect when you travel. At the same time, make sure you read through the fine print to learn about all of your card's features that might be able to drive your travel costs down.
For instance, your credit card might cover your car rental insurance saving you money from purchasing it at the agency. Some credit cards also offer travel accident insurance, which might come in handy should you face an emergency situation on the road. Skipping over the fine print might mean you end up getting a card that doesn't have much value to you or whose benefits you truly don't understand and end up being wasted.
5. Letting your travel rewards expire.
Just like bread, some travel rewards have an expiration date. You snooze, you lose. Make sure that you check out your credit card's terms and conditions and read all of the links related to your rewards card so that you know if and when your rewards expire. And do the same with the frequent flier miles you've earned! Some airlines let your miles expire due to inactivity on the account. And if you've earned miles for several different airlines, well, it can be tough to keep track.
Some airlines, like United and Virgin America, allow your miles to expire if your account is inactive for 18 months. While some airlines might allow you to reactive those expired miles, it'll cost you big bucks. Some easy ways you can avoid letting your miles expire without flying include dining at restaurants participating in your airlines' miles program, shopping through your airline's shopping mall portal, or renting a car and giving the agency your frequent flyer number.