The Best Credit Cards for Excellent Credit Scores (750-850)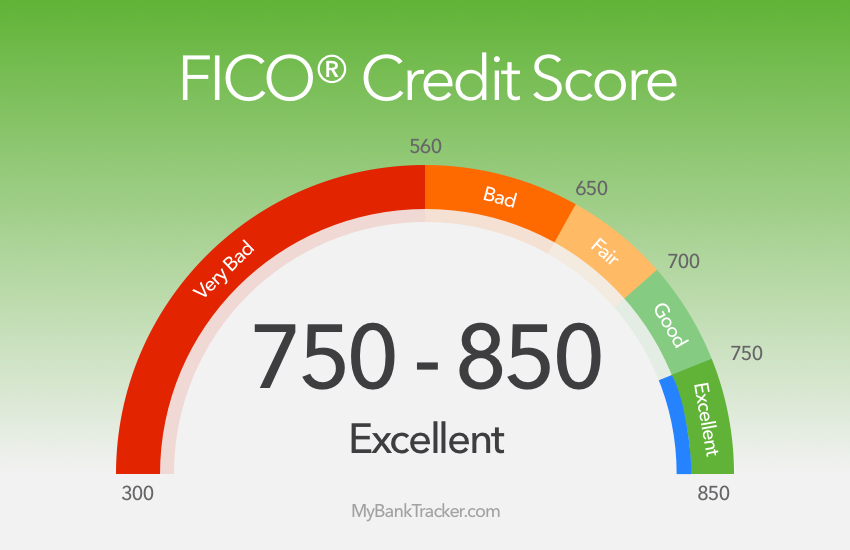 If you've checked your credit score recently and discovered that it's rated "excellent," then congratulations!
It takes a great deal of consistency and diligence to reach that point.
Your reward:
The best of the best when it comes to credit card options.
In our opinion, these are the best credit cards for excellent credit:
The Best Credit Cards for Excellent Credit
| Credit Card | Best for | MyBankTracker Rating (1-5 Stars) |
| --- | --- | --- |
| Citi Double Cash Card | Best for Cash Back on General Spending | 5.0 |
| Chase Sapphire Preferred | Best for General Travel Rewards | 5.0 |
| American Express Platinum Card | Best for Premium Travel Perks | 5.0 |
| American Express Blue Cash Preferred Card | Best for Groceries | 5.0 |
| Capital One Venture Rewards Card | Best for Travel Without Annual Fees | 4.0 |
Citi Double Cash: Best for Cash Back
Citi Double Cash Card Pros & Cons
Pros
Cons

Good for people who want to earn simple cash back rewards for shopping
No limits on cash back earnings
No annual fee

Not the best card for people who struggle to pay off their balance every month
Citi Double Cash offers 1% cash back on all spending and 1% cash back on your payments toward the card balance. So, effectively, you can earn 2% cash back on all your purchases.
So, it's one of the best credit cards to keep in your wallet for any kind of spending, especially those that may not earn significant rewards on other credit cards that you may have.
There is no limit on your cash back earnings and they do not expire.
Even better, the card has no annual fee.
Read the full Citi Double Cash Card editor's review.
Chase Sapphire Preferred: Best for Travel Rewards
Chase Sapphire Preferred Card Pros & Cons
Pros
Cons

Good for frequent travelers who don't mind paying an annual fee to get premium perks
No foreign transaction fees
Easily transfer points to participating travel vendors
Every 100 points are worth $1.25 instead of $1 when you book through Chase Ultimate Rewards Program
Can combine your points with multiple Chase cards

No 0% promotional APR offer
$95 annual fee
Chase Sapphire Preferred is a handy travel rewards credit card that allows cardmembers to earn plenty of points on travel, dining, and more.
Notably, these points can be redeemed for 25% more value through Chase Ultimate Rewards. For example, a free flight that may cost 100,000 points typically will only cost 80,000 points.
It's also worth mentioning that these points can be transferred to a list of partnered Chase travel partners who also have loyalty programs, including programs run by United, JetBlue, British Airways, Marriott Bonvoy, and more.
The card has a $95 annual fee and no foreign transaction fees (cost savings when you're using this card internationally).
Read the full Chase Sapphire Preferred Card editor's review.
Platinum Card from American Express: Best for Premium Travel Perks
See Rates & Fees. Terms apply.
The Platinum Card from American Express Card Pros & Cons
Pros
Cons

One of the best cards for people who want to earn high rewards points and added perks for shopping - especially for travel
Tons of added perks for cardholders
No foreign transaction fees
Various credits toward certain travel and shopping expenses

$695 annual fee
Card balance is due in full every month, or interest is assessed
AMEX may not be accepted at every merchant
If you don't travel often, it can be costly
The Platinum Card from American Express is designed for consumers who seek a premium travel experience.
There are hundreds of dollars worth of statement credits for hotels, incidental airline fees, and various brands. Additionally, you get upgraded status to hotel programs run by Marriott and Hilton. You'll have access to more than 1,300 lounges in airports across the world.
The card has a $696 annual fee and no foreign transaction fees.
Read the full American Express Platinum Card editor's review.
Blue Cash Preferred from American Express: Best for Groceries
See Rates & Fees. Terms apply.
Blue Cash Preferred Card from American Express Pros & Cons
Pros
Cons

Earn high cash back rates at U.S. supermarkets, gas stations, transit, and mroe transit
Offers card perks such as auto rental coverage and return protection
Can carry a balance from month to month with no added fee

$95 annual fee
High foreign transaction fee
Blue Cash Preferred from American Express is the best credit card for anyone who is in charge of buying the groceries for home.
The card offers 6% cash back at U.S. supermarkets on up to the first $6,000 spent (in this category) during the calendar year; 1% thereafter. Additionally, the card provides bonus cash back on other very common everyday purchase categories as well. 
The card has a $95 annual fee (see Rates & Fees; terms apply).
Read the full American Express Blue Cash Preferred Card editor's review.
---
How We Picked
We've analyzed 30+ credit cards on the market aimed at consumers with excellent credit and compared their card fees, rewards programs, and benefits. These cards were ranked based on their overall value when accounting for rewards potential, perks, and fees. 
---
How Cash Back Credit Cards Work
Cash back rewards are designed to help you earn money for the spending you already do on a regular basis. And, since the rewards are cash rather than miles or points, you can use them how you please.
In terms of redeeming your cash back, there are many ways it can happen. You could end up with direct deposit or a check in the mail. Or you could get a statement credit, which is basically a reduction in your card balance.
Surprising Ways to Earn More Money Back
When credit card companies issue cash back for your purchases, they look at the merchant's category, not what you buy. Let's look at an example of this.
Say your card gives you cash back for groceries. In that case, any item checked out at the register of a supermarket will count. Even gift cards could work if you buy them at the supermarket.
Credit card purchases are categorized by something called the merchant category code (MCC).
The merchant category code must match the rewards category specified by your credit card. That's the only way for purchases to qualify for the appropriate amount of cash back.
There are three ways you can check the MCC of a retailer:
Use Visa's online supplier locator tool. This is a public, searchable database that will reveal the MCC for each merchant by location. Note: Different locations of the same merchant company could have different MCCs.
After identifying the MCC for your retailer, you can use the right credit card to earn the most rewards on all future purchases there.
Credit cards may have limits on how much cash back you can earn within a certain period of time.
These limits could even apply to certain purchase categories. Understanding these limits is essential. That's how you'll find out if you'll get the most money back for your spending habits.
Is the Annual Fee Worth Paying?
Even people with excellent credit scores are susceptible to these credit card fees. When it comes to annual fees, your credit score doesn't make a difference. Some cards charge annual fees because of the additional benefits they bring you.
The good news is that many credit cards waive the annual fee for the first year. Still, take a few minutes to determine whether or not the annual fee is worth paying before you apply.
To do this, review the card's features and benefits. What you're looking for is to see if your card usage will generate enough value to mitigate the fee.
For example, you can use your average spending to see a projection of the rewards you would likely earn.
Then quantify those rewards to see if the dollar amount exceeds the annual fee or not. Don't forget to look at extra card benefits as well.
For example, airline credit cards sometimes offer perks like free checked bags and companion tickets. These types of benefits can quickly justify the annual fee.
How to Consolidate Debt through Balance Transfers
Balance transfer credit cards are an effective debt payoff method for many reasons. One is that they often come with little to no interest for the first few months or the first year of having the card.
This extra time at no interest can help you make real progress towards paying off your debt. Another is that they give you an opportunity to consolidate several debt accounts in one.
Nothing is more effective for debt payoff than focus. Consolidating your debt to one place can give you the relief, the low interest rate, and the targeted focus you need to get rid of your debt once and for all.
The main thing is to find the right card for you. Some cards will charge you a balance transfer fee (usually 3% of the balance) while others won't.
Some will give you no interest for six months while others may extend it up to 15 or even 24 months. Shop around so you can use this tool in the best way possible for you.
Avoid Interest Charges When Moving Debt
Your desired balance transfer credit card may come with a balance transfer fee. If possible, see if you can find a no fee balance transfer credit card instead. That way, more of your money will go straight to debt payoff instead of fees.
Don't Stop with an Excellent Credit Score
Having an excellent credit score is a sure sign that you're on the right path. (In the way you manage your credit accounts, that is.) You've worked hard to get to this point and you should reap the rewards now.
But don't stop there. Having your credit score in this range gives you an opportunity to earn even more. That's more benefits and rewards for your hard work! To not take advantage of that is to miss a great opportunity.
No matter what kind of card you're looking for, optimize for the card that will reward you for what you already do.
Then discover how you can merge your habits with your desires. You can almost always find a credit card that rewards you for where you spend. (While paying out your rewards in the form that you want.)
It may seem like all credit cards are the same, but that couldn't be further from the truth.
If you examine your finances, you'll be able to find a credit card that fits in with your lifestyle. It will be well worth it when you get those rewards!