Citi Double Cash Credit Card 2023 Review
Earn a good cash back rate on all your spending with Citi Double Cash. It is simple without any bonus categories to worry about.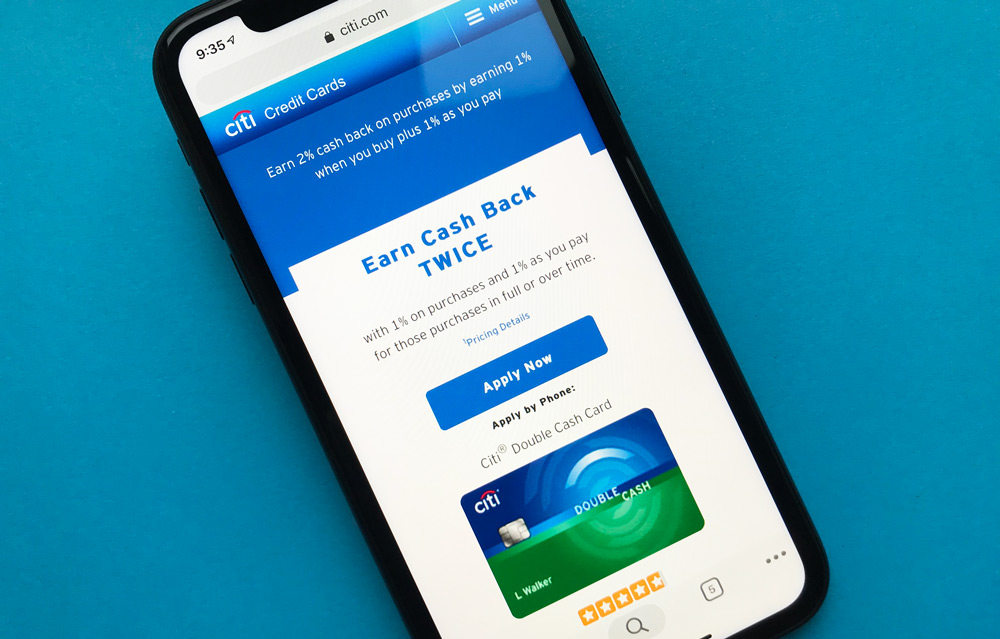 Citi Double Cash Credit Card
With so many cash back credit cards to choose from, it can be difficult for some people to pick the right one for them.
The is a solution to that problem. It truly is a solid choice for nearly anyone who wants to earn cash back on their spending.
The card offers a cash back program that can pay an effective 2% cash back on all your spending.
Such a card program is ideal for people who prefer simple cash back rewards at no annual fee.
We analyzed the Citi Double Cash Card to see if it is the right card for you.
Earn 2% Cash Back on Everything
Citi Double Cash Card Pros & Cons
Pros
Cons

Good for people who want to earn simple cash back rewards for shopping
No limits on cash back earnings
No annual fee

Not the best card for people who struggle to pay off their balance every month
The actually pays unlimited 1% cash back on every purchase.
Then, you'll earn another 1% cash back on any payments made toward your account balance. (In order to earn the 1% cash back, you must have met the minimum payment due.)
There's a psychological play here. Citi is using that extra 1% cash back as an incentive for good repayment habits. Want that cash back? You better pay off that balance.
We have to be very careful to say that you can earn an effective 2% cash back on all spending. Why? It has to do with one of the cash back redemption options.
Your cash back redemption options include:
Mailed paper checks
Gift cards
Statement credits
Statement credits, in particular, will reduce your account balance. Therefore, you're not going to make a payment.
This would be a missed opportunity to earn 1% cash back.
To earn the full 2% cash back with the Citi Double Cash Card, do not redeem cash back as a statement credit.
Most of the other cash back credit cards will provide a base 1% cash back rate on all purchases. Meanwhile, certain categories will earn a higher cash back rate.
These other cards can be complicated if they have limits on the amount of cash back you can earn.
Some go as far as to changing bonus categories every few months. They can be quite beneficial to people who have clearcut spending patterns.
The  keeps it simple by offering as much as twice the base cash back rate.
Is it a Visa, MasterCard, or American Express Card?
When you apply for the Citi Double Cash Card, it's not clear whether it is accepted on the Visa, MasterCard, or American Express networks.
Citi has been known to partner with all three networks for its credit cards.
After speaking with a Citi representative, we learned that it does come in Visa and MasterCard versions. The MasterCard version is the default card.
You can request that it be converted to a Visa card. Because the card's perks will be quite similar regardless of which version you choose, pick your preference.
No Outrageous Fees or APR
In addition to a simple cash back program, the Citi Double Cash Card doesn't charge an annual fee.
The card's interest rates are also normal for a rewards card.
Ultimately, you should be paying the balance off in full every month.
If you carry a balance, the interest charges will cancel out the cash back earned.
It will defeat the purpose of getting the Citi Double Cash Card in the first place.
Travel Perks Have You Covered
There is a sizable list of perks that come with the . These are some of the most noteworthy benefits:
First-time late fee waived
Citi will not charge a late payment fee for the first time that you miss the payment due date. Normally, the late fee could be as much as $35.
Citi Price Rewind
This is a program that will track the price of something that you bought recently. If a cheaper price is found online within 60 days, you could be refunded the difference.
Travel accident insurance
In the event of a tragic accident during a trip, financial help could be available for you and your family.
Trip cancellation & interruption protection
If your trip is canceled before it started or during the trip for a covered reason, you can be refunded for prepaid expenses.
Car rental insurance
Don't pay for insurance through the car rental agency because it comes free with the Citi Double Cash Card.
Concierge service
You have free access to concierge agents who act as personal assistants for research on shopping, dining, and entertainment.
Free FICO credit score
Every month, you can track your FICO credit score for free. Normally, you have to pay to check it.
Generally, the card perks of the Citi Double Cash Card are rather standard for most credit cards nowadays.
You're likely to make the most use of the free FICO credit scores. The travel coverages are nice to have available in case you ever need to make a claim (albeit in rare cases).
Compared to Other Citi Rewards Cards
The  is just one of the many rewards credit cards offered by Citi. If you were looking for a Citi rewards card in general, see how this card compares to Citi's alternatives:
Citi Rewards+ Card
is Citi's basic rewards credit card.
You can earn 3 points per dollar at supermarkets, dining and gas stations (for the first $6,000 per year; 1 point per dollar thereafter). All other spending earns 1 points per dollar.
Aside from the rewards program, Citi Rewards+ Card and Citi Double Cash Card are identical (including fees, APRs, and perks).
The Citi Double Cash Card is better of the two cards because you're likely to earn more rewards with it.
The Citi Rewards+ Card only offers double points on two categories and each ThankYou point is only worth $0.50 in cash.
Read Citi Rewards+ Card Editor's Review
Citi Premier Card
The Citi Premier Card can be seen as an upgrade of the Citi Rewards+ Card. It has all the features of the Citi Rewards+ Card, but with more rewards and perks. However, it does have a $95 annual fee.
You'll also get 3 points per dollar spent on travel and gas. There is no foreign transaction fee for using your card internationally (usually 3%).
Your points are worth 25% more when redeemed for travel through Citi's travel booking portal. Finally, your points can be transferred to the loyalty programs operated by partnered airlines.
For frequent travelers, the Citi Premier Card may be the better choice compared to the Citi Double Cash Card.
Remember that one has an annual fee while the other does not. It is still very possible for the Citi Double Cash Card to yield more rewards after accounting for the annual fee.
Citi Dividend Platinum Select Visa Card
The Citi Dividend Platinum Select Visa Card is no longer available to new customers.
However, many existing Citi customers still have it. It has no annual fee.
It offers a cash back program with 5% cash back on certain categories that change every 3 months. All other purchases earn 1% cash back.
It's a tough comparison between the Citi Dividend Platinum Select Visa Card and the Citi Double Cash Card. The decision will be entirely based on your spending habits.
If you don't take advantage for the 5% cash back categories, the Citi Double Cash Card is obviously the better choice.
A better move may be to have both cards. The strategy is to use the Citi Dividend Platinum Select Visa Card when you will earn 5% cash back. Otherwise, use the Citi Double Cash Card.
Good Credit Score Required
For a fairly decent rewards credit card such as the Citi Double Cash Card, it isn't surprising that you would need a strong credit score.
Although credit card issuers don't reveal the credit score requirements to qualify for a card, we have looked throughout the web to get a general idea.
For the Citi Double Cash Card, expect to have at least "good" credit before you apply.
There are also reported cases where applicants were denied even with excellent credit. Other factors may have played a role in the rejection.
So, it is important that your annual income and monthly housing expenses are in good shape before applying.
Credit Score Ranges and Quality
| Credit Score Ranges | Credit Quality | Effect on Ability to Obtain Loans |
| --- | --- | --- |
| 300-580 | Very Bad | Extremely difficult to obtain traditional loans and line of credit. Advised to use secured credit cards and loans to help rebuild credit. |
| 580-669 | Bad | May be able to qualify for some loans and lines of credit, but the interest rates are likely to be high. |
| 670-739 | Average/Fair | Eligible for many traditional loans, but the interest rates and terms may not be the best. |
| 740-799 | Good | Valuable benefits come in the form of loans and lines of credit with comprehensive perks and low interest rates. |
| 800-850 | Excellent | Qualify easily for most loans and lines of credit with low interest rates and favorable terms. |
Final Verdict: Great for Nearly Any Consumer
The  is a credit card that deserves a spot in everyone's wallet.
It happens to be one of our most-recommended cash back credit cards. It is simple and very rewarding for all shoppers.
The only people who shouldn't get it are those who do not pay off their entire balances every month.
Otherwise, you're likely to find use for the Citi Double Cash Card.
It works great as the only credit card you own.
If you really want to maximize your cash back earnings, the Citi Double Cash Card is a great card to complement the rest of your rewards cards.
You can also have other top-notch rewards cards for certain types of spending.
For all the purchases that would yield at least 3% rewards, use the instead.