Citi Rewards+ Credit Card 2023 Review
Use this review of the Citi Rewards+ Credit Card to find out if the rewards program, APR, fees, and card benefits better than the best rewards credit cards.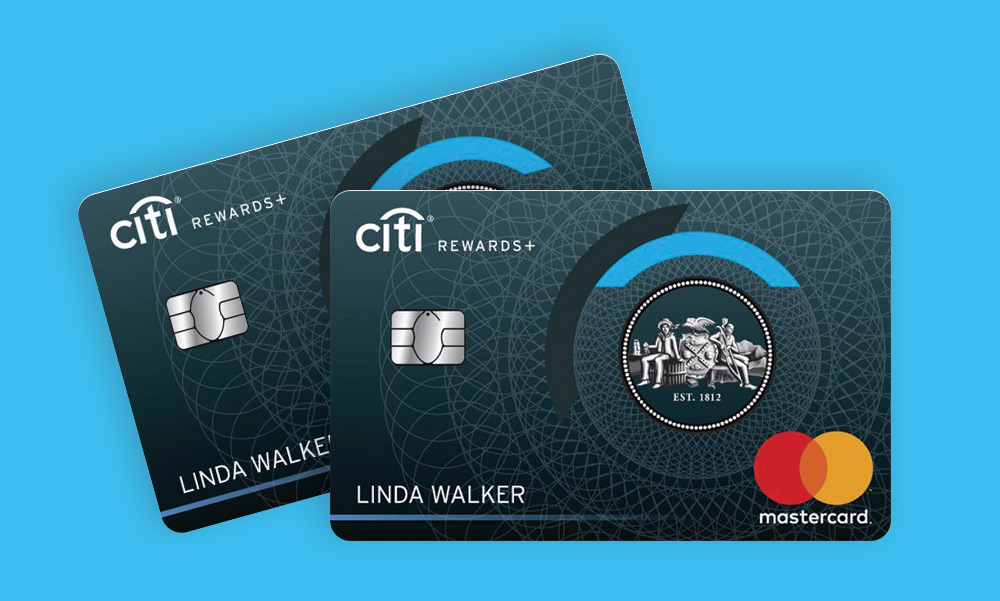 Citi Rewards+ Credit Card
Earning more points with your rewards credit card could mean more savings if you're redeeming points for cash, statement credit or gift cards.
The makes it easy to rack up more points when you spend.
The card offers points:
gas stations, supermarkets and everywhere else.
But there's a twist:
Your points automatically round upon every purchase.

An introductory points bonus and a bonus when you redeem can increase your rewards earnings. That might sound tempting if you're an everyday spender who wants more rewards without a lot of extra effort.
Aside from more points, the has some other great features, including no annual fee.
This review will break down the rewards program, costs, and key benefits of the card so that you can decide if it fits your spending habits.
Citi Rewards+ Credit Card Pros & Cons
Points Round-Up When You Spend
Rewards cards generally fall into two categories: ones that offer a flat rewards rate on every purchase and ones that tier your rewards by category.
The Citi Rewards+ Card offers tiered rewards. With this card, you earn:
2X ThankYou points at supermarkets and gas stations for the first $6,000 in purchases each year, then 1 point per $1 after
1X ThankYou point on all other purchases
What makes this card different is how your points are tallied up.
So:
The card automatically rounds up rewards earnings to the nearest 10 points when you make a purchase, with no limit.
So, if you spend $33 on dinner, you'd earn 40 points. If you spend $123 on groceries, you'd earn 250 points.
It's a simple way to snag more rewards points on every purchase. No other card currently on the market offers this type of rewards structure.
Overall, the card is geared more towards everyday spenders than frequent travelers.
You'll earn points on hotels, flights and other travel spending but not as much as you could with a dedicated travel rewards card.
Other Ways You Can Earn Points
Aside from earning points on your purchases, there are two other ways to add to your points total.
First, this card does come with an introductory points bonus. Of course, that means meeting a minimum spending requirement.
To get the bonus, you'll need to make at least $1,000 in purchases within the first three months of opening your account. That breaks down to $333 and change each month, which isn't a huge hurdle to overcome if you spend regularly.
Not everyone is eligible for the introductory points bonus, however.
Bonus ThankYou points aren't available if you received a new member bonus associated with any of these cards 24 months prior to opening a Citi Rewards+ account:
Citi Premier
Citi Prestige
The bonus is also a no-go if you had any of these cards in the previous 24 months and closed your account.
Rewards Redemption Rebate
The other way to earn additional points with the is when you redeem. Your redemption options for this card include:
Gift cards from partner merchants
Flights, hotels, cruises and other travel expenses
Statement credit towards eligible purchases
Shop With Points at Amazon.com or BestBuy.com
When you redeem points, you automatically get 10 percent of those points back. This benefit applies to the first 100,000 ThankYou points you redeem each year.
If you redeem 5,000 points for a $50 gift card, for instance, you get 500 of those points back. Redeem 20,000 for travel and get 2,000 points back. Redeem 50,000 for statement credit and get 5,000 points back.
There's no limit on the number of points you can redeem each year; just on the number of points eligible for the 10 percent back bonus.
Also, note that you can't earn the 10 percent back redemption bonus when sharing points. You can send points to a friend if you like but you won't get a percentage of them back.
Otherwise, you've got some serious points bonus potential when you redeem.
Enjoy Other Perks
The Citi Rewards+ Card comes with a few extra bells and whistles everyday spenders might appreciate. The key perks include:
Citi Private Pass
Citi Concierge service
24/7 customer service
Citi Private Pass is a valuable benefit to have if you routinely spend on entertainment. The program lets you enjoy:
Special ticket access to thousands of concerts, sporting events and other entertainment events
Presale tickets to exclusive events
VIP packages
Complimentary movie screenings
Special dining experiences
The card doesn't offer a lot in the way of travel perks, however.
While you do get EMV chip protection for added security, you don't extras like free checked bags or companion pass travel.
Fees and APRs
With any rewards card, it's important to check out the annual fee and APR to see how the cost stacks up.
The doesn't have an annual fee. That's good since it means the fee doesn't eat into the rewards you're earning.
Other fees do apply, however, including balance transfer fees, cash advance fees and a 3 percent foreign transaction fee. The foreign transaction fee makes the card a less than ideal choice to take along on an overseas trip.
Citi Rewards+ currently has two introductory APR offers: one for purchases and one for balance transfers. That might catch your eye if you're planning a large purchase or have a balance to transfer.
Citi uses a range to determine the regular APR for purchases and balance transfers. Your individual APR is based on your creditworthiness. The better your credit rating, the better your APR is likely to be.
Remember, the best way to avoid interest charges is to pay your bill in full each month.
Citi Rewards+ vs. Other Rewards Cards
There's more than one card that can help you earn points on purchases. Below, you'll see some other cards to consider for comparison.
In terms of the card's strong points, the stands out with its points round-up structure. Having your points rounded up to the nearest 10 points is like getting an instant mini-bonus every time you get gas, buy groceries, dine out or shop.
Other rewards credit cards just don't do that. Of course, they can make up for that in other ways.
For instance, there are some cards that may offer much higher introductory points bonus. Depending on the card, you might be able to get 50,000, 60,000 or 75,000 points right out of the gate.
A potential downside is that you may have to spend more initially to qualify for the larger bonus. That's something to weigh in the balance.
Other cards might offer an annual points bonus on your card anniversary. Or they may offer a more enticing bonus when you redeem rewards. That's why it's important to look at a card's fine print so you know exactly what you're getting.
The is good if you're looking for a rewards card option with no annual fee. And enjoying a low introductory APR on purchases and balance transfers sweetens the deal.
Overall, as you're shopping around for a rewards card, keep these things in mind:
Rewards program - What kind of rewards can you earn? How often do you earn rewards?
Introductory bonus -  Is there a bonus and if so, how many points can you earn? What minimum spending requirement do you need to meet and are there any exclusions for earning the bonus?
Redemption - What options are there for redeeming rewards? Do you get any kind of bonus for redemptions?
Fees - Is there an annual fee? What other fees does the card charge?
APR - What's the regular purchase and balance transfer APR? If there's an introductory APR, how long does it last?
Card benefits - Beyond rewards, does the card offer anything else? Entertainment or travel benefits? Shopping protections?
Finally, consider what type of spender you are. The card you choose should have a rewards program that's designed to let you maximize rewards in the areas where you spend the most.
Final Verdict
If you want a simple way to get more points for the purchases you're going to make anyway, you'd have a hard time finding a better choice than .
The rewards program is hands-down the card's best feature. Between rounding up points and the redemption bonus, you can earn more points coming and going.
The fact that you pay no annual fee and you get extras like Private Pass access just add to its appeal.
This card wouldn't make sense, however, if you're more focused on earning cash back or travel rewards.
And it may not immediately grab your attention if you're looking for a points rewards card with a big introductory bonus.
Overall, this card could be a great fit for earning points on spending other than travel.
If you already have a travel rewards or cash back card, adding the into the mix could make for a well-rounded wallet.