Citi Prestige Travel Credit Card 2023 Review
The Citi Prestige® Card comes with an impressive package of air travel credits, free lounge access, free hotel nights, and a rewards program for an annual fee.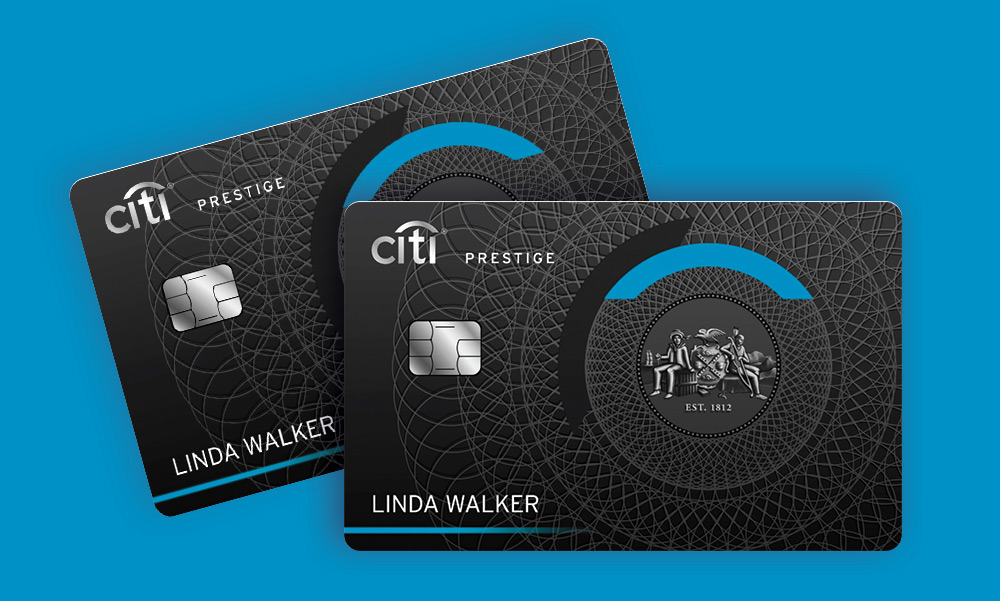 Citi Prestige Credit Card
Update: This card is no longer available to new customers.
If you spend a lot of time traveling, a travel rewards credit card can be your best friend.
Depending on the card, you could earn miles or points towards free travel, plus cash in on things like priority boarding or free checked bags.
The Citi Prestige Card is one to consider if you're looking for a card that's packed with premium travel features.
In addition to earning rewards on travel, dining, and everyday purchases, you can take advantage of things like an annual air travel credit, concierge service, and complimentary nights at the hotel of your choice.
This card has no foreign transaction fee, but it does come with a $495 annual fee.
Our review of the Citi Prestige Card is a must-read if you need a little help deciding whether you should cough up the cash for this card.
Citi Prestige Travel Card Pros & Cons
Exceptional Travel Perks Come with a Price Tag
The Citi Prestige Card is a premium travel rewards card. We'll get to how you can earn points in a moment.
First, we wanted to highlight all of the various travel benefits that make this card a true standout.
Annual Travel Credit
Right off the bat, you get a $250 travel credit per year. This credit will cover the cost of travel-related purchases, including airfare, baggage fees, seating class upgrades, in-flight purchases, hotels, car rentals, parking, ground transportation and more.
You use the card to pay for it as you normally would and the credit will be applied automatically to eligible travel purchases.
You will still earn rewards on this travel spending.
Tip: If you have trouble taking full advantage of this credit, you can buy gift cards through the airline. Save it and use it for later as you wish.
Complimentary 4th Night Stay
If hotel stays are a regular part of your travel routine, the Citi Prestige Card can make hotel bill less expensive.
When you book a stay of four nights or more through the Citi Prestige Concierge, your fourth night is instantly free.
The complimentary night is available at your choice of hotels so you can go low-key with a budget room or live it up in a luxury suite.
How it works is you'll receive a statement credit for the 4th night.
Now:
There is an annual limit on this perk. You can redeem this perk only twice per calendar year.
Global Entry Application Fee Credit
Global Entry membership can save you time at the airport if you're traveling back to the U.S. from an international destination.
To apply, you'll need to pay a $100 application fee but you can recoup that with your Citi Prestige Card.
If you use your card to pay the fee, Citi will issue you a $100 statement credit against the cost.
At airports, members just have to show their passports, scan their fingerprints, and turn in their customs declaration.
Complimentary Airport Lounge Access
When you're stuck in the airport waiting to catch a flight, being able to relax in the lounge can make passing the time easier.
Priority Pass Select membership is included with your card, which means you can visit more than 900 VIP lounges around the world.
Lounge access is free for you and up to two guests. For each additional guest, there's a $27 fee that's charged on every lounge visit.
Citi Concierge Service
The Citi Prestige Concierge service can make your life a little easier if you need help making travel arrangements or you just need to find a great restaurant for dinner.
Concierge specialists are standing by 24/7 to answer your questions and guide you to where you want to go.
Discounts on Travel
When you'd rather cruise than fly or you're looking to book an all-inclusive vacation, you don't have to pay full price.
The Citi Prestige Card offers exclusive discounts on luxury tours, vacation packages, ocean cruises, and river cruises.
Earn Rewards On Every Purchase
As if the travel extras weren't enough, the Citi Prestige Card comes with a generous rewards program.
You'll earn:
5 ThankYou points per dollar on air travel and restaurants
3 ThankYou points per dollar on hotels and cruise lines
2 ThankYou points per dollar on entertainment (to be removed 8/31/19)
1 ThankYou point per dollar on all other purchases
Your points aren't capped and they don't expire as long as your account is open and in good standing.
To top if off, this card has a sizable points bonus that's available to new card members who meet the minimum spending requirement.
Redeeming ThankYou points
When you're ready to use all those ThankYou points you've earned, you've got plenty of choices, including:
Gift cards to partner brands
Electronics, jewelry, apparel, and other merchandise
Statement credits
Online bill pay
Charitable donations
The number of points you'll need and the value of those points will depend on what you're redeeming them for. For instance, a $25 Barnes and Noble gift card requires 2,500 points. In that case, one point is worth $0.01.
A 50-inch TCL Roku TV retailing for $399.99, on the other hand, would take 49,990 points.
If you do the math, your points would then be worth one-eighth of a cent. It's important to understand how the value compares so you can be sure you're getting your money's worth.
Shop or Pay with Points
If you'd rather buy merchandise directly from the merchant, you can shop or pay with points at selected Citi partners. Shop With Points is available at Amazon.com, Expedia, and Live Nation.
You can use Pay With Points at BestBuy.com or through the Wonder app. Again, the redemption value may vary.
Use Points for Travel
Frequent travelers will appreciate the ability to use their points towards flights, hotel stays, and other travel expenses. You've got several great ways to redeem points for travel.
First, you can use them to book your trip through the Citi ThankYou Travel Center. There are no blackout dates or restrictions and you can book flights, vacation packages, car rentals, or hotel rooms.
Best of all, when you book through the travel center, your points are worth 33% more. That means 40,000 points would be worth $532 in credit towards a flight.
If you prefer a particular airline or hotel brand, you also have the option of transferring your points directly to their loyalty program.
Citi partners with the Asia Miles, Flying Blue, Qantas, and Virgin Atlantic, just to name a few.
Your ThankYou points typically transfer on a 1:1 basis, with some exceptions.
There's no fee to transfer points but there's one big difference compared to booking with points through the Travel Center.
You may be subject to blackout dates or other restrictions set by the loyalty program you're transferring your points to. That's something you'd want to factor in when making your travel plans.
Is the Annual Fee Worth It?
As far as annual fees go, the Citi Prestige Card is on the pricey side. But it's important to consider how the fee measures up against the value of what you're getting.
Between the free 4th nights, $100 credit for Global Entry, the $250 annual Air Travel Credit, free Priority Pass membership, and the money you can save when you redeem points for travel, you could easily earn back the fee and then some.
If you were to charge just $5,000 a year on travel purchases and get the $250 travel credit, that alone could make up for the fee.
If you're still on the fence, take a look at your travel habits. If you only take trips once or twice a year, paying nearly $500 for benefits you may not use doesn't make sense.
On the other hand, if you're traveling several times a year, that may be money well spent to travel in comfort.
Shop and Travel Safely With Citi's Security Protections
Your Citi Prestige Card protects you in more ways than one, whether you're jetting around the globe or just hitting the mall.
The card's security measures include an EMV chip, Citi Identity Theft Solutions, and the Early Fraud Warning System, which monitors your account for suspicious activity.
When you're shopping online or in-store, you're also covered by:
Damage and theft purchase protection
Extended warranty protection
$0 liability guarantee
These perks can add to your peace of mind every time you use your card.
Should You Choose a Different Citi Card?
The Citi Prestige Card might be looking pretty appealing by now but we're not through yet. Here are other Citi cards you may want to consider instead.
Citi Rewards+
The is a rewards credit card that offers many ways to earn and maximize rewards points.
Cardmembers earn 2x points at supermarkets and gas stations for the first $6,000 per year and 1x points thereafter.
Most interestingly, every purchase earns points rounded up to the nearest 10 points.
Read Citi Rewards+ Card Editor's Review
Citi Double Cash Card
The is aimed at spenders who'd rather earn cash back in lieu of travel rewards.
This card makes it easy to rack up the cash by paying 1% cash back when you make purchases and 1% back when you make a payment. No muss, no fuss, and no annual fee.
Read Citi Double Cash Card Editor's Review
Citi Premier Card
With the Citi Premier Card, you can earn 3 points per dollar on travel including gas, along with double points on dining out and entertainment. All other purchases will earn you one point per dollar.
This card does have an annual fee of $95, which applies after the first year.
Final Verdict: Should You Get This Card?
The Citi Prestige Card is a real head-turner if you travel often and you like to do so in style.
The $495 annual fee makes it a less attractive choice for someone who's more frugal about their travel budget or just doesn't travel that often.
All in all, it's best for someone who travels often enough to use all the perks available through the card.