Citi Hilton Honors Visa Signature Credit Card 2023 Review
Discover how the Citi® Hilton Honors™ Visa Signature® card can help you earn points and save on your next stay at Hilton hotels.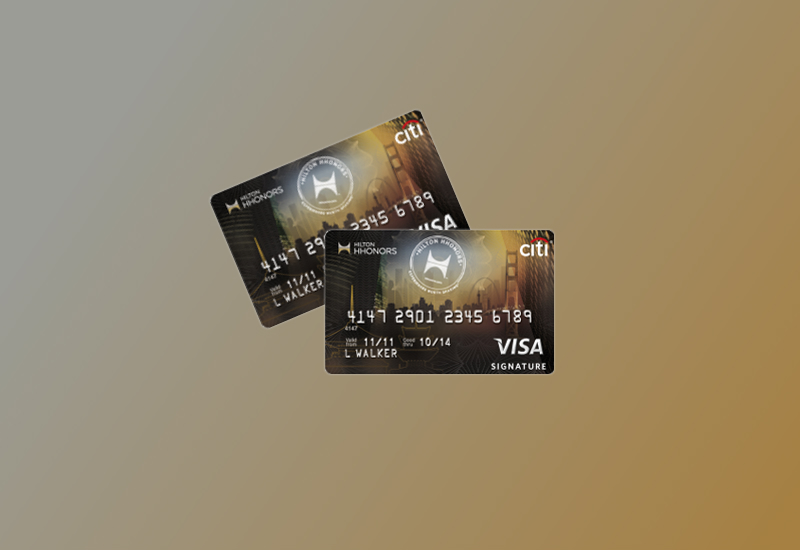 With the right hotel credit card, you can turn your frequent hotel stays into free nights, plus get some extra perks that are only available if you're a cardholder.
The Citi Hilton Honors Visa Signature Card is one of those hotel cards that can offer free nights if you're a regular Hilton guest.
It offers a competitive rate of points for your spending, along with entry-level Silver elite status with the Hilton Honors program.
Also, it offers a fast track to mid-level Gold status and multiple travel insurance and purchase protection policies.
Remarkably, you get all these benefits without having to pay an annual fee.
As a result, this card is best for people who are looking for a no-fee travel rewards card that provides actual value.
It offers valuable perks and benefits when you stay at over 4,600 Hilton properties. These include brands ranging from the Hampton Inn to the Waldorf Astoria.
And when you use this card for your everyday purchases, you earn points towards free night stays at any Hilton property.
Citi Hilton Honors Visa Signature Card Pros & Cons
Earning More Points on Everyday Spending Too
The card's rewards program offers bonus points on various purchases:
6 Hilton Honors Bonus Points per $1 spent on hotel stays within the Hilton hotel portfolio
3 Hilton Honors Bonus Points per $1 spent at supermarkets, drugstores, and gas stations
2 Hilton Honors Bonus Points per $1 spent on other purchase
The rewards you earn from charging your hotel stay to this card are in addition to the points that members earn at hotels.
You earn 10 base points for every dollar spent at most Hilton properties, and more points if you have elite status.
Finally, you can also earn another 10,000 Hilton Honors Bonus Points each calendar year. You just need to spend $1,000 or more on stays at Hilton hotels (all brands).
Redeem Points for Free Hotel Nights
The hotel program offers free nights with no blackout dates or capacity controls. This means that if they have an unsold, standard room, you can use your points to book it.
You can do this even if it's during the peak travel season or a special event.
Award nights start at 5,000 points for a Category 1 property, but can be as high as 95,000 points for a Category 10 hotel or resort.
But a typical mid-range hotel will often be 30,000 - 40,000 points per night. And while this seems like a lot of points, remember that you will earn at least 2 points per dollar with this card, and often more.
You also have other options for using your points, which include credits towards hotel purchases, car rentals, gift cards, and experiences.
But with these options, you will rarely receive as much value per point as you do with free hotel nights.
Finally, Hilton lets you exchange points to miles with some airlines, but the exchange rate is so poor that you shouldn't consider it.
In most cases, you have to exchange 10 Hilton points just to get 1-1.5 airline miles.
Automatic Elite Status
One of the most attractive things about this card is that you can get elite status and enjoy special treatment at all the Hilton hotels.
Thankfully, just having this card gives you Silver status, which offers you a 15% bonus on your base points earned.
This means that you will always earn 11.5 base points per dollar from your hotel stay. You then earn another six points when you charge your room to the card, for a total of 16.5 points per dollar.
If you are on a business trip and spend four nights in a hotel at $150 a night, then you'll earn a total of 9,900 points.
Silver elite status: In addition to a higher rewards rate, you'll also get discounted room rates and complimentary Internet service. Enjoy late checkouts and free access to fitness centers. When you redeem four consecutive nights with your points, get the fifth night for free.
Also, this card offers two different ways to earn Gold status:
Fast-track to Honors Gold status by completing four stays within 90 days of opening your account
Or, you can earn Gold status when you use your card to spend $20,000 on purchases within a calendar year
With Gold status, you receive all the perks of Silver status, plus a 25% bonus on your base points. You also get hotel benefits that vary by the brand -- may include room upgrades, bonus points, and even free breakfasts.
Card Perks and Protections for Easier Travel
As a no-fee travel rewards card, the Citi Hilton Honors Visa Signature Card offers a competitive array of benefit for both travel and shopping.
When traveling, you receive the basics like:
Worldwide rental car insurance
Travel accident insurance
Access to a 24/7 travel and emergency assistance hotline
Lost baggage protection policy that covers you if your checked or carry–on luggage is lost, stolen, or damaged
When shopping with this card, you receive other benefits. Damage and theft protection that covers you for repairs or a refund if what you buy is damaged or stolen within 120 days of purchase (90 days for New York residents).
You are also covered by Citi's Price Rewind service. This service offers you a refund of the difference if a covered purchase is found for a lower price within 60 days of purchase.
And as a Visa Signature card, you can get a range of travel and shopping discounts. In fact, you even receive access to hard to get tickets for entertainment and sporting events.
APR and Other Fees Are Normal for a Travel Card
A rewards card will always have a higher interest rate than a similar card that doesn't offer rewards.
The Citi Hilton Honors Visa Signature Card is not an exception, but it's interest is competitive for a card of this type.
But if you're going to be carrying a balance on your credit card, than you should be looking for a card with the lowest possible interest rate, which won't be a rewards card.
This card's fees for things like late payments and balance transfers are about where they should be, but there is one exception.
Citi imposes a 3% foreign transaction fee on all charges processed outside the United States. Sadly, this card is a poor choice for use on your next international trip.
How This Card Compares to Other Citi Cards
Citi Hilton Honors Reserve Card
The Citi Hilton Honors Visa Signature Card is the entry-level product for less than frequent travelers. But the Citi Hilton Honors Reserve is the expert level card for real road warriors.
It offers 10x points for Hilton stays, 5x points on airline and car rental purchases, and 3x points on everything else.
It also starts you out with Gold status and let's you earn top-tier Diamond Status if you make $40,000 of purchases within a calendar year.
These additional rewards and benefits might be worth the $95 annual fee for those who travel often enough. It also has no foreign transaction fee, so it's great for international use.
Citi Premier®
This premium rewards card isn't affiliated with a particular hotel or airline.
Instead, it offers points in Citi's ThankYou Rewards program that can be transferred to Hilton Honors points or to frequent flyer miles 13 different airline partners and the Hilton Honors program.
This card offers:
3x points on restaurants, supermarkets, gas stations, air travel, and hotels
1x points on all other purchases
Points transfer to Hilton at a 1:1.5 ratio, but to airlines at a 1:1 or lower rate. There's a $95 annual fee for this card and it has no foreign transaction fees.
Citi Prestige Card
This is Citi's top-of-the-line rewards card that also earns points in its ThankYou Rewards program.
It offers 3x points for air travel and hotel spending and 2x for dining and entertainment charges. You earn one point per dollar spent elsewhere.
It comes with many perks including airport business lounge access and numerous travel and shopping benefits.
Your fourth night is free when you book four or more nights through Citi's travel agency.
However, all these benefits come with a whopping $450 annual fee. But, there are no foreign transaction fees.
Bottom Line
The Citi Hilton Honors Visa Signature Card offers rewards and benefits that measure up extremely well against other travel reward cards with no annual fee.
But ultimately, this card is best for less frequent travelers.
If you find yourself checking into Hilton Hotels every few months, then you should consider the Citi Hilton Honors Reserve card or perhaps even the Citi ThankYou Premier or Citi Prestige card.
By adding this card to your wallet, you can earn valuable rewards at Hilton properties and enjoy the treatment normally reserved for frequent travelers.