Citi ThankYou Preferred Rewards Credit Card 2023 Review
Get rewards from your dining and entertainment spending with the Citi ThankYou Preferred card. You can redeem for travel, merchandise, gift cards, and cash.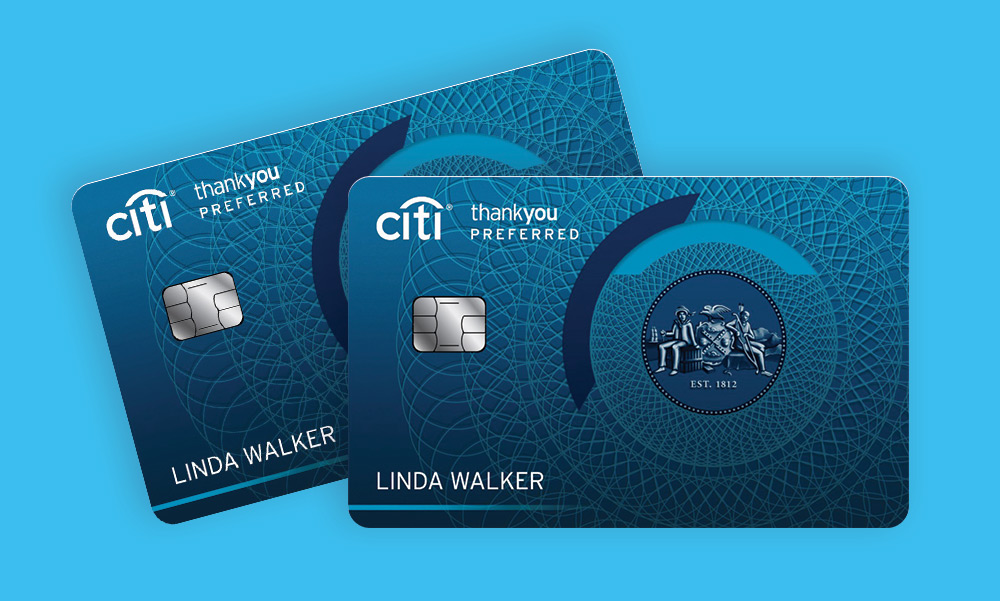 Citi ThankYou Preferred Credit Card
Enjoying a night out on the town can be a lot of fun but it can also take a big bite out of your wallet.
If you spend a lot of your budget on dining out at restaurants, trips to the movies, or concert tickets to see your favorite bands, a rewards credit card might be just what you need.
The Citi ThankYou Preferred Card is geared towards spenders who like to live it up a little and want to be rewarded every time they do so.
This card offers double ThankYou points for dining and entertainment purchases, along with exclusive access to selected events through Citi Private Pass.
Not only that, this card offers a lengthy introductory APR period on purchases and balance transfers.
That could save you some money on interest if you're planning a large purchase or you want to transfer a balance from another card.
Take a look at our review below to decide whether the Citi ThankYou Preferred Card is a good fit for your spending style.
Citi ThankYou Preferred Rewards Card Pros & Cons
Get Rewarded for Having a Good Time
As we mentioned briefly, the Citi ThankYou Preferred Card offers rewards for dining out and entertainment.
For every dollar you spend on those purchases, you'll earn two ThankYou points. You have unlimited points-earning potential and your points don't expire.
Where Can You Earn Points?
Dining out and entertainment are fairly broad categories so we did some digging to find out where exactly you can use the Citi ThankYou Preferred Card to earn double ThankYou points.
We found that dining out includes full-service restaurants, fast-food places, bars, lounges and cafes. That's a pretty broad scope, which is great if you're a foodie.
As far as entertainment goes, the list gets even longer. Some of the purchases that would qualify you to earn two ThankYou points include:
Sporting events
Concerts and festivals
Theatrical productions such as plays or Broadway shows
Amusement parks
Zoos and aquariums
Museums
Art galleries
Movie theaters
Record stores
Streaming subscriptions such as Netflix, Hulu, or Spotify
As you can see, this card lets you earn rewards whether you're headed out to the movies or watching one from the comfort of your own home.
With such a wide variety of options, you've got plenty of opportunities to rack up major points.
Besides earning double points on dining and entertainment, you also earn one point per dollar on the rest of your purchases.
If you like to charge everyday purchases like gas or groceries, you'll get rewarded every time you swipe your card.
Does This Card Offer A One-Time Points Bonus?
One of the ways card issuers attract new customers is by offering a big rewards bonus right off the bat. The catch is that you usually have to meet a minimum spending requirement to get it.
Unfortunately, the Citi ThankYou Preferred Card doesn't come with a one-time new account bonus. If you're looking to bag a bunch of points all at once, that may be a bit of a drawback.
Redeeming your ThankYou points
If you want some flexibility in how you can put your points to work, you'll appreciate the Citi ThankYou Program. You've got several ways to redeem points, including:
Gift cards to partner merchants
Electronics, home goods, jewelry, and more from top brands
Online bill payments
Statement credit
Charitable donations
Pay With Points (Good at BestBuy.com and on purchases made through the Wonder app)
Shop With Points (Good at Amazon.com, Expedia hotels, and Live Nation)
Travel
How Points Are Valued
The value of your ThankYou points is determined by what you're using them for.
For instance, if you're redeeming for a $25 gift card to Macy's or Best Buy, you'd need 2,500 points. That means your points are worth one cent each.
The points value may be different, however, if you're redeeming for travel or merchandise.
Here's another example. A 9" Philips portable DVD player, which has a retail value of $99.99 according to the ThankYou Rewards webpage, starts at 12,490 points.
At that rate, your points work out to be worth approximately one-eighth of one cent each.
Using ThankYou Points for Travel
Whether you travel a little or a lot, the Citi ThankYou Preferred Card can be a huge help.
You can use your ThankYou points for travel expenses by redeeming them for flights, hotel stays, car rentals, and cruises.
The good thing about redeeming your points for travel directly is that there are no blackout dates or restrictions when you book through the ThankYou Rewards portal.
Even if a particular airline you're looking for isn't listed, you can still book with points by redeeming through the Citi Travel Center.
Tip: Want to pile on even more points for travel? There are simple tricks for multiplying your travel rewards.
Cash Rewards From This Card Have The Least Value
It is not wise to redeem ThankYou points for cash back or statement credit because each point only redeems for 0.5 cents.
That means you're losing half the value of your points. So, you're better off redeeming the points for other rewards instead.
Enjoy Yourself Even More With These Card Perks
Besides earning rewards on dining and entertainment, there are even more benefits to having a Citi ThankYou Preferred Card. Here's what else you can take advantage of as a member.
Citi Private Pass
Citi Private Pass is a premium perk designed with thrill-seekers in mind.
As a member, you can get in on all the action with exclusive access to thousands of events, including ticket presales and complimentary movie screenings.
Whether you want to score a seat at New York Fashion Week, attend a performance of the hottest new musical or take part in a sports fantasy camp, Private Pass can help get you there.
Citi Price Rewind
Citi wants to make sure you're getting the best price possible on the things you buy with your card.
Citi Price Rewind checks your purchase history to see if the same item can be found somewhere else for less within 60 days of the purchase date. If so, you may be able to have the difference refunded to your account.
Travel Protections
Although it isn't a travel rewards card, the Citi ThankYou Preferred Card does offer some benefits to travelers.
In addition to EMV chip technology, you're covered by worldwide travel accident insurance, worldwide rental car insurance and trip cancellation and interruption protection.
Purchase Protections
Citi's also looking out for you if you're shopping online or in your favorite stores. You've got damage and theft protection, extended warranty coverage, and Citi's $0 liability guarantee built in.
By the Numbers: APR and Fees
The Citi ThankYou Preferred Card doesn't have an annual fee - but you will pay a 3% foreign transaction fee if you use the card outside the U.S. Therefore, this card is not great for international travel.
The fee for balance transfers is either $5 or 3%, whichever is greater (a fairly standard amount, though there are no-fee balance transfer credit cards out there).
You have a generous introductory period for purchases and balance transfers. Just remember that if you don't pay off purchases or transfers before it expires, the regular variable APR applies.
This rate is based on your creditworthiness so it pays to make sure your credit score is in good shape.
Tip: Read over our uncomplicated guide to hacking your perfect credit score if you need some guidance on how to boost your score.
Is It the Best Citi Rewards Card?
The Citi ThankYou Preferred Card has a lot of merits but it's not the only Citi card on the market. Here are three other choices that are also worth a look.
Citi ThankYou Premier Card
The Citi ThankYou Premier Card is ideal for someone who spends on entertainment and dining out but also wants to get rewarded for travel.
This card pays the same two ThankYou points for dining and entertainment as the Citi ThankYou Preferred Card but you also get three points per dollar on travel, including gas.
Another big difference between the two is the annual fee. With this card, a $0 introductory annual fee applies the first year but after that, it increases to $95.
If you're leaning towards this card for the travel rewards, you have to be sure you'll earn enough in rewards to offset the cost. You can transfer your ThankYou points to participating travel partners.
Citi Prestige Card
The Citi Prestige Card is another option if you've got travel rewards on your mind. This card offers triple the rewards for air travel and hotels, along with two points per dollar on dining and entertainment.
As always, you'll earn one point per dollar on all other purchases. Again, you can transfer the points to partnered travel loyalty programs.
What really sets this card apart are the travel extras you get.
For instance, members receive a $100 Global Entry fee credit, a $250 annual Air Travel Credit, complimentary nights at the hotel of their choice, and a 33% points discount when they redeem points for travel through the Citi Travel Center.
All of that doesn't come cheap, however. This card has a $450 annual fee, so it's definitely not for budget travelers.
Citi Double Cash Card
You may like the Citi Double Cash Card if you prefer to keep earning and redeeming rewards simple. With this card, you earn 1% cash back when you make a purchase.
Then you get another 1% cash back when you make a payment. You can redeem your cash as a statement credit, gift card, or as a deposit into a checking or savings account.
This account has no annual fee and no new account bonus. You still have access to Citi Private Pass so this might be a contender if you spend a lot on dining and entertainment but you'd prefer earning cash to points.
For Spending on Food and Fun to Earn Rewards
If you like to be entertained or socialize with friends, the Citi ThankYou Preferred Card can yield some valuable rewards for no annual fee.
We wouldn't recommend this one to someone who's in search of a hefty new account bonus or spends a big chunk of their budget on travel.
All in all, it gets high marks if good food and good times are a regular part of your routine.