How to Start Travel for Free With Credit Card Reward Miles & Points
Want to travel for cheap or free like a pro? Learn how to use credit card miles and points to help you achieve your travel goals.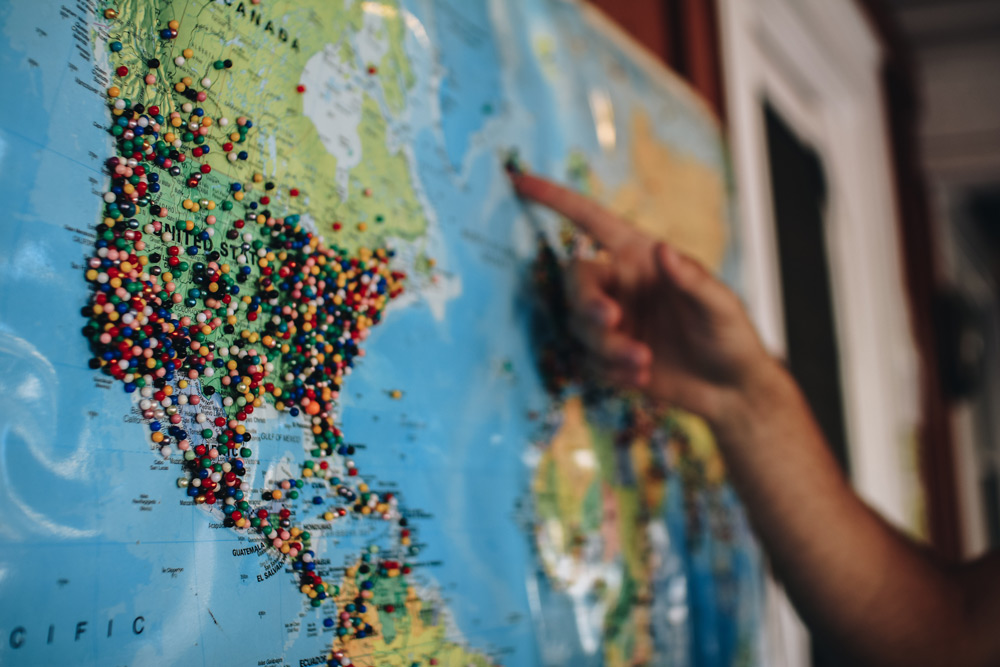 Although there are thousands of travel writers in the world, I happen to be one of the few who studies credit card and travel reward programs as a full-time job.
Why do I do this? To teach others how to use these programs to make their travel dreams come true.
And while I wasn't always a travel expert, I certainly had a good start.
Growing up Traveling
I was born in Buffalo and my family later moved to Atlanta. Growing up, each Thanksgiving, spring break, and winter break involved travel.
Our family booked airline tickets to visit our relatives in New York City and later in South Florida.
This was a task I was only too eager to help my parents with, even at a young age. Only now do I realize that I was obsessed with airlines and that I grew up as a true aviation geek.
Later, I went to school at the University of Delaware. There, I was again tasked with booking airfare back home to Atlanta for every school break.
After college, I worked as a consultant in the computer industry. This job gave me the opportunity to travel on a weekly basis for several years.
And once I moved to Denver after college, I found myself regularly booking flights to visit family back in Atlanta.
From the beginning, my parents implored me to sign up for frequent flyer programs and to make sure I receive mileage for every trip.
I dutifully did so, and occasionally redeemed my miles for a domestic flight here or there.
Eventually, my job sent me on fewer business trips, yet my thirst for travel remained.
I began applying myself to the challenge of traveling as much as possible for as little money as I could get away with.
But, since I was earning fewer miles from business trips, I had to find more creative ways to earn travel rewards.
The Breakthrough Moment
My wife and I purchased a 1937 home with the intention of renovating much of it. At the same time, I had also started using a credit card that earned miles United Airlines.
When I added up all the miles we had and what we could earn if we charged our renovations to that card, I was blown away.
We found that these rewards could earn us enough miles to book two award tickets to Europe.
But as I studied the award chart, I realized we could do even better.
If we could earn about 50% more miles, then we'd have enough for business class award tickets. That's when I started scouring the airline websites and looked intensely for additional ways to earn more miles.
In doing so, I realized that each airline and hotel offered dozens of different promotions and offers that I didn't know about before.
And these rewards could be earned in multiple ways.
Rather than just from travel credit cards, I saw that we could also earn rewards from staying at hotels, renting cars, shopping at certain stores, getting a mortgage from a particular bank, and so on.
Armed with this new information, we signed up for every chance we could to earn miles.
The moment we had earned enough miles for our business class tickets to Europe, we booked our tickets. (Which was much easier to do ten years ago than it is today.)
Soon we were boarding Lufthansa's non-stop flight from Denver to Frankfurt (Lufthansa is a United partner).
We settled into our nice, wide business class seats that turned into beds. Rather than the usual foil-wrapped TV dinners, we were served high-quality food.
We were treated like guests at a fine restaurant or hotel - they even wheeled out a dessert card after the meal!
It turned out that our plan had worked out too well. During this trip, we realized that we would never again be satisfied flying in economy on a long-haul trip.
From that moment on, we were committed to earning points and miles to finance our overseas travel.
And it worked! Since our first trip to Europe in business class, my wife and I have used rewards to travel this way all over the world.
We've taken flights to South America, Japan, Hawaii, the Middle East, and dozens of trips in North America.
Now we have three children who are lucky enough to join us on our travel adventures. And I've been fortunate enough to turn my award travel hobby into a career as a writer.
There Are Two Parts to the Travel Rewards Game
While I had once thought that you had to travel a lot to earn frequent flyer miles, I now know better. There are far more miles to be earned at home and on the ground - so long as you treat it like a game.
There are two essential parts to the game of earning travel rewards.
The first part is collecting miles. The second is finding the best ways to spend your miles.
As you collect your miles, think of it as a scavenger hunt. Your goal is to uncover as many points and miles from as many sources as possible.
This is why I look at all the airline and hotel websites. I also spend time investigating every opportunity to earn travel rewards.
Most people assume that the game is over once you have the points and miles you need to redeem your award trip. In truth, this is just the beginning.
These days, you have to work just as hard at finding the best ways to spend your travel rewards as you do to earn them.
Related: What Are Credit Card Points and Miles Worth?
Airlines continuously make fewer award seats available at the lowest mileage levels. It's more difficult than ever to find ways to redeem your points and miles for the most valuable flights.
Getting Help Boosting Your Travel Rewards
Over the years, I've realized that I'm not alone in my quest for award travel.
One of the most popular places travel rewards enthusiasts share their knowledge is a forum called FlyerTalk. But, although members offer a wealth of information and experience, it can be a difficult site to navigate.
A less intimidating resource for beginners is travel blogs. Travel blogs are places where authors like me go to share their experiences. And we share the good, the bad, and the lessons learned.
Another resource is meeting in person, such as meetups and travel seminars. These are fun ways to meet other award travelers - and to learn some of the best tips and tricks people might not want to share online.
There are also several tools that award travel enthusiasts use to make this hobby a bit easier. One is a free service called Award Wallet.
Award Wallet is a service you can use to easily keep track of all your airline, hotel, rental car, and reward account numbers and passwords. Expert Flyer is a tool that has both free and paid versions that allow you to search airline award inventory.
Finally, you can now book your travel through some of the best travel enthusiasts and bloggers.
This is a great service for those who lack the time and patience to figure out the best tricks. For a fee, these expert travelers will help you get the most out of your points and miles.
How to Get Started Earning Travel Miles and Points
While it's not unusual for frequent travelers to be members of dozens of airline and hotel loyalty programs, this is a strategy best used by the seasoned traveler.
Beginning award travelers should start out by focusing on earning miles with just one airline and points with one hotel chain.
---
Read my full review and tips on how to earn the most points and miles with the Chase Ultimate Rewards program.
---
1. Start with the goal of planning 
Start with the goal of planning a modest vacation using miles from your favorite airline and points from your favorite hotel chain.
Take a look at how many points and miles you already have, and then examine these company's award charts to find out how much more you'll need.
2. Survey future award availability
Survey future award availability as well. This is just to make sure you have a realistic chance of booking your trip once you have all the points and miles that you need.
3. Look the ways to earn more rewards
And then, just as I did when planning my first business class award to Europe, look for all the ways you can earn enough points and miles to close the gap.
4. Sign up for every promotion
 Consider applying for a new credit card if that's what it takes for you to reach your target. And when you find yourself stumped, try logging onto Flyertalk.
There you can search for previously posted relevant information and even asking a few questions of your own.
Once I realized I could earn travel rewards without actually traveling, a world of award travel possibilities opened up to my family.
By taking the time to learn about the opportunities for award travel, you too can start to see the world without paying too much to do so.