Chase Ultimate Rewards: How to Earn the Most Rewards Points in 2023
Chase credit cards offer plenty of rewards from cash back to gift cards to travel. See how to get the most rewards from the Chase Ultimate Rewards program.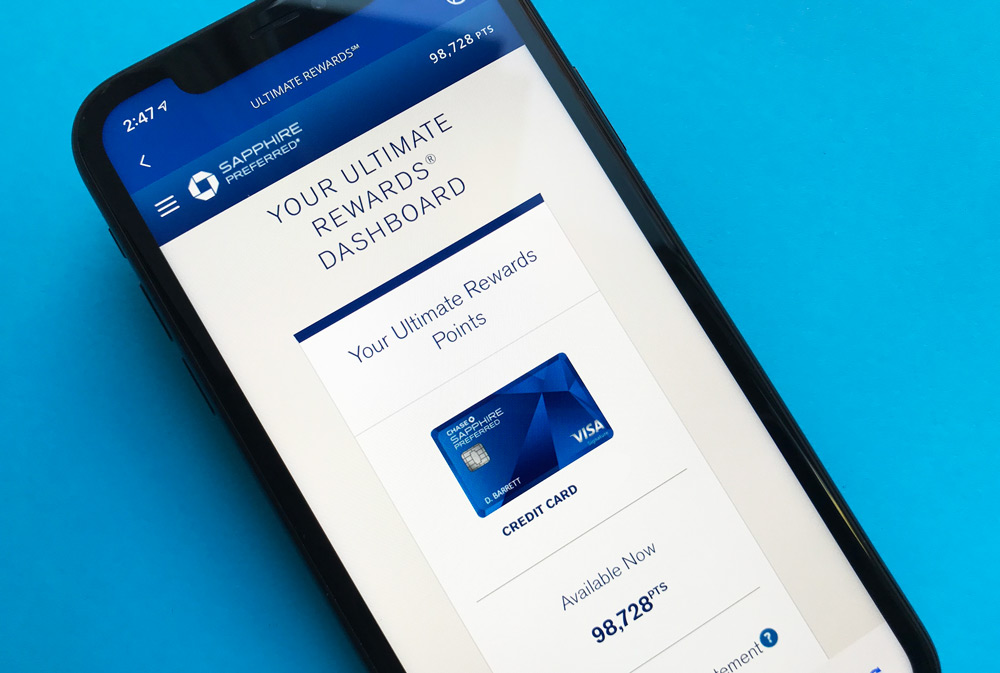 Chase Ultimate Rewards dashboard
Are you looking for the best way to earn travel rewards from your credit card? The traditional way is to earn frequent flyer miles with a single airline, but that comes with lots of restrictions.
Another way is to earn travel rewards from your credit card issuer.
There are many credit cards that offer points or miles that are worth a fixed amount as statement credits towards travel reservations.
Sometimes you use these points to book travel directly through the bank's designated travel agency.
Finally, there are a few travel rewards programs that give you the option of transferring your points to airline miles and hotel points.
Chase Ultimate Rewards allows you to redeem your points for merchandise, cash back, or travel reservations booked through Chase.
And in addition, Chase Ultimate Rewards points can be transferred to miles with seven different frequent flyer programs or four different hotel programs.
The Basics of Chase Bank Rewards
Chase offers several other travel reward cards that are not affiliated with a single travel provider such as a hotel or an airline.
Instead, some of these cards offer points in the Chase Ultimate Rewards program. What you can do with these points depends on which card you have.
The Chase Freedom, Chase Freedom Unlimited, and Ink Cash cards offer a basic version of Chase Ultimate Rewards.
Points redeemed from one of these accounts are worth about 1 cent each as cash back, gift cards, and merchandise. Generally, 1 point is worth 1 cent in value towards these rewards.
Or, you can use your points to pay for reservations made through Chase's Ultimate Rewards travel center, which works much like Expedia and other online travel agencies.
Chase Credit Card Comparison
| Credit Card | Cash Back | Travel | Balance Transfer |
| --- | --- | --- | --- |
| Chase Sapphire Reserve | N/A - travel card | Get $300 annual travel statement credit, lounge membership, and 3X points on travel and dining | No intro 0% APR offer |
| Chase Sapphire Preferred | N/A - travel card | Earn bonus miles on travel and dining that can be transferred to partnered airline and hotel programs | No intro 0% APR offer |
| Chase Freedom® | Earn 5% cash back on categories that change every quarter | N/A - cash back card | Intro offer available |
| Chase Freedom Unlimited® | Earn 1.5% cash back on all spending. | N/A - cash back card | Intro offer available |
| Chase Slate® | N/A - not a rewards card | N/A - not a rewards card | Intro offer available |
Transfer Points to Frequent Flyer and Hotel Programs
The , and  are also part of Chase Ultimate Rewards, but points redeemed from these accounts can be transferred to the following programs:
Read Chase Sapphire Preferred Card Editor's Review
Read Chase Sapphire Reserve Card Editor's Review
Chase Ultimate Rewards Frequent Travel Programs Partners
| Airlines | Hotels |
| --- | --- |
| Aer Lingus AerClub | IHG® Rewards Club |
| BritishAirways Executive Club | Marriott Rewards® |
| Flying Blue AIR FRANCE KLM | The Ritz-Carlton Rewards® |
| Iberia Plus | World of Hyatt® |
| JetBlue TrueBlue | |
| Singapore Airlines KrisFlyer | |
| Southwest Airlines Rapid Rewards® | |
| United MileagePlus® | |
| Virgin Atlantic Flying Club | |
Points transfer on a 1:1 basis and the transfers typically occur instantly (transfer to Singapore KrisFlyer usually take just a few hours).
Being able to transfer points to airline and hotel rewards is an extremely valuable feature.
I like to keep as many points as possible in my Chase Ultimate Rewards accounts and transfer them to airline miles or hotel points only when I need to.
When I'm able to transfer points to travel partners and redeem those rewards for expensive last-minute flights or seats in business or first class, my points can be worth several cents each.
I've also received some excellent value when I've transferred my points to the World of Hyatt program.
Rewards redeemed from a are worth 1.25 cents towards travel booked through the Chase Ultimate Rewards online travel center.
Finally, points redeemed from a account are worth 1.5 cents each towards travel reservations.
The Chase Ultimate Rewards Trick
Here's what's really amazing about Chase Ultimate Rewards. You can transfer points for free between any of your Chase Ultimate Rewards accounts. And you can transfer points between the accounts of your spouse or domestic partner.
For example, I have a and a .
When I earn points on my Chase Freedom card, I always move the points to my Chase Sapphire Reserve card so that I can transfer them to points or miles, or get 50% more value from them when used to book travel reservations.
It's also easy to combine points between my wife's accounts and my own to pool our rewards.
offers 5% in points on certain categories that change every 3 months. Earn 5% in points with the Chase Freedom card and it effectively becomes 7.5% in points when transferred to Chase Sapphire Reserve.
Read Chase Freedom Card Editor's Review
With , your 1.5% in rewards will actually become 2.25% in rewards when moved to the Sapphire Reserve account.
Read Chase Freedom Unlimited Card Editor's Review
How Ultimate Rewards Compares to Similar Rewards Programs
Chase Ultimate Rewards is a great program, but two other banks offer similar competing programs:
American Express Membership Rewards
The American Express Membership Rewards program was the first one to offer the ability to transfer points to airline miles. Today, it has 21 different hotel and airline partners:
American Express Membership Rewards Loyalty Programs
| Airline Loyalty Program | Hotel |
| --- | --- |
| AER Club - AER Lingus | Choice Privileges® |
| AeroMexico Club Premier - Aeromexico | Hilton Honors |
| Aeroplan® & Air Canada - Air Canada | Starwood Preferred Guest |
| Flying Blue® -Air France KLM | |
| MilleMiglia - Alitalia | |
| ANA Mileage Club - All Nippon Airways | |
| Asia MilesTM & Cathay Pacific - Cathay Pacific | |
| Avianca LifeMiles | |
| British Airways Executive Club - British Airways | |
| Delta's SkyMiles® - Delta | |
| Matmid Club - EL AL | |
| Emirates Skywards - Emirates | |
| Etihad | |
| HawaiianMiles - Hawaiian Airlines | |
| Iberia Plus - Iberia | |
| TrueBlue - JetBlue | |
| KrisFlyer - Singapore Airlines | |
| Virgin Atlantic Flying Club - Virgin Atlantic | |
You can also redeem American Express Membership Rewards points for gift cards, merchandise, and travel reservations, but points are only worth 1 cent each towards these kinds of awards.
American Express Membership Rewards points are offered from several different American Express personal and business cards, ranging from their iconic to their high-end .
Read American Express Green Card Editor's Review
Read Platinum Card From American Express Editor's Review
Citi ThankYou  Rewards
Citi offers three cards that earn points in its Citi ThankYou Rewards program, the Citi ThankYou Preferred, Citi ThankYou Premier, and Citi Prestige.
A few years ago, Citi began offering the option to transfer these points to miles with a few different airlines. However, that number has grown to include the following carriers:
Citi ThankYou Loyalty Programs
Airlines
Turkish Airlines Miles & Smiles
Asia Miles
Avianca LifeMiles
Etihad Guest
EVA Air
Flying Blue
Garuda Indonesia
JetBlue TrueBlue
JetPrivilege
Malaysia Airlines Enrich
Qantas Frequent Flyer
Singapore Airlines
Thai Royal Orchid Plus
Virgin Atlantic's Flying Club
In addition, points transfer to Hilton Honors at a 1:1.5 ratio and even to Sears Shop Your Way points.
Just like with the Chase Freedom, points redeemed from the no-fee Citi ThankYou Preferred card cannot be transferred to partner programs.
But if you have a Citi ThankYou Premier or Citi Prestige card, you have that ability.
How Chase Ultimate Rewards Fares
I give the edge to Chase Ultimate Rewards over its other two competitors. Yes, it has fewer airline partners, but these carriers allow you to redeem miles for flights with all of the three major airline alliances.
United and Singapore miles can be redeemed for flights on any Star Alliance carrier.
Miles from Air France Flying Blue can be redeemed for flights on Delta and other SkyTeam carriers.
And British Airways points can be redeemed for flights on American and other OneWorld carriers.
Also, it's the only one of these programs that has Southwest as a transfer partner, which I fly a lot.
Transferring rewards to Hyatt points is also a great option, although I wouldn't recommend the other hotel programs. Marriott, Ritz-Carlton, and IHG points simply aren't worth as much.
I also love using Chase Ultimate Rewards points to purchase travel directly from Chase.
Getting 1.25 cents per point from the is nice, but receiving 1.5 cents per point from the is awesome.
I've already been able to use points to book cheap airfare instead of transferring more points to airline miles to book a frequent flyer award.
Finally, Chase Ultimate Rewards is strong because Chase has so many cards that feature great bonus point offers.
With Chase Sapphire Reserve, I get 3 points per dollar spent on travel and at restaurants.
American Express Membership Rewards comes in a close second. It has a larger list of airline partners, but many of them offer little value.
Worse, many of these partners have a transfer ratio of less than 1:1. But the biggest problems with American Express Membership Rewards is that its credit cards don't offer as many bonus points as Chase's cards do.
In fact, American Express seems to be aware of this and has recently started offering 5x points for airfare purchased with its Platinum cards.
Finally, Citi's ThankYou points program comes in third. Its airline transfer partners are mostly foreign carriers with pretty weak award charts. Its only two domestic carriers have a less than 1:1 points transfer ratio.
Thankfully, the Citi ThankYou Premier and Citi Prestige cards offer good bonus point offers for things like travel, entertainment, and dining.
Getting The Most From Your Rewards Points
Hopefully, by now, you are as hooked on Chase Ultimate Rewards as I am. If so, let me offer you just a few tips and tricks to stretch your credit card rewards points as far as you can.
1. Get the right combination of cards
As I said, one of the great things about Chase Ultimate Rewards is all of the ways you can earn multiple points per dollar.
Use a to earn 1.5x everywhere.
Don't hesitate to sign up for the great that lets you redeem all the points you earned for 1.5 cents worth of travel.
2. Never redeem points for merchandise, gift cards, or cash back
You only get one cent per point this way. Always transfer your points to travel partners or redeem points directly for travel reservations, if possible.
Note: Again, you can only transfer Chase Ultimate Rewards points to travel partners if you have Chase Sapphire Preferred, Chase Sapphire Reserve.
3. Find your awards before you transfer your points and miles
There is no need to transfer your points to travel partners until you found the award you want.
Transfers are irreversible, so I only transfer my Chase Ultimate Rewards points to travel partners once I know exactly how I want to use them.
4. Don't transfer points to airlines or hotels without first checking how many points are needed to book travel directly
It's easy to get consumed with trying to find the best way to use frequent flyer miles.
But with Chase Ultimate Rewards points, sometimes you don't have to. Before you transfer your points to miles, take a second to see how many points you need to book a flight through the Chase Ultimate Rewards travel center.
You might find a cheap flight that requires fewer points to book directly than it does to use miles. Or you might find a flight that works much better for your needs, but only costs a few more points.
The same is true with hotels. Don't transfer your points to Hyatt or another program before you see how many points it will cost you when booking directly.
This is especially true if you have a Chase Sapphire Reserve that offers you 1.5 cents per point.
5. Cash back is usually better than gift cards
Under the program, Chase cardmembers can redeem cash back at a ratio of 1 point per cent.
Many of the gift card options can be redeemed at a similar ratio. More often than not, it would be wiser to just get cash back. Cash is versatile and you won't have to deal with any small residual balances left on gift cards.
One exception is when you actually plan to give the gift card to someone else. Another exception happens to be the next tip.
6. Look for gift card discounts
Occasionally, Chase offers discounts on gift cards -- the points required to redeem a gift card is reduced by 5 to 10 percent.
For instance, instead of redeeming 2,500 points for a $25 Bloomingdale's gift card, it would cost 2,250 points.
These "sales" will allow you to get more from your hard-earned rewards points.
7. Combine points
Customers who have multiple linked Chase debit and credit cards can combine the Ultimate Rewards points into a single balance, which allows them to make bigger rewards redemptions.
Such a feature comes in handy for Chase customers who like to use a different card to maximize their reward earnings.
Those who have the Chase Sapphire Preferred and Chase Sapphire Reserve cards can use the feature to get more travel rewards.
Since these cardmembers can transfer points to participating travel programs at a 1:1 ratio, they can combine their points from other Chase accounts and then convert the points to miles toward their favorite travel programs.
Bottom Line
Chase Ultimate Rewards is fantastic, but you do need to put in a little work to get the most value from your points.
By taking the time to understand this program a little better, you can stretch your points further.
Don't be surprised if you're able to turn rewards into thousands of dollars worth of free travel.