American Express Green Card 2023 Review
The American Express® Green Card comes with a heap of rewards and membership program offers. Everything you need to now about the American Express® Green Card here!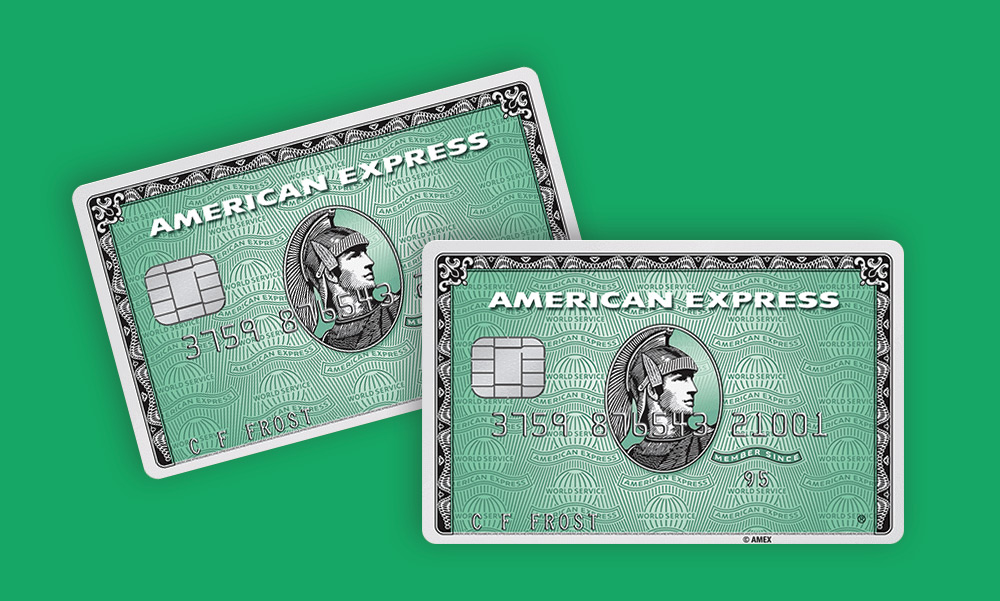 American Express Green Card
All information about the American Express Green Card has been collected independently by MyBankTracker.com.
Higher credit scores can be a reality with a basic card that can help you build some credit history.
The American Express Green Card can help you get the job done because it is slightly easier to qualify for (compared to a traditional credit card).
You can start establishing credit as long as you just focus on paying off the bill every month.
The requires that you pay off the full balance each month. There's also a credit card rewards program.
Purchases earn Membership Rewards points that you can use toward travel, shopping, and dining.
Learn if you should get this card and see if it'll be the right fit for your goal of building credit.
*See Rates & Fees. Terms apply.
American Express Green Card Pros & Cons
Main Card Highlight: Build a Better Credit Rating
The comes with lots of benefits, but this card is great for borrowers who may be newer to using credit. That means you won't need a perfect 850 credit score to get approved.
If you've already got a good credit score, this card can help you build on that foundation without the added hassle of interest charges.
Because it's a charge card, your balance is due in full each month so no interest accrues, which can also help you out when it comes to your credit score.
Your FICO credit score is the score that the majority of lenders use. Your payment history and credit utilization carry a lot of weight.
Paying your credit card bills and other debts on time can help your score; paying late can easily tank it.
Your credit utilization has a similar effect. When you're using up more of your available credit, it sends a signal to lenders that you may not be financially responsible.
If your balances are low, it shows that you know how to keep your spending in check.
With the American Express Green Card, you don't have to worry about a high balance hurting your credit utilization for months at a time.
As long as you pay in full and on time, those things can work in your favor where your score is concerned. With responsible use, you could work your way toward an upper tier American Express card.
Tip: If you're carrying balances on other credit cards, aim to use 30% or less of your available credit to keep your score on the right track.
Earning Rewards With Your American Express Green Card
The American Express Green Card includes a fairly straightforward rewards program. You earn 1 Membership Rewards point on eligible purchases, with no limit on the number of points you can earn.
For example, if you spend $500 a month on groceries, $500 a month on gas, and $1,000 on shopping, you could earn a total of 2,000 points.
The sky is virtually the limit, so your earning power ultimately depends on how much or how little you spend.
Your earning power ultimately depends on how much or how little you spend.
When you use your card to book travel through American Express Travel, your rewards rate increases to 2 points per dollar for eligible purchases. That includes airfare, hotels, cruises, and vacation packages.
Redeeming Membership Rewards Points
The Membership Rewards program offers some variety in terms of how you can use your rewards points. For example, you could redeem for:
Gift cards
Merchandise
Travel
Entertainment
Uber rides
New York City taxi fare
In-store purchases at Rite Aid
Charitable donations
Statement credit
You can also shop with points at Amazon.com and BestBuy.com or transfer your points to Plenti, American Express's loyalty card program.
The number of points required to redeem--and their value--is based on how you redeem them.
For example, 10,000 points would be worth $60 in statement credit against your charges. In that case, your points would be worth one-sixth of a cent apiece.
If you were to use them for travel instead, you could get a little more mileage from your rewards.
When you Pay With Points for flights through American Express Travel, points are worth one cent each.
If you want to make a hotel reservation, book a cruise, or purchase a vacation package, points are worth one-seventh of a cent.
That's a decent rewards rate, but a dedicated travel rewards card may be better if you spend a lot of time jet-setting around.
The , for instance, offers a redemption rate of 1.25 cents when you use your points to book travel through Chase Ultimate Rewards.
Read Chase Sapphire Preferred Card Editor's Review
Comparing different redemption options through the Membership Rewards portal can give you an idea of how far your points will go.
Shopping, Travel and Entertainment Benefits
Besides rewards, credit card benefits are something to consider when choosing a new card. The American Express Green Card comes with a few extras. For example, members enjoy:
Car rental loss and damage insurance
Roadside assistance hotline
Global Assist hotline
Baggage insurance
Purchase protection
Return protection
Extended warranty program
Access to deals through Amex Offers
Free 2-day shipping with ShopRunner
Exclusive access to selected sporting, family and arts events
Any or all of these benefits could come in handy if you're traveling, heading out for a night on the town, or just hitting the mall.
These benefits are included at no additional cost, although third-party fees may apply for things like tow services or replacing a passport if yours gets lost.
Is the $95 Annual Fee Worth It?
Credit card fees can be a drain on your rewards if you're not careful. At $95, the annual fee (see is one of the lowest of any American Express card.
The question is, do the rewards and other card features justify the cost?
If you're a travel enthusiast, you may not be wowed by the rewards program or the travel benefits.
The same goes if you're looking for a card that's going to offer big rewards for everyday spending.
The , for example, has the same $95 annual fee (waived for the first year) (see Rates & Fees; terms apply) but it has a higher rewards rate.
Members earn 6% cash back on the first $6,000 in U.S. supermarket purchases annually, in addition to:
6% cash back on select U.S. streaming subscriptions
3% cash back on transit
3% cash back at U.S. gas stations
1% cash back on other eligible purchases
If you don't charge purchases regularly, you likely won't net enough rewards to earn back the fee.
If you're more focused on building credit than earning rewards, there are other cards that can help you do that without a steep fee.
Read the Blue Cash Preferred Card from American Express editor's review.
American Express Green Card vs. Other Amex Offerings
The American Express Green Card isn't going to be right for everyone. Here are two other cards you may want to consider if you don't mind paying a fee to earn rewards.
American Express® Gold Card
The could be the right choice if travel is a regular feature in your routine.
This card offers:
4X points when you dine at restaurants worldwide
4X points at U.S. supermarkets, on up to $25,000 per year in purchases
3X points on flights booked directly with airlines or on amextravel.com
Travel extras include personalized travel service, roadside assistance, and baggage insurance.
There's no foreign transaction fee, but the annual fee is higher, at $250 first per year (see Rates & Fees; terms apply).
Still, this card may be preferable if you spend a significant amount of money on travel and dining each year.
With so many ways to earn travel rewards, it may not take much effort to recoup the fee in points.
Should You Get This Card?
The may be good for someone who prefers a charge card or hopes to grow their credit score.
This card obviously wouldn't work if you need the flexibility of being able to carry a balance from time to time.
This card is better for someone who wants a general American Express rewards card and doesn't mind paying a higher annual fee.
For people with fair credit who want to improve their credit scores, there are cheaper options.
See the rates & fees for the mentioned American Express cards: American Express Green Card(Rates & Fees; terms apply), American Express Gold Card (Rates & Fees; terms apply), and Blue Cash Preferred from American Express (Rates & Fees; terms apply).