Centurion by American Express Credit Card 2023 Review
If you're curious about the elusive Amex Centurion Card, read on. We're sharing the details, benefits, and drawbacks to this luxury charge card for the wealthy.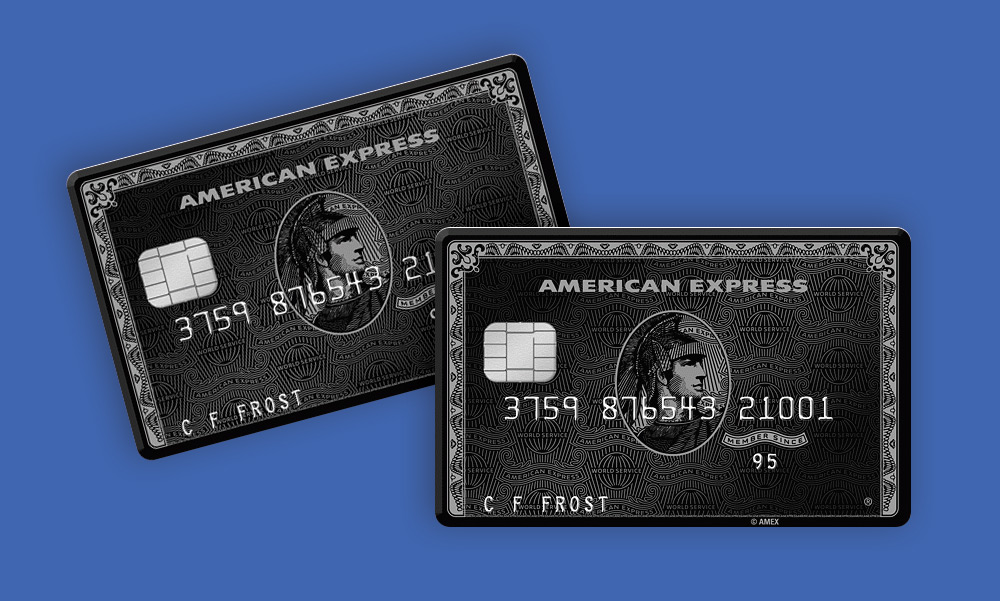 Centurion by American Express Credit Card
Centurion Credit Card from American Express, also known as the Amex Black card, is designed for big spenders.
The card is available by invitation only (which is part of its allure) and, although reports vary on the specifics, you may need to spend between $250,000 to $450,000 per year on other American Express accounts before qualifying
There are also claims you need to have a Platinum Card from American Express first, but there have been reports of cardholders who did not have the Amex Platinum Card first.
If American Express extends an invitation and you accept it, you'll have to pay an initiation fee of up to $7,500 plus a $2,500 annual fee.
Some invitees turn down the opportunity because of the cost, but others say the perks of the Centurion Credit Card from American Express pay for the fee multiple times over.
In addition to earning membership rewards points on purchases, the Centurion Credit Card from American Express comes with invitations to exclusive events, 24/7 concierge service, $200 in airline fee credits, no foreign transaction fees, access to airport lounges, and free room upgrades and perks at select hotels and car rental companies.
Plus, you'll get all the benefits of a Platinum Card from American Express card, including extended warranties and purchase protections.
The Black Card is best for someone who can easily afford the annual fee and value convenience and luxury.
That said, Centurion Credit Card from American Express cardholders aren't necessarily multi-millionaires, and some people meet the spending requirements through business purchases.
Centurion by American Express Card Pros & Cons
Centurion Card Benefits
The prestige of being part of an exclusive club is enough to justify the fee for some cardholders.
But that aside, you'll get some serious perks with the Centurion Credit Card from American Express:
There's no pre-set spending limit
There's no pre-set spending limit with a Centurion Credit Card from American Express, and there are reports of people regularly spending several hundred thousand dollars on the card each month (often for business purchases).
Invitation to exclusive events
You'll be invited to exclusive events, such as a private tour of a winery during crush season in Napa Valley. These events could end up amounting to priceless experiences and some serious swag.
Earn rewards points
Centurion cardholders earn points in the American Express Membership Rewards program at a rate of one point per dollar in the U.S. – the rate may change for cards issued in other countries.
You may also get a sign-up bonus offer with your invitation, such as 180,000 points after $20,000 spend in six months.
World-class concierges services
The concierge service that comes with the Centurion Credit Card from American Express goes above and beyond according to cardholders.
The concierges are known for coming through with last-minute tickets, seats, or reservations at events, restaurants, and with travel accommodations.
For some Centurion Credit Card from American Express cardholders, cost matters less than the ability to get the best seat or hard-to-find tickets at a moment's notice.
And if you happen to work with a concierge you particularly like, you can request that they'll be assigned to handle your future requests.
Upgraded hotel accommodations
As a cardholder, you'll automatically be upgraded to Gold status with Starwood Preferred Guest, Diamond at Hilton Honors, and Platinum Elite with IHG Priority Club.
The benefits include free breakfast, early check-ins and late checkouts, upgraded rooms, and guaranteed room availability.
The Centurion Hotel Program offers similar perks during stays at luxury hotel brands St. Regis, Aman, Belmond, Mandarin Oriental, and Peninsula Hotels.
You can also use the Amex Fine Hotels & Resorts (FHR) program to get similar benefits at a wider range of select luxury hotels.
Rental car loyalty program status
Similar to upgraded status with hotel loyalty programs, you'll be bumped up to Hertz Platinum and Avis President's Club, which guarantees vehicle availability and offers free upgrades, among other benefits.
Access to lounges and airline status upgrades
Centurion cardholders get upgraded to Delta Platinum Medallion status, which comes with first-class upgrades, companion upgrades, preferred seating and boarding, and bonus miles in the program.
If you receive a complimentary upgrade to first class, you might also get access to airline lounges. Regardless, you'll have guaranteed access to Amex's Centurion Lounges, which are available at several major airports such as Dallas (DFW), La Guardia (LGA), Miami (MIA), San Francisco (SFO), and Las Vegas (LAS).
You'll also have access to Airspace lounges, and can request complimentary Priority Pass Select membership that grants you access to over 900 additional airport lounges worldwide.
Additional Perks of the Centurion Credit Card from American Express
Many of the other perks that Centurion Credit Card from American Express cardholders receive are available or similar to those that you get with the Amex Platinum card. These perks include the following:
Few fees
Aside from the annual fee, the Centurion card only has a few fees. There's no foreign transaction fee and, because it's a charge card (not a credit card), there's no standard interest rate on purchases.
There is a late payment fee and, if you miss two or more billing periods and aren't enrolled in The Pay Over Time program, you'll be charged an additional fee or percentage of the amount due.
Get $200 in airline reimbursements
Once per year, you can choose an airline and receive up to $200 in reimbursements for airline-related fees, such as a baggage fees, fees for premium seats, or flight change fees.
You'll also be reimbursed if you use the card to pay for airline lounge access and in-flight food, drinks, or entertainment.
Although the credit doesn't reimburse the cost of a flight, you may be able to get reimbursed when buying airline vouchers, which you can then spend on tickets.
Eligible for companion airline tickets
You'll receive a complimentary companion ticket with the purchase of international business or first-class tickets.
Purchase protection
If you purchase something and it's lost, stolen, or damaged by accident or through vandalism, you may be able to receive a refund for up to $10,000 per incident (this amount may change over time).
Extended warranties
The manufacturer's warranty on eligible purchases is automatically extended for up to three years (this limit is subject to change).

Christina Majaski
Credit Card Expert
There are personal and business versions of the Centurion Card from American Express, but in either case, it's a charge card - not a credit card.

What that means is you would have to pay your bill in full each month as charge cards do not enable a revolving balance.
Credit Score Requirement
There are no outright disclosures on the credit score that is required for the Centurion Card.
But, because invited applicants are existing American Express cardholders who have a high annual spend without missed payments, it is extremely likely that applicants already have excellent credit before they receive an invitation.
Final Verdict
The exclusivity of the Centurion Credit Card from American Express might be worth it to certain people regardless of the cost.
There's a long list of benefits to having the Black Card and, for frequent travelers (particularly those that stay in luxury hotels), the benefits may indeed pay for themselves.
That being said, other travel credit cards offer similar benefits at a much lower cost.
Ultimately, if you think you'll make good use of the benefits (particularly the concierge service and travel perks) and the annual fee isn't a burden, then it's worth at least considering getting the Black Card...if you're invited.