How I Increased My Overall Credit Card Limits By 22 Percent
Having a tough time getting credit limit increases? Here are some tips for how you can get them for American Express, Chase and Citi credit cards.
Increasing your credit card limit is one of the easiest ways that you can boost your credit score, especially when you haven't displayed any poor credit behavior (e.g., late payments).
Over the long run, regular credit limit increases (CLIs) will help improve your ability to qualify for major loans (i.e., a mortgage).
It's part of the reason that I make a note to ask for credit limit increases.
This is my personal experience of what happened when I asked for credit limit increases for three credit cards I own and use regularly: American Express, Chase, and Citi.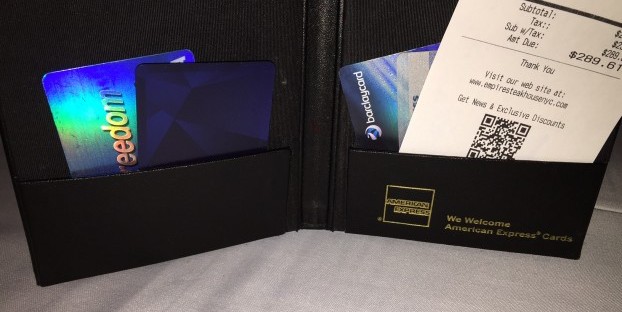 Like many consumers, I never really went out of my way to request CLIs.
I would just let the card issuer offer increases automatically, or I'd ask for a CLI when I happen to think about it, which would be once every year or two.
However, I'm still relatively young and want to continue to build my good credit, so I decided to take a more active approach and ask for these increases.
I decided to ask for credit limit increases on a regular basis.
It's been nearly eight months since I last performed this task on all three of my credit cards from American Express, Chase, and Citi. So, I decided to do it again.
See how I increased my overall credit limit by 22 percent, and how you can boost your credit card limits:
American Express
It is incredibly simple to ask for a CLI with American Express because you can do it online. I just logged into my online account and clicked the "Credit Management" option under the "Profile" tab.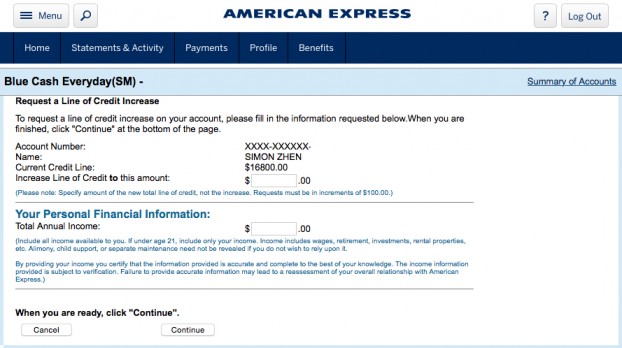 After verifying my card number, I entered my desired total credit limit along with my annual income.
Picking the desired total credit limit can be tricky if you want the highest possible credit limit without getting denied.
I decided that a 50 percent increase didn't seem too ambitious so I asked for $24,000.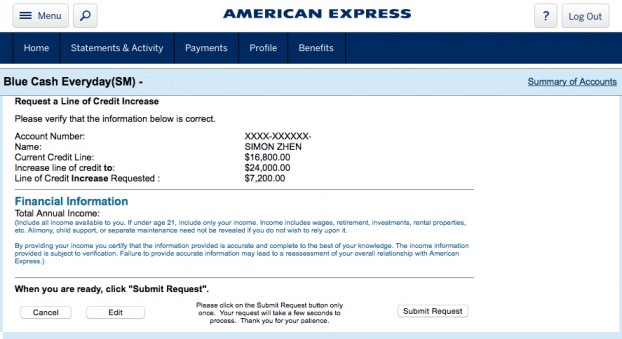 Lesson learned: Don't be afraid to ask for a little more than you originally expected to ask for -- you may still get approved for a credit limit increase, but it might not be as much as you wanted.
To my merry surprise… I was instantly approved for a new credit line of $24,000, up from $16,800 (a $7,200 increase). Also, American Express did not even pull my credit report.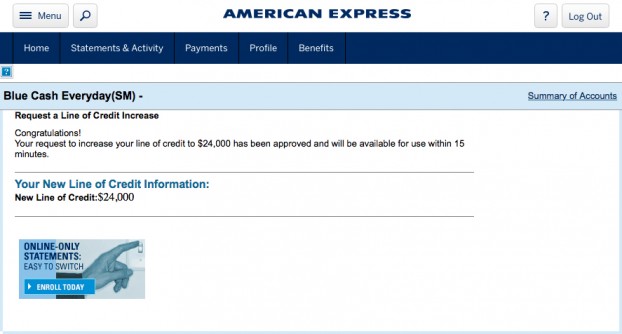 Chase
Chase requires that credit card customers call to request a CLI -- there is no online option for that request.
Call the number on the back of your Chase card (the number is 1-800-524-3880 on the back of my Chase Freedom card) to speak with a customer service representative about a CLI.
Eight months ago, Chase bumped my Chase Freedom's credit limit from $5,000 to $12,000, which is a rather significant hike, in my opinion.
For this previous request, the rep told me that I would have to agree to have my credit pulled -- I agreed reluctantly, and he said that I would have to wait for a response in the mail. (Having a "hard pull" on your credit means your score will temporarily take a dip -- by how much and for how long, only the credit bureaus know.)
He also asked for my desired credit limit and a reason why I wanted that limit. Again, I wanted to ask for a little bit more than I normally would and asked for $12,000.
My "excuse" was that I had an upcoming vacation and wanted a larger credit line to have more spending room.
One week later, I got a letter stating that I was approved for the limit. Just to follow up, I also checked my free credit report to see if Chase really did pull it.
There was no record that Chase tried to pull my credit report. Therefore, there was no hit to my credit score for this credit limit increase!
Lesson learned: When asking for credit limit increase, a card issuer might request permission to access your credit report. It doesn't meant that the card issuer will actually do it. Either way, check your free credit reports (you get three for free per year) to verify if they did.
This week, I called again and I got the same response to my request: my credit report had to be pulled.
Since I got lucky that they didn't pull my credit report last year, I'm sure they will actually do it this time.
Therefore, I opted to not proceed with this CLI request right now.
Citi
Like American Express, Citi allows credit card customers to request CLIs through their online accounts, under the "Account Management" tab.
I had to provide my annual income and my monthly housing expense. Citi didn't ask for my desired credit limit.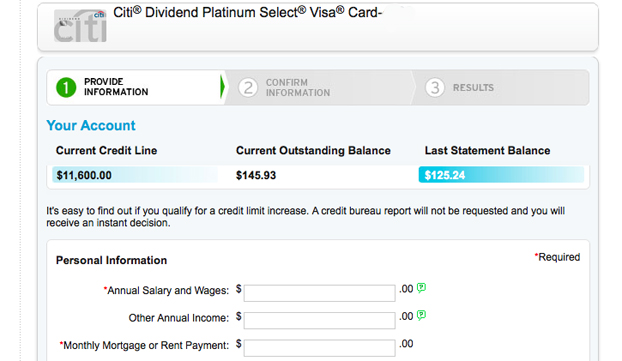 Instantly, the credit limit for my Citi Dividend card was increased to $13,500, up from $11,600 (a $1,900 increase).
I could ask for more but Citi would pull my credit report for that request, so I just left it at that.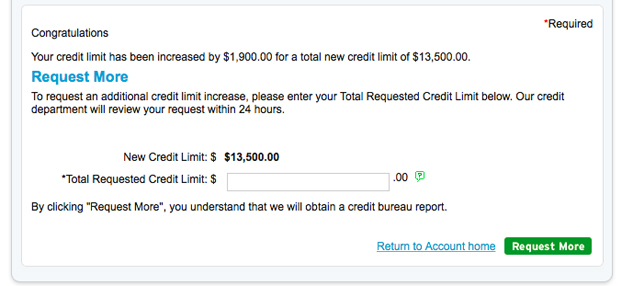 Ways to improve your chances of getting a CLI
Keep CLI requests at least six months apart
Credit card issuers want to see your spending and repayment patterns after increasing your limit.
In fact, for new American Express credit cards, credit limit increases are immediately denied in the first six months.
Prove that you can be responsible with your current credit line before asking for more. I'm in no rush to boost my limits so I'd probably do it every 8-12 months.
If you have extremely low credit limits and are looking to boost your credit scores, you should ask for it every six months. See how one person used CLIs to help her get a near-perfect FICO credit score.
Use your card often, but pay it off on time
By showing that you actually need the higher credit limit, you're more likely to get it.
In the past few months, I actually racked up a balance of more than $8,000 on my American Express, which may have played a role in that massive CLI for which I was approved.
Most importantly of all, make sure that you pay the credit card bill on time. I hate paying interest so I always pay off the entire balance.
Show higher income and lower expenses
Having a higher income and lower expenses simply points to the idea that you have enough cash flow to repay your debt. Those are great financial credentials that justify a credit limit increase.
Card issuers are approving higher limits more regularly
According to a survey by the Federal Reserve Bank of New York, the approval rate for higher credit card limits increased.
It's a sign that credit card issuers are willing to provide larger credit lines to U.S. consumers.
This is a good indication for those who are seeking to boost credit card limits.
How Credit Card Limits Affect Your Credit
Many people look at their credit card limits and may be perfectly happy with them.
Those spending caps may already be more than they'll ever need. As a result, they don't feel the need to ask for a credit limit increase. Rather, the higher credit line could be seen as a trap for overspending.
However, it could be argued that the benefits of larger credit lines will outweigh the risks.
With sizable credit limits, your credit scores are likely to improve, which increases your chances of getting lower interest rates on major loans.
For example, over the course of a 30-year mortgage, you could avoid tens of thousands of dollars in interest charges because you had a slightly better credit profile.
Impact on FICO Credit Scores
The FICO credit score is the most used credit score among major U.S. lenders when it reviews loan applications.
A whopping 30% of your credit score is determined by how much of your borrowing potential is being used. This percentage is calculated by dividing your total debt by your total credit limits.
With higher overall credit limits, you're more likely to use less of your borrowing potential. To lenders, it'll appear as if you're not relying heavily on credit.
As a result, credit line increases generally tend to raise your FICO credit scores as long as your debt levels remain low.
Typically, consumers are advised to use no more than 30% of their credit lines.
Tip: Your balance is typically reported to the credit bureaus once per month when your statement cycle ends. You can make payments before this time in order to minimize the balance that is reported to the credit bureaus.
Now that you know the benefits of a higher credit line, you may consider requesting them on a regular basis. Just mark it on your calendar to remind yourself a couple times a year.