Chase Freedom Credit Card Review
Chase Freedom® is reviewed for its popular 5% cash back program and other features including interest rates, rewards, card protections, and more.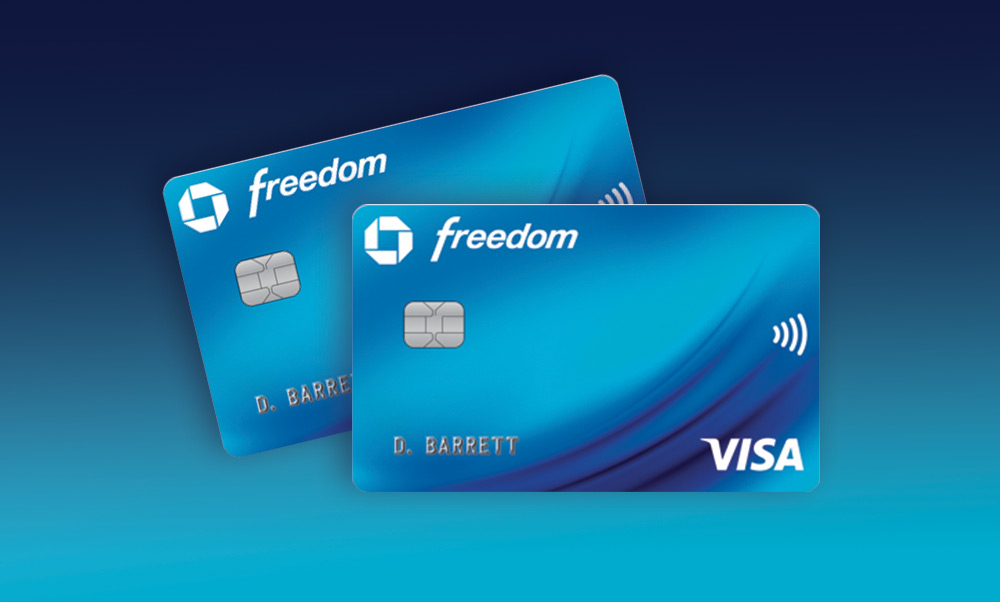 Chase Freedom Credit Card
UPDATE: The Chase Freedom Card is no longer available to new applicants. Instead, consider the Chase Freedom Flex Card.
The Chase Freedom Card is considered one of the more popular general cash back credit cards available.
Several factors make it an appealing credit card among consumers who want to earn cash back whenever they make purchases.
The offers rotating bonus cash back categories allowing you to earn up to 5% cash back on purchases made in specific categories each quarter. All other purchases earn 1% cash back.
With the ability to activate 5% cash back on a new category each quarter, consumers who do the majority of their shopping on a credit card would benefit the most from this cash back credit card.
Chase Freedom Card Pros & Cons
Pros
Cons

Great for bonus cash back on very common spending categories
Earn a high amount of cash back on travel booked through Chase Ultimate Rewards
No annual fee

Potentially high APR if you carry over a balance month-to-month
You'll need to remember to activate the quarterly bonus to qualify for the 5% cash back
A Rotating 5% Cash Back Rewards Program
Every quarter, cardholders activate a new category of purchases to receive 5% cash back.
For example, you might earn 5% cash back at all grocery store purchases this quarter, while you earn 5% cash back on all gasoline purchases next quarter.
In addition to the bonus category, all other purchases made with this card earn 1% cash back.
Chase Freedom Card credits cash back as points under the Ultimate Rewards program.
In other words, 1% cash back on every dollar spent will equivalent to 1 point. Points can be used for a wide selection of rewards including travel, gift cards, dining, merchandise, experiences, and cash back.
Cash back can be redeemed starting at 2,000 points for either a $20 check or a $20 statement credit.
Earn More Points When Shopping Through the Chase Ultimate Rewards Mall
If you're going to buy something online, you should take advantage of the Chase Ultimate Rewards Mall to increase your rewards earnings.
Shop online with your Freedom card with more than 200 participating retailers and earn more points through the Ultimate Rewards Mall.
Each merchant will show you how many points you earn per dollar spent.  The points are automatically added to your rewards balance.
Shop and Travel with Confidence
offers protection when you're shopping locally, online, or using the card when you go on trips.
Shopping Protection
If someone makes unauthorized charges with your card or account information, the Zero Liability Protection coverage means you won't be held responsible for the charges.
When you make a purchase using this credit card, you automatically receive purchase protection coverage up to 120 days for damage or theft of your new item.
Your coverage allows up to $500 per claim and up to $50,000 per account.
Finally, your card helps protect your purchases longer by extending the U.S. manufacturer's warranty on new purchases by an additional year for products with warranties of three years or less.
Travel Benefits
Using this card for trips increases your travel protection and benefits.
If renting a car with your card, decline the rental company's collision insurance and you'll automatically receive coverage for collision damage and theft for your rental in the United States or abroad.
If you end up stranded on the side of the road someplace, you can get road dispatch or roadside assistance services by using this card.
Chase Freedom Credit Card Fees
| Type | Chase Freedom® Credit Card Fees |
| --- | --- |
| Annual Membership Fee | None |
| Balance Transfers | Either $5 or 5% of the amount of each transfer, whichever is greater. |
| Cash Advances | Either $10 or 5% of the amount of each transaction, whichever is greater. |
| Foreign Transactions | 3% of each transaction in U.S. dollars. |
| Late Payment | Up to $40 |
| Return Payment | Up to $40 |
| Return Check | None |
Compared to Other Chase Credit Cards
In addition to Chase Freedom, Chase offers three other credit cards that are also a part of the Ultimate Rewards program. See how they compare:
Chase Freedom Unlimited
 is very similar to the Chase Freedom card except for the cash back program.
Chase Freedom Unlimited offers 5% cash back on travel purchased through Chase, 3% on dining (including takeout) and drugstores, and it provides a flat 1.5% cash back on all other spending. It is a great option for people who don't spend too much in any particular category.
If you aren't able to take advantage of the 5% cash back occasionally through Chase Freedom, you're likely to end up with more than the 1.5% cash back through the Unlimited card.
Read Chase Freedom Unlimited Card Editor's Review
Chase Sapphire Preferred Card
 is a rewards credit card that focuses on travel. You'll earn 2 points per dollar spent on dining and travel while all other spending earns 1 point per dollar.
However, with this card, each point is worth 1.25 cents when redeemed for travel through Chase's Ultimate Rewards online booking portal.
Moreover, you can transfer the points to various airline and hotel loyalty programs at a 1:1 ratio.
Popular frequent traveler program partners include United MileagePlus, Southwest Rapid Rewards, Marriott Rewards, and more.
If you go on a lot of tips and want to earn rewards, is better than Chase Freedom. However, note that there is a $95 annual fee.
Read Chase Sapphire Preferred Card Editor's Review
Chase Sapphire Reserve
Chase Sapphire Reserve is one of the premium travel rewards credit cards currently available.
You're earning 3 points per dollar on travel and spending and 1 point per dollar on everything else. Each point is worth 1.5 cents when redeemed for travel through Chase Ultimate Rewards.
You get a $300 travel statement credit every year. You also get free airport lounge access through Priority Pass Select.
The card does have an annual fee of $550. Therefore, you must be a frequent traveler if you're going to choose Chase Sapphire Reserve over Chase Freedom.
Read Chase Sapphire Reserve Editor's Review
What's the Verdict?
Cardmembers have to sign up every quarter in order to receive the 5% cash back bonus on rotating categories, but Chase will give you the points even if you sign up at the end of the enrollment period (approximately two weeks before the start of the next quarter).
So, you will be earning more cash back on previous purchases in bonus categories if you forgot to sign up early in the quarter. Points do not expire so don't be afraid to wait for a larger payout.
The is a straightforward cash back credit card with no annual fee.
Therefore, it is ideal for the consumer who regularly spends with a credit card but always pays off the balance when the credit card bill arrives.
Rewards and cash back credit cards are rarely beneficial if you tend to carry a balance, in which case a low-interest credit card would be more appropriate.
"Freedom" and Credit Cards? How It's Possible
When it comes to credit cards, "freedom" might not be the first word that comes to mind. So it might seem odd that Chase would name one of their credit cards as such.
However, the name - and the concept - is valid, if you carefully monitor how you use your credit card.
Freedom From Debt
Credit cards, especially rewards credit cards like this one, can be a great tool.
They can help you earn cash back or points for the spending you already planned to do. They can help you build your credit score. And they come with a series of useful protections.
But whether or not credit cards spell financial freedom for you completely depends on the way you use them.
First of all, if you don't already have credit card debt, don't get into it. Credit card debt rarely starts with one shopping spree or big spend.
Rather, it happens as your balance ticks up little by little over time. Small balances that grow incrementally and then compound due to interest turn into what might eventually be insurmountable debt.
Start small and do this one simple thing: pay your balance off by the end of every month. Do that, and you can avoid interest charges that increase your balance to higher and higher amounts.
Only spend what you can afford to pay each month on your card, and you can ensure that you can easily meet the goal of monthly payoff.
If you're already dealing with credit card debt, then the best thing you can do is to create a plan to pay it off now.
Even if you don't have a ton of extra money to apply to your payoff, you can increase your speed by opting for things like balance transfer credit cards.
These cards are made for debt payoff and offer low to zero interest for a period of time, enabling you to make some serious progress on your debt payoff.
Freedom in the Form of a Good Credit Score
The other ways credit cards can lead to financial freedom is the way they can improve your credit score.
If you use a credit card every month and pay it off before the interest accrues, you can significantly improve your score without risking going into debt.
There are two main reasons why this is:
1. Payment History
A large chunk of your credit score is determined by your payment history. And this is as simple as it sounds. Pay all of your bills on time, every time, and you'll see a positive impact on 35% of your score.
2. Credit Utilization
Another significant chunk of your score is determined by your credit utilization ratio. This is the amount of debt you have in comparison to the amount of credit available to you.
The less debt you have, the better your ratio. Ideally, it should always be 30% or lower.
If you need a quick way to improve your ratio, you can call your credit card issuer and ask them to raise your limit.
There are many other factors that make up your credit score, but these are the main two, and they're the ones that credit cards can help you with the most.
Read the chart below to find out the other things that will affect your score:
FICO Credit Score Factors and Their Percentages
| FICO credit score factors | Percentage weight on credit score: | What it means: |
| --- | --- | --- |
| Payment history | 35% | Your track record when it comes to making (at least) the minimum payment by the due date. |
| Amounts owed | 30% | How much of your borrowing potential is actually being used. Determined by dividing total debt by total credit limits. |
| Length of credit history | 15% | The average age of your active credit lines. Longer histories tend to show responsibility with credit. |
| Credit mix | 10% | The different types of active credit lines that you handle (e.g., mortgage, credit cards, students loans, etc.) |
| New credit | 10% | The new lines of credit that you've requested. New credit applications tend to hurt you score temporarily. Learn more about FICO credit score |
Deciding What Financial Freedom Means to You
Ultimately, financial freedom means something different to all of us. It's hard to understand how to achieve it without knowing what your version of financial freedom is.
There are many other options, but the point is you can't achieve a goal without first knowing what you're striving for.
Take a long, hard look at what you're aiming for in your life, and then you'll know how to use credit cards - and other financial products - as a tool to help you get there. It all starts with you.
Compare Best Accounts Now
You might also like