Chase Sapphire Reserve Credit Card 2023 Review
For premium travel benefits and rewards, Chase Sapphire Reserve℠ is hard to beat. See the travel credits and perks that warrant the annual fee.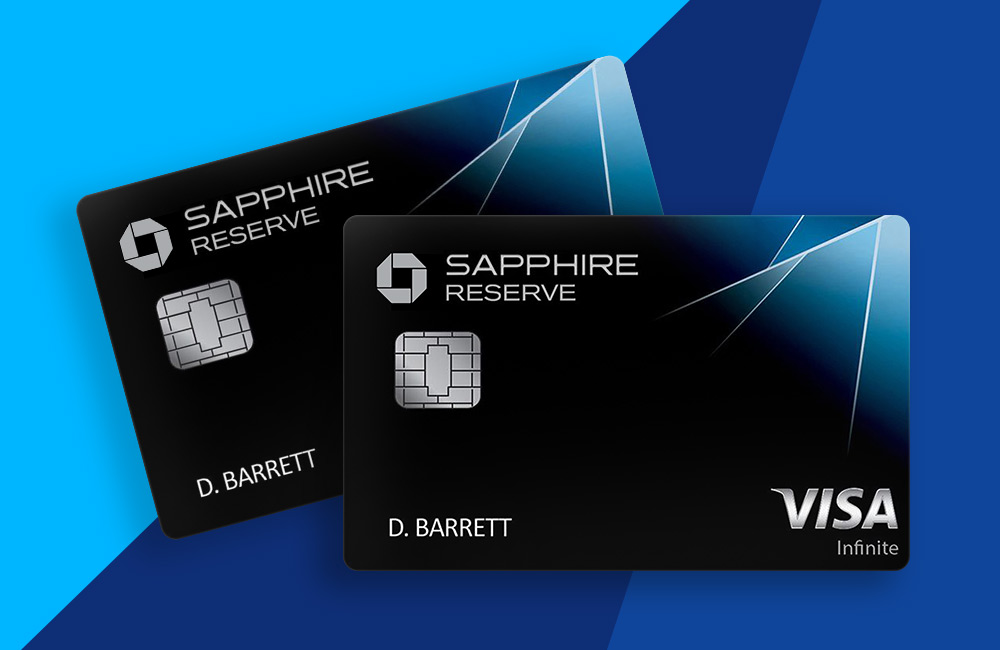 Chase Sapphire Reserve Credit Card
Do you like earning travel rewards? Do you prefer a card with premium travel perks?
If so, the
delivers plenty of both. That's why this card is the most popular travel credit card out there right now.
This card is designed for travelers who want to earn plenty of travel rewards in addition to a great package of travel perks.
And the rewards, including a substantial new account points bonus, is just the tip of the iceberg. Extras like an annual travel statement credits and complimentary Priority Pass Membership add to the card's appeal.
At $550, the annual fee is a bit steep. However, for the right person, it's possible to get great value from the fee -- making it worth the cost.
Still on the fence about whether it's worth the cost? Keep reading our review to explore all of its features.
Chase Sapphire Reserve Card Pros & Cons
Elite Travel Benefits Cut the Actual Cost of Annual Fee
We'll explain the card's rewards program in just a moment.
For now, we want to focus on everything else this card offers. Here's what makes every member feel like a VIP:
$300 Annual Travel Statement Credit
Airfare, hotel stays, and incidental travel costs can easily add up. As a cardmember, you'll receive an annual travel statement credit of up to $300 to help out with those expenses.
Once a travel expense is recognized on the account, the credit will automatically apply.
A "travel" purchase falls under the following categories: airlines, hotels, motels, timeshares, campgrounds, car rental agencies, cruise lines, travel agencies, discount travel sites, and operators of passenger trains, buses, taxis, limousines, ferries, toll bridges and highways, and parking lots and garages.
For people who spend at least $300 under these categories per year, you've already cut the cost of the annual fee to $250.
Global Entry/TSA PreCheck Fee Credit
This next feature can really come in handy if you travel often and hate waiting in security lines.
Global Entry will speed up the customs process while TSA Pre✓ will let you through the security lines quicker. As a member, you'll get in and out of the airport much faster.
The application fee for Global Entry is $100; for TSA Pre✓, it's $85. If you apply for one or the other and use your
to pay the fee, you'll get up to a $100 statement credit to cover the cost.
If you're going to take advantage of these memberships, you'll have to go in for an interview to become a member.
Note: Global Entry is the recommended choice for people who plan to travel internationally. TSA Precheck is included with Global Entry.
Free Priority Pass Select Membership
Priority Pass is the world's largest independent lounge access program.
If you want to unwind in the lounge between flights, you'll have Priority Pass Select status, courtesy of the card's perks to do so.
This allows you to visit more than 950 airport lounges worldwide, many of which offer free WiFi. The regular annual fee for membership ranges from $99 to $399 so getting this for free is a steal.
Just log into your online account and one click will sign you up for Priority Pass Select membership. Expect the card in the mail within 2 weeks.
Note: You must carry the physical membership card in order to enter a Priority Pass airport club. Your Chase Sapphire Reserve card will not get you in.
Car Rental Privileges
If you need to rent a car on your next trip, you're in luck. You'll get special benefits if you're enrolled in a car rental rewards program with National Car Rental, Avis, or Silvercar.
When you book rentals with your card, you can take advantage of upgrades and discounts, plus savings on luxury and premium rental rates.
The Luxury Hotel & Resort Collection
You can also save big when you use your card to book rooms at selected hotels and resorts. You'll enjoy privileges like:
Complimentary room upgrades
Complimentary meals for you and a guest
Early check-in and late check-out
Special discounts and credits towards amenities
Exclusive Travel Opportunities
The Chase Sapphire Reserve card offers members special access to travel events. For example, you could spend a day walking the greens at the Ryder Cup or attend a private dinner hosted by Chef Eric Ripert.
Earn Travel Rewards Faster With Chase Sapphire Reserve
If you're a frequent traveler, you'll appreciate how many points you can earn with this card. Members earn 3 points per dollar on travel and dining, plus 1 point per dollar on all other purchases.
The one-time points bonus that's available to eligible new members is one of the most impressive around. There is a minimum spending requirement but it shouldn't be too difficult to meet for regular spenders.
Chase Sapphire Reserve Sign-up Bonus Points
Currently, Chase offers 60,000 bonus points after you spend $4,000 on purchases in the first 3 months from account opening.
That's equal to $900 toward travel when you redeem through Chase Ultimate Reward portal.
Get a 50% Points Bonus When You Redeem for Travel
There are lots of ways to redeem the points earned with your card, including gift cards, statement credits, and merchandise.
However, using them for travel yields the biggest payoff. When you redeem points for airfare, hotels, car rentals, and cruises through Chase Ultimate Rewards, your points are worth 50% more.
For example, if you're redeeming 100,000 points, they'd be worth $1,500 towards travel purchases. There are no blackout dates or travel restrictions.
As long as there's a seat or a room available, you'll be able to book through the Chase Ultimate Rewards program.
Transfer Your Points to Selected Travel Loyalty Programs
If you'd rather use your points to book directly through an airline or hotel, you can.
Chase allows you to transfer points earned with the to selected airline and hotel programs on a 1:1 basis. Partners include:
Flying Blue
Korean Air SKYPASS
Hyatt Gold Passport
Marriott Rewards
The Ritz-Carlton Rewards
The great thing about being able to transfer points on a 1:1 basis is that you're not losing any value. With other travel rewards cards that allow for points transfer, that's not always the case.
Tip: In some instances, it's better to transfer your points instead of redeeming them through Ultimate Rewards. Research both options before picking the one with the best deal.
Other Card Perks
Between the rewards and those premium benefits mentioned earlier, the Chase Sapphire Reserve card is pretty tempting.
But, that's not all you get. This list highlights the other features that make the card so attractive for travelers:
Chase Sapphire Reserve Travel Protections
| Travel Benefits | Chase Sapphire Reserve coverage |
| --- | --- |
| Auto rental collision damage waiver (primary) | $75,000 |
| Travel accident insurance | $1,000,000 per person |
| Trip cancellation | $10,000 per trip |
| Trip interruption | $10,000 per trip |
| Trip delay | $500 per ticket |
| Baggage loss/damage | $3,000 per passenger |
| Baggage delay | $100 per day |
| Emergency evacuation/transport | $100,000 |
Additionally, you get Visa Infinite personal concierge, roadside assistance, and travel & emergency assistance.
With all that built in, you've got all your travel bases covered the next time you're away from home.
Is It Worth the High Annual Fee?
If you're thinking $550 is a lot to pay for an annual fee, consider this.
Between the $300 annual travel statement credit and the complimentary annual membership to Priority Pass, you've already gotten your money's worth.
That's before you even add in the value of the rewards you could earn with the card.
There's no foreign transaction fee. That means it costs you nothing extra to use your card outside the U.S. Balance transfers will cost you $5 or 5% of the transfer amount, whichever is greater. The fee climbs to $10 or 5% for cash advances.
There's no 0% introductory APR for purchases or balance transfers with this card. The regular variable APR range for both is comparable to what other premium rewards cards offer.
If you want to sidestep the interest altogether, make sure you're paying your balance in full each month.
Chase Sapphire Reserve vs. Other Chase Rewards Cards
Besides the
, Chase offers several other rewards cards designed for different types of spenders.
Take a look at the three below to see if one of them may be a better fit for your financial lifestyle:
Chase Sapphire Preferred Card
The Chase Sapphire Preferred Card is one of the most popular travel rewards cards on the market. Think of it as the little brother to Chase Sapphire Reserve.
This card also offers generous rewards on travel and dining, among other spending categories. Like the Chase Sapphire Reserve card, it has a generous welcome bonus for qualifying new account members.
By qualifying for the bonus, you can earn plenty of rewards toward free travel.
The card is similar to the Chase Sapphire Reserve in other ways, with some minor differences. You can still transfer points 1:1 to Chase travel partners, for example.
You also get an increase in points value when you redeem through Ultimate Rewards. Instead of 50% more points, you get 25%.
The annual fee is significantly lower at $95.
Read Chase Sapphire Preferred Card Editor's Review
Chase Freedom Flex
is designed for spenders who'd rather earn cash back than travel points. This card offers 5% cash back on the first $1,500 in purchases made in bonus categories that rotate each quarter.
Once you hit the $1,500 spending threshold, you'll keep earning 1% cash back on those purchases until the new quarter begins.
You'll also earn unlimited 1% cash back on purchases outside of the bonus categories. Just remember that to get the 5% bonus, you have to activate it each quarter.
This card has no annual fee. There's a lengthy introductory APR period for both balance transfers and purchases.
That's encouraging if you want to consolidate existing credit card debt or make a large purchase that'll take more than one month to pay off.
To round things out, new members can snag a cash bonus when they meet the minimum spending requirement.
Read Chase Freedom Flex Card Editor's Review
Tip: It's not a bad idea to have
with Chase Sapphire Reserve. Because you can transfer points between card accounts, you can make your Chase Freedom Flex points worth 50% more. So, your points each through 5% categories are actually worth at least 7.5% when transferred to Chase Sapphire Reserve and redeemed through Chase Ultimate Rewards.
Chase Freedom Unlimited
Chase Freedom Unlimited is made for people who like earning cash back without any extra hassle.
Cash rewards can be redeemed at any time, in any amount.
There's no annual fee. Like the regular Chase Freedom card, you have an opportunity to earn a one-time new account cash bonus.
The same introductory promotion for purchases and balance transfers also applies to this card.
This card is ideal for someone who doesn't travel internationally and prefers simple rewards.
Read Chase Freedom Unlimited Card Editor's Review
Chase Travel Cards
| Credit Cards | Travel |
| --- | --- |
| Chase Sapphire Preferred | Earn bonus miles on travel and dining. Points can be transferred to partnered airline and hotel programs. Redeem rewards travel at a discount through Chase Ultimate Rewards. |
Chase Cash Back Credit Cards
| Chase Cash Back Credit Cards | Cash Back |
| --- | --- |
| Chase Freedom® | Earn 5% cash back on categories that change every quarter. |
| Chase Freedom Unlimited® | Earn 1.5% cash back on all spending. |
Should You Get the Chase Sapphire Reserve Card?
The
is well-suited for someone who travels or dines out often and expects to put all of the card's various features to use.
If you only travel or go to restaurants occasionally, paying $550 for an annual fee probably won't make much sense.
Ultimately, we'd recommend this card to someone doesn't mind paying a bit more to enjoy an enhanced travel experience.