Chase Liquid Prepaid Debit Card 2023 Review
The Chase Liquid Prepaid Card is a great alternative to a checking account. We reviewed the Chase Liquid Card covering everything from fees to features here.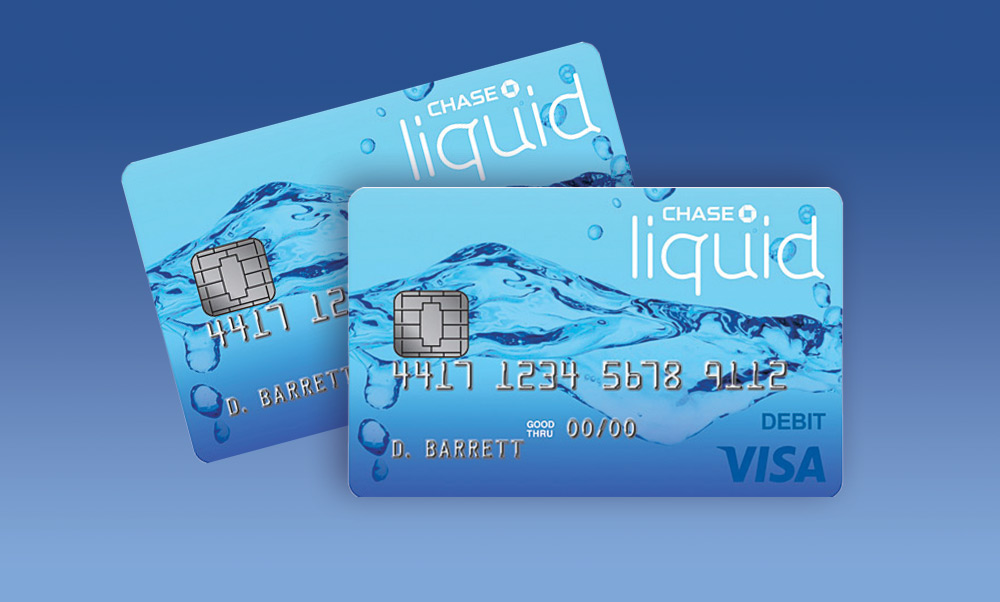 Chase Liquid Prepaid Debit Card
When it comes to prepaid cards, the Chase Liquid card is rather sought-after. So, if you're asking yourself "What is a Chase Liquid card?", we have the answers for you in this card review.
With very similar traits to Chase's basic checking account, the Chase prepaid card is known for its far-reaching access to mobile and online banking services as well as its ATM networks and branch locations.
Chase's website and state-of-the-art mobile app provide a number of free, convenient services, from sending money to non-Chase accounts to checking balances on-the-go.
However, if you don't live near a Chase branch or ATM or you rely on convenience stores for reloading, it might be difficult to load checks or cash onto your card.
Plus, there's a $4.95 monthly fee that is difficult to waive, so it's important to carefully examine the benefits and drawbacks of the Chase Liquid card before signing up.
Chase Liquid Prepaid Card Pros & Cons
What Is the Chase Liquid Prepaid Card?
Prepaid debit cards have become popular replacements for checking accounts as well as smart budgeting tools.
Since these cards typically do not have minimum balance requirements or overdraft fees, they work well for consumers who need an inexpensive way to spend and save money.
The Chase Liquid prepaid debit card comes with many of the features that one would find with a basic checking account, all backed by the award-winning Chase institution.
After your initial $25 opening deposit, Chase Liquid allows you to reload money for free, use Chase ATMs, and make purchases, and cardholders have access to customer service support for no additional cost, which isn't always the case for prepaid cards.
Chase's mobile app and website allow you to transfer money to people with Chase QuickPay, pay bills with Online Bill Pay, deposit checks, sign up for text alerts, and check your purchase history and balance.
The money on your Liquid card is also stored in a bank account, so you can rest assured that your funds are federally insured.
Chase Liquid cards also offer zero liability protection, so you are reimbursed for unauthorized purchases, and EMV chips mean more secure in-store purchases.
The biggest drawback to Chase Liquid is the lack of check writing. For many people, this may not be an issue.
One way to get around this inconvenience is to use online bill pay, which allows you to set a person as a payee and Chase will send a check on your behalf.
How to Load My Chase Liquid Card
One of the best features offered by Chase Liquid is that the card offers many ways to reload money for free including:
Chase ATMs that accept deposits
5,400+ Chase branches
Online transfers
Chase QuickDeposit
Direct deposits for government payments or paychecks
If these reload and deposit options match your financial situation, then Chase's prepaid card becomes even more suitable for you.
Free Access to Chase ATM Network
As part of this Chase Liquid Card Review, we took a look at atm network accessibility. While some prepaid card issuers handle deposits at their ATMs, not all do.
So, this is an important feature to keep in mind when considering this particular card.
Chase Liquid Monthly Fee
As is the case with many prepaid cards, Chase Liquid comes with a $4.95 monthly service fee, and the only way to avoid it is to link your card to your Chase checking account.
While $59.40 per year isn't the worst in the world of prepaid cards, you can also find cards with easier ways to waive this monthly fee, and others, like Bluebird by American Express and American Express Serve, don't have a monthly fee at all.
If access to Chase locations and services proves to be helpful, the monthly fee can be worth paying.
Generous Reload and Transaction Limits
When considering Chase Liquid for your prepaid needs, keep in mind that there are several transactions and reload limits that might mean an easier decision. The limitations are as follows:
Mobile check deposits
The standard limit is $5,000 per month and $2,000 per day for any eligible Chase account.
Cash reloads
You can load up to $48,000 in cash onto the card per year or up to $4,000 per month.
Purchases
Chase Liquid cardholders can spend a maximum of $3,000 per day.
ATM withdrawals
You are entitled to withdraw up to $500 per day in cash.
Other reloads
Transfers from Chase checking, check deposits at a Chase branch or ATM, or direct deposits are unlimited.
Other Considerations
Also, keep in mind that many prepaid debit cards don't come with the same features as typical checking accounts.
In other words, while the Chase Liquid Prepaid Card does offer unbeatable protection, an assortment of reload options, and outstanding customer service, cardholders can't make wire transfers or pay for rentals such as furniture or cars.
Other drawbacks include:
Potential credit check
Unlike other nonbank prepaid issuers, Chase may pull your credit history when you apply for the card, so you're not necessarily guaranteed approval and might be denied a Chase Liquid card.
Inconvenient opening requirements
In order to get this card, you have to visit a Chase branch; you can't simply register online.
You'll also need to load $25 when you receive the card, which is also the requirement for opening a standard checking account with Chase.
A monthly fee is difficult to waive
Although some prepaid cardholders with other institutions can waive the monthly fee by authorizing direct deposits are over a certain amount, the only way you can say "goodbye" to your Chase Liquid monthly fee is by opening and maintaining a Chase checking account.
No subaccounts
While you can apply for up to three Chase Liquid cards for one account at no extra cost, you can't link them.
In other words, you are not entitled to have subaccounts for family members that are tied to one primary account.
Such a feature be helpful for families who wish to send money to relatives, give a child an allowance, or monitor balances.
Although transfers from one Chase Liquid account to another are free, the cardholder must be 18 years of age.
Final Verdict: Chase Liquid is Your Chase Checking Alternative
After reviewing the Chase Liquid Card, we've concluded that it's a great choice for someone who wants a basic Chase checking account, but doesn't need the ability to write checks or perform wire transfers.
In addition to these missing features, you should be comfortable with paying the monthly fee.
The Chase Liquid prepaid debit card allows you to conveniently manage your money while simultaneously providing access to a strong collection of mobile and online banking features.
While it is excellent for consumers who make many online payments and transfers, if you plan to reload your prepaid cards at local convenience stores or at bank branches outside of Chase's network, you'll come face-to-face with some of the card's limitations.
However, the above-average fraud protections and reasonable fees make it a solid option in the world of prepaid cards.