The Best Credit Cards to Save Money on Family Travel
Traveling with family can get pretty expensive. See the best family travel credit cards to help you save money.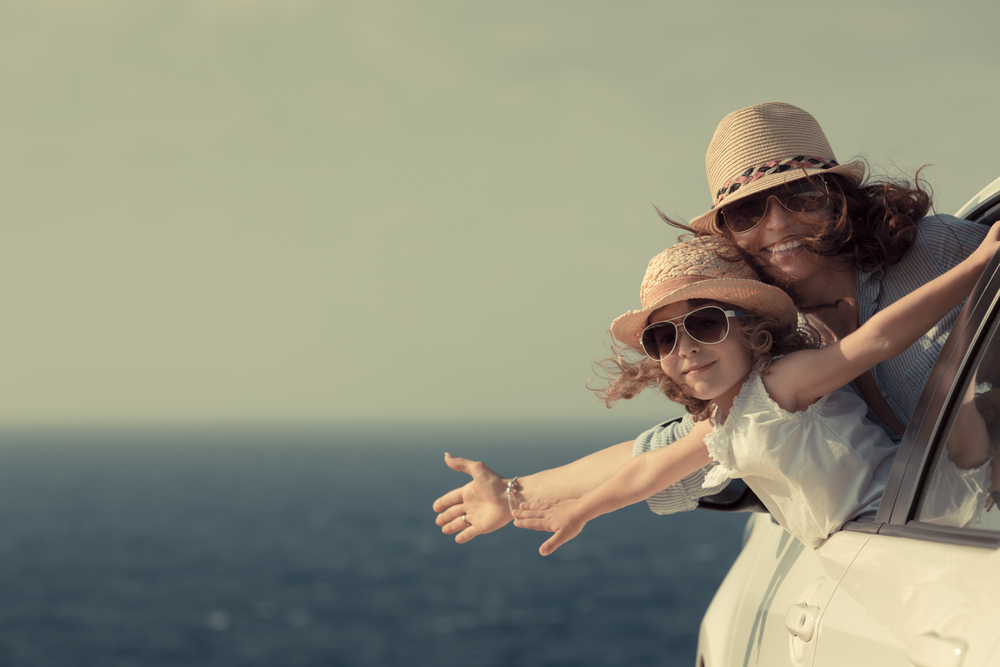 Trips with the family are great for making treasured memories, but it doesn't often come cheap.
With the holidays right around the corner, use a travel credit card to save a bunch and travel more comfortably with your family -- whether it's just your spouse or a family of four.
How a credit card could improve your family trips:
Get travel perks that save money
Travel benefits like free checked bags and priority boarding privileges often extend to people who travel with you.
Travel with more peace of mind
Travel protections such as travel accident insurance, trip interruption insurance (refunds prepaid trip costs if a trip is cut short or canceled by a covered event) and lost baggage reimbursements may also cover your immediate family members.
Take advantage of rewards
Since you're the generous person to pay for everything, you'll be earning plenty of rewards that can help cushion the blow of the travel spending. Or, put it towards a future family trip.
I examined the credit cards on the market and identified ones that best serve those three purposes mentioned above.
Here are the best credit cards for family travel, worthy of your consideration:
Chase Sapphire Reserve
Apply for this card if: You want the best premium travel credit card.
As my most-recommended travel credit card, the makes such a great credit card that it's worth your consideration whether you are traveling with family or traveling solo.
Read Chase Sapphire Reserve Editor's Review
Travel rewards with great flexibility
An enticing feature of the card is the rewards program.
You get 3 points per dollar on travel and dining worldwide, as well as at grocery stores. Additionally, you earn 1 point per dollar on all other purchases.
While you can use the points to redeem for cash back at a respectable rate of 1 point per 1 cent, the true perk comes from the 50% bonus when you use the points to book travel through Chase.
This means every point is worth 1.5 cents as long as you use the Chase Ultimate Rewards travel portal.
It doesn't end there.
Chase is partnered with a long list of airline frequent flyer and hotel loyalty programs.
You can transfer these points to these partnered programs at a ratio of 1:1.
When looking for travel, you might find better deals or value by booking directly through one of these airlines or hotels.
If so, just transfer your points over to be used for your booking.
Travel benefits lead to more savings
A big perk of this card is that you get $300 in statement credit toward travel.
It works toward airfare, ground transportation, hotel nights, incidental airline fees, cruises, and much more.
This helps to reduce the effective annual cost to $250 per year (the card has a $550 annual fee).
Also, you get a $100 statement credit toward your application to Global Entry and/or TSA Precheck, which expedites that security process when returning home.
Then, there's the Priority Pass Select Membership, which can save money on lounge passes during trips.
There's more:
If you're traveling abroad, you save a little bit of money when you use the card internationally because it doesn't charge the typical 3% foreign transaction fee.
Additionally, the card offers the different insurances that cover travel accidents, trip cancellations, and baggage delays.
You probably hope to never have to use these travel protections, but it's good to know that they're available.
Pros: Excellent rewards program and travel benefits
Cons: $550 annual fee
Citi / AAdvantage Platinum Select World Elite MasterCard
Apply for this card if: You want a better flying experience with your family.
For many trips, the flight is an integral part of the travel experience.
With an airline card like the Citi / AAdvantage Platinum Select World Elite MasterCard, the rewards program will help you and your family save plenty of money on your flights, and you'll get special travel privileges.
Save on checked bags and in-flight goodies
The biggest cost-saving feature of the card is the free checked bags on American Airlines flights (booked with the card).
There is no fee for the first checked bag for you and up to four travel companions under the same reservation.
Since the first checked bag is normally $25 per person, you can save up to $250 per round-trip flight just with this single perk.
Furthermore, you get Group 1 boarding (also known as priority boarding) for up to four people listed on the same reservation.
This can be very advantageous, especially during the holidays -- your family will get to board the plane first, and most importantly, get dibs on the overhead bin space.
Finally, you get 25% off in-flight purchases, such as headsets, food and beverages to help you save some more when everyone wants a snack on the plane.
Pros: Free checked bags, priority boarding privileges and discounts on in-flight purchases
Cons: $95 annual fee (waived for the first year), must fly with American Airlines to maximize the card's value
Southwest Rapid Rewards Premier credit card
Apply for this card if: You want to earn free travel for a family member who flies with you.
Here's another airline credit card that is great for anyone who flies with the same companion often: Southwest Airlines Visa.
Southwest offers something called a Companion Pass, or free travel for someone you fly with frequently -- you don't have to have the credit card to sign up for it.
However, the can help you earn points faster, in order to obtain this Companion Pass.
However, I must warn you that you must be a frequent Southwest flyer to get the most from this card.
How to get a free Southwest Companion Pass
You can earn a Companion Pass by flying 100 qualifying one-way flights or earn 110,000 qualifying points during any particular year.
Every time that you fly with Southwest, this companion gets to fly with you for free.
The Companion Pass works until Dec. 31 of the year that you qualify, in addition to the entire following year.
So, if you can qualify for the Companion Pass early in the year, your companion flies free with you for nearly two years. That's a lot of money saved on travel!
Sure, the 110,000 points to qualify for the Companion Pass can be a major hoop to jump through (not even going to consider the 100 one-way flights because I think it is much harder to achieve).
Earn Rapid Rewards points faster
You can rack up these points through the purchases on your card and through the Rapid Rewards shopping program (which lets you earn bonus points when shopping at certain online retailers).
For example, you can earn 5 points per dollar spent at Nordstrom.com. If you are shopping online anyway, you can use the shopping program to earn the points toward the free Companion Pass.
Under the card's rewards program, you earn 2 points per dollar on Southwest and AirTran purchases and 1 point per dollar on all other purchases.
Also, don't forget that the first and second checked bags are free for all Southwest customers, regardless of whether you have a Southwest credit card or not.
Pros: Earn free travel for a companion who flies with you
Cons: $69 annual fee, must fly with Southwest to maximize the card's value