2023's Best Credit Cards for Gas Stations
See the best gas credit cards for big rewards and discounts when you pay at the pump. Refuel your car with these credit cards for the most savings.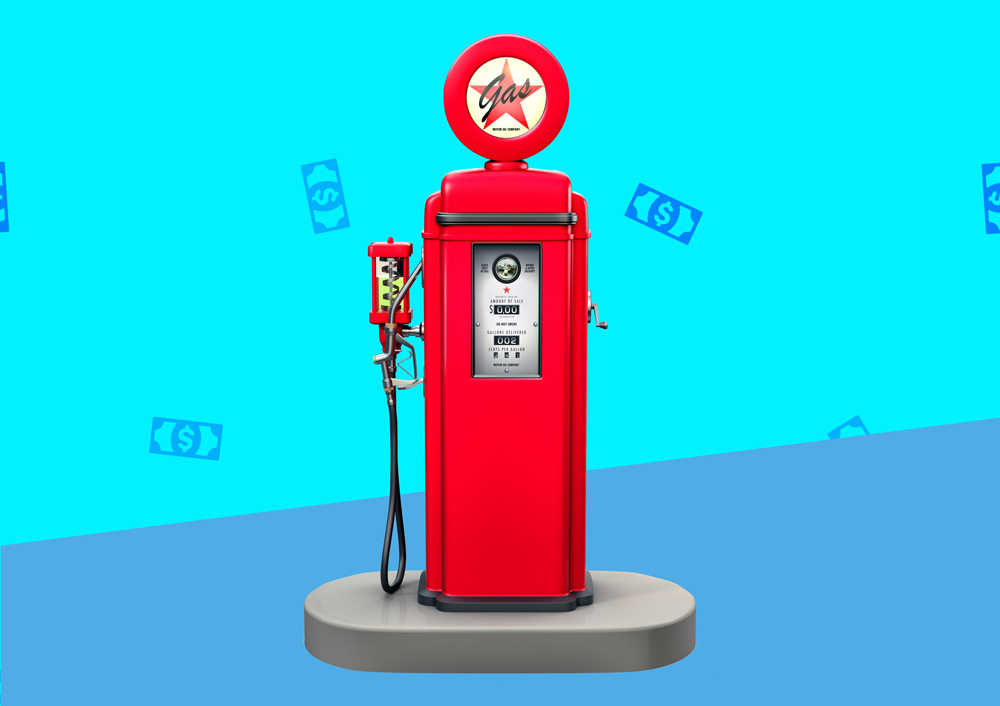 Filling your car's gas tank is a constant. You'll spend plenty of time at the gas pump each year.
You might as well as make that time pay off. Fortunately, you can rack up a lot of cash-back rewards quickly with the right gas credit card.
Plenty of banks offer cash back credit cards that solid rewards and money back for refueling your car.
Major oil-branded retail outlets
Major Gas Stations
Shell
BP
Chevron
ExxonMobil
Conoco
CITGO
Marathon
Valero
Sunoco
QuikTrip
Wawa
7-Eleven
MyBankTracker looked at the many cards available that do provide rewards for filling your tank. Here are some that we consider to be the best:
Best For All-Around Cash-Back Bonuses
Blue Cash Preferred Card from American Express: The Blue Cash Preferred Card from American Express is notable for its generous cash-back bonus of 3% at U.S. gas stations.
But the card also provides an even more impressive 6% cash-back bonus at U.S. supermarkets on up to $6,000 per year in purchases (then 1%).
That's a pretty powerful one-two punch. You'll also earn a cash-back bonus of 1% on other eligible purchases.
Benefits of Blue Cash Preferred Card
Typically, new cardholders can earn a generous welcome bonus if you meet the spending requirement.
This card also offers an introductory interest rate period.
Drawbacks of Blue Cash Preferred Card
Be careful when you use your credit card at a supermarket. You want to make sure that your card recognizes the store you are shopping at as a supermarket and not some other type of retailer.
If it doesn't, you might lose a significant amount of your cash-back rewards. To learn more about this potential problem, read this story by MyBankTracker.
The only downside to this card? It does come with an annual fee of $95.
Best For Building Rewards Points At The Pump
PenFed Platinum Rewards Visa Signature Card: You can rack up reward points quickly with the PenFed Platinum Rewards Visa Signature Card offered by PenFed Credit Union.
In fact, you'll earn five rewards points for every dollar that you charge at the pump with this card. You can then cash in these rewards points for gift certificates, hotel stays, merchandise and other perks.
Benefits of PenFed Platinum Rewards Visa Signature Card
You might think that you have to be in the U.S. Military to take advantage of this credit card. But that's not true.
Though many members of the PenFed Credit Union are military members, many others are not. So consider joining this credit union to gain access to the Platinum Rewards card.
The PenFed card is a valuable one at the pump. But it's pretty useful in other locations, too.
You'll earn three reward points for every dollar that you charge at supermarkets and one reward point for every dollar you charge on all other purchases.
PenFed gives a good example of how quickly your reward points can add up.
If you charge $500 a month at gas stations, $500 a month at supermarkets and $1,500 a month on all other purchases, you'll earn 5,500 reward points for that month.
If you continued to charge at that pace, you'd earn 66,000 reward points for an entire year. Just remember to not charge more than you can afford to pay off at the end of every month.
You don't want to pay high interest on your credit card's balance just to rack up reward points.
The PenFed Platinum Rewards card comes with an introductory interest rate of 0% on balance transfers for 12 months.
There is no annual fee.
Drawbacks of PenFed Platinum Rewards Visa Signature Card
This is a solid card. But if you don't drive much, it might not be your best option.
You only earn three rewards points for every dollar you charge at a supermarket and one for every dollar on other purchases.
Those are OK rewards, but they're not outstanding. If you're not a frequent driver, you might investigate cards that provide higher rewards for grocery or restaurant purchases.
Best For The Frequent Driver
Chase Freedom Flex card: Depending on the time of year, the Chase Freedom Flex card is one of the stronger cards when it comes to gas rewards.
Usually, in at least one of the quarters of each year, gas is one of the categories that earn 5% cash back.
Historically, the gas category shows up within the early half of each calendar year.
Benefits of Chase Freedom Flex card
Throughout the rest of the year, that 5% cash-back bonus offer applies to other spending categories.
We've followed these categories for many years and Chase Freedom Flex has a good track record of choosing season-appropriate categories for earning 5% cash back.
Just make sure to activate your 5% cash-back bonus for these quarters. If you forget, you won't qualify for that quarter's bonus.
All other purchases made with this card during each quarter generate a cash-back bonus of 1%. So you'll still earn cash-back at the pump all year long, just not as much as you'll earn during the first quarter of the year.
The Chase Freedom Flex card charges no annual fee.
Drawbacks of Chase Freedom Flex card
To get the most out of this card, you'll need to pay close attention to the bonus categories that change throughout the year.
If you forget to activate these bonuses, you could lose plenty of cash-back bonus money.
And if a quarterly bonus category isn't a good fit for your shopping needs, you might not generate much cash-back at all. Maybe you don't eat out much.
When the enhanced cash-back bonus switches to restaurants for an entire quarter, your Chase Freedom Flex card might not look as valuable.