11 Ways to Save on Hotel Booking Costs & Fees
One of the biggest expenses when traveling is lodging. Here are 11 different ways you can save on the price of a hotel when you travel.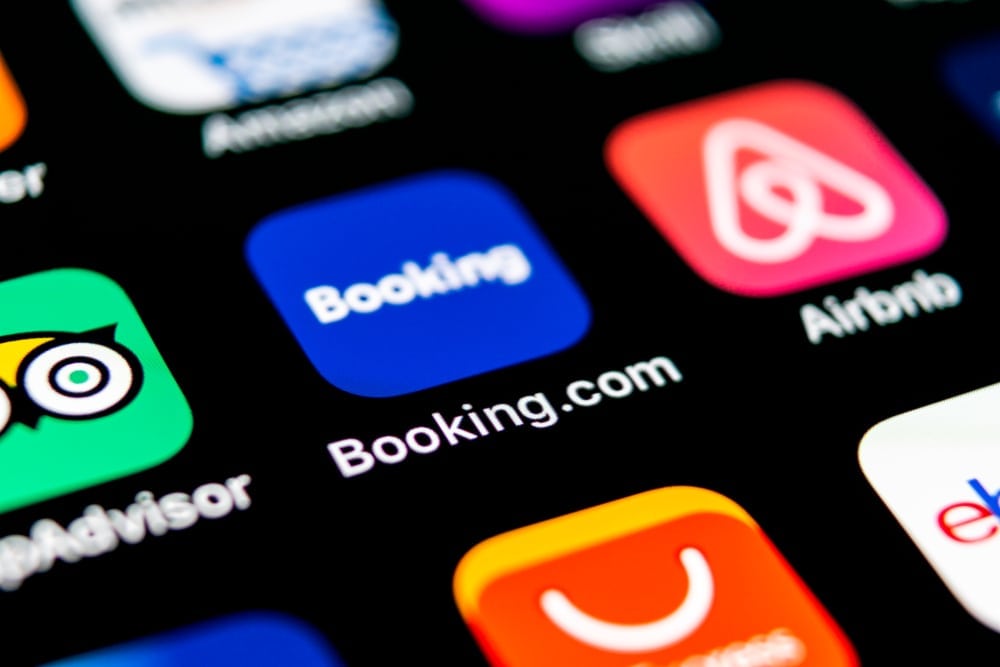 One of the biggest expenses when traveling is lodging.
When traveling at home, Americans spent on average about $131.
Of course, prices vary depending on a number of factors like time of year and type of hotel, but for vacationers on a multi-week trip, lodging costs can add up.
There isn't just one reason why travelers might pay high prices to sleep at a hotel; a number of factors come into play to affect prices -- from local taxes to location, market demand to additional services.
Whether you're paying $532 to stay on a five-star property in the Maldives or paying $108 for a Las Vegas hotel, the average price of a hotel room around the world is on the rise.
Millennials are anticipated to spend over $6,800 on travel in 2018 -- but why spend that much?
If you're looking to save on hotel costs, follow these steps to get the best rate:
---
1. Book Early
Of course, booking your hotel as early as possible before your trip will help you get the lowest rate. Market demand helps push hotel prices up.
So if you're a late-minute booker, expect to pay a premium price for your hotel of choice.
2. Be Flexible
If you can allow some flexibility in your travel schedule, you might be able to score a hotel bargain.
Try to input different dates to find out whether you can get a cheaper hotel rate by adjusting your itinerary.
In addition, rates for hotels can vary depending on how you book.
Just because you find that a hotel costs a certain amount on its website doesn't mean that it will cost the same if you book over the phone.
So try looking at the rates offered for hotel on its website, calling the front desk, using a third-party website, or calling a 1-800 number.
See if it's cheaper to book with one method versus the others.
3. Comparison Shop
Use any of the big travel search engines like Expedia, Kayak, or Orbitz to get an idea of what prices for hotels are in the area you're going to be visiting.
Google Hotel Finder or TripAdvisor's Hotels and Motels are also great sites to begin your search.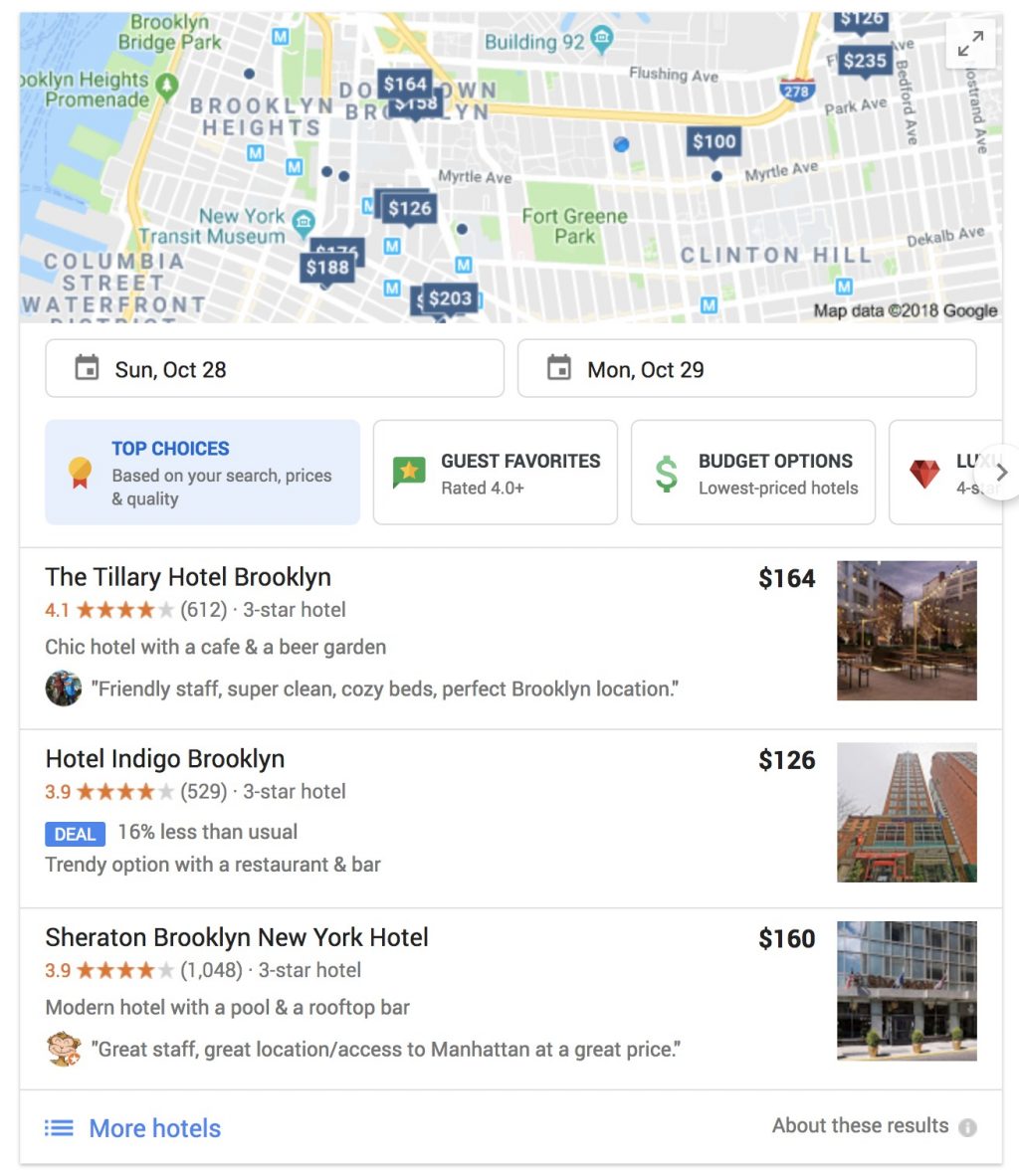 Google Hotel Finder
Prices may vary on different websites, but keep in mind that some sites may not list fees or surcharges.
Some websites might also list different hotel options, so keep an eye out for hotels in your preferred area.
You never know what might open up or you could stumble upon a lodging option that you weren't even aware of in the first place.
4. Use Helpful Websites
The website Tingo helps you get money back if the price of a hotel drops -- even after you've booked your hotel.
In addition, there are a number of mobile apps that help you book last-minute hotels like Hotel Tonight and Jetsetter.
5. Book a Package
If you're headed to a popular destination like Hawaii or Orlando, then it might be worth looking into travel packages that group together your airfare, lodging, and other add-ons like renting a car or free parking.
Typically, you'll save more money booking these together in a group rather than paying for each individually.
Even if you don't need all of the components in the package, you still might save on overall costs.
Consider this example:
Say you were booking airfare, hotel, and a rental car for a 7-day trip from New York to San Diego. If you were to book everything separately, it would cost:
Roundtrip coach airfare from Newark to San Diego: $296.40
7-night 3-star hotel stay: $1,201.43
7-day economy rental car: $197
That makes for a grand total of $1,694.83.
However, if you were to book everything together, that is, a bundled package of hotel, flight, and rental car on a site like Orbitz, it would cost:
Roundtrip coach airfare, 7-night 3-star hotel, and 7-day economy rental car: $1,346.90
That makes for a total savings of $347.93,
6. Loyalty Partnerships
A number of popular hotel chains offer loyalty rewards programs that come with some nice benefits.
Based on a recent study by AARP, 65% of Millennials are members of travel loyalty programs, and more than 70% of the time always book through one of the programs.
If you're a Starwood Preferred Guest, belong to Hilton Honors, or are a member of the Wyndham Rewards Loyalty Program, you could receive special perks or points that might qualify you to receive free accommodation, merchandise or discounted room rates.
At the same time, more airline and hotel loyalty programs are partnering together.
If you are an elite status flier, you might be able to earn hotel points for flying on certain airlines.
7. Hotel Credit Cards
If you frequently travel or use a specific hotel chain, it might be worthwhile to look into what rewards you might receive by signing up for a hotel credit card.
Some hotels offer room discounts, or other perks to cardholders.
Note: Signing up for one of these cards only makes sense if you frequently utilize a certain hotel chain.
Take a look at our picks for the best travel credit cards  to see which card makes the most sense for you.
8. Keep an Eye Out for Deals
For starters, hotels sometimes advertise deals on their own sites, especially if they're small, or in email newsletters if it's a big chain.
Being part of a professional association or a member of the AARP or AAA might help you get a discount.
There are also websites that might offer Internet discount codes for certain hotels, like RetailMeNot or Hotels.com.
9. Consider the Amenities
The cheapest hotel isn't always the best hotel for you.
A hotel closer to the city center might cost you more money per night, but it means you'll spend less on transportation costs.
A hotel that offers a free continental breakfast might be worth paying a bit more for if you can save on the costs of buying a bagel or muffin each morning.
Look into amenities the hotel offers -- a gym, in-house masseuse, free airport shuttle -- and decide whether it might be worth paying more for these extras.
10. Use Social Media
According to a Google study done in 2017, over 70% of U.S. travelers agree that they always use their smartphone when traveling -- so why not use it to score some deals?
Tweet the hotel, airline, or booking site to see if they are offering any deals or search the organization's Twitter feed to see if they've made any announcements.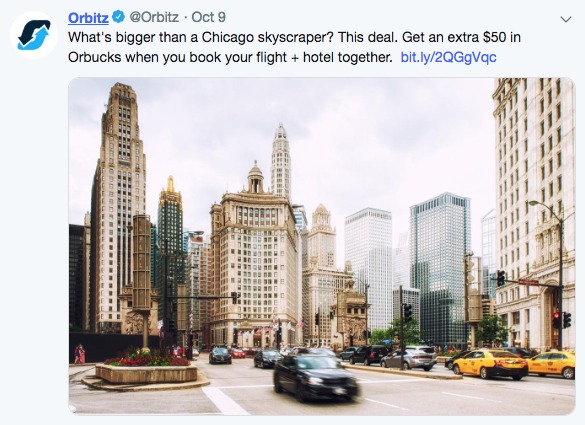 Also, like the hotel on Facebook and Pinterest. Some hotels might reward you with flash deals they announce on social media.
11. Negotiate
A hotel would prefer to fill up a room, rather than leave it empty. So ask for any freebies, like breakfast or free parking, and don't be afraid to negotiate.
A hotel would prefer to fill up a room, rather than leave it empty. So ask for any freebies, like breakfast or free parking, and don't be afraid to negotiate.
Avoid Annoying Hotel Fees for an Overall Cheaper Trip
Here's a little tip for the next time you staying in a hotel -- check the itemized bill.
The trend of charging more fees started in 1997, when hotels started to charge resort fees like "amenities tariff."
In 2000, energy surcharges were introduced and since then, hotels have gone a surcharge spree, tacking on fees to guests' bills for Internet usage, room service, and mini-bar restocking, among other amenities.
The last thing any traveler wants while on a trip is to end up shocked and dismayed by a higher-than-expected hotel bill.
That's why it's important before you book any hotel that you read all the fine print, check out reviews, and comparison shop.
If you already know that you will want to use facilities like a fitness center or need a place to park your car, look for hotels that offer those amenities for free.
Good research today will save you from paying an expensive hotel bill tomorrow.
Before you start your search, here are some fees that might be snuck into that pesky "hotel fee":
Airport shuttle fee
While some hotels offer free shuttle rides, some will add a charge onto your bill.
If it's the cheapest way to get to your hotel or the airport, then you might just have to pay the fee.
However, research online beforehand to find out if taking a bus, taxi, or another method of transportation might be cheaper. Maybe a shuttle not
Expect to pay: Anywhere between $40 to $200 for a one-way or round-trip shuttle to/from the airport (mostly depends on distance of hotel to airport, and vice versa).
Baggage storage fees
Many hotels will offer to store your bags for free if you arrive before check-in or plan to leave the area later than check-out time. But some hotels might charge you a fee to store your bags.
Unfortunately, there isn't much you can do if you want to explore the area and have luggage with you.
Check out sites like, Knock Knock, to see if there are any luggage storage storefronts that offer cheaper rates and longer storage times.
Of course you can always carry your luggage around town.
Expect to pay: Anywhere between $1 to $5 per bag, depending on size, to store your luggage at your hotel.
Early or late check-in fee
Arriving at your hotel earlier or later than your check-in time might incur a fee.
The best way to avoid this fee is to plan your arrival carefully, or research out hotels, beforehand, that do not c
If you know you will arrive early or late, you can let the hotel know and they might be able to accommodate you.
Usually, it's just a matter of how busy the hotel is and whether the room will be ready before you arrive.
Expect to pay: Anywhere between $20 to $100 to check in early or late at the hotel you're staying at.
Early departure fees
Some hotels charge you a fee for leaving early because they want to maximize occupancy.
From the hotel's point of view, if guests get turned away because there's no availability, they lose money when a booked room suddenly becomes vacant and they're unable to fill it.
You can try to get the hotel to waive the fee, especially if you're leaving for an emergency.
Some travelers book the first or last night of a hotel separately from the other batch of nights they intend to stay at the hotel in case they arrive or leave early.
When canceling, the guest cancels the unwanted booking online before incurring a late cancellation fee. It's not necessarily a foolproof strategy, but it's one that some travelers have utilized successfully.
Expect to pay: Around $50 if your hotel charges a fee for checking out early. 
Fitness center fee
Many hotels offer free access to a fitness center, but some will charge you for it.
The easiest way to avoid this fee is to go running around the city for free.
You might also burn calories walking around town as you explore.
Expect to pay: This fee will most likely be included in the resort fee, which can be around $25 for your total stay.
Internet and phone fee
With Wi-Fi and smartphones so prevalent these days, it might surprise you to learn that some hotels charge for Internet access.
And surprisingly enough, it's the more luxurious hotels that charge for Internet.
After all, guests who drop $400 or more for a hotel won't care for a small Internet charge.
If you have a smartphone or if there's a nearby cafe with free Wi-Fi you can avoid this fee.
Hotels will charge you for using their phones, of course, especially if you're calling someone abroad.
Use your own cell phone or a payphone to make calls and avoid using hotel phones. You can always Skype or talk via an instant messenger, too.
Expect to pay: Anywhere between $5 to $20 for wi-fi access and phone access, depending on the length of your stay.
Minibar fee
If there's a minibar in your room, be careful because you're likely going to get charged if you consume anything in it.
Moreover, everything in there is likely to be way overpriced anyway.
Even just picking up a drink might trigger a sensor, so check your bill to make sure you're not charged.
Avoid those fees by packing your own minibar, buying your own beverages and snacks at the local mini-mart, or just going somewhere cheaper to drink and eat.
Expect to pay: Depends on the items that are being offered (i.e., a cheap granola bar or an expensive bottle of wine), but can range from $1 to $20, or even more.
Parking fees
If you're bringing a car along with you during your trip or renting one, be wary of paying fees to park at the hotel's lot.
The hotel will try to nickel and dime you by charging huge fees.
When making your reservation, be sure to look into what the parking fee is. If it's not listed, inquire via email or over the phone.
Do some research to see if a nearby lot is cheaper, if parking on the street is a plausible option, or if public transportation renders a car unnecessary.
Check hotel reviews to see where past guests parked their cars.
Expect to pay: Anywhere between $15 per day to $50 per day to park your car in the hotel lot. Valet parking may include an additional charge.
Resort fees
From using a towel on the pool deck to accessing facilities on site, resorts have found ways to tack on fees for the amenities provided to guests.
Some fees are small -- a charge for getting the newspaper delivered to your room -- while others are more extravagant -- using the spa.
Avoid a resort that charges outrageous fees by reading the fine print before you book.
If you don't intend to use any of the amenities the resort charges for, you can try to explain your situation to the front desk clerk and get your fees waived.
Expect to pay: The average resort fee is about $25 per day, but could be less or more.
Room service fees
Unless you're in an emergency situation, there's no need to order room service, tempting as it may be.
The food is almost always overpriced. Plus, don't you want to explore the city's dining options?
You will get more bang for your buck, while taking in the sights and sounds of a new town.
Expect to pay: Anywhere between $5 and $40, for each item, depending on the type of food you order.
Safe fee
There's nothing like an added fee just to have a safe in a room -- even if you don't use it.
You can ask the hotel to remove the safe upon check-in or just get a room without one if you don't want to pay the fee.
Expect to pay: Anywhere between $1 to $3 a day to just have a safe in your room (even if you don't use it).