The Best Credit Card Sign-Up Bonus Points of 2023
Whether it's free travel, cash back, or rewards points, there are credit cards that offer big sign-up bonus for new customers.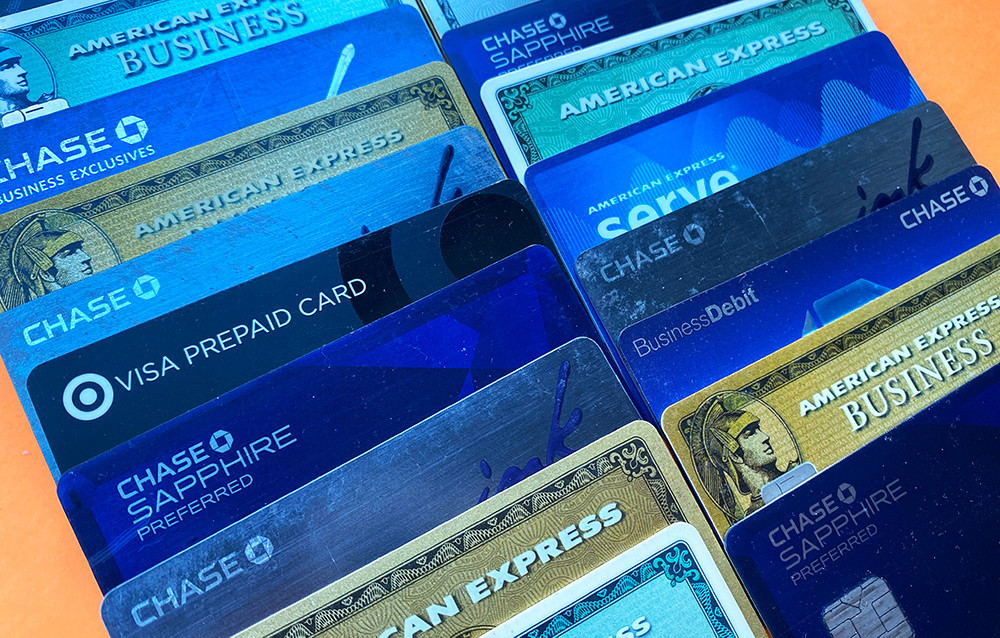 If you're going to pay for things in your life, you might as well stop using cash so you can get points you can later cash in for rewards by using a credit card responsibly.
What's even better is when you can get your hands on some great sign-up bonuses to give you a head start on your rewards points balance.
A sign-up bonus is when rewards cards offer some sort of large incentive to open a new credit card account.
With so many credit cards that have these sign-up bonuses, it's difficult to decide whether each one is worth it.
After reviewing hundreds of credit cards with introductory offers, we picked the ones with the best sign-up bonuses:
Credit Cards With 100,000 Sign-Up Bonus Points
The credit cards that are most likely to offer 100,000 bonus miles are airline and hotel credit cards.
These cards also usually charge an annual fee, because of the value provided with not just the sign-up bonus, but also the many other benefits and perks that come along with card membership.
If you're planning on making a large purchase anyway, you can get much more for your money with a credit card that offers new cardholders 100,000 bonus miles.
Credit cards that offer bonuses that are as much as 100,000 points are rare.
The Platinum Card® from American Express: 125,000 Bonus Points
is considered one of the most elite travel rewards cards and comes with a broad variety of travel rewards and convenient perks.
As a new cardholder, you can earn 125,000 points after spending $6,000 in the first 6 months of opening the account.
You can redeem these points for travel reservations, gift cards, and other products and services. Each point is generally worth about one cent, depending on how you choose to redeem them.
The points can also be transferred to airline partners for free or discounted flights.
There's also a long list of statement credits, fee credits, and various shopping and travel perks.
The card has a $695 annual fee and no foreign transaction fees.
Read the Platinum Card from American Express editor's review.
---
Cards with 100,000-50,000 Point Offers
For many rewards credit cards offering bonuses to new applicants, 100,000 miles or points is among the highest available.
Although each offer might vary, this bonus is typically worth at least $500, depending on the rewards and how you redeem them.
If you are planning on making a large purchase or taking a vacation right away, a 100,000 miles bonus can result in a significant discount on those purchases.
Because this particular bonus can be so valuable, it's important that new cardholders take a look at how you plan to use the card, as well as how much the bonus can be worth to you.
The types of credit cards that are most likely to offer up to 100,000 bonus miles are airline rewards cards, hotel rewards, and credit cards designed to provide travelers with extra value when they use the card.
With such a high-value welcome offer, these cards usually charge annual fees as well.
However, depending on the particular offer, a 100,000 bonus offer can help pay for any annual fee for a couple of years.
The following credit cards currently offer new cardholders at least 100,000 bonus miles or points:
Chase Sapphire Preferred: 60,000 Bonus Points
As one of the most popular general travel rewards cards, the Chase Sapphire Preferred Card is ideal if your travel plans vary.
currently offers new cardholders 60,000 bonus points after spending $4,000 in the first 3 months of account opening.
If you use your points to book through the Chase Ultimate Rewards portal, the points are worth as much as 1.25 cents per point -- the bonus is worth $750 through this redemption method.
The card has a $95 annual fee and no foreign transaction fees.
Read the Chase Sapphire Preferred Card editor's review.
Capital One Venture Rewards Credit Card
Another highly popular general travel rewards card is the .
New cardholders can earn 75,000 bonus miles after spending $4,000 in 3 months from account opening.
These miles can be redeemed for up to $750 in travel statement credits for purchases including airfare, hotel and motel stays, car rentals, vacation rentals, and many other travel expenses.
Read Capital One Venture Rewards Credit Card Editor's Review
British Airways Visa Signature: 75,000 Bonus Avios
The is best for those who frequently fly British Airways. New cardholders earn 75,000 Avios after spending $5,000 in the first 3 months of account opening.
The bonus of 75,000 Avios can be redeemed for flights or seat upgrades with British Airways or airlines with Oneworld airline partners.
These airlines include American Airlines, Japan Airlines, and many others. There are flights available with British Airways starting at 12,500 Avios, so your bonus can be worth as many as six tickets, depending on where you travel.
Along with these bonuses if you were to join a British Airways Executive Club, you could collect some more noteworthy benefits.
Read the British Airways Visa Signature card editor's review.
Southwest Rapid Rewards® Plus Credit Card
The awards 50,000 bonus points after you spend $1,000 on purchases in the first 3 months from account opening.
You can redeem your points for flights with Southwest Airlines, gift cards, car rentals, and hotel stays.
If you redeem for Southwest's least expensive tickets, which are referred to as Wanna Get Away flights, your points can be worth as much as 1.4 cents for each point.
This card also includes extra flight perks and benefits for those flying Southwest Airlines.
Citi AAdvantage Executive World Elite MasterCard
Fans and frequent flyers of American Airlines can get the most out of the sign-up bonus offered by the .
You can earn 50,000 AAdvantage miles after you spend $5,000 with the card in the first 3 months.
You can redeem miles for award flights with American Airlines, with airfare starting at 12,500 miles for a one-way MileSAAver flight within the United States.
Depending on how you redeem your miles, this bonus can be enough for, at least, two round-trip domestic flights or as many as four one-way flights.
Lufthansa Premier Miles & More
If you prefer flying Lufthansa, you can earn 20,000 award miles after your first purchase and payment of the annual fee, then you get another 30,000 award miles after spending $5,000 in the first 90 days of opening the account.
This is one of the only bonuses awarded just for making a purchase with the card.
You can redeem your miles for flights and upgrades with Miles & More Partners, Star Alliance Partners, and for hotel and car rentals.
---
Cards with 50,000-20,000 Point Sign-up Offers
When it comes to the best bonus miles and points offers, many start in the tens of thousands, specifically around 40,000 miles or points.
Because the standard value for travel rewards points and miles is one cent per mile or point, a 40,000-point bonus is usually worth at least $400.
The types of cards you will most likely catch a 40,000 bonus points bonus can vary from airline rewards cards to hotel rewards, and other types of travel-friendly credit cards.
Frontier Airlines World MasterCard
Travelers who prefer economical options when they fly, can not only get affordable flights with Frontier Airlines, but as a new cardmember, you can also earn 50,000 bonus miles after making just $500 in purchases and paying the annual fee in full in the first 90 days of account opening.
You can redeem your miles for award flights with Frontier Airlines, which are available at 10,000 miles for a one-way domestic flight, or 20,000 miles for a domestic round-trip flight.
Depending on where you fly, this bonus can be worth two domestic round-trip flights. You can also redeem your miles for hotel stays or car rentals, and there are options to transfer your miles to other loyalty programs.
---
Ways to Meet the Spending Requirements Fast
You might find yourself in a situation where you have a flight coming up or a vacation planned right away where these bonus miles will come in handy, and you need to earn them quickly.
For the most part, the cards give you at least 3 months to meet these requirements, so you have a chance to plan your spending and get your bonus right away.
However, this doesn't mean just making a large purchase to get the points.
If you are spending just to get the bonus, instead of using the card on purchases you need to make anyway, you won't get the most value out of your card.
Here are some other tips for meeting the spending requirements fast.
Wait to sign-up for the card until you have big purchases to make
These bonuses change often, but you likely won't lose out on anything if you wait a few months before signing up.
If you have a big purchase, such as holiday spending, a family vacation, or home improvement expenses, wait until then to get the new card.
Double your points or miles
Most travel rewards credit cards also award bonus points or miles for specific purchases like hotel stays or airline tickets.
If you plan your spending to include the purchases that the card awards double or triple points for, you can earn significantly more rewards.
Use your card for friends and family members
You may not have a big purchase that you need to make right away, but there's a good chance your friends, co-workers, or family members might.
They might be willing to help you earn your sign-up bonus by letting you use your card to make their purchase, and then reimburse you with cash.
With sign-up bonuses that can be worth $400 or more, it's worth checking every option to make sure you earn the bonus.
What If You Don't Meet the Spending Requirements
It's important when searching for the best sign-up bonuses that you are particularly aware of the spending requirements.
Most credit card issuers clearly state in the fine print that if you don't meet the requirements, you won't earn the bonus miles that are offered.
This also means being careful about what the bank considers a purchase if there is a specific purchase amount you must meet.
For instance, some cards might let you include a balance transfer in your total; others might not. Make sure you are clear about the requirements and plan your spending to ensure you earn any bonuses.
---
Credit Card Bonuses and Taxes
Because of the tremendous value that you can get from credit card sign-up bonuses, consumers often wonder if they'll end up paying more for the rewards when it comes to taxes.
Although you generally pay taxes on sign-up bonuses for savings and checking accounts, credit card bonuses and rewards are contingent on your spending and viewed as rebates.
Fortunately, this means you don't pay taxes on the credit card sign-up bonuses, whether you get miles, points, or cash back, and even if the bonus ends up being worth hundreds of dollars.
---
Getting the Most Out of Sign-Up Bonuses
It's important to note that, in order to get the most out of your sign-up bonus, you have to make sure you pay your balances in full each month, so you avoid paying interest for your purchases.
Because the APR for rewards cards can be higher, even as much as 20%, carrying a balance from month to month and paying interest is going to decrease the value of the rewards.
In fact, if you carry a balance, you could end up paying more for the rewards than you get out of them.
---
What is a Credit Card Sign-Up Bonus?
Sign-up bonuses are promotional deals offered by card-issuing banks to entice customers to sign up for credit cards and/or transfer balances to them.
These deals often include travel miles, rewards points, and cash back.
Like any credit card, it's still important to check the APR, fees, and terms of any reward credit card or credit card bonus.
If you pay close attention to card policies, you may notice that the rewards are not worth the fees in the long run.
But, you can profit quite a bit from using these cards if you only hold them temporarily and pay off balances in full each month.
We show you how credit card sign-up bonuses work, how picks the credit cards with the best bonuses, and ways to maximize the value you get from them.
Types of Credit Card Sign-up Bonuses
Every major credit card issuer uses different types of bonuses to attract new sign-ups. A typical sign-up bonus is a large sum of travel miles, points, or cash back that is awarded after a certain amount of spending.
This spending has to happen during the initial months of getting the card.
For instance, to earn a $200 sign-up bonus, you must make $3,000 in purchases with the card during the first 3 months.
Some credit cards may offer multiple sign-up bonuses that are earned when you reach different spending levels.
For example, an airline credit card would award 20,000 bonus miles when you spend $3,000 in the first 3 months.
Then, you'll earn another 20,000 bonus miles if you hit $10,000 in spending during the first year of card membership.
Generally, once the spending requirement is met, sign-up bonuses are posted to the account at the end of the statement cycle.
---
How to Choose Which Credit Card
With many credit cards offering big sign-up bonuses, it can be difficult to pick the ones that are best for you.
Also, a large bonus may not be worth as much you thought because the value of the bonus is lower than it appears.
There are 3 key factors that play into picking a good credit card bonus:
1. Are you able to meet the spending requirements?
2. Is the bonus actually worth a large amount of rewards?
3. Will you use the card after you've earned the bonus?
Meeting the Spending Requirements
You need to make the purchases necessary to earn the credit card sign-up bonus. Otherwise, you'll miss out of a large chunk of rewards.
If you picked a credit card that you don't plan to use often, you're stuck with a useless credit card with no great benefit to yourself.
Ideally, you are already spending enough money regularly to earn the sign-up bonus. If you having difficulty to hit the spending requirement, here are some tips you can use to do so:
Wait for a major purchase before signing up
The time window to meet the spending threshold starts after you're approved for the credit card. You can hold off on applying until you expect a large expense coming up.
Buy gifts cards that don't expire
To generate more spending, you can always buy branded gift cards, which tend to have no expiration date.
The purchases will help you earn your credit card sign-up bonus and you can hold onto the gift cards for use whenever you want.
Spend on behalf of others
Look for opportunities to swipe your card while knowing that you'll be paid back. For instance, you can offer to put the dinner bill on your card and have the group pay for their share in cash.
Finding the Value of a Sign-up Bonus
A credit card sign-up bonus might include tens of thousands of points or miles.
But, it means nothing if you do not know what points or miles are actually worth. It will not be as rewarding to find out that a bonus of 100,000 miles is only equivalent to $100 in free travel.
Take a look at the card's rewards program to find out what rewards you can redeem with the bonus.
If the credit card has an annual fee, you'd want the sign-up bonus to be worth several times that annual fee.
Popular rewards credit cards often have sign-up bonuses that are worth at least 4 to 5 times their annual fees.
With travel credit cards, the free flights and hotel stays can carry much greater value.
It'll depend on factors such as ticket class, destination, room size, and more.
Their rewards programs may offer interesting ways to maximize the value that you get from your points or miles.
Some cards allow you to transfer the points to various airline and hotel frequent traveler programs for free travel rewards.
A Great Card for Years to Come
Although a credit card can have a great sign-up bonus, the card can prove to serve no other purpose after you've already used up the bonus.
More often than not, the card will have an annual fee too. You could be left with an expensive credit card that doesn't help you earn a ton of rewards or provide convenient benefits in the long run.
If that's the case, the sign-up bonus wouldn't have really been worth it.
Preferably, the credit card with a large bonus also comes with a great rewards program.
---
Are Credit Card Signup Bonuses Worth It?
The right rewards credit card can enrich your financial life in many of ways.
Add a good signup bonus into the mix and you can earn some other benefits from the get go, such hundreds of dollars in cash back, travel points and miles, or shopping discounts.
Credit card providers use these signup bonuses to incentivize new customers to open a card. But the question is, are they worth it?
There are lots of reasons to consider the pros and cons of credit card signup bonuses, since the upfront rewards, while immediately attractive, might not compensate for what you receive in return.
Knowing how to spot the best bonuses at signup can maximize your rewards - and prevent you from losing money. So, let's talk about how to decide if credit card signup bonuses are worth it for you!
When picking a rewards credit card, it's best to choose one that aligns with your financial needs and spending habits.
In that light, signup bonuses could be one of the deciding factors in choosing one card over another.
That's why it's so important to understand when a credit card signup bonus is worth it and when it may cost you money in the end. To do this, consider the following questions:
Does the Card Have an Annual Fee?
You may or may not see an annual fee on your desired card (this usually depends on the level of rewards being offered and the type of credit card you're looking for).
While not paying an annual fee is certainly ideal, there can be times when an annual fee pays for itself in rewards. Here are a few cards that come with varying fees:
Chase Freedom doesn't come with an annual fee and it offers a $150 bonus if you spend $500 within the first three months of account opening.
A large annual fee could easily devour most of that potential bonus, but the Freedom doesn't charge one.
Some cards that come with a fee will waive it for you in the first year.
Once you start veering into premium card territory, you're going to see more annual fees. That's when it's important to weigh the fees against the bonuses.
Whether or not you should choose a card with an annual fee varies based on how you plan to use the card.
There are times when benefits can mitigate a card's annual fee - if you find the card that best suits your day-to-day spending and lifestyle.
Should You Sign up for the Store Credit Card?
Store credit cards can be a great addition to your card rotation if you find yourself frequently shopping at the same places throughout the year.
Most of these store cards offer a discount on your purchase the day you sign up for the card. So if you're going to get one, line it up with a time when you plan to make a large purchase with that retailer.
The main draw of a store card is just this, the signup discount you get right away as well as more discounts and coupons sent to you throughout the year.
However, if you're primarily looking for points-based or cash back credit cards, store cards may not be the right fit for you.
---
Here Are More Signup Bonus Facts to Keep in Mind
If you're shopping for a rewards credit card and want to make a signup bonus a big part of it, keep some of these pointers in mind:
You May Need to Fulfill Other Requirements
Some cards may call for other fulfillments, in addition to your minimum spending quota, in order to collect your bonus upon signup.
As always, read the fine print to make sure you can meet whatever requirements are expected in order to obtain your rewards.
Your Annual Fee and Signup Bonus May Coincide
Some cards grant a signup bonus after a minimum spending threshold has been reached and others gift you with a bonus once the card is in your hands.
But there are a few that will offer a partial bonus upfront and the remainder at a later date, which still counts as the initial signup bonus.
Make sure you read carefully to see what kind of bonus is being offered with your desired card.
You Might Not Lose Your Signup Bonus if You Close Your Card
When you cancel a card, you won't need to relinquish your signup bonus rewards. Mile or point-based rewards normally remain in your account even if the card is canceled and inactive.
And for bank-branded rewards systems, keeping an account open with your financial provider allows you access to your bonus rewards.
Keep the Long Run in Mind
Card issuers and banks are always looking to draw in new cardholders with impressive signup offers, but keep in mind that short-term bonuses won't necessarily benefit you in the long run.
Before you choose a card, make sure that you pick one that matches your spending habits and your financial goals. And make sure you'll be able to quickly pay back any amount of money spent to obtain those rewards.
Conclusion
Credit card signup bonuses entice customers by offering a lot of cash back, airline miles, and hotel points early on.
While these offers can be great, they can also tempt you to spend more money than you actually have. People often fall into the trap of creating a lifestyle they now need to keep up with.
It's possible to take advantage of these introductory offers by applying for and canceling different cards at different times to rotate debt and effectively delay (or avoid entirely) paying interest.
Using points will require some knowledge on how to shop effectively with frequent flier miles or travel rewards.
Anyone can get a bunch of rewards from using credit card signup bonuses. It just takes a little planning, effort, and discipline to ensure bills are paid in full and on time.