Best Credit Cards For a Good Credit Score 700-749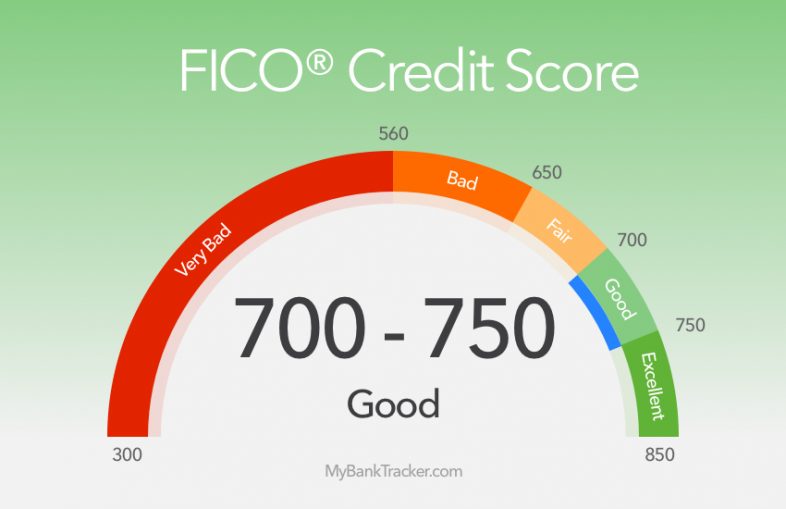 A good credit score can be any FICO credit score that falls within the range of 700 to 749. The FICO credit score is the one most commonly used by lenders.
It's a numeric way for them to understand their level of risk in lending to you. If your score falls in this range, lenders will consider you to be a relatively low lending risk.
With a good credit score, you have more credit card options for future credit.
You'll also be able to secure credit at lower interest rates. In other words, if you have a good credit score, you have more and cheaper options for credit.
Find which credit cards are the best for good credit, in our opinion:
Best Credit Cards For a Good Credit Scores
| Credit Card for Good Credit | Notable Feature | Who It's Best For |
| --- | --- | --- |
| Citi Double Cash | Offers you 1% cash back at the time of purchase, and another 1% cash back when you pay for your purchases | Best for Cash Back on All General Spending |
| Capital One Venture Rewards Card | Redeem each mile at the value of 1 mile per cent for a statement credit on a travel purchase | Best Travel Card for Airlines and Hotels |
| Simmons VIsa | This card has no annual fee | Best Card With Low Interest |
| Discover it Cash Back | Earn 5% cash back on certain categories that change every quarter. | People who want to earn high amounts of cash back on season-appropriate items. |
| Chase Freedom | Earn 5% cash back on categories that change every quarter. | People whose shopping patterns changed based on the season and prefer to earn high cash back on those purchases. |
| U.S. Bank Cash+ Visa Signature | Customize your 5% cash back categories | Shoppers who want to personalize their cash back program. |
| Capital One® Venture® Rewards Credit Card | Earn unlimited 2X miles per dollar on all purchases. | People who travel often and don't want to restrict their rewards to a particular airline or hotel. |
| Discover it Miles | Earn 1.5% miles on all spending and miles can be used to redeem for travel statement credit. | People who want to earn travel rewards without any annual fee. |
| Barclaycard Ring | A very low regular APR combined with free balance transfers. | People who want to avoid paying as much interest as possible. |
| PenFed Platinum Rewards Visa Signature | High rewards rates on gas and grocery purchases. | Frequent commuters who drive and shop at supermarkets. |
| Citi Simplicity | Lengthy intro APR period on purchases and balance transfers. | People who need to finance a major purchase or consolidate debt. |
Best for Cash Back on All General Spending: Citi Double Cash
If you don't want to worry about which card you need to use to earn the most cash back on certain purchases, then the could be right for you.
Many cash back cards offer a higher cash back rate for certain types of purchases and a lower level of return on everything else.
This works out well when you have a lot of expenses that fall in those specific purchase categories, but not when most of your purchases only earn minimal rewards.
But if you just use the for everything, then you can earn a competitive amount of cash back on all of your purchases.
The Citi Double Cash Card offers you 1% cash back at the time of purchase, and another 1% cash back when you pay for your purchases.
This adds up to a total of up to 2% effective cash back on everything, with no limits.
Use it to pay for purchases that aren't part of any other card's bonus categories such as insurance premiums, health care bills, and tuition.
Other benefits include trip cancellation and interruption protection and worldwide car rental insurance.
You also receive damage and theft protection as well as extended warranty coverage on your purchases.
Finally, Citi has automatic forgiveness of your first late payment fee with this card, and it has no annual fee.
Read Citi Double Cash Card Editor's Review.
Best Travel Card for Airlines and Hotels: Capital One Venture Rewards Card
The is a great credit card for people with good credit.
It also offers generous travel rewards on all kinds of spending. With this card, you earn 2 miles per dollar spent on every single purchase.
Most notably, you can redeem each mile at the value of 1 mile per cent for a statement credit on a travel purchase.
What that means is you don't have to go through their rewards portal to book travel. You can book through your preferred websites - then get reimbursed by Capital One later.
The card does have an annual fee of $95 that's waived for the first year.
Read Capital One Venture Rewards Card Editor's Review.
Best Card With Low Interest
The  is the best low-interest credit card you can get with a credit score in the "good" range. This card has no annual fee.
Even better, you can transfer balances from other credit cards to this one to help pay the debt off faster.
Read the Simmons Visa Editor's Review.
How Cash Back Programs Work
Cash back credit cards allow you to earn money back on your spending. How it works is you receive a small percentage of your purchase as cash back. Then you accumulate this cash back until you're ready to redeem it.
How the cash back works will vary from credit card to credit card. Some programs allow you to earn higher cash back rates on certain kinds of purchases.
Others offer a flat cash back rate on every single purchase. The categories that earn the highest amounts of cash back may change from time to time. These changes often align with the trends of the season.
If cash back rewards are important to you when browsing our list of the good credit score credit cards, it's best to analyze your spending habits before making any moves.
Tip: The easiest way to understand your spending habits is to review your bank or credit card statement. Then identify your most frequent spending categories. From there, you should be able to find a card that offers rewards for those categories.
Redeem your cash back
There are various ways to redeem your cash back. All these ways depend on what your credit card issuer prefers.
You could receive your cash back via check, direct deposit, or statement credit. (A statement credit more or less amounts to a reduction in your credit card balance.)
Some card issuers may even give you the option to exchange your cash for merchandise or gift cards. In that case, your credit card issuer may partner directly with retailers. If you have a retailer you love, find a card that partners with it.
How Travel Rewards Credit Cards Work
When it comes to rewards, travel rewards credit cards are some of the most sought after cards out there.
These cards provide you with free or low-cost travel options as a reward for your spending. (These travel rewards are also a great incentive for you to sign up.)
Like with many frequent traveler programs, travel rewards cards usually track rewards by "miles." The value of each mile varies per credit card.
That's why it's important to find out what kind of travel rewards you can redeem with your miles.
Credit cards from major brands
Do you find yourself frequently flying with one airline? Do you always stay at the same hotel? If so, you probably already know of their branded rewards credit cards.
With cards such as these, the rewards can be limited. Though you get rewarded for using these brands, they don't give you much room to try other brands.
That's why these branded credit cards can be great if you do tend to stick with one airline or hotel.
However, if you like to shop around, then these types of credit cards may be too limiting for you.
But, it is possible that the card you want partners with other brands. If that's the case, you may be able to get the flexibility and specific rewards you're looking for.
Bonus offers on travel rewards credit cards
Travel rewards credit cards often come with sign-up offers. These credit card offers for good credit can include hundreds of dollars worth of free trips.
However, these offers usually mandate a certain amount of spending to get the bonus.
This could be an issue if you think you'll have trouble meeting the spending requirement with your regular spending.
In that case, only let the bonus be your deciding factor if you're planning a major purchase you can use it for.
Watch for annual fees
In addition to requiring good credit, travel credit cards often charge annual fees.
These charges are due to the perks you get with the card and are usually somewhere between $40-$500. The good news is that most annual fees are waived for the first year.
Before signing up for a credit card with an annual fee, estimate your likelihood of recouping the cost.
You can project the value of the rewards that you'll earn with your current spending pattern.
Or you can consider how much value you'll get from the card's perks (e.g., free checked bags on flights). If the perks exceed the fee, then that particular card could be a good one for you.
Interest Accrues Differently for Balance Transfers
If you use a balance transfer credit card, understand how the interest accrues. Interest on a balance transfer will accrue differently than purchases - on the same card.
For purchases, interest starts to accrue on the remaining balance after the end of the billing cycle. On a balance transfer, the interest begins accruing immediately.
Because of this, making a purchase on a balance transfer card could appear to skew your interest rate.
What Is Considered a Low Interest Rate?
Everyone wants a low interest rate. But with credit cards, what would that even be? Generally speaking, an interest rate of less than 10% on a credit card would be considered quite low. On the higher end, credit card interest rates can reach as high as 30%.
There are many ways to decrease your interest rate. Doing so means more of your payments will go to your balance and less to interest.
The first and easiest way is to call your credit card company and ask for an interest rate decrease. If you have a positive history with them, they are likely to consider your request seriously.
If that doesn't work - or if you need that interest rate to go as low as 0%, then a balance transfer could be the answer.
Balance transfers are often used as a way to consolidate debt. In fact, these cards are specifically offered for that reason.
You can even transfer multiple credit cards onto one balance transfer credit card. (If you're approved for a high enough credit limit to do so, that is.)
There is often a fee associated with balance transfer credit cards of about 3% of the total balance.
If this can help decrease your interest enough so you can pay the card off faster, the fee may be well worth it. However, there are no fee balance-transfer credit cards.  If you can get approved for that, then you're in excellent shape to pay off your debt.
Low interest cards or balance transfer credit cards can help you pay off the debt faster. But if you don't combine these cards with a payoff plan, then your new interest rate will only get you so far.
Credit Is a Long-Term Game, Don't Lose Sight of Your Progress
As long as you have a good or excellent credit score, you'll have more options in front of you when you're looking for the best credit cards (And you'll have better, lower cost options.)
This just doesn't refer to credit cards. A high credit score can help you qualify for auto loans, mortgages, and more.
So how much of a difference can this make?
Think about it this way: if your credit score helps you qualify for a lower rate, you could save hundreds of dollars per month on your loan. You could also pay off any line of credit or loan much faster.
Always keep an eye on improving your credit. That way when you're shopping for the best credit cards you have the best of all options in front of you whenever you need them.