The Complete Guide to Using Your Card's Global Entry & TSA PreCheck Credit
Learn everything you need to know about getting free membership for Global Entry and TSA Precheck through your premium travel credit card.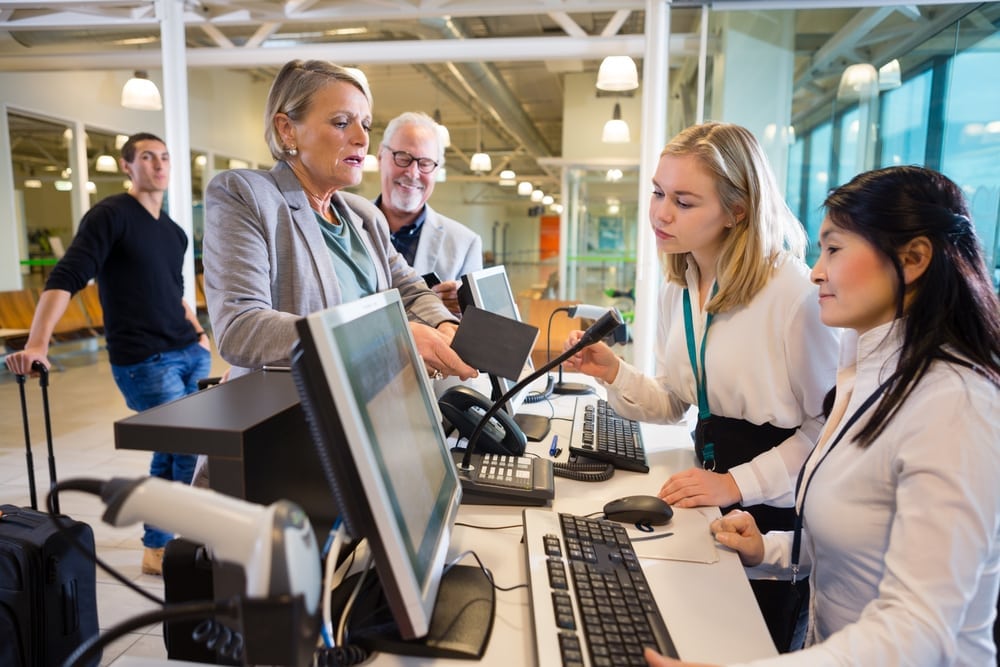 If you've ever been seriously delayed at customs when entering the United States from an international trip, you'll appreciate the value of Global Entry.
When you become a member, you can scan your fingerprints and answer a few questions at a designated airport kiosk, and go on your way.
Then there's TSA PreCheck, which enables you to save time at airport security checkpoints.
Best of all, if you sign up for Global Entry, membership also includes TSA PreCheck.
Global Entry/TSA PreCheck membership is a benefit well worth having if you're a frequent traveler. But it's even more valuable if you travel internationally.
Effectively, it puts you on a preferred traveler status, enabling you to reenter the country more quickly, and with a lot less hassle.
The process of being approved for Global Entry/TSA PreCheck takes time, but it's also fairly simple.
Each application requires the payment of a fee, but there are a lot of credit cards available that will refund the membership fee if it's paid through their credit card.
The TSA Precheck
TSA PreCheck enables you to move through security more quickly because you don't need to remove your shoes, laptops, liquids, belts and light jackets.
The service is offered at more than 200 airports and by 53 airlines. More than 6 million members are enrolled, and according to Transportation Safety Administration (TSA) statistics, 92% of TSA PreCheck passengers waited less than five minutes to get through security (in May of 2018).
TSA requires an application and a background check, as well as a fee of $85, which is good for five years.
Global Entry
Global Entry is a program sponsored by the U.S. Customs and Border Protection (CBP) Agency. It allows expedited clearance for pre-approved, low-risk travelers arriving in the U.S.
Once you become a member, you enter the country through automatic kiosks at select airports.
It requires the use of a machine-readable passport or U.S. permanent resident card. You place your fingerprints on a scanner for verification and complete a customs declaration. The kiosk then issues you a transcript receipt and directs you to baggage claim and the exit.
In order to be part of the Global Entry program, you must undergo a rigorous background check and an in-person interview before you enroll.
Though it attempts to move you through the customs process more quickly, you may still be subject to further examination when entering the country.
The fee for the Global Entry program is $100 per applicant, which is nonrefundable. The fee can be paid by credit card or through electronic bank transfer.
You'll want to pay it by select credit cards that offer statement credits to cover the fee as part of their customer benefit package.
Membership Statement Credits from Credit Cards
Some premium travel credit cards offer a statement credit towards the membership fee for these programs.
Using it is simple: use the card as the payment for the membership fee. Once the charge is posted to your account, it will trigger the statement credit.
Some premium credit cards providing the statement credit for Global Entry/TSA PreCheck include:
Chase Sapphire Reserve Card
Chase is offering a statement credit of up to $100 every four years as reimbursement for your Global Entry membership, as long as the fee is charged to the Sapphire Reserve Card.
Capital One Venture Card
You can receive a statement credit of up to $100 for Global Entry or TSA PreCheck. You must pay either fee using the Capital One Venture Card.
American Express Platinum Card
Charge your Global Entry or TSA PreCheck fee to the card, and you'll receive one statement credit every four years for $100 for Global Entry or $85 for TSA PreCheck.
You're also eligible for one statement credit every four years for each additional card on eligible Card accounts. Once again, the application fee must be charged to the American Express Platinum Card for additional members.
Citi Prestige Travel Credit Card
Pay for your Global Entry application fee with the Card, and you'll receive a $100 statement credit.
Tip: If you have two or more credit cards with Global Entry or TSA PreCheck statement credit eligibility, you can use the additional card to pay for a membership for a family member or travel companion.
However, as noted above, the American Express Platinum Card will offer a statement credit for each additional card issued on the same Card account.
How to Enroll
The Global Entry Enrollment Process
You can apply for Global Entry on the CBP "How to Apply for Global Entry" webpage. You'll need to create a Trusted Traveler Programs (TTP) account from the webpage.
If your application is conditionally approved, your TTP account will inform you to schedule an interview at a Global Entry Enrollment Center. You can check the locations of Enrollments Centers, since some states have several and others have not at all.
Tip: Schedule the interview dates early as it can be difficult to get an appointment.
Also, consider visiting different locations for the interview.
Since airports are tougher to get to, it might be easier to get an appointment in one.
At the interview, you'll need to bring a valid passport and one other form of identification, such as a driver's license or ID card. You must also bring a machine-readable permanent resident card if you are a lawful permanent resident of the U.S.
You'll be issued a Global Entry Card if you are a U.S. citizen, U.S. lawful permanent resident or Mexican national. It will be accepted for lawful US entry at land and sea ports of entry.
The Enrollment on Arrival Workaround
CBP also offers Enrollment on Arrival, which allows applicants who are conditionally approved to complete their interviews upon arrival into the US. It eliminates the need to schedule an interview at an enrollment center to complete the application process.
Enrollment on Arrival is available at airports in 20 different states. Fortunately, it includes airports with frequent international travel, like Los Angeles International, San Francisco International, Miami International, Chicago O'Hare, JFK in New York City, Hartsfield Jackson Atlanta, and many more major airports.
Once you've completed the online application, paid your fee, and received conditional approval, CPB directs you to CBP officers in international airport terminals where you can complete the Global Entry interview during the admissibility inspection. The only document you'll need is your passport.
This eliminates the need to make a special trip to an enrollment center, which may not be close to home. It also avoids having to wait for an interview to be scheduled.
You just have to make sure you'll have the extra time budgeted when you return from an international trip. The interview itself only takes a few minutes, but there may be additional time waiting for an officer to conduct the interview.
But if you have the time, and the patience to wait a little while coming home from a trip, it can seriously expedite the interview phase of the application process.
The TSA PreCheck Enrollment Process
You can enroll online, and the application process can be completed in about five minutes. Once you do, you can schedule an appointment at one of more than 380 enrollment centers.
The in-person appointment will take about 10 minutes, and include both a background check and fingerprinting. Once you receive your Known Traveler Number you can add it to your airline ticket with each purchase.
Tip: As a Global Entry member you're eligible to participate in TSA PreCheck. To do this, you enter your membership number ("PASS ID") in the "Known Traveler Number" field when booking reservations.
You can also enter it into your frequent flyer profile with the airline. It lets the TSA's Secure Flight System verify that you are a legitimate CBP Trusted Traveler and eligible to participate in TSA PreCheck.
Reasons You Won't Qualify
According to the CBP website, you may be disqualified from participation if any of the following apply:
You provide false or incomplete information on the application.
Have been convicted of any criminal offense or have pending criminal charges, including outstanding warrants.
Have been found in violation of any customs, immigration or agriculture regulations or laws in any country.
Are subject of an investigation by any federal, state or local law enforcement agency.
Are inadmissible to the US under immigration regulations, including applicants with approved waivers of inadmissibility or parole documentation.
You cannot satisfy CBP of your low-risk status or meet other program requirements.
Important points on traveling companions
Only travelers who are Global Entry members will be able to go through the Global Entry kiosks.
If any member of your travel party, including your spouse and/or children, are not members, they will not be eligible for the expedited service.
You'll have to get an individual membership for each member of your travel party.
Final Thoughts
If you're a frequent traveler, and especially if you travel internationally, having Global Entry/TSA PreCheck is a must.
The application process is actually fairly easy.
And since you can have the membership fee paid by select premium credit cards, that's one less reason not to apply.