Boost Your Benefits When Flying with Hawaiian Airlines
See the latest flight deals and credit card offers from Hawaiian Airlines. Learn tips on the elite traveler program, lounge access and baggage fees.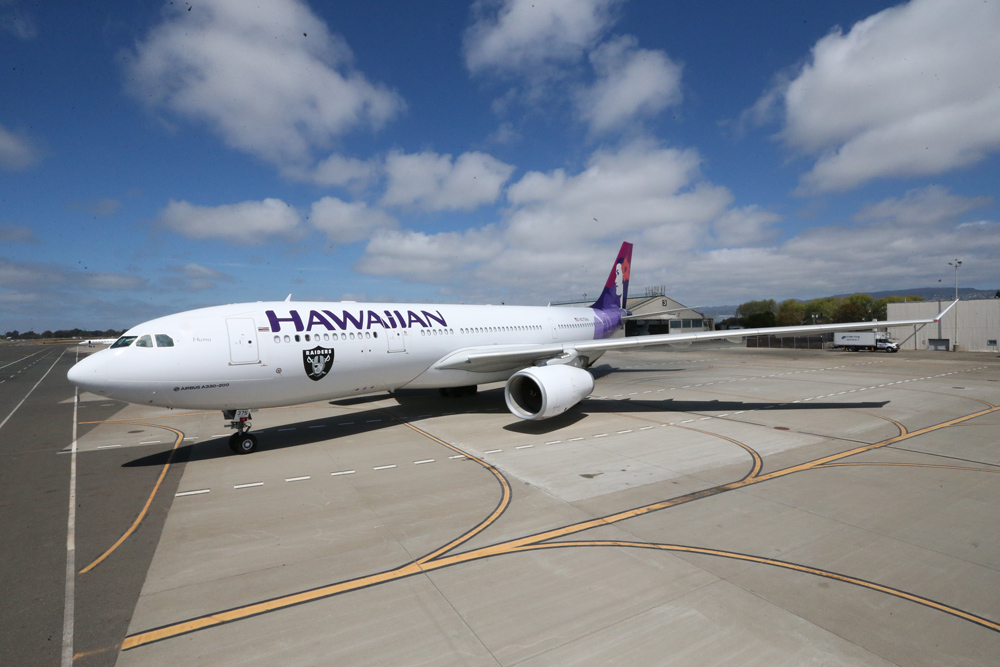 Hawaiian Airlines isn't a name you come across often when booking domestic flights. But Hawaii's largest airline services a wide range of U.S. and international destinations with non-stop only flights. And it's one of the few that still includes a meal with coach tickets.
Hawaiian Airlines was founded in 1929 and is recognized today as the best carrier in Hawaii. The airline began flying routes outside Hawaii in the 1980s and now includes a number of destinations, including the following:
Hawaiian Airlines destinations
| Hawaii | Mainland U.S. | International |
| --- | --- | --- |
| Oahu, HNL | Seattle, USA, SEA | Tokyo, Japan, HND/NRT |
| Kauai, LIH | Portland, USA, PDX | Osaka, Japan, KIX |
| Molokai, MKK | San Francisco, USA, SFO | Sapporo, Japan, CTS |
| Lanai, HNY | Oakland, California, USA, OAK | Seoul, South Korea, ICN |
| Hawaii Island, ITO/KOA | San Jose, California, USA, SJC | Beijing, China, BJS |
| Maui, OGG | Sacramento, California, USA, SMF | Auckland, New Zealand, AKL |
| | Los Angeles, California, USA, LAX | Brisbane, Australia, BNE |
| | San Diego, California, USA, SAN | Sydney, Australia, SYD |
| | Phoenix, Arizona, USA, PHX | Pago Pago, American Samoa, PPG |
| | Las Vegas, USA, LAS | Papeete, Tahiti, French Polynesia, PPT |
| | New York City, USA, JFK | |
Hawaiian Airlines also has codesharing arrangements with American Airlines, Delta Airlines, China Airlines, Air China, Korean Air, Virgin America, JetBlue Airways, and All Nippon Airways.
Latest deals from Hawaiian Airlines
Recent deals include round-trip tickets as low as $428 from San Francisco and Oakland. Prices from New York and Las Vegas fall closer to $700.
Hawaiian Airlines' booking periods on such deals is narrow and can last as few as two days. The deals also apply to specific travel dates, so they're best for travelers who have some flexibility in when they fly.
Hawaiian Airlines Frequent Flier Program
Earn miles
Hawaiian Airlines offers a frequent flyer program that allows members to earn miles on qualifying purchases, including flights with Hawaiian and its partner airlines. Members also earn by booking hotel stays and car rentals through Hawaiian Airlines' affiliates.
Travelers can also use Hawaiian Airlines purchases to earn miles on other frequent flyer programs. Participating programs include American Airlines' AAdvantage, Delta Skymiles, JetBlue TrueBlue, Virgin Atlantic Flying Club, Virgin Australia Velocity Frequent Flyer, United Airlines Mileage Plus, Korean Airlines Skypass, and All Nippon Airways Mileage Club.
Purchase miles
Travelers can buy up to 10,000 Hawaiian Airlines miles in increments of 500. A block of 500 miles currently costs $14.78.
Share miles
Hawaiian Airlines account holders can transfer miles to friends and family members. There is no maximum on how many miles can be transferred. The airline does not charge a fee for transfers to other Hawaiian Airlines cardholders' accounts.
Qualifying accounts include The Hawaiian Airlines World Elite MasterCard, The Hawaiian Airlines Business MasterCard, The Hawaiian Airlines Visa credit card-Japan, and the Bankoh Hawaiian Airlines Visa Debit Card.
Account holders can transfer miles to travelers who do not have a Hawaiian Airlines debit or credit card as well, but they must pay a $25 transfer fee. There is also a $0.01 charge per mile transferred and a 2,000 mile minimum to initiate the transaction.
Rewards
Membership entitles travelers to a $100 discount on one companion ticket per year, provided that the primary account holder pays their annual fees.
Hawaiian Airlines Elite Pualani Status
Travelers can reach elite status by earning a certain number of miles or completing a set number of flight segments. Guests who earn 20,000 miles or complete 30 segments earn Pualani Gold Status. Those who earn 40,000 miles or 60 segments receive Pualani Platinum designation. Only flights booked and operated by Hawaiian Airlines count toward these credits.
Hawaiian Airlines Credit Cards:
Hawaiian Airlines World Elite MasterCard
How to earn miles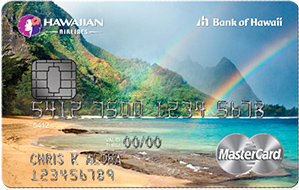 The Hawaiian Airlines World Elite MasterCard, issued by Barclaycard, allows cardholders to accumulate miles faster than they would through the standard frequent flyer program. New members receive a 35,000 mile bonus if they spend $1,000 within the first three months of opening their accounts.
They earn double miles when they purchase Hawaiian Airlines flight tickets and up to 10 miles per $1 spent with the company's partner brands. These qualifying vendors include Hawaii-based hotels and eateries, as well as local branches of brands such as Gap, Banana Republic, Whole Foods, and Papa John's.
Annual fee and APR
The annual fee is $89 and the interest rate varies from 16% to 25%, based on the cardholder's creditworthiness.
Hawaiian Airlines Business MasterCard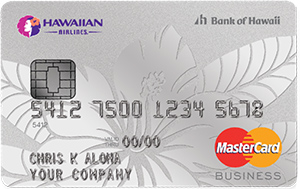 The features and rewards on the Hawaiian Airlines Business MasterCard are essentially the same as the Hawaiian Airlines World Elite MasterCard. However, accounts include complimentary cards for employees.
Annual fee and APR
The annual fee is $89 and the interest rate is 16% or 25%.
Bankoh Hawaiian Airlines Visa Debit Card
Bank of Hawaii issues a Hawaiian Airlines Visa Debit Card that allows cardholders to earn up to 1,000 Hawaiian Airlines miles per month. You have to be at least 16 to open the account and must hold a Bank of Hawaii checking account to qualify for the rewards debit card program. The bank charges a $3 monthly fee on the account.
Baggage Fees
Passengers must pay for checked baggage. The first bag is $25 for flights to neighboring Hawaiian islands or to North America, though HawaiianMiles members pay only $15 when traveling to the neighboring islands.
The second bag is $35 ($20 for HawaiianMiles members heading to the neighboring islands). The third bag costs $50 to neighboring islands and $100 to North America, and there is no discount for HawaiianMiles members. Subsequent bags are charged at the same rate as the third bag. These prices are consistent with those at other airlines, such as Delta and American as you can see below.
Hawaiian's baggage fees compared to other major U.S. airlines
| Airline | First checked bag | Second checked bag |
| --- | --- | --- |
| Hawaiian Airlines | $25 | $35 |
| American Airlines | $25 | $35 |
| Delta Airlines | $25 | $35 |
| JetBlue Airways | $20 | $35 |
| Southwest Airlines | $0 | $0 |
| United Airlines | $25 | $35 |
Travelers who have the Hawaiian Airlines World Elite MasterCard or the Hawaiian Airlines Business MasterCard receive their first checked bag free. Paulani Gold members pay nothing on their first two bags, and Paulani Platinum members get the first three checked bags free.
Airport Lounges
Hawaiian Airlines' flagship lounge is The Plumeria, a 3,000-square foot establishment in the Honolulu International Airport. Travelers can purchase day passes to the lounge, which includes free wifi, complimentary food and alcoholic beverages, power outlets, reading materials, and cable TV.
Hawaiian Airlines also operates premier club lounges at the Honolulu, Hilo, Lihue, Kahului, and Kona airports. General passes for The Plumeria and premier club lounges are $40 per day. Pualani Gold and Platinum members pay $35 and $30, respectively.
However, Business Class passengers who are booked on international flights enjoy free access to The Plumeria. Pualani status members can purchase passes to international lounges that are run by Hawaiian Airlines' partners. These include lounges in Seoul, Tokyo, Sapporo, Osaka, Auckland, Sydney, and Brisbane.
The cost of a general day pass to Hawaiian's lounges is lower than those at American's, United's, and Delta's lounges. However, Delta offers more significant discounts to its frequent flyers and elite cardholders.
Airlines lounge access fees
| Airline lounge | Single visit pass | Annual individual memberships |
| --- | --- | --- |
| Hawaiian Airlines | $40 | $299 |
| Delta Sky Club | $59 | $450 to $695 |
| American Admirals Club | $50 | $450 to $550 (renewals are $50 cheaper) |
| United Club | $59 | $450 to $550 |
| Southwest (no lounges) | N/A | N/A |
| JetBlue (no lounges) | N/A | N/A |
Tips for Travelers
1. Sign up for the Hawaiian Airlines World Elite MasterCard.
Although you can earn miles by shopping at select partner brands, the HawaiianMiles program makes the most sense if you sign up for the credit card. You'll earn miles faster and will avoid baggage fees for at least for your first piece of luggage.
2. Purchase all flights through the airline.
Buying directly through the Hawaiian Airlines site ensures that you'll earn miles on all of your purchases. The airline has a number of stipulations about which purchases qualify for the frequent flyer program, so go to the source when booking travel.
3. Maximize benefits by traveling with partner airlines.
Even when you're not traveling on Hawaiian, make sure to book with their partner airlines so you can still accumulate miles.
Hawaiian Airlines offers reasonable prices on flights to Hawaii and to international destinations. However, the airline's credit cards and frequent flyer programs only make sense if you travel often to Hawaii, Asia, or the South Pacific. It's also most useful if you live near one of the airlines' travel hubs.