Southwest Rapid Rewards Premier Credit Card 2023 Review
Discover the card holder benefits you could earn and more with the Southwest Rapid Rewards® Premier credit card.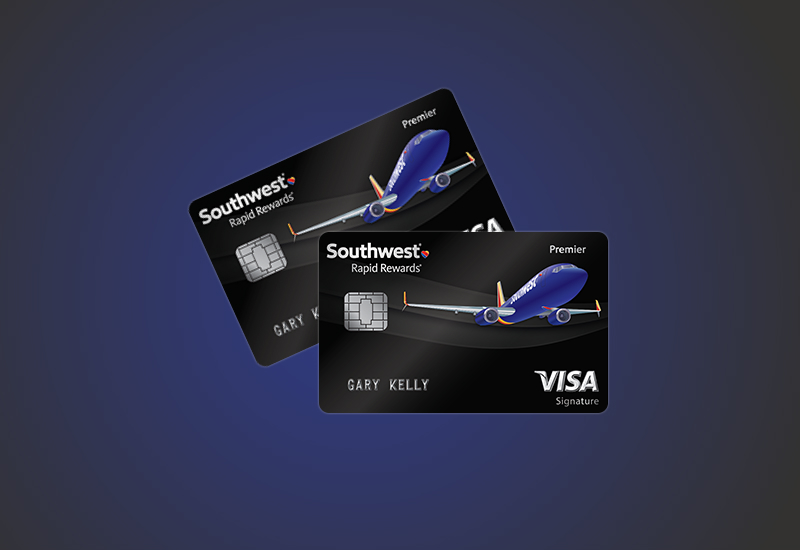 While you weren't looking, Southwest Airlines has become the nation's largest airline in terms of domestic passengers.
And in the last few years, it's spread its wings to over a dozen international destinations in Mexico, Central America, and the Caribbean.
The airline's popularity is due in large part to its friendly service, consistent product, and its no-fee policy for ticket changes and most checked bags.
As with nearly every airline, Southwest also offers a co-branded credit card that allows you to earn rewards in its frequent flyer program, as well as other benefits.
Learn more about this card and find out if it is the right airline credit card for you.
What Can This Card Do?
The from Chase is mainly designed to help you to earn reward points in Southwest's frequent flyer program, called Rapid Rewards.
It also allows you to earn credit toward a Companion Pass and points toward elite status in the Southwest program.
Finally, it offers enough travel insurance and purchase protection to make it a good all-around credit card for shopping and travel.
Earn Rapid Rewards Points
Like most other airline credit cards, the card offers one point per dollar spent on most purchases and double points on all Southwest purchases.
You get double points on not just airfare, but also for any fees you pay such as any early boarding or overweight/oversized baggage fees.
You also receive 6,000 bonus points each year on your account anniversary.
With the Rapid Rewards program, you can redeem your points for any unsold seat on any award flight.
When you redeem points for a ticket in their "Wanna Get Away" fare class, each point is worth about 1.4 cents. But when you use your points for the higher fare classes, you get a lot less value.
You can also redeem points for international flights, cruises, hotel stays, car rentals, and gift cards. However, you will only receive a penny per point in value, at the most.
Get Credit Toward the Companion Pass
Thankfully, all the points you earn from this card, including the initial sign-up bonus, count toward earning a Companion Pass. Southwest's Companion Pass can be considered the most valuable perk offered by any airline.
When you have a Companion Pass, you can add a designated person to all of your itineraries, and only pay taxes.
It doesn't matter if you purchased the ticket with cash, if someone purchased it for you, or if you redeemed your points for the ticket.
If the ticket is in your name, you can add your companion to every flight you take, with no limits.
To get the Companion Pass, you need to earn 110,000 points in a calendar year. You don't have to redeem your points for the Companion Pass, you just have to have earned them during the year.
You can earn points toward a Companion Pass by flying Southwest, through the credit card, or from other partners that offer points. Once you earn the pass, it's valid for travel until the end of the following year.
Earn Tier Qualifying Points
Another benefit of this card is that you can earn Tier Qualifying Points toward A-List and A-List Preferred status.
For each $10,000 spent on the card (up to $100,000), you earn 1,500 Tier Qualifying Points.
When you earn 35,000 Tier Qualifying Points in a calendar year, you receive A-List status. With this status, you get benefits like priority boarding, a 25% points bonus, and free same-day standby.
Earn 70,000 points in a year, and you get A-List Preferred status. While you can't earn A-List status just by using your credit card, you can get a lot closer.
Enjoy Shopping and Travel Benefits
A good credit card doesn't just let you earn rewards, it should also offer protection when things go wrong. This card offers several travel insurance and purchase protection benefits.
Lost luggage reimbursement
When you or your family members have a bag that goes missing or damaged, it can be tough to get an airline to fully reimburse you for your losses.
This policy will cover each person's carry-on and checked bags for an additional $3,000 beyond what the airline pays out.
Baggage delay insurance
The coverage comes to your rescue when your bags are delayed by at least six hours. When your bags don't show up, you can be reimbursed for your purchases up to $100 per day for up to three days.
Extended warranty protection
This policy will reimburse you for repairs or replacement of covered items for one year past the manufacturer's warranty.
In general, this is a great way to avoid feeling like you have to pay the retailer extra for an extended warranty.
Purchase protection
This policy covers your new purchases for up to 120 days against accident damage or theft. The limit is $500 per claim and $50,000 per account if you are extremely unlucky.
Also, the Southwest Rapid Rewards Premier credit card is part of the Visa Signature program which offers numerous travel and shopping discounts.
You also receive 24/7 access to the Visa Signature Concierge, which can help you make travel and dining reservations or order gifts.
APR and Fees
Like other travel rewards credit cards, you can expect to pay a little higher interest rate than you would with similar cards that don't offer rewards.
Once approved, the APR you are given will depend on your credit history and other factors, and the range of interest rates offered is competitive with other airline credit cards.
This card does have a $99 annual fee, which is very close to the $95 annual fee charged by many other mid-tier airline credit cards.
Fortunately, this fee is also roughly equivalent to the value of the 6,000 bonus points you receive each year. This card has no foreign transaction fees imposed on charges made outside the United States.
This card has no foreign transaction fees imposed on charges made outside the United States.
How Does This Card Compare to Other Chase Cards?
It's always a good idea to look at other travel credit cards before you make your final decision:
Southwest Airlines Rapid Rewards Plus Credit Card
is the little brother of the Southwest Rapid Rewards Premier credit card. The main differences are its annual fee of $69, and it doesn't offer Tier Qualifying Points.
It also has just a 3,000 annual bonus. If you really don't care about Tier Qualifying Points, you could save a little money.
Chase Sapphire Preferred
is a general-purpose travel rewards card, and it's a strong competitor of the Southwest Rapid Rewards cards.
It offers a great rewards program for consumers who dine out and travel regularly
Points are earned in Chase's Ultimate Rewards program, which allows you transfer rewards to partnered airlines and hotel loyalty programs, including Southwest.
In some ways, this card is better than the Southwest card because you can earn more points for travel and dining--and the option of transferring points to other airline and hotel programs.
However, you do miss out on the chance to earn Tier Qualifying Points and points toward the Companion Pass (points transferred from Chase Ultimate Rewards don't count toward the Companion Pass).
There's a $95 annual fee for this card and no foreign transaction fees.
Read Chase Sapphire Preferred Card Editor's Review
Chase Sapphire Reserve
is a super-premium version of the Chase Sapphire Preferred.
It offers 3x rewards for travel and dining and comes with a Priority Pass Select airport lounge membership. Points can be transferred to airlines and hotels, or are worth 1.5 cents each toward travel booked through Chase.
You also receive a $300 annual air travel credit and a $100 credit toward a Global Entry application. These rewards and benefits come with a $550 annual fee, and no foreign transaction fees.
Read Chase Sapphire Reserve Card Editor's Review
Chase Travel Cards
| Credit Cards | Travel |
| --- | --- |
| Chase Sapphire Preferred | Earn bonus miles on travel and dining. Points can be transferred to partnered airline and hotel programs. Redeem rewards travel at a discount through Chase Ultimate Rewards. |
Final Verdict: A Great Way to Earn a Companion Pass and More
The is much like other airline credit cards, but it has an ace up its sleeve.
Other airlines charge baggage fees but offer free bags with its credit card, but Southwest does neither.
Instead, the Southwest Rapid Rewards Premier credit card allows you to earn points towards its invaluable Companion Pass.
This card is also a great way to earn Tier Qualifying Points if you are close to reaching A-List or A-List Preferred status if that's important to you.
If you are only interested in earning points toward a Companion Pass, and not toward A-List status, consider the Rapid Rewards Plus card instead.
At the same time, the or offer more Southwest points than the Southwest cards themselves, due to the bonus categories.
If your goal is to simply earn the most travel rewards possible, then you might be satisfied with one of the Sapphire cards.
Once you realize what your travel rewards goals are, you can find the right credit card for flying Southwest.