Secured credit cards are a type of card designed to help people build or rebuild their credit. They achieve this by requiring borrowers to put down a security deposit as collateral, which can range from $200 to $3,000. Traditional credit cards are unsecured, meaning they do not have the security deposit requirement. In the event you default on your secured credit card payments, the lender reserves the right to retain the security deposit in compensation.
A secured credit card is ideal for people who have very bad credit scores ranging from 300 to 560 or no credit. At this level, it's hard to qualify for a standard credit card because card companies regard you as a high-risk borrower. Qualification for a secured credit card does not require a credit check. In addition to access to plastic, secured credit cards help borrowers improve credit scores over time. Once obtained, secured cards can be used exactly as regular credit cards.
MyBankTracker experts picked the best secured credit cards that you can use to rebuild your credit:
1. Best Card With the Lowest Security Deposit
Capital One Secured MasterCard helps rebuild credit quickly
The Capital One Secured MasterCard has an extremely low minimum security deposit that can get you started with rebuilding credit right away. With a security deposit of just $49, you'll qualify for a $200 starting credit limit, which can be increased to $3,000 with additional deposits. Capital One Secured MasterCard has an extremely low minimum security deposit that can get you started with rebuilding credit right away. With a security deposit of just $49, you'll qualify for a $200 starting credit limit, which can be increased to $3,000 with additional deposits. The card has an APR of 24.99%, but no annual fee.
How to recover from bad credit scores
Extremely bad credit scores tend to result from poor management of credit in the past, behavior that is reported to the three major U.S. credit bureaus -- Equifax, Experian, and TransUnion.
Card users are penalized in these reports for such things as late payments, unpaid bills, bankruptcies, foreclosures and accounts in debt collection.  Too many of these infractions hurt the chances of consumers to receive traditional loans and credit cards. These negative marks are removed from credit reports after a period of seven years.
The purpose of security deposits in secured credit cards
Because secured credit cards are tied to collateral -- submitted in the form of a cash security deposit -- lenders are more willing to lend. Usually, the spending limit on your secured credit card is equal to your security deposit -- increasing your security deposit means increasing your card's spending limit above the initial cap that was imposed by the card issuer.
The security deposit is normally placed in a non-interest-bearing deposit account, and the money cannot be withdrawn as long as the credit card account remains open, or used to pay the monthly credit card bill. However, it can be refunded upon approval by the credit card issuer -- essentially making it an unsecured credit card.
2. Best Card With the Highest Credit Limit
Wells Fargo Secured Visa offers large credit line for bad credit
The Wells Fargo Secured Visa Card offers the potential of a very high credit limit, especially for a secured credit card. The card's limit can range from $300 to $10,000, depending on your security deposit. Furthermore, Wells Fargo will review your account to see if you are eligible to move up to an unsecured Wells Fargo credit card. The card has a $25 annual fee and 19.24% APR.
The typical secured credit card will not allow borrowers to maintain credit limits of more than $3,000 to $5,000. A higher credit limit is beneficial because it means you can make larger and more purchases with the card. It also helps to improve your credit scores due to how they're calculated.
How your FICO credit score matters
FICO credit scores are the standard credit risk metric used by lenders to judge your creditworthiness. Although FICO does not disclose the exact formula used to calculate its credit scores, it does share the criteria that make up a FICO score.
These are the five aspects of your credit that goes into calculating your FICO score: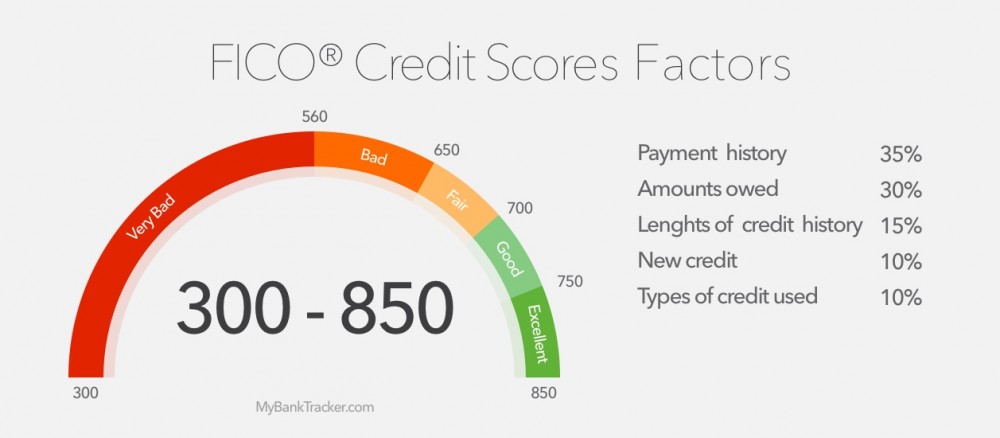 The "amounts owed" factor looks at your total balances (the amount borrowed) divided by your total credit limits (the amount you're able to borrow). For example, carrying a $1,000 balance on a credit card with a $10,000 limit means that your debt utilization is at 10 percent. If you use a lower percentage of your available credit, your credit scores will be higher. By having higher credit limits with small balances, your debt utilization percentage will be lower.
With traditional unsecured credit cards, borrowers often have to request a credit limit increase. With secured credit cards, borrowers may boost their credit limits by increasing their security deposit, which will also help them in their efforts to improve their credit.
Secured credit cards can become unsecured cards
Some banks and credit card issuers will review customer accounts with secured credit cards periodically to see if the borrower has exhibited responsible credit behavior, which typically entails making on-time payments and staying below the credit limit. If so, customers may be offered the ability to graduate to an unsecured credit card or have the security deposit refunded completely.
The other alternative would be to close the secured credit card and open an unsecured credit card when your credit has improved. However, you may not want to take this route because opening a new credit card and closing a credit card are actions that can hurt your credit scores at least temporarily. Applying for new credit, especially when multiple applications are made in a short period of time, tends to have a negative impact on credit scores because it makes you seems desperate. Meanwhile, a closed credit card account will stop aging, which affects the "length of credit history" criteria of the FICO credit score calculation.
3. Best Card That Offers Cash Back
Discover it Secured offers cash back even with poor credit
The Discover it Secured Credit Card is one of the few secured credit cards that offer rewards. The card allows you to earn 2% cash back at gas stations and restaurants (up to $1,000 in combined purchases per quarter) while all other purchases earn 1% cash back. Other nifty card features include a free monthly FICO credit scores, no foreign transaction fees, no first-time late payment fee and no penalty APR (the APR normally imposed if you miss a payment). The card has no annual fee and an APR of 23.24%. Your security deposit may range from $200 to $2,500.
Secured credit cards are typically designed with the main focus of credit improvement. Therefore, not many of these cards will provide extraneous features such as rewards programs or other lucrative perks, which are often found with traditional credit cards that cater to people with better credit scores.
Earn cash back while building good credit
Cash back is a type of reward that allows credit card users to accumulate money back from card purchases. Usually, the cash back can be redeemed through a mailed check, direct deposit or statement credit (essentially a deduction to your credit card balance). You may be subject to limits on the cash back earnings and the cash back rate can vary depending on the purchase category.
With credit card rewards such as cash back, it is important to note that the rewards are given based on where you make the purchase -- not what you buy. If you earn a higher cash back rate at gas stations, for instance, everything you buy at a gas station (e.g., snacks, beverages, gift cards and more) will earn more cash back.
Consumers are advised against carrying a balance with a cash back credit card because your cash back earnings are unlikely to exceed the interest charges that you'll incur. A cash back secured credit card is ideal for people who are trying to improve their credit, want to earn rewards on their spending and can pay off their credit card balance in full on a monthly basis.
4. Best Card for People Without a Checking Account
OpenSky Secured Visa doesn't require a bank account
The OpenSky Secured Visa Credit Card does not require a checking account for funding your security deposit or for paying the monthly bill. Instead, the security deposit can be submitted through wire transfer, check or money order. The card has a $35 annual fee and an APR of 17.64%. Your card limit can range from $200 to $3,000.
Most secured credit cards require that you have a checking account. Some banks will even require that you have an account from that particular bank before you can obtain the bank's secure credit card.
Bad banking history affects ability to get secured credit cards
Many people may have difficulty getting a bank account if they've had mishaps with bank accounts in the past (some people turn to prepaid debit cards as a result). ChexSystems is an agency that records consumer banking histories, and every consumer is entitled to one free ChexSystems report every year. Examples of banking infractions that are recorded include check fraud, frequently bounced checks, excessive overdrafts, and negative account balances.
For people who don't have a checking account, the secured credit cards without checking account requirements are viable alternatives if their goal is to improve credit.
Tips on Using Secured Cards
In a word, opening a secured credit card is an opportunity -- a golden one, in fact, to create a credit history, or to repair broken credit, simply by using your card responsibly and making timely repayments. It's an easy, accessible way to build a positive reputation with other credit card providers and lenders, so you can eventually qualify for unsecured loans and low interest rates.
You can't go wrong with the trio of cards we've reviewed here on MyBankTracker.com, and we recommend doing more research on finding the right card that suits your lifestyle and financial needs since it puts you in control of your credit.
To make the most informed choice, keep these pointers in mind:
1. Secured credit cards are not prepaid debit cards.
It can be easy to confuse the two since they both carry a preset amount of money paid by you. On a debit card that you've deposited $1,000, the money is depleted until you reach zero dollars -- kind of like a gift card. But on the secured credit card, the credit limit you set is held by your card issuer as collateral; even though it's your cash, it's treated as collateral that you must pay back like a traditional credit card every month.
2. Make sure your payments are reported to the credit bureaus.
What would be the point of using a secured credit card if your credit behavior went unnoticed? Unfortunately, some secured credit card providers don't report your activity to TransUnion, Experian or Equifax, making your efforts no better than using a debit card. Always check first with the issuing bank or company if they conduct credit reporting; without it, you can be making your monthly payments on time and it won't make one difference to your credit if the bureaus don't see it.
3. Watch out for scams.
Signing up for any random secured credit card could subject you to an assortment of potential scams and schemes. Many card holders discover that they can only use their card to purchase unwanted items from a specific website or catalog. Of course, you won't be told this until after you've made your deposit. You should also watch out for any card that requires you to call a 900 number; these scammers make their money charging for the phone call (often up to $50) and won't issue you a card.
4. Read the fine print on fees, deposits, and other details.
Don't get stuck with a secured credit card without a policy on deposits or payment periods. You'll be at a loss after making a large security deposit, only to discover that you won't get your money back if you decide to close the account. Likewise, always confirm what the payment grace period is. A typical unsecured card will give you this period (for example, two weeks from the statement date) to make a minimum payment without interest. But if your card doesn't offer one, you'll owe interest on your balance the second you put money on the card.
5. Don't stay secured forever.
Responsible use of a secured credit card should eventually qualify you for an unsecured card, but you may be eligible for one quicker than you might think. You can use your secured card for as long as you like, but remember that you won't receive any benefits like cash back, rewards points or other benefits inherent to many traditional credit cards. It's up to you to keep checking your credit and applying for unsecured credit cards. Soon, you'll be approved for one, with the excellent credit you built thanks to the help of your secured credit card.