People with fair or average credit are considered those with FICO scores of 650 to 700. FICO scores are the most common metric used by lenders to approve loans and credit cards. The score ranges from 300 to 850, a higher score reflecting better credit.
According to a recent FICO report, 13 percent of Americans have credit scores in the "fair credit" range, and of those scores the average is 695.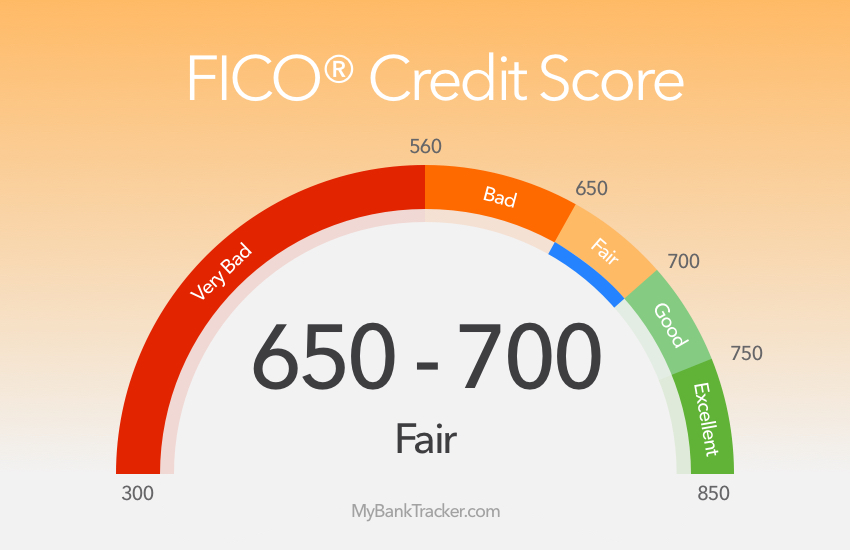 MyBankTracker experts reviewed hundreds of credit cards, sifting through data and reviews, and selected the following as ideal for people with fair credit:
Best for Rewards on Gas, Groceries, and Utilities
Barclaycard Rewards MasterCard offers rewards on common spending
The Barclaycard Rewards MasterCard offers a rewards program that will allow you to earn something back on your common purchases. The rewards program offers 2 points per dollar spent on gas, groceries and utilities (e.g., broadband Internet, cell phone, electricity, etc.) and 1 point per dollar on all other purchases. The points don't expire and can be redeemed for gift cards, merchandise and statement credit (basically a reduction of your credit card balance).
The card has no annual fee and a regular APR of 25.49%.
Rewards credit card usually require good credit
A rewards credit card will give you the ability to earn points, cash back or miles, which can be accumulated and redeemed for rewards. Different credit cards may have different programs that specialize in some type of rewards, such as gift cards, free airfare and statement credits.
Generally, the credit cards with better rewards programs tend to require that applicants have good to excellent credit scores (700 to 850) in order to qualify.
When selecting a rewards credit card, it is best to choose one based on your spending habits and the type of rewards that you want to earn from your purchases. A smart way to approach such analysis is by reviewing the past six to 12 months of credit card transactions to identify common purchase categories. Then, evaluate the credit card program to see if you'll benefit from any of the rewards available for redemption.
How to maximize bonus rewards categories when shopping
Purchase categorization is important when dealing with such credit cards because rewards are generated based on where a purchase is made, not what you buy. For example, if you earn 2 points per dollar at grocery stores, anything that you buy at a grocery store -- including branded gift cards, magazines and toiletries -- is subject to that rewards rate. Knowing this strategy, you can maximize your rewards by making the bulk of your purchases at the right places.
On the other hand, a purchase may not be eligible for a higher rewards rate if it is not made at a retailer that falls under the card's rewards categories. Credit card issuers have rules, which you agree to upon signing for a card, that forbid disputes on rewards earnings when purchase categories do not match.
Furthermore, rewards programs may have restrictions on the amount of rewards that can be earned during a set period of time. Other credit cards may also allow rewards to expire when they're not redeemed within a specific time frame. You should review these policies carefully before signing the card agreement.
Best Runner-up Credit Cards for Utilities and more
Best for Paying Off Debt
Chase Slate provides free balance transfers at 0% APR
Chase Slate is the best credit card for people who have fair credit and want to work on reducing or eliminating their high-interest debt. With an introductory 0% APR for 15 months and free balance transfers (if performed in the first 60 days), you can transfer high-interest debt to the Chase Slate card and make monthly payments without incurring interest charges.
Another perk: The card offers free monthly FICO credit scores, which is useful for tracking improvements to your credit rating.
The card has no annual fee and a regular APR of 13.24% to 23.24%.
Get rid of debt while improving credit scores
A fair credit score may be the result of high credit card balances. Balances are considered high if they approach your credit card limits. By reducing that balance you not only save money on interest charges, but stand to improve your credit scores.
An increasing number of credit cards are offering free monthly FICO scores as part of their benefits package. This perk is useful for cardmembers with fair credit who want to track their credit improvement over time.
A FICO credit score is made up of five components
By using a balance transfer, you can move the high-interest credit card balances to another credit card. It is often used as part of a debt consolidation strategy. Ideally, the new credit card will have a lower APR. Many credit cards offer introductory 0% APR for a certain period of time (often ranging from 6 to 18 months). However, a common hurdle is the balance transfer fee, which is equal to a portion of the transferred balance (usually 3%). Some credit cards will waive this temporarily or not charge it at all.
Prior to the 2008 financial crisis, limited-time free balance transfers were more common as part of credit card introductory offers. This benefit, however, has since become much rarer because borrowers often took advantage of these free balance transfers by cycling the same debt throughout different credit cards without the intention of paying it off.
Balance transfers for eliminating debt
A balance transfer credit card that offers the combination of an intro 0% APR and no balance transfer fee is attractive because you can consolidate your debt and work on paying it off without incurring any costs (for the duration of the intro APR period).
The balance transfer amount cannot exceed your credit card's credit limit when it is added to your existing balance, because you'd be borrowing more than allowed. Additionally, the lender may deny a balance transfer transaction for its own reasons. Balance transfers can be conducted online, by phone or through balance transfer checks (occasionally mailed to cardmembers). They usually take 7 to 10 business days to complete.
Runner-up Credit Cards to Payoff Debt
Best Cash Back for Fair Credit
Capital One QuicksilverOne offers simple cash back program
The Capital One QuicksilverOne Cash Rewards credit card is the best fair credit card for anyone who wants to earn generous amounts of cash back on all their spending. The card offers unlimited 1.5% cash back on every purchase.
The card has a $39 annual fee and a regular APR of 23.24%.
How cash back credit cards work
A cash back credit card is a type of rewards credit card that focuses on just one reward: cash. Usually, you'll accumulate a cash back balance until you've met the minimum redemption amounts (usually around $20 to $25). Depending on the credit card issuer, the cash back may be redeemed as a mailed paper check, direct deposit to a bank account or statement credit.
Cash back programs may vary from credit card to credit card. Some cards will provide higher cash back rates on particular purchases while other cards offer cash back at a flat rate (or a mix of both). Many cash back credit cards have a flat 1% cash back rate.
Annual fees are common for fair-credit cards
Credit cards may have annual fees, especially if they cards have premium rewards and benefits. However, card issuers may also charge annual fees on credit cards that carry a higher risk of default. This usually applies to people with no credit history, bad credit and even fair credit.
However, by using your credit card responsibly over time, your credit ratings will improve enough to a point where credit card issuers may offer to upgrade your credit card to one without an annual fee or opt to waive the fee altogether.
Runner-up Cash Back Credit Cards